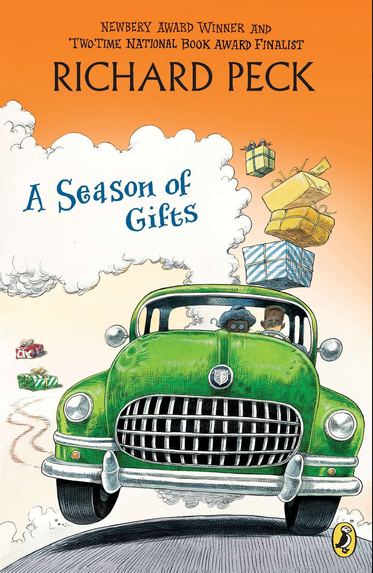 9 of 10: I love Richard Peck, and A Season of Gifts is a worthy addition to his series about Grandma Dowdel. So sweet and funny and perfect. Richard Peck is second only to Gary D. Schmidt in my "authors I think are absolutely brilliant and also very likely incredibly nice people" list.
a season of gifts by richard peck
The earlier Grandma Dowdel books A Long Way From Chicago and
A Year Down Yonder take place around the time of the Great Depression. This one takes place twenty years later, in 1958. The grandchildren featured in the earlier two books are, of course, long grown, and now the focus is on eleven-year-old Bob.
He's moved to town with his family so that his dad can be the minister for one of the churches. The family is struggling a little, knowing that this first solo ministry will make or break the father's career, and worrying about Phyllis, their teenage daughter who is going a bit wild, and the free-spirited younger daughter.
In the midst of all this chaos Bob gets a little lost in the shuffle, and since he's already feeling unhappy about this new town and the bullies there, Grandma Dowdel, their next door neighbor, who scares them all to some extent, becomes an absolute blessing for Bob. He needs someone to watch out for him and Grandma Dowdel, in her unique and hilarious way, is just that someone.
If you read the other books, you'll recognize immediately that this installment has many of the same characteristics – this book is laugh-out-loud funny, but also heartbreakingly sweet. I fell in love all over again.
AND, because I think you are all lovely and I have an extra advance copy, I'm going to give away a copy of A Season of Gifts to some lucky reader, two weeks before it comes out!
Leave a comment before midnight tomorrow (Tuesday, September 1), and I'll choose a winner at random.
if you liked this full review of a season of gifts, you might also like these other posts: