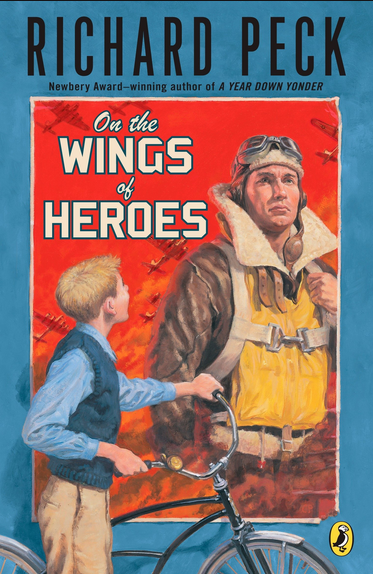 9 of 10: Another stellar, gorgeous, want-to-read-this-to-my-children-and-maybe-send-it-out-as-a-Christmas-gift kind of book, On The Wings of Heroes proved to me that Richard Peck has more good books than just his Grandma Dowdel series.
I know, I know; could the Richard Peck Love Fest get any bigger over here? Probably not. I just love his books so very much.
on the wings of heroes by richard peck
This Richard Peck book is about Davy Bowman. He's only about ten or eleven when World War II breaks out. Until then, his life has been idilic, playing hide-and-seek with the neighborhood children, his father joining in ("He's the biggest kid on the block, that Earl Bowman," the neighbor says of his father). They catch the pranksters at Halloween, and before the war, "it was always summer when it wasn't Halloween, or Christmas."
Then, one Sunday evening during dinner, they hear the announcement about Pearl Harbor on the radio and, as Davy describes it, "all the world before the war went up in far-off smoke and oil burning on water."
After Pearl Harbor, his brother Bill joins the US Air Force. Davy's father fought in WWI – an experience he won't speak about and still refuses to eat anything he ate in the trenches or wear a brown suit – and so to see his oldest son enlist is horrifying to him.
For Davy, life goes on in some ways the same as before – his brother was already moved out, so his absence is nothing new, but the worry and his parents obvious fear for Bill is always present. And school and his friends are the same, but now they spend time collecting metal or weeding the neighbor's victory garden.
World War II books for middle graders are a dime a dozen, but I haven't read many that connect WWI and WWII. That alone sets this book apart. And then Richard Peck's brilliant writing and warm sense of humor make it even better.
If you've read the Grandma Dowdel books (A Long Way From Chicago, A Year Down Yonder, and A Season of Gifts), you'll recognize a lot of the same kinds of elements in this book – the heartwarming along with the hilariously funny. No one does historical fiction like Richard Peck. You feel like you really are living there in the aftermath of the Great Depression or on the home front during WWII.
For me, On the Wings of Heroes had a little personal touch to it; as I mentioned, Davy's beloved older brother, Bill, joins the US Air Force. He's the bombardier, so he is up in the nose, which means he can see the ground below him. My mom's father was a US Air Force bombardier in WWII as well, flying missions mainly into Poland out of Italy during the final months of the war against Hitler. My grandpa rarely talks about the war – most of what I know about his service comes from my mom who remembers bits of what he told her – but I got all emotional reading about Bill, thinking how similar it was to my own grandfather. Bill's plane was a B-17, while my grandpa flew in B-24s.
Happy Veteran's Day, a few months early.