I've been doing a LOT of reading lately – Bart's been reading more than he has in years, which makes it easy for both of us to curl up on the couch after the girls are tucked in or get in bed with our own books and read until we need to go to sleep.
And there are so many good books!
Here are some of the ones I'm reading right now (plus my team's picks!).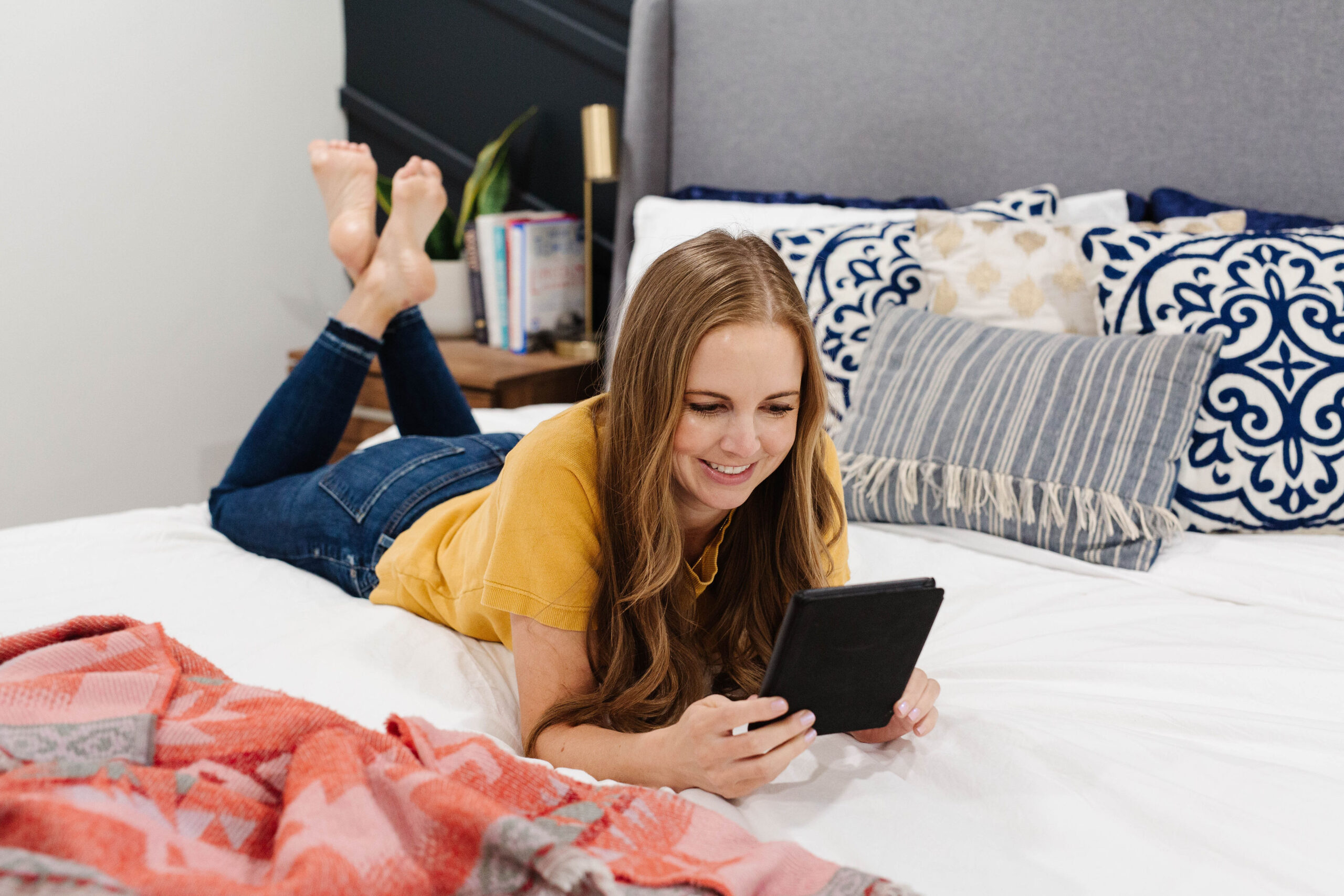 5 Books I'm Currently Reading
Hello Stranger by Katherine Center
One of my goals this year is to read all of Katherine Center's books (I've read about half of them so far) and this is her new book coming out in July. I got an early copy of it and it's been such a delight so far – her newer books have a sparkle that I think her older books don't quite match. Sadie is a portrait artist and after years of struggling to eek out a living, it looks like she might have gotten her big break when she is named a finalist in a wildly prestigious portrait competition. But then, through a series of unfortunate events, she develops face blindness. Which turns out to make portrait painting REALLY hard.
Happier Hour: How to Beat Distraction, Expand Your Time, and Focus on What Matters Most by Cassie Mogilner Holmes
I read this last October and now I'm re-visiting it this month for Everyday Reading Book Club. This kind of time-management book is RIGHT up my alley and I'm loving both reading it and discussing it (you can see the discussions so far in my Instagram highlights!).
The Book of Boundaries: Set the Limits That Will Set You Free by Melissa Urban
I can't remember where I saw this recommended but when I went to pick up my library holds a week or two ago, it was there waiting for me and I've been enjoying reading a chapter or two before bed. It's especially helpful for me from a work/screen time perspective since those are the boundaries I struggle with the very most.
The Hatmakers by Tamzin Merchant
This is what I'm reading aloud to the girls right now. It's fine, but I'm not enthralled with it (it's set in London in the 1800s and there are families with Maker powers that can make clothing items that give the wearer special abilities). There are several books in the series, but I'm doubtful we'll read more. Happily, it has pretty short chapters, which always makes reading aloud more enjoyable for me.
How Not to Drown in a Glass of Water by Angie Cruz
Modern Mrs Darcy listed this in her favorite audiobooks of 2022 and since it was instantly available on Scribd, I started listening. It's quite different from what I'd normally pick but I'm finding myself quite drawn into the story of Cara, a Dominican woman in her fifties who has been laid off thanks to the Great Recession and now is participating in a workforce re-entry program where she meets with a job counselor. For Cara, it's more like a therapy session where she shares the story of her life with the counselor.
And here's what the Everyday Reading team is reading right now!
ANALESE
The Book of Lost Names by Kristin Harmel
One of my yearly goals (for the past four years) has been to start a book club. I've never been a part of one that meets in person, but I've been too chicken to start one. I mentioned it to a friend in passing one day and she said she would start it up with me since she's been in and out of book clubs for years! And she suggested we start with this book, which was already on my list of TBR!! This story jumps back and forth between Eva Traube Abram's life during WWII and now, as an 80 year old woman. Eva, a Jewish woman in Paris during the war, was forced to flee her home to the Free Zone where she began to forge documents for Jewish children. In fear of these children losing their real identities, her and her forging partner, Remy, come up with a code to preserve the children's names. Jump forward 60 years and Eva sees the Books of Lost Names in a newspaper indicating the book is now in a library in Berlin and the coding system hasn't been able to be cracked by the researchers. Eva is the only one to have the answers, but she will have to face her past she has buried for all of these years.
Jennifer
Good Inside by Dr. Becky Kennedy
I saw this book recommended several times when Janssen posted the fill in the blank book recommendations form on instastories a few weeks ago. I got lucky with a skip-the-line copy from from my library through libby. I just started it but have really enjoyed what I've read so far. I have a five year old and two year old at home and they constantly keep me on my toes. I love the positive parenting approach but don't love complicated rewards or discipline systems. Dr. Becky is a very engaging writer and I don't think I will have any problem getting through this book in the shortened seven day loan period!
Kelsey
Humphrey's Tiny Tales by Betty G. Birney
I started reading this series aloud to my 4 year old over Christmas break and we are already on book 4 of 8. I was familiar with The World According to Humphrey series, and was excited to see that they had a Humphrey series geared for younger readers. Humphrey is the classroom hamster in Room 26 and every weekend he gets to go home with a different student. Let's just say it is always an adorably cute adventure, whether he is racing other pet hamsters or camping in their backyard. Every story has had us giggling and begging to read more.