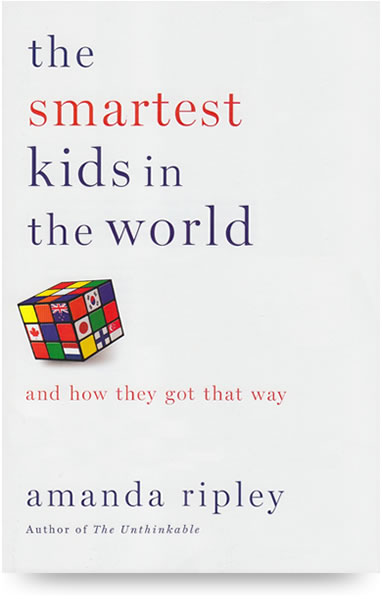 A few days after my mom left London, she emailed to say she'd picked up a copy of The Smartest Kids in the World in the airport to read on her flight home and that it was fantastic.
So obviously, one of the first things I did once I arrived in Vegas was snag her copy and read the whole thing in a few days.
Yesterday, I spent a good 30 minutes telling Bart all my favorite parts while we were FaceTiming (the girls kept wondering when I'd be done and he could get back to singing them silly songs). It's really a terrific and fascinating book.
The Smartest Kids in the World is the story of three different countries and why their students are the top-performing children in the world, and what those countries do differently than the United States.
(News flash: The U.S. is not all that impressive in the education game. I know you are shocked).
The three countries are South Korea (not a big surprise there), Finland, and Poland. In addition to a fair amount of background about their educational systems, she also follows three high school students who are U.S. foreign exchange students in each of these countries, so she gets a pretty good peek at what the daily life is like in these schools.
I could talk your ear off about what these schools do differently than American schools, but I'll just share a few things that stood out to me:
The Smartest Kids in the World: And How They Got That Way
No tech in the classroom. No smart boards, no iPads, no video cameras or high-tech clickers. Most classrooms won't even allow students to use calculators, so the students are really good at doing basic calculations in seconds.
Becoming a teacher is extremely competitive and prestigeous.  You have to be the best and brightest to get into a teaching program, somewhere on par with getting into med school in the U.S. Whereas in the U.S., most education programs are pretty easy and not particularly well-respected compared to other career paths. This means the schools can give the teachers a lot more autonomy and the teachers are really experts in their fields.
No sports in schools. Sports are extremely expensive to run in schools and end up benefiting a tiny percentage of the students. Sports are not part of school in most countries.
Tracking happens very late in a school. In the U.S., students start being separated into gifted programs as early as first or second grade. As soon as this happens, all the other kids start to fall behind since they see themselves as lesser. Other countries don't do it until midway through high school and it brings up the scores for everyone (in Poland, they delayed tracking for one year and the test scores went up like crazy. Then the next year, when the tracking happened, the test scores dropped just as they had in previous years).
Other countries don't spend so much time thinking and talking about poverty, single-families, race, and background. Teachers in other countries are less like friends to their students and more an authority figure that teaches to the whole group, expecting everyone to perform. And mainly, the students step up to meet those standards. There are some really interesting studies about classrooms where teachers are told that a random group of students are exceptional and they treat those children differently, give them better grades, and think more highly of them, even though those children were chosen totally at random. And the opposite happens when they are told beforehand that certain students are slow, disadvantaged, or trouble-makers.
Money is funneled to low-performing schools. Since school funding has a lot to do with property taxes in the U.S., rich neighborhoods have highly funded schools and poor neighborhoods have very little money. And if students don't perform on standardized tests, federal funding can get cut. In other countries, more money and resources is funneled to the schools that need help. Also, the U.S. spends WAY more money on education than other countries, but with very little to show for all that spending.
Failure is expected. School is considered difficult, and difficult things require repeated failure until you learn them. Whereas failing in the U.S. is considered detrimental to students, the students in other countries are used to the fact that they're going to have to fail a few times before they master a skill. And they aren't crushed by it.
Parents are involved very differently. Instead of joining the PTA or coaching sports, parents work with their kids on homework and academics. And all the research shows that being involved at school basically doesn't benefit your child academically at all, unless you involvement is academic. (So if you've never joined the PTA, consider this official pass).
All of that is not to say that these countries have perfected education.
South Korea, especially, is a total pressure cooker, and the high performance of their students comes at the expense of spending ALL DAY at school, both public education all day and then private tutoring in the evenings.
Finland, on the other hand, gets even better scores and their students spend far less time in school and aren't operating under unbelievable stress and pressure for twelve years.
And a lot of the things these countries are doing could be replicated without too much expense or difficulty in the U.S.The one thing that showed big results across the board in all countries was parents who read to their children from an early age (I'm sure you never saw that one coming). And then, as their kids got older, they discussed current events and continued to read together or at least discuss the things they were reading individually. So pull out the picture books.
Of course, with Ella hitting the kindergarten age this next summer (my baby! the time! etc), this is all top of mind for me, and I especially appreciated the appendix that talked about how to find a world-class education for your child no matter where you are (and without having to spend $30k a year for elementary school).
Mainly, Bart is thanking his lucky stars that we were separated by an ocean and the entire continental U.S. while I was reading it or he would have gotten a page-by-page summary of The Smartest Kids in the World over the last week.
If you like The Smartest Kids in the World, you might also like these books: