I'm always on the lookout for great new read-alouds for the 4-6 crowd and Heartwood Hotel is a perfect pick for that age group with four books in the series.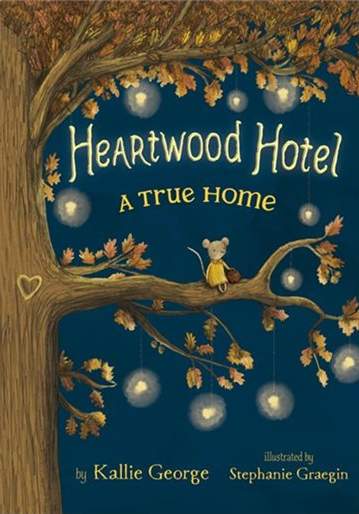 Earlier this year, I asked on Instagram about favorite read-aloud books and there were so many I'd never read (and many I'd never even HEARD of – you can see the whole list here).
One of them was Heartwood Hotel, which came with rave reviews, so I quickly snagged a copy from my library and took it with us on a family vacation.
I knew from previous experience that Ani can get a little overwhelmed from long days with big groups of people, so I thought this would be the perfect way for us to sneak away together and let her little introvert self de-stress a little.
She immediately fell in love with Heartwood Hotel and we read nearly every day while we were on vacation and Star (who is 3.5) ended up listening to lots of it with us too.
The storyline in the first book, A True Home, follows Mona, a tiny mouse who has no family and finds herself alone in the forest in the middle of a big storm.
She stumbles on Heartwood Hotel quite by accident and discovers that it is a hotel for small animals and they agree to take her on during the storm.
But her quick stay turns longer when she is recruited to remain during the busy season as a maid.
She quickly discovers that the hotel is renowned across the forest for its hospitality, amazing food, and all-out festivals and celebrations.
And it's filled with charming animals who give her the companionship and love she's never had (aside from Tilly the squirrel, the other maid, who seems to deeply dislike Mona for reasons she can't comprehend).
But when dangerous animals come lurking near the Heartwood, the home that Mona has come to love, might be threatened.
This book reminded me a little bit of the Redwall books (one of my all-time favorite childhood series), aimed at a younger audience.
Between the nice animals (mice, squirrels, badgers, etc) living in a safe haven and fighting the bad animals, the amazing forest food (acorn soufflé anyone?), and the mice heroine, it had so many similar elements, although the storyline felt very fresh and original.
I also loved that it wasn't too long (A True Heart clocks in just over 170 pages), and that it had beautiful black-and-white illustrations every few pages.
Other books in the Heartwood Hotel series
The moment we finished, Ani begged to begin the second one, The Greatest Gift.
I noticed, also, that the books follow the seasons, with A True Home taking place in autumn, The Greatest Gift taking place in winter during hibernation season and the holidays, and the third Heartwood Hotel book, Better Together, bringing in spring.
The fourth book, which just came out a few weeks ago, is called Home Again, and it takes place in . . . surprise! Summer.
They'd be perfect to start in the next few weeks as September rolls in and read over the course of the year following the seasons (plus, the paperback copies are each under $6).
Now I have to decide if I wait to read The Greatest Gift until winter really rolls in or if we plow through the whole series right now.
(Hint: it's almost certain to be the latter).
P.S. After we finished A True Home, I realized that the author, Kallie George, is also the author of a series of illustrated chapter books Ella has loved reading on her own this year, called The Magical Animal Adoption Agency. If you have a child who loves both animals and magic, this series is a sure-fire hit.
If you liked this post about Heartwood Hotel, you might also find these posts useful: