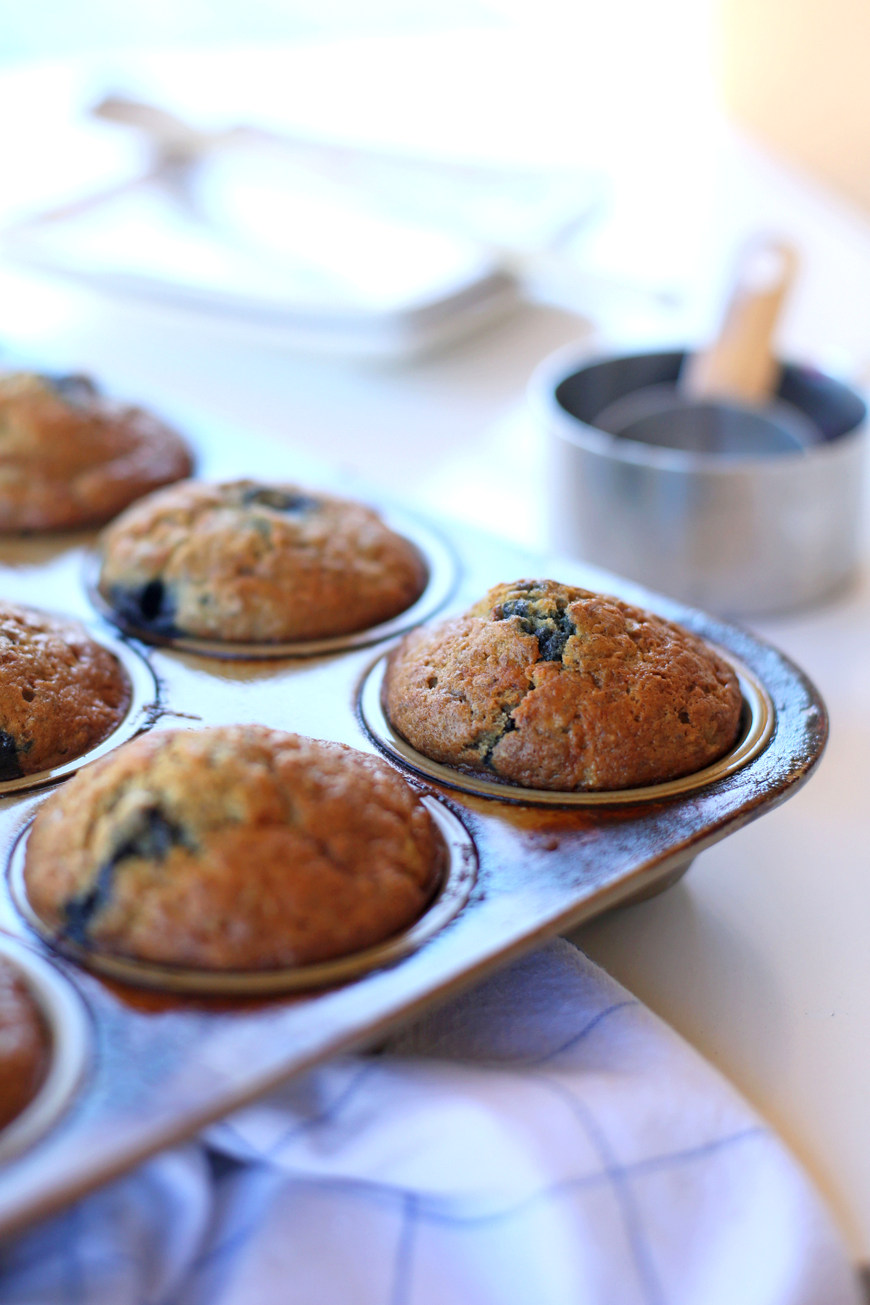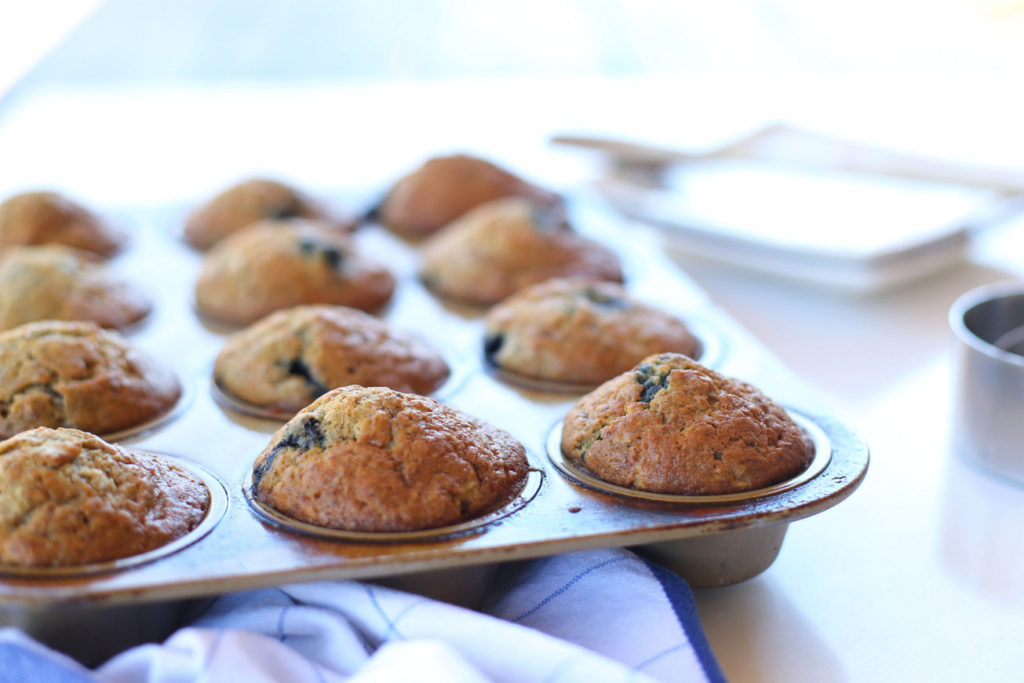 When it comes to breakfast and lunch, I'm pretty happy to eat the same thing over and over again.
I've been going strong with my yogurt and granola for more than two years (although I've had to switch to applesauce instead of yogurt since Tally seems to have issues with dairy) and I show no signs of tiring of it any time soon.
Same thing goes for lunch – I'm happily eating some variation on this salad nearly every day.
So clearly, it doesn't bother me to eat the same thing day after day.
But nothing in our household has stood the test of repetition more than these banana blueberry muffins.
I started making these back when Bart and I were both in grad school, and we'd eat them in the car on the thirty minute drive down to UT Austin.
That was in 2008 and now, nine years later, we still almost ALWAYS have some in our freezer. Bart has one for breakfast nearly every morning.
Even after all these years, I can't resist one when they've just come out of the oven. They are just so delicious.
At this point, I could make them in my sleep.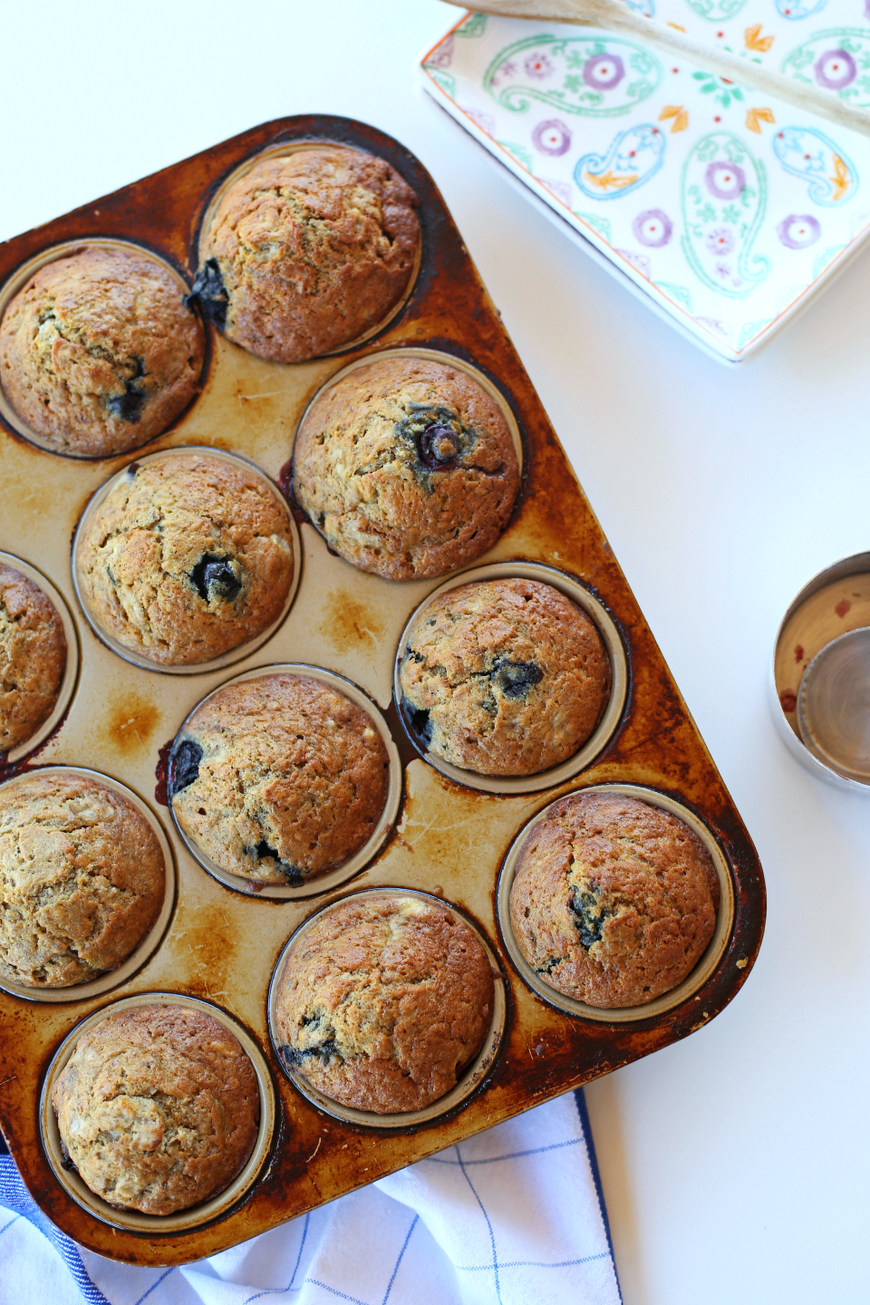 Perfect Banana Blueberry Muffins
(adapted from Everyday Food)
makes a dozen muffins
1/4 cup butter, room temperature
1/4 cup plain yogurt
1/3 cup granulated sugar
1/3 cup brown sugar
2 eggs
1 3/4 cups flour (I usually use white wheat)
1/4 cup quick oats or ground flaxseed
1 teaspoon baking soda
1/2 teaspoon salt
2 ripe bananas
1/3 cup milk
1 teaspoon vanilla extract
1 cup frozen or fresh blueberries
Preheat oven to 375 degrees. Grease a muffin pan or line with muffin cups.
In the bowl of a stand mixer, beat together the butter, yogurt and both sugars until light and fluffy. Add the eggs and beat until well combined.
Pour the flour on top of the sugar mixture, then add the oats, baking soda, and salt on top. Mix for just a few seconds.
Add the bananas (unless they aren't very ripe, I never bother mashing them beforehand) and run the mixer for a few seconds, then add the milk and vanilla and mix just until combined.
Pour in the blueberries and run the machine for a few seconds to evenly distribute them.
Divide the batter evenly among the muffin cups and bake for 28 minutes until the tops are golden brown.
Cool for 10 minutes and then remove from pan.