If you want the best homemade granola recipe ever, this is it. I've tried so many and none come even CLOSE to this one. It's crunchy and a tiny bit chewy and bursting with flavor. I've made it every few weeks for almost seven years now and I've never gotten tired of it. 

There are some recipes that I make, really like, and then for whatever reason, never make again.
And there are some recipes that I make ALLLLLLL the time.
Like don't-need-to-look-at-the-recipe-anymore kind of all the time.
This homemade granola recipe is one of them.

I have made this recipe at least 100 times and every time, I'm a little blown away again at how good it is.
This recipe is originally from Perry's Plate and it is excellent.
I love the little kick that the ginger gives is, and I also like how fast it is to put together.

I also really love that it has no dried fruit or nuts in it, so it's inexpensive to make and then you can add whatever extras you want in when you eat it.
I usually eat my homemade granola sprinkled on a bowl of plain yogurt and then topped with mini chocolate chips, chopped cashews or almonds and whatever fruit is in season or I have on hand (raspberries are my favorite, but strawberries, bananas, blueberries or dried cranberries are also excellent).

This granola recipe is both crunchy and a little chewy and it has so much flavor.
In the seven years that I've been making this easy granola recipe, it's completely ruined all other other granolas, both homemade and store bought for me. They all taste SO BLAND and are basically like chewing a clump of toasted oats. No thank you.
I made a batch of this about a year ago and our babysitter had some for lunch with my girls and as she was leaving said, "This is the best granola I've ever had. Can you send me the recipe?"
She wasn't wrong – this really is the best granola recipe ever.
It also makes a great snack for toddlers, teens and adults alike! Like I said before, it's fabulous in parfaits, in milk for breakfast and amazing just by itself!

Easy Homemade Granola Recipe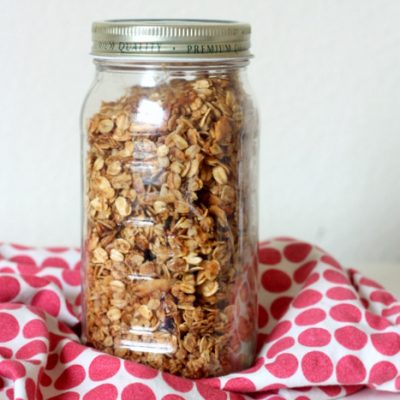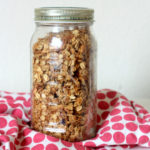 Basic Granola
If you want the best homemade granola recipe ever, this is it. It's crunchy and a tiny bit chewy and bursting with flavor. I will never tire of it!
Ingredients
6

cups

old-fashioned oats

1

cup

shredded coconut

sweetened or unsweetened

6

tablespoons

brown sugar

1/4

cup

ground flaxseed

2

teaspoons

ground cinnamon

1

teaspoon

ground ginger

Heaping 1/2 teaspoon coarse kosher salt

3/4

cup

honey

6

tablespoons

oil

canola oil, coconut oil, or vegetable oil all work great

1

tsp

vanilla extract
Instructions
Preheat oven to 300 degrees.

Combine all dry ingredients in a large bowl and mix well.

In a small saucepan, heat honey and oil until well-combined. Remove from heat and stir in the vanilla.

Pour the liquid over the dry ingredients and stir until the dry ingredients are evenly coated.

Spread the granola evenly onto a baking sheet and bake for 40 minutes, stirring every ten minutes (be especially careful to get the edges since that's where it's most likely to burn).

Let cool and store in an airtight container.
If you like this homemade granola recipe, you might also want to try these other recipes – they're some of the very best, most popular ones on my site!