A couple of weeks ago, I was doing my normal grocery shopping and when I went to pick up some yogurt, I noticed that the Brown Cow Vanilla Cream Top yogurt was marked down to 50 cents a container.
Of course, this was because they were set to expire the next day. But if you've been reading for more than five minutes, you know that I don't actually care about expiration dates at all (much to Bart's dismay – I've learned just to never mention to him that the buttermilk I'm using expired before Christmas (you think I'm joking. I most certainly am NOT. Also, you now are probably thinking you never want to eat anything I make for you)).
I bought four quarts.
Now Ella and I have been enjoying a daily bowl of that yogurt with this granola, some dried cranberries, and a few early strawberries.
This recipe is from Perry's Plate and it is excellent. I love the little kick that the ginger gives is, and I also like how fast it is to put together. I leave out all the nuts and dried fruit and then just add whatever I feel like on a particular morning. So this is a very basic recipe and it costs practically nothing to make, since it's the nuts and dried fruit that tend to make it expensive.
And it tastes amazing over expired yogurt.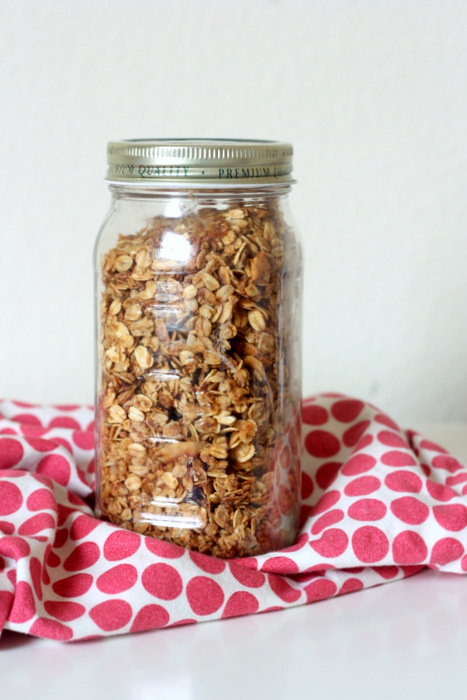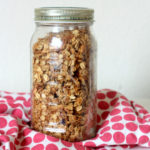 Basic Granola
Ingredients
3

cups

old-fashioned oats

1/2

cup

unsweetened shredded coconut

3

tablespoons

brown sugar

2

T

ground flaxseed

3/4

teaspoon

ground cinnamon

1/2

teaspoon

ground ginger

Heaping 1/4 teaspoon coarse kosher salt

1/3

cup

honey

3

tablespoons

oil

I like coconut best

1/2

tsp

vanilla
Instructions
Preheat oven to 300 degrees.

Combine all dry ingredients in a bowl and mix well.

In a small saucepan, heat honey and oil until well-combined. Remove from heat and stir in the vanilla.

Pour the liquid over the dry ingredients and stir until the dry ingredients are evenly coated.

Spread the granola evenly onto a cookie sheet and bake for 40 minutes, stirring every ten minutes (be especially careful to get the edges since that's where it's most likely to burn).

Let cool and store in an airtight container.