There are bedtime stories for kids – the kind of book that can be any genre and any length. If it's a book that you could read to your child at bedtime, then voila! You have a bedtime story.
Then there are bedtime stories for kids who do. not. want to sleep.
Whether they're afraid of the dark, they desperately want to sleep in the big bed (e.g. YOUR bed) or they just aren't tired, darn it, than these are the bedtime stories for you.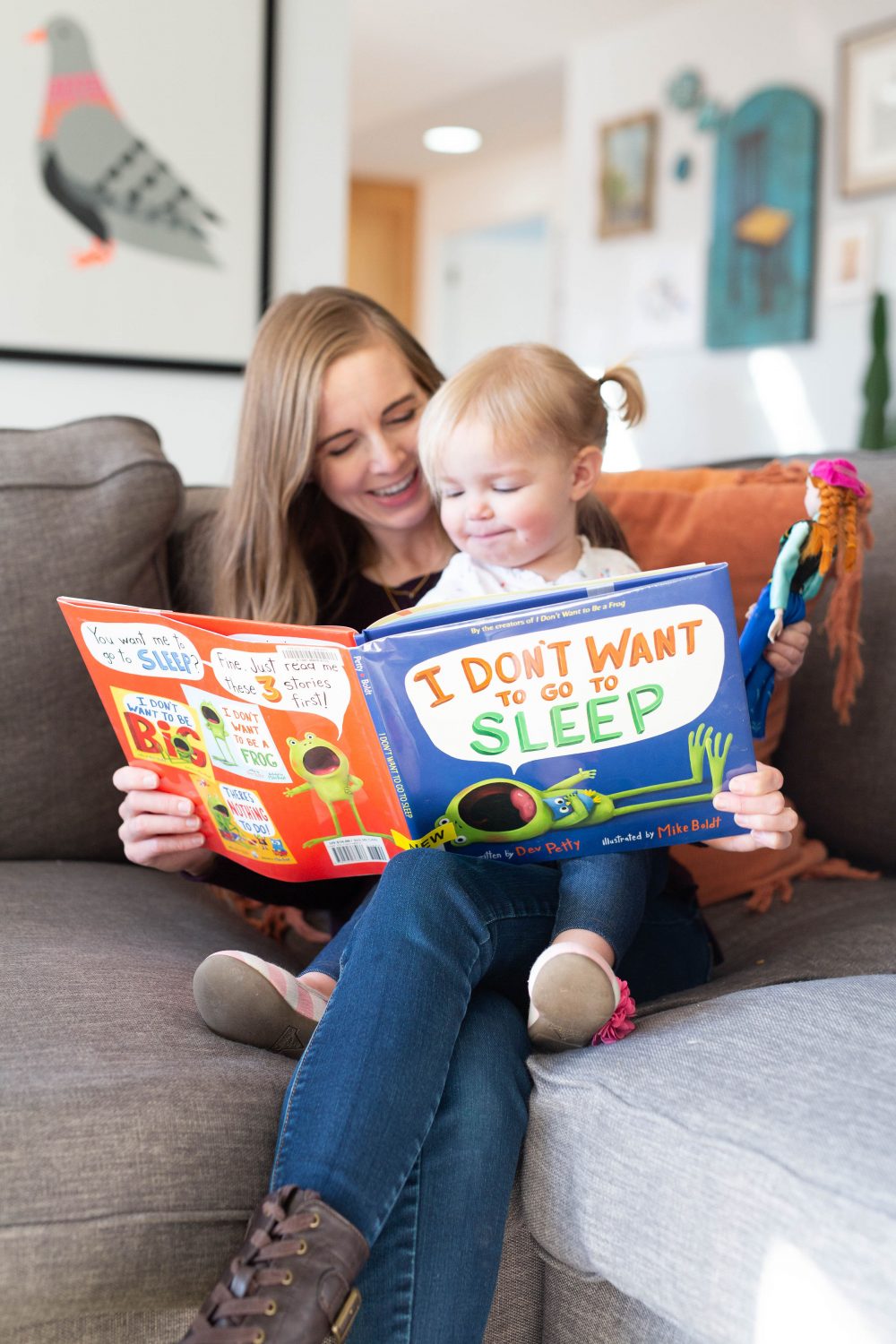 Or, you know, the NOT-bedtime stories for you.
Whether you follow up these children's bedtime stories with actual sleep is completely up to you. 
But as a fellow parent, I'll be crossing my fingers that these books are followed by immediate and deep sleep for your precious child.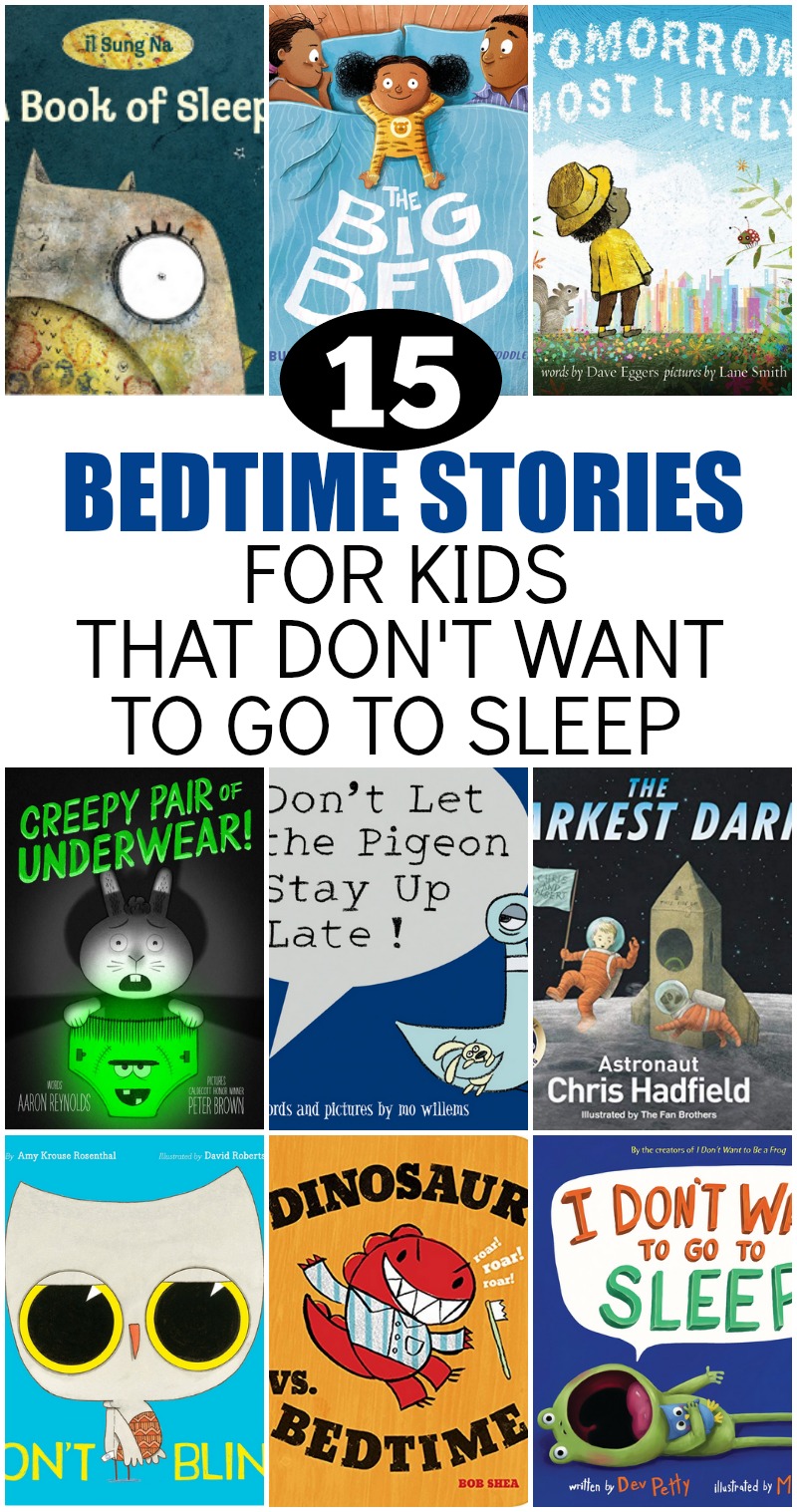 13 bedtime stories for kids that don't want to go to sleep
Dinosaur vs. Bedtime by Bob Shea
Nothing is going to stop Dinosaur. No matter what happens, he's up for the challenge and assured a glorious victory. Except. . . can he take down bedtime?
Don't Let the Pigeon Stay Up Late by Mo Willems
There might not be a more determined bed-time avoider than the Pigeon. He just needs five more minutes. Or to watch a very educational show. Or to spend some time talking to you. But your job is to make sure he doesn't stay up late.
Orion and the Dark by Emma Yarlett
Orion is fairly terrified of lots of things, but dark? That's the scariest of all. Until Dark comes to pay Orion a visit one night and takes him on the adventure of a lifetime to prove that the dark isn't so scary after all.
Tomorrow Most Likely by Dave Eggers, illustrated by Lane Smith
Nobody wants to think about going to bed – lying quietly on a pillow and staring at the ceiling. Instead, it's much more fun to think about all the wonderful (and maybe even impossible!) things that tomorrow COULD bring.
Nighttime Symphony by Timbaland, illustrated by Christopher Meyers and Kaa Illustration
Have you ever felt afraid when a storm came rolling in at night? This book remixes those sounds and lights of a thunder storm into a symphony that will lull you to sleep.
Creepy Pair of Underwear by Aaron Reynolds, illustrated by Peter Brown
This companion book to the Caldecott Honor book Creepy Carrots is about Jasper, a little bunny who spies a pair of glow-in-the-dark underwear at the store and is DETERMINED to have them. Of course, when he gets them home, it turns out that a pair of glow-in-the-dark underwear is actually pretty scary. Will Jasper ever sleep again?
No Sleep for the Sheep! by Karen Beaumont, illustrated by Jacki Urbanovic
This is possibly Bart's all-time favorite picture book. We discovered it when Ella was little and we can still repeat pretty much the whole thing about a sheep who just REALLY wants to go to sleep but other barn animals keep barging in and keeping him up.
I Don't Want to Go to Sleep by Dev Petty, illustrated by Mike Boldt
Frog cannot wait for winter to come – there is going to be so much to do! Until Owl drops the bad news that frogs actually hibernate all winter long and he's going to miss al the fun. If you thought going to bed for 12 hours was hard, imagine if you had to go to bed for MONTHS! What is Frog going to do?
The Big Bed by Bunmi Laditan, illustrated by Tom Knight
This tongue-in-cheek picture book follows a little girl who sits her dad down and explains kindly and lovingly that they need to have a talk about the big bed. Namely that he is no longer welcome there and that she's going to share it with Mommy. But never fear – he can have a little cot all to himself.
The Darkest Dark by Chris Hadfield, illustrated by The Fan Brothers
Inspired by the childhood experiences of astronaut Chris Hadfield, this picture book is perfect for any child afraid of the dark. Chris loves space and dreams of being an astronaut but he's terrified of the dark. Until he sees the 1969 moon landing and realizes the dark can actually be thrilling, not terrifying.
If Your Monster Won't Go to Bed by Denise Vega, illustrated by Zacharia OHora
When you have a monster that refuses to go to bed, you can't turn to your parents because they just don't know anything about putting a monster to bed (parents specialize in putting CHILDREN to bed). But not to worry – this book will teach you everything you need to know about getting your monster settled down and snoozing away in no time.
A Book of Sleep by Il Sung Na
This book is definitely the most traditional bedtime story on this list as Owl flies into the night, watching all the other animals settling down for a good night's sleep, all in their own different ways. I love the rich illustrations and the soothing rhythm of the text.
Don't Blink! by Amy Krouse Rosenthal, illustrated by David Roberts
For the child who swears they aren't tired, this interactive bedtime stories for kids is hilariously brilliant. The little owl narrator explains the rules – all you have to do avoid bedtime and stay awake is not get to the end of the book. Easy, right? But there is one catch. Whenever you blink, you have to turn the page. So DON'T BLINK.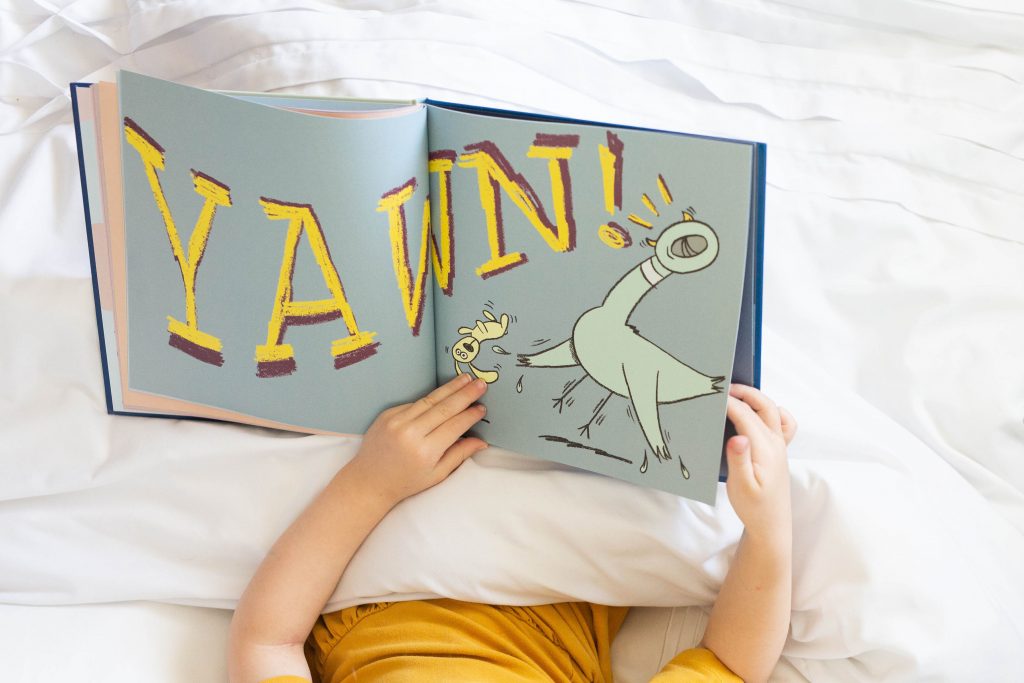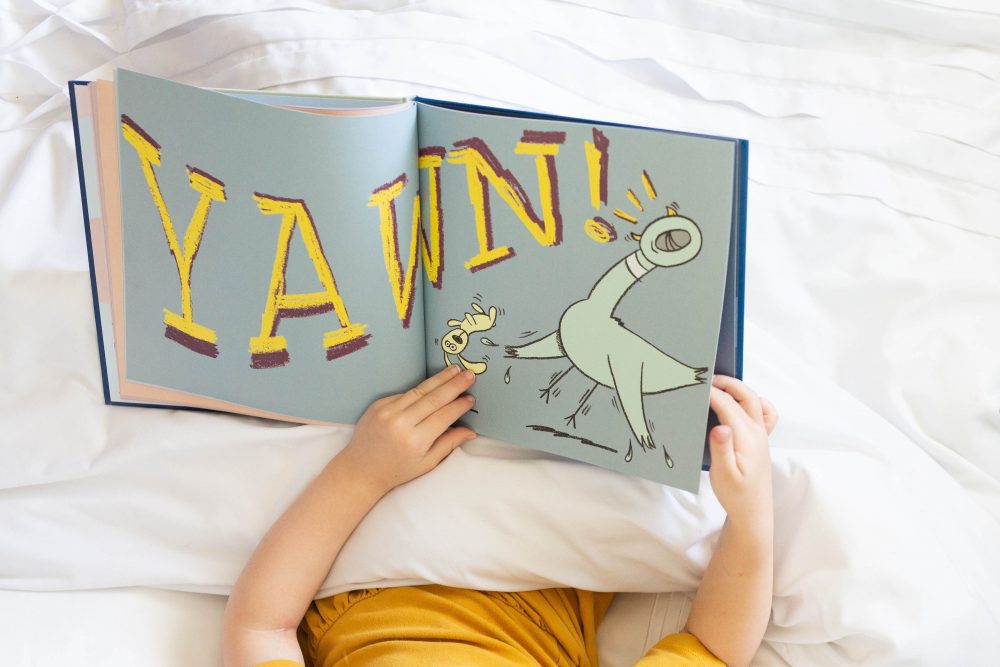 And if you'd like a printable copy of this list of bedtime stories for kids that you can take to your library or screenshot on your phone for easy access, just pop in your email address below and it'll come right to your inbox!
Any other favorite bedtime stories? I'd love to know – leave the titles in the comments!
If you liked this post about bedtime stories for kids, you might also like these posts:
Photos by Heather Mildenstein