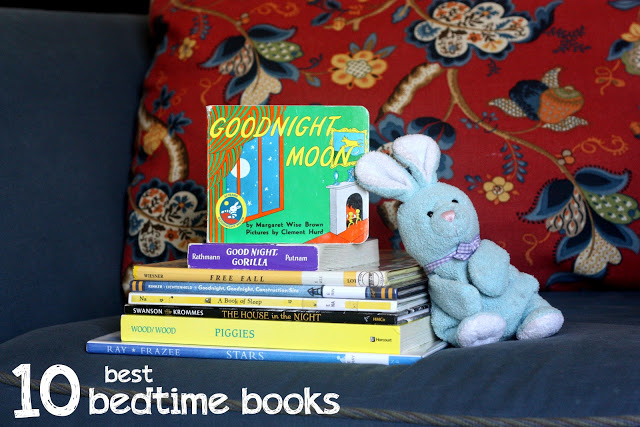 Is there anything better than snuggling up with your toddler and a bedtime book after a busy day? It's extra nice if that toddler is freshly bathed with damp hair.
These are ten of my favorites bedtime books, with a mix of old classics and newer titles.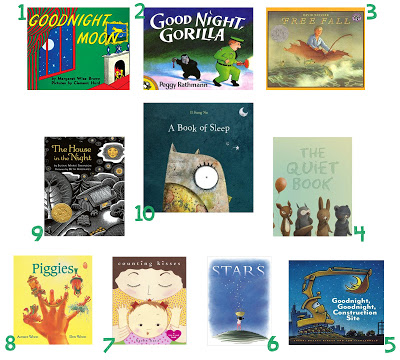 bedtime books
Goodnight Moon by Margaret Brown Wise, illustrated by Clement Hurd – The ultimate classic for bedtime stories.
Good Night, Gorilla by Peggy Rathmann – The zookeeper is locking up for the night, not realizing all his charges are following him home to sleep in his room.
Free Fall by David Wiesner – A beautiful wordless book where the details of a little boy's room morph into his dreams.
The Quiet Book by Deborah Underwood, illustrated by Renata Liwska – A crew of sweet animals list off all the different kinds of quiet, from "first look at your new haircut quiet" to "sleeping sister quiet."
Goodnight, Goodnight Construction Site by Sherry Dusker Rinker, illustrated by Tom Lichtenheld – All the construction vehicles reflect on the day's activities before settling into their soft dirt beds.
Stars by Mary Lyn Ray, illustrated by Marla Frazee – Stars are everywhere, from a magic wand to strawberry plants before the fruit appears. And, of course, in the sky.
Counting Kisses by Karen Katz – Starting at ten kisses and working down to one, a family puts their sleepy baby to bed with kisses from head to toe.
Piggies by Audrey Wood, illustrated by Don Wood – Hilariously detailed illustrations of piggies doing various activities on chubby toddler hands, eventually ending with goodnight kisses.
The House in the Night by Susan Marie Swanson, illustrated by Beth Krommes – A recent Caldecott winner done in black, white, and gold scratchboard – gorgeous!
A Book of Sleep by Il Sung Na – The owl watches other animals sleep the night away, and when they wake up, he's just drifting off.
And if you'd like a printable copy of this list that you can take to your library or screenshot on your phone for easy access, just pop in your email address below and it'll come right to your inbox!
What are your favorite bedtime books for little ones?
if you liked this bedtime books post, you might also like these other posts: