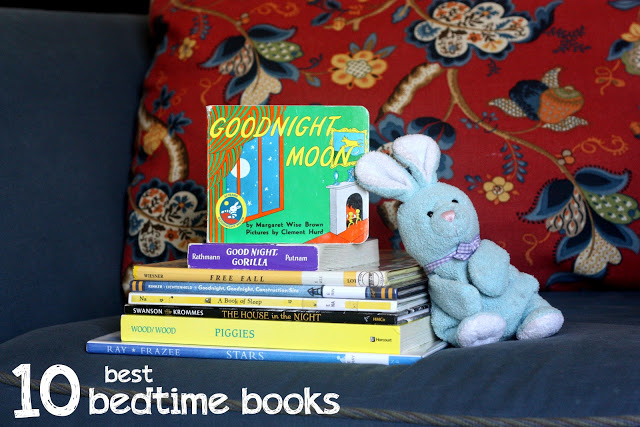 Is there anything better than snuggling up with your toddler and a quiet story after a busy
day? It's extra nice if that toddler is freshly bathed with damp hair.
These are ten of my favorites
for bedtime, with a mix of old classics and newer titles.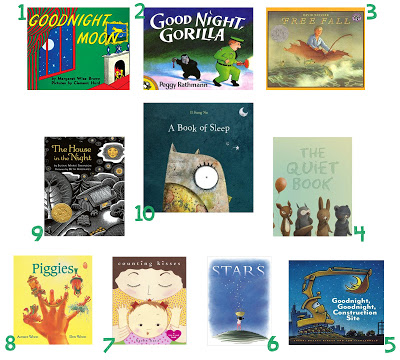 1 Goodnight Moon – The ultimate classic for bedtime stories.
2 Good Night, Gorilla – The zookeeper is locking up for the night, not realizing all his charges are following him home to sleep in his room.
3 Free Fall – A beautiful wordless book where the details of a little boy's room morph into his dreams.
4 The Quiet Book –
A crew of sweet animals list off all the different kinds of quiet, from
"first look at your new haircut quiet" to "sleeping sister quiet."
5 Goodnight, Goodnight Construction Site – All the construction vehicles reflect on the day's activities before settling into their soft dirt beds.
6 Stars – Stars are everywhere, from a magic wand to strawberry plants before the fruit appears. And, of course, in the sky.
7 Counting Kisses – Starting at ten kisses and working down to one, a family puts their sleepy baby to bed with kisses from head to toe.
8 Piggies
– Hilariously detailed illustrations of piggies doing various
activities on chubby toddler hands, eventually ending with goodnight
kisses.
9 The House in the Night – A recent Caldecott winner done in black, white, and gold scratchboard – gorgeous!
10 A Book of Sleep – The owl watches other animals sleep the night away, and when they wake up, he's just drifting off.
What are your favorite bedtime books for little ones?