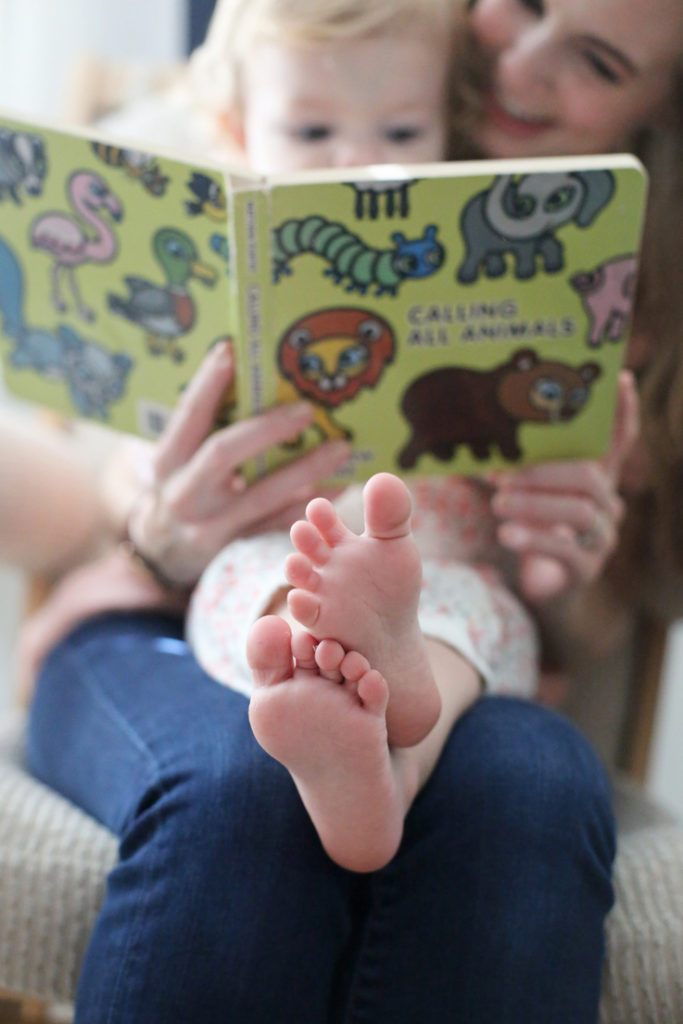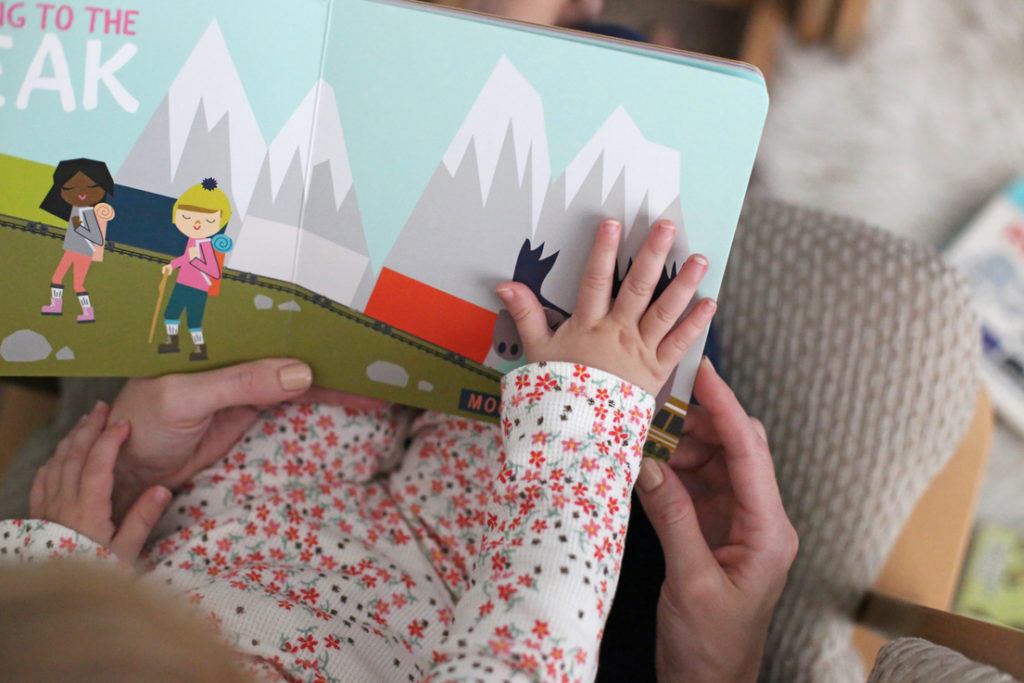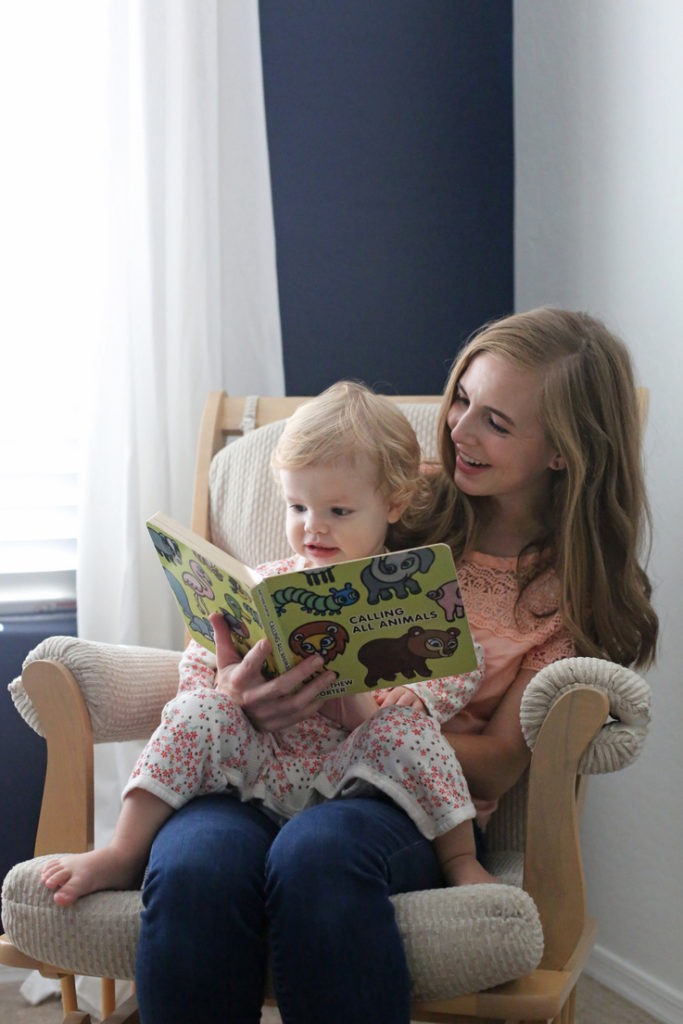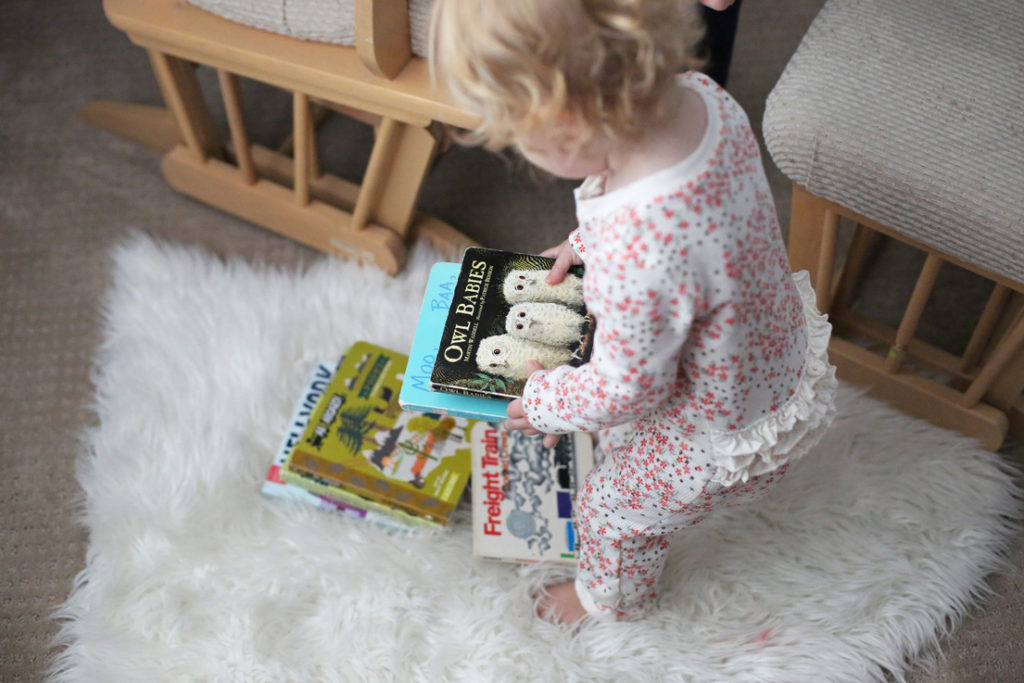 This post is in partnership with Burt's Bees Baby and their 100% organic (and ridiculously darling) clothing line for little ones
One of my little embarrassing parenting secrets is that I haven't read to my children before they go to bed very often.
I read to them a lot during the day and I also am always just so ready to get everyone in bed and be done for the day, so reading has not been a regular part of our routine.
But over the summer, a few things changed – we had less busy schedules with school out, Star suddenly discovered a love of books, and my mom came down and helped me paint the girls' bedrooms, which means I no longer avoid being in them at all costs, and I weaned Star a week ago – and suddenly, a few extra minutes reading with the girls before bed didn't seem so daunting.
I've been loving reading a board book or two with Star before I tuck her into her crib, jamming myself into Ani's little toddler bed next to her and reading a new library book, and finishing with a chapter of Time at the Top with Ella in her twin bed.
It doesn't happen every night, and I don't feel guilty about that, but I like the nights that it does, especially because it is a good incentive to get them ready for bed a bit earlier.
And really, there's nothing I love so much as a snuggly little child in pajamas, curled up in my lap with a board book they love.
Star outgrew most of her jammies over the summer, so I was in the market for a few new pairs. I've always loved the fleece kind with feet, but it's so warm here most of the year, that this just seemed cruel.
I ordered a couple of pairs from Burt's Bees Baby and I absolutely love them. They're 100% organic cotton, and so soft and snuggly. And there's nothing I love more than her little bare feet sticking out the bottom. I got this gray thermal coverall with crochet insets too, and it's just ridiculously darling.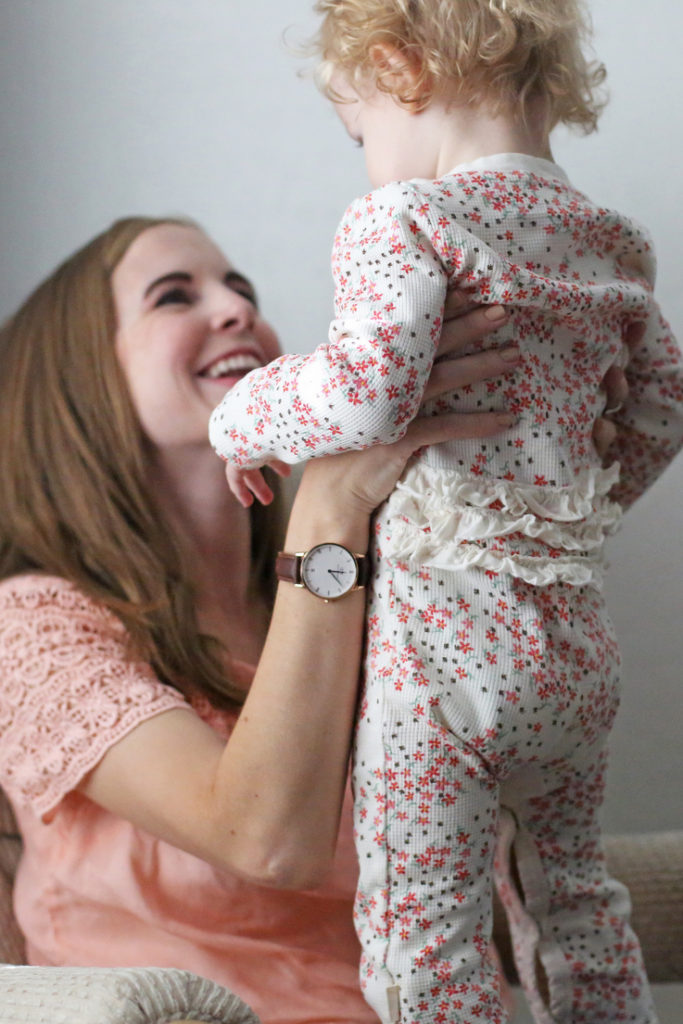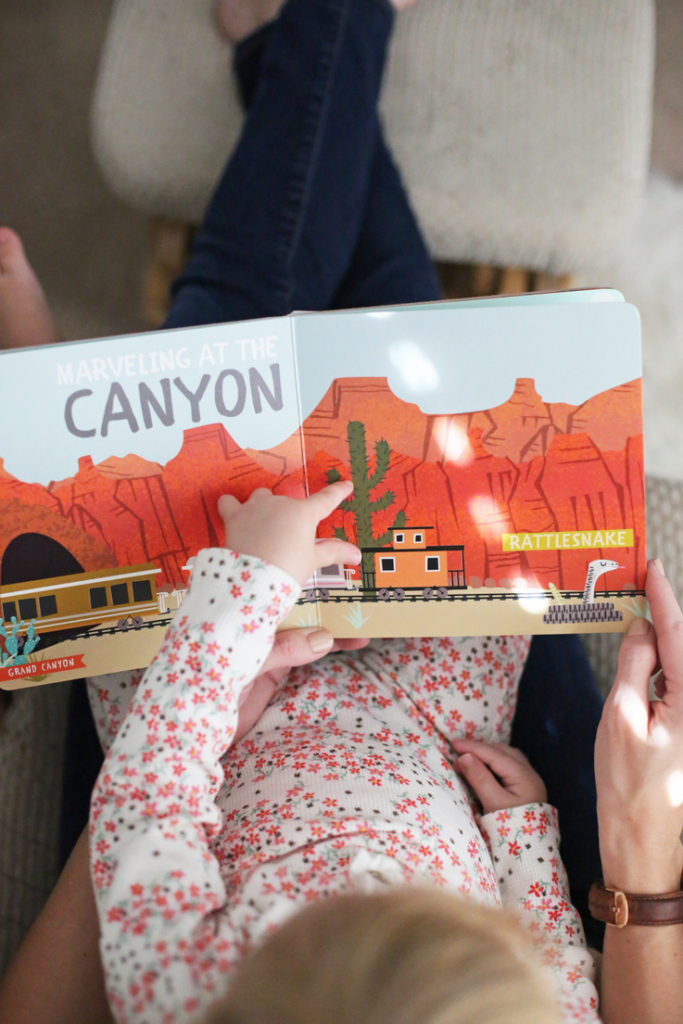 In fact, she's just so darn cute in them, that it's not hard for her to convince me to read her an extra of her board books or three before bed (and then when she asks to take them to bed with her, my librarian heart just about bursts).
Here are some of the best board books for this age (for reference, Star turns 18 months this week):

the best board books
Goodnight Moon by Margaret Wise Brown and Clement Hurd
I'm sorry, but this one has to be on there. Just the last week, Bart was reading this to Star on the couch, and when he closed it, he said, "This is basically a perfect book." He's not wrong. And neither are the seventeen people who gave it to you as a baby gift.

New York: A Book of Colors by Ashley Evanson
Oh man, I love this whole Hello World series so much – they're just clever and beautifully illustrated and make me want to hop on a plane right away.
Moo Baa La La La by Sandra Boynton
We own a ton of Sandra Boynton books, and I love them all, but this might be in my top three. It's quick and it makes me laugh every dang time.

Jamberry by Bruce Degen
I can't think of a book that more perfectly fits the term "rollicking." I love the rhyme, the bright illustrations, and the hundreds of cool details on every page. I've loved this one since I was a child.

Peek-a-Zoo by Nina Laden
This is one of four in this peek-a-boo series, but this one is my favorite where the rhyme leaves you to guess on every page what animal might be behind the flap. And then it ends with a mirror, which delights my baby every single time.
Freight Train by Donald Crews
I'll admit that I am not a vehicle book expert, but the illustrations on this one are just breathtaking. I love the colors, the style, and the minimalist design.

Counting Kisses by Karen Katz
A book that basically requires you to kiss your baby from head to toe? Sign me up.

All Aboard! National Parks: A Wildlife Primer by Haily Meyers and Kevin Meyers 
This All Aboard series from the BabyLit publishers is so fun, with titles ranging from Washington DC to Paris to California. But I love the National Parks version with its awe-inspiring landscapes and charming illustrations.

Lick by Matthew Van Fleet
My girls have all been obsessed with any book by Matthew Van Fleet, but Lick is our newest addition, which Bart's parents gave us for Star's 1st birthday.

Baby Talk by Dawn Sirett and Victoria Blackie
Ralphie gave me this book for Ella's 1st birthday and it has been a favorite with all three girls. It's six pages and all of my girls have made some of their earliest attempts at words while we read this over and over and over (and over and over).

Owl Babies by Martin Waddell and Patrick Benson
This book doesn't really have a typical board book feeling to me, since it's so dark, but my girls have all loved these funny little owl babies who are anxiously awaiting the return of their mother.

Calling All Animals by Matthew Porter
I love animal collective nouns, plus the vintage-y look of the illustrations make this a complete winner in my book.
And if you'd like a printable copy of this list that you can take to your library or screenshot on your phone for easy access, just pop in your email address below and it'll come right to your inbox!
Grab yourself a cuddly baby, a board book, and some soft pajamas and snuggle up for five minutes.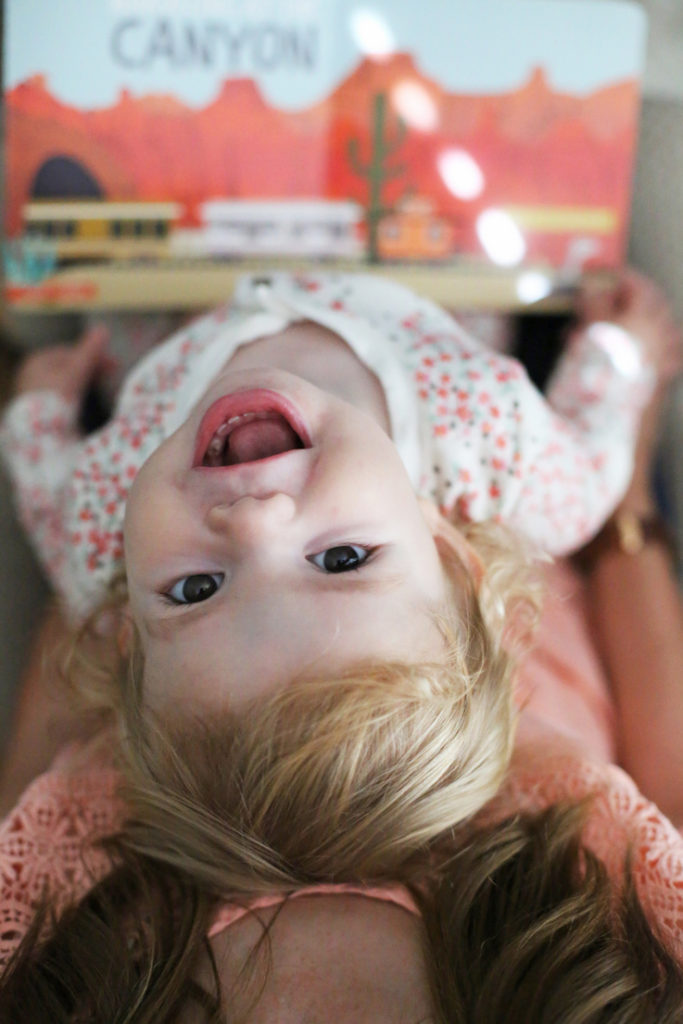 if you liked this post with some of the best board books, you might also like these posts:
Reader Interactions