If you're adding a baby to the family, it's important to help prepare your older children for that exciting transition. A big sister or big brother book are such a fun way to get ready, so here are some of my favorite children's books about new baby additions. I hope you'll find new baby books for toddlers and older siblings here that help your family make a smooth transition! 
When we lived in London, I made friends with a fantastic woman with a little daughter right between the ages of my two girls.
We met at library story time and since she was also an American living in London, we had lots to talk about and started going to the park after story time together, going to local events with our girls, and basically just enjoying having a friend.
Since it was kind of lonely knowing almost no one in the entire city, she was a complete lifesaver for me.
A while after we left to return to the US, she emailed me to tell me she was expecting a second baby and asking if I had any recommendations for books that introduce the topic of a new sibling.
I had no suggestions, but told her I'd look into them. And then we moved across the country a week later and I completely forgot about it, so hopefully her daughter adjusted smoothly, no thanks to me.
Her baby is a year old now, so this is a LITTLE late for her, but hopefully it'll be helpful to someone else. Plus, as we've prepared for our newest addition, it's been a fun project to read plenty of big sister books.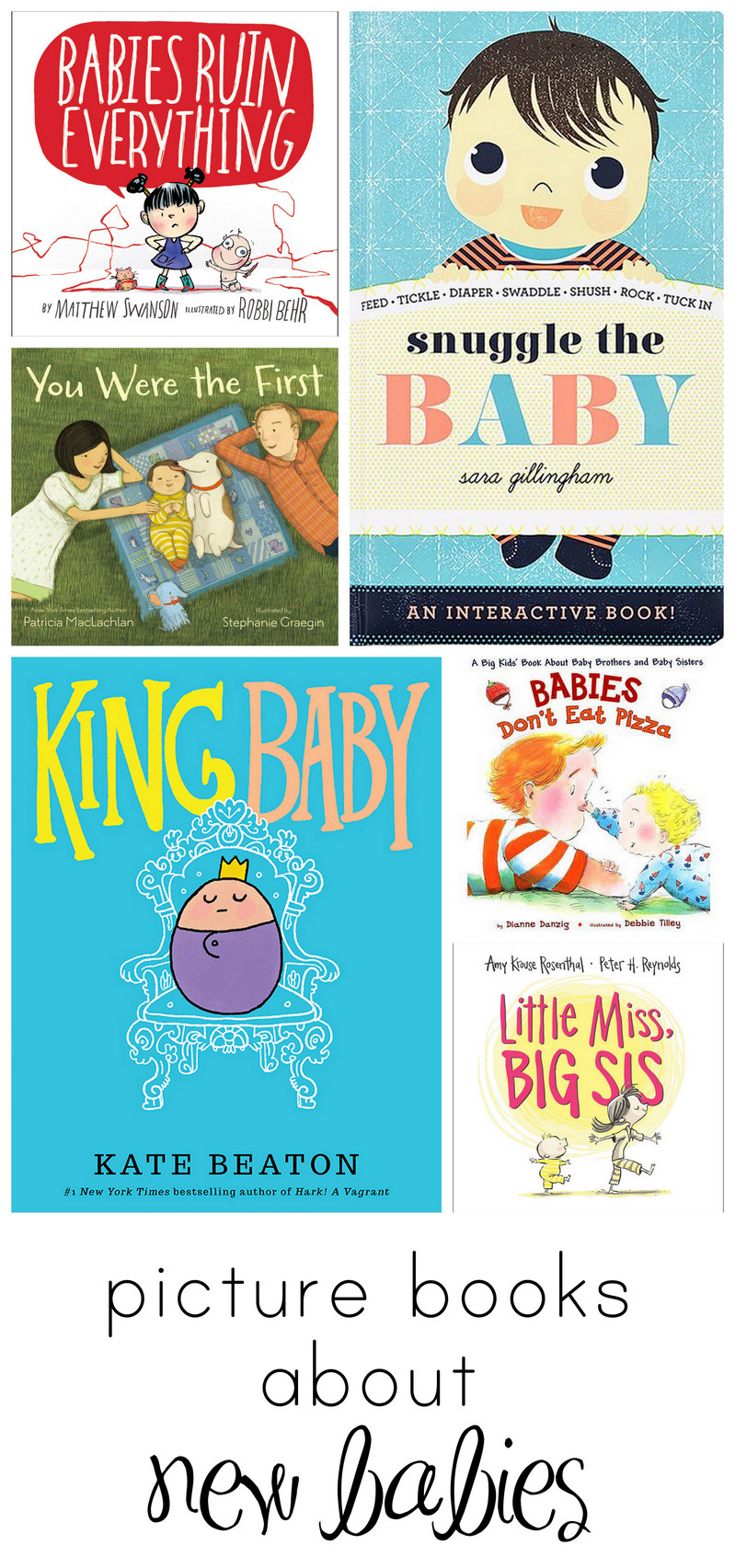 8 Books about Becoming a Big Sister or Big Brother
A Baby Sister for Frances by Russell Hoban, illustrated by Lillian Hoban
Oh, how I love Frances. I like that this book is more about the baby a few months down the road, when life has settled down some, but is still a little bit different than what it was before. Frances decides to run away, but she only goes as far as the dining room table because she needs to be close to cookies (my kind of girl!) and gets to hear her parents talk about how much they love her and what a great sister she is. Basically the perfect big sister book.
Little Miss, Big Sis by Amy Krouse Rosenthal, illustrated by Peter H. Reynolds
This short rhyming book is one of the best new baby books for toddlers, since it's just completely upbeat and happy. So many of the children's books about new baby additions I read were pretty negative (which I can appreciate because it's a stressful time for so many small children), but it's nice to read something that's all about the love and fun between siblings.
You Were the First by Patricia MacLachlan, illustrated by Stephanie Graegin
It's been a long time since Ella was our only child, but this book brought back such warm feelings for me about how special that first experience as a parent is, when your whole world is just that one child and every new experience is the first. I think this is such a sweet book to introduce to oldest children so they know how deeply loved they are even as they become big sisters and big brothers.
Babies Ruin Everything by Matthew Swanson, illustrated by Robbi Behr
This book is definitely a little more on the "babies are upending my world!" side of the spectrum, but I love that the older sister realizes that perhaps she's the problem and that maybe what the baby needs is a better big sister. I love the illustrations in this big sister book and it makes me laugh every time.
Olive Marshmallow by Katie Saunders
As someone just starting to see my girls REALLY play together a lot, this book warmed my heart so much as Archie discovers that the fluffy pink marshmallow his mom brought home from the hospital is turning into a constant companion and playmate. I just love sweet books about becoming a big sister or big brother – give me all the stories about siblings who love each other.
King Baby by Kate Beaton
I died laughing over this big brother book about an infant who declares himself King Baby and enjoys the attention and demands full loyalty from his subjects (er, parents). As he grows up, he thinks maybe it's time not to be King Baby anymore, which is good because Queen Baby is ready to make her royal entrance. This one is just as funny for parents as for a sibling. (Ninja Baby is another one if you're looking for similar books about becoming a big sister).
Babies Don't Eat Pizza by Dianne Danzig, illustrated by Debbie Tilley
This is LONG (probably not  the best new baby books for toddlers) but my girls loved it and we read it many times together over the past few months. It really answers so many questions about new babies, from how they get out (either through an opening between moms' legs or through a cut in their tummy) to what babies will look like, how they'll eat and act, the feelings older siblings may experience, and how they can help out around the house. If you're looking for something age-appropriate but pretty thorough, I thought this was an excellent one.
Snuggle the Baby by Sara Gillingham
I'm a huge fan of Sara Gillingham's style and this board book version of a new baby book for siblings lets you shush, rock, swaddle, and kiss a baby brother or baby sister, making it good practice and interactive reading for almost-big siblings.
And if you'd like a printable copy of this list that you can take to your library or screenshot on your phone for easy access, just pop in your email address below and it'll come right to your inbox!
Do you have a new baby book for siblings that's worked well with your children? I'd love if you shared in the comments!
If you liked this  list of books about becoming a big sister or big brother, you  might also like these posts:
Reader Interactions