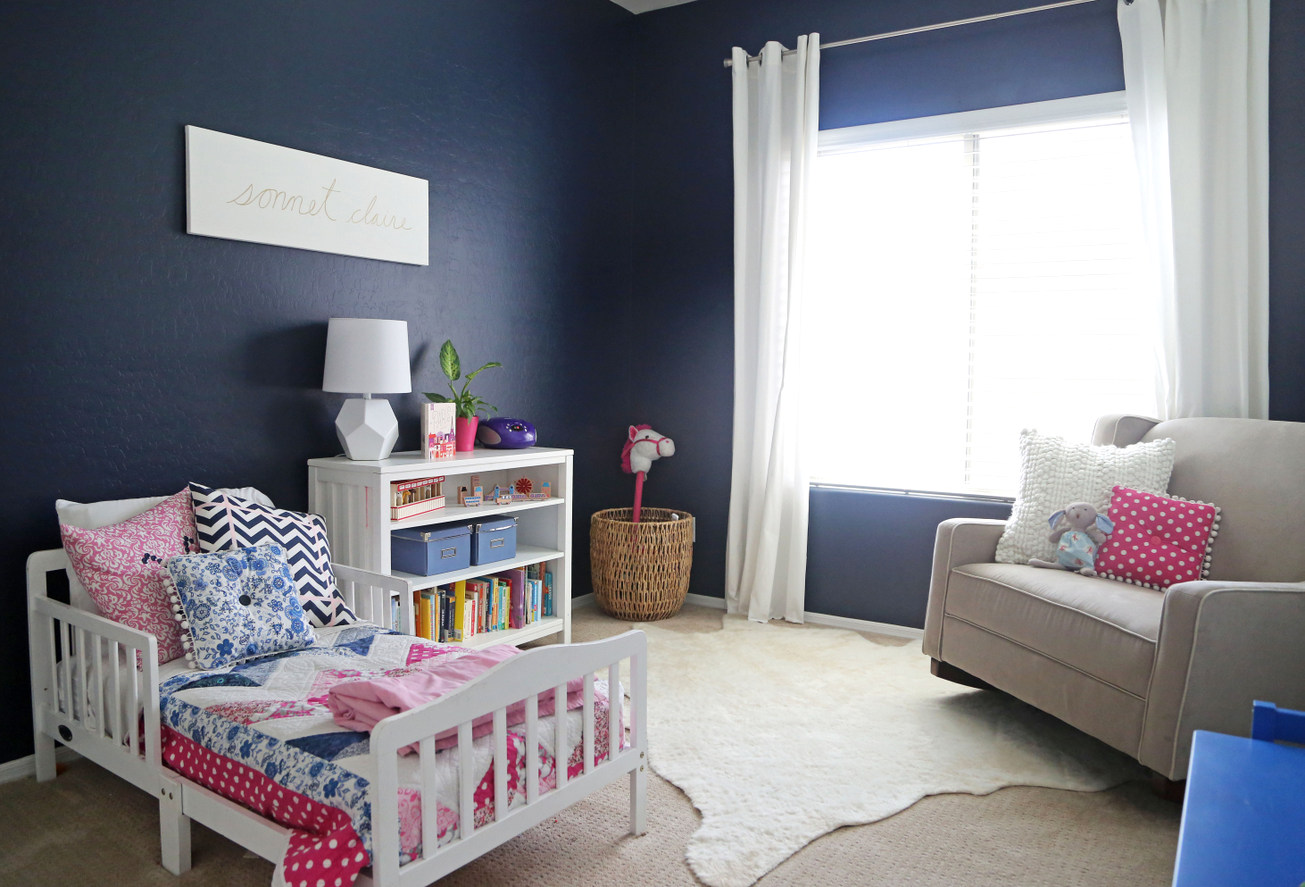 When my mom came down this summer to help me paint, our to-do list was the master bedroom, Ella's room, and Ani's room.
I already had plans for the first two, but even after she arrived, I still was completely unsure of what to do with Ani's room.
Since it's the room closest to our room, plus the smallest room, I knew that it'd probably become the nursery when we had another baby, but at that point we had no idea if we'd have a girl or a boy (I hadn't even told my mom I was pregnant when she here on that trip), so whatever we picked needed to be able to go either way.
My mom had made a quilt and several pillows for Ella's room back in North Carolina, and she asked if I was planning to use them again. I actually wasn't, but then, after we both LOVED the navy blue paint we'd used in the master bedroom, she suggested that we use the rest of the gallon to do two walls in Ani's room and the other two walls white to keep it from being too dark, and then the bedding would go perfectly with it.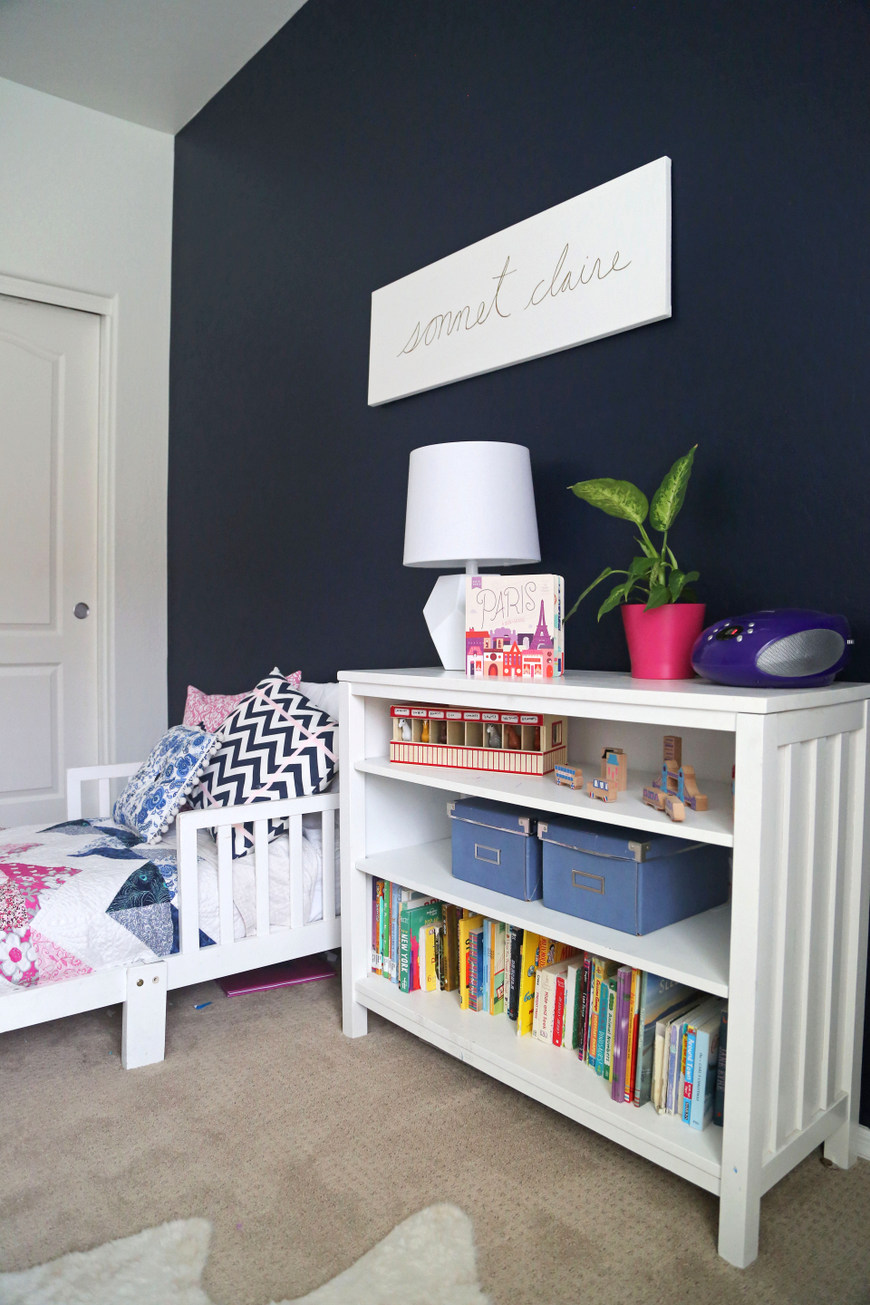 Not to mention that navy would easily work for either or a boy or girl nursery.
Now this is one of my favorite rooms in the house.
This room originally had neon mint green walls and the whole room just GLOWED. In fact, even after we'd painted two walls navy, the remaining two walls were so lurid that the white looked very green until every bit of the green was finally covered over.
We'd also had this dresser in there, and the size was just completely off with the little toddler bed, which I didn't recognize until we took it out and everything suddenly looked SO much better.
There had also been two toddler beds in there, but it didn't leave much room for actual playing, plus one was in truly terrible condition, so we sold that one on Craigslist, and added the bookshelf and the little table and chairs set from Ella's old room in there.
We'd bought a glider after Ella was born on Craigslist and I never really liked it – it wasn't that comfortable and it was hard to nurse in because the arms were too high and it was impossible to squeeze more than one child in with you. Plus, it was ALWAYS smacking into the wall which made me insane, especially after we had new paint on the wall.
I started trolling the rocking chairs and gliders on Hayneedle for a replacement and was pretty sure I was going to go with one of these gorgeous Nursery Works rocking chairs, until I saw one of these double rocking chairs (which I'd never seen) and I realized it would solve my constant problem of having a baby that needs rocking/nursing plus at least one or two other children who want to sit by me and read books. Plus, it was actually CHEAPER (by nearly half) of the other rocking chairs I was looking at.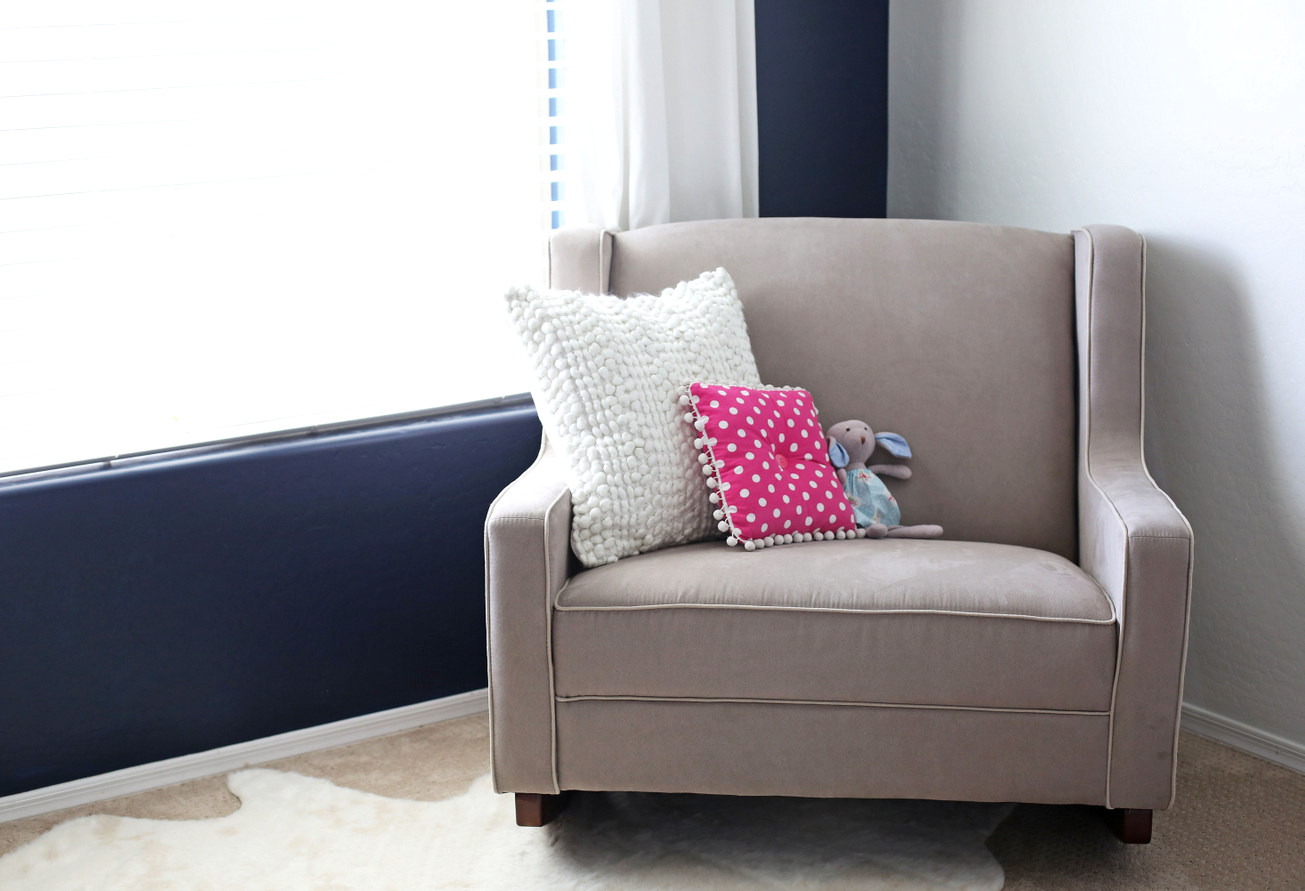 When it came, my older girls thought it might be broken because it didn't rock back and forth as wildly as the glider, but I was delighted that it wasn't smacking the wall all the time.
This room is constantly a mess (I remember that Ella was an enormous slob at this age too), but we've tried to set it up to be as easy to clean up as possible with a basket where all the toys can get tossed right in, and some boxes to corral all her art supplies.
I also have to vacuum this room more than any other room, thanks to Ani's habit of cutting up tons of bits of paper as part of art projects.
Ani will stay in this room for a few more months while the baby sleeps in our room, and then we'll move her to the guest room and rearrange this room to be a nursery.
I don't think it'll be a huge change – we'll swap out the toddler bed for a crib, move the little table and chairs to Ani's new room, and hang up some new art.
Either way, I love how this room turned out and I'm looking forward to spending even more time in it once it's a nursery (and probably less time vacuuming it).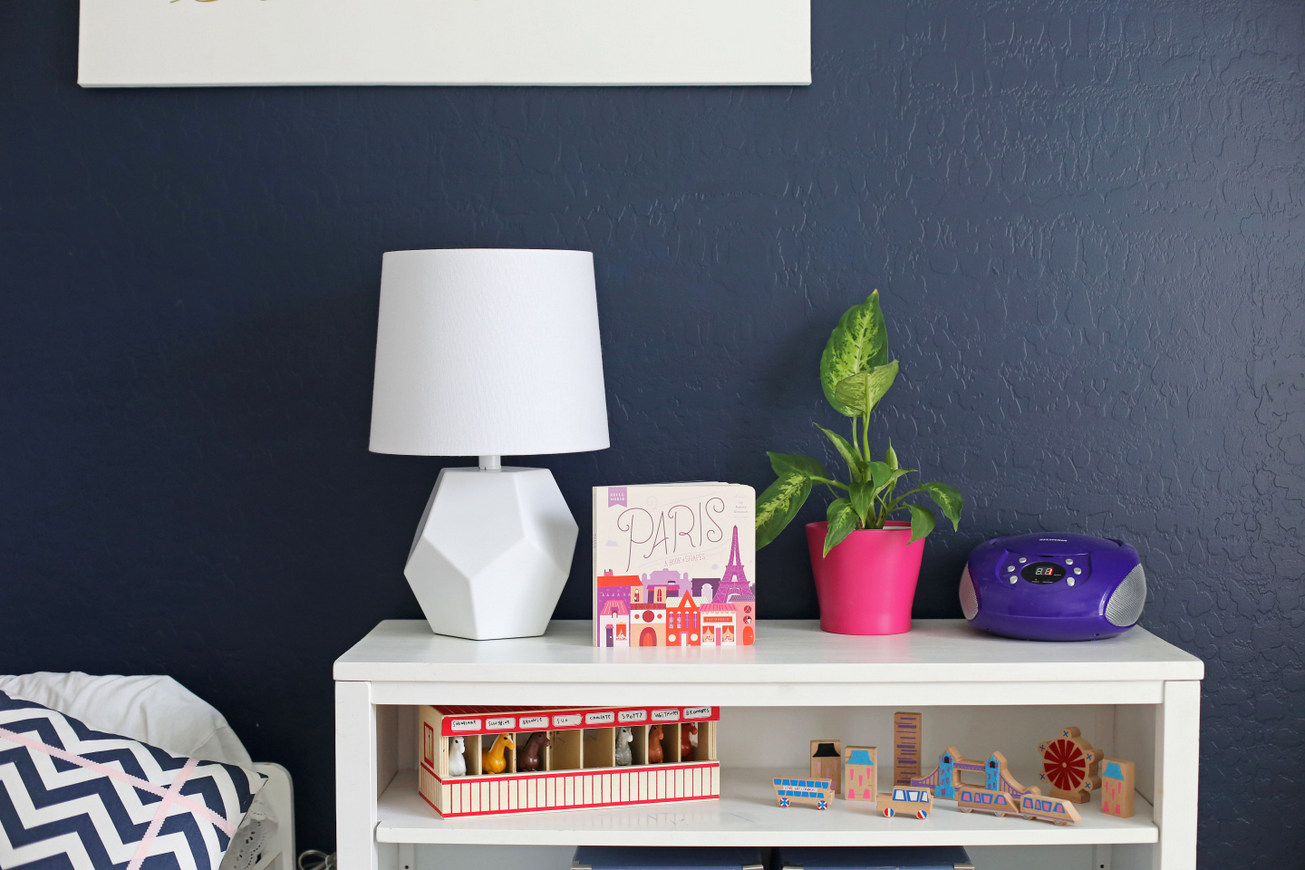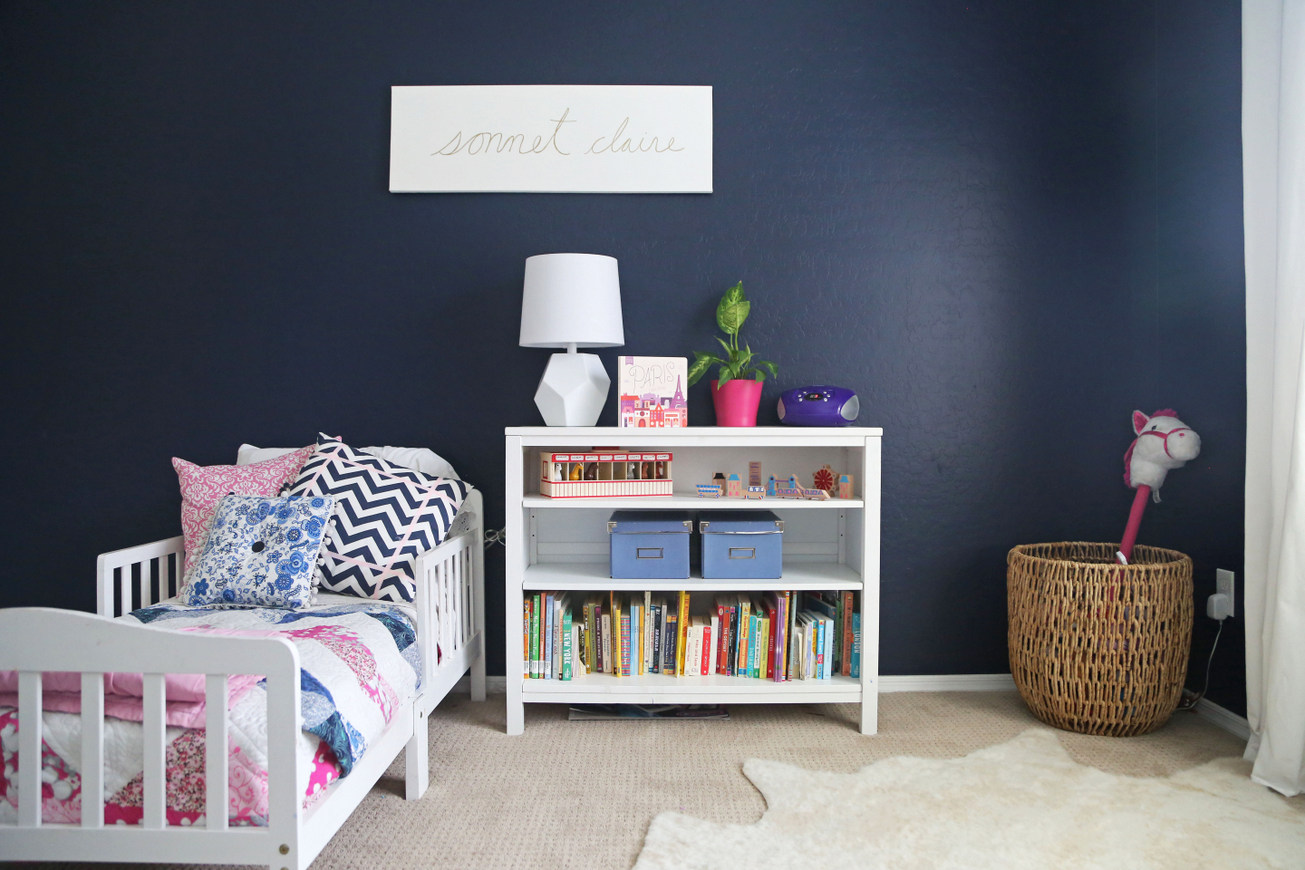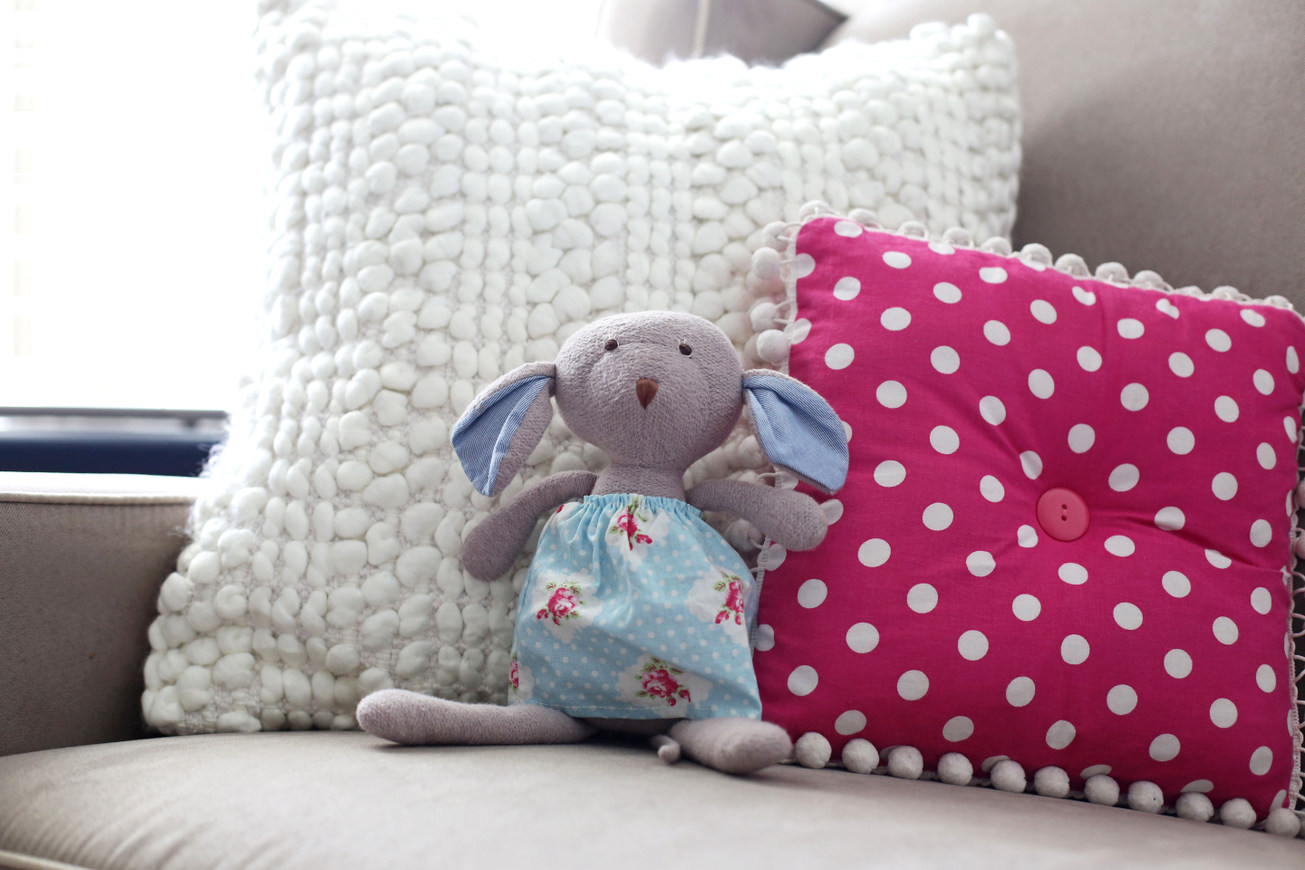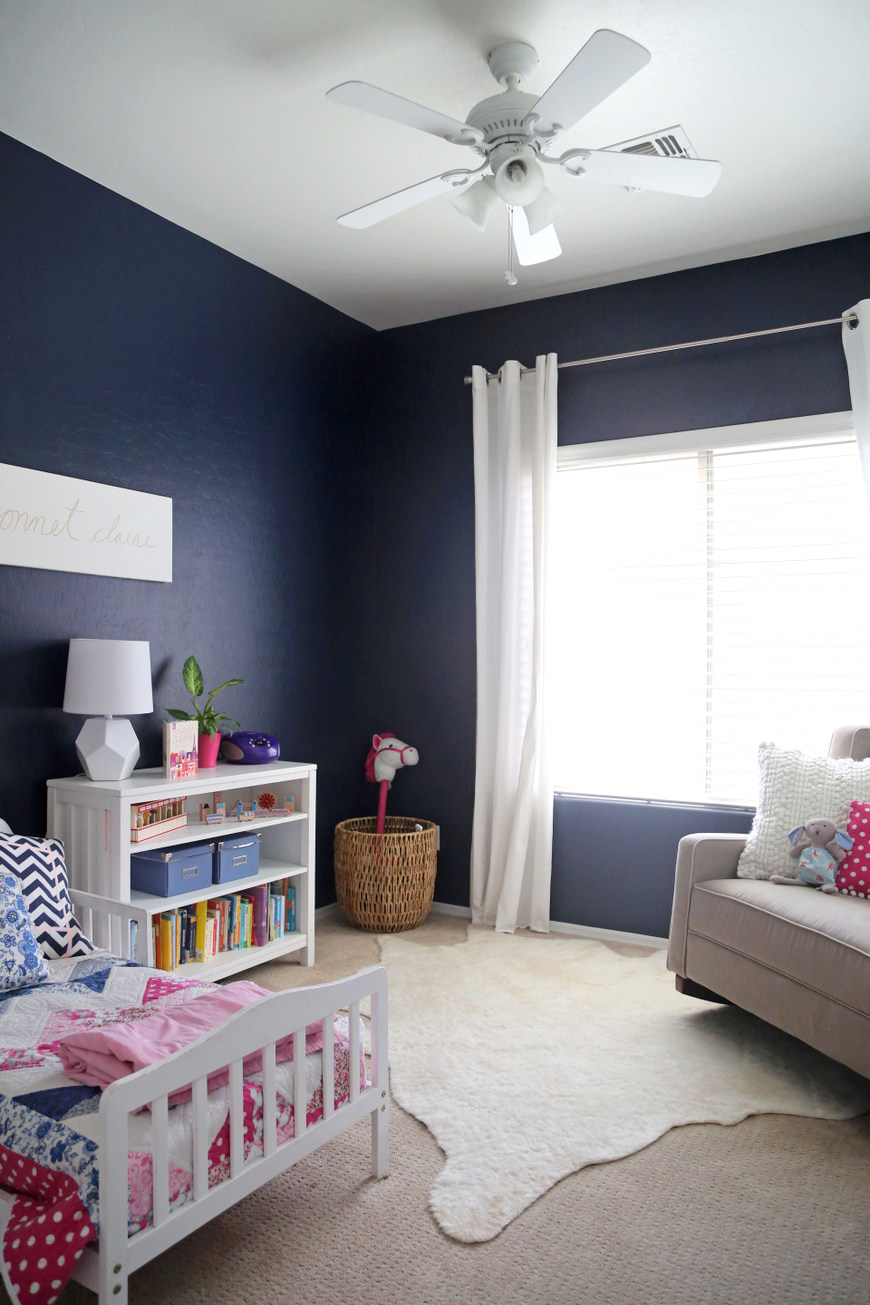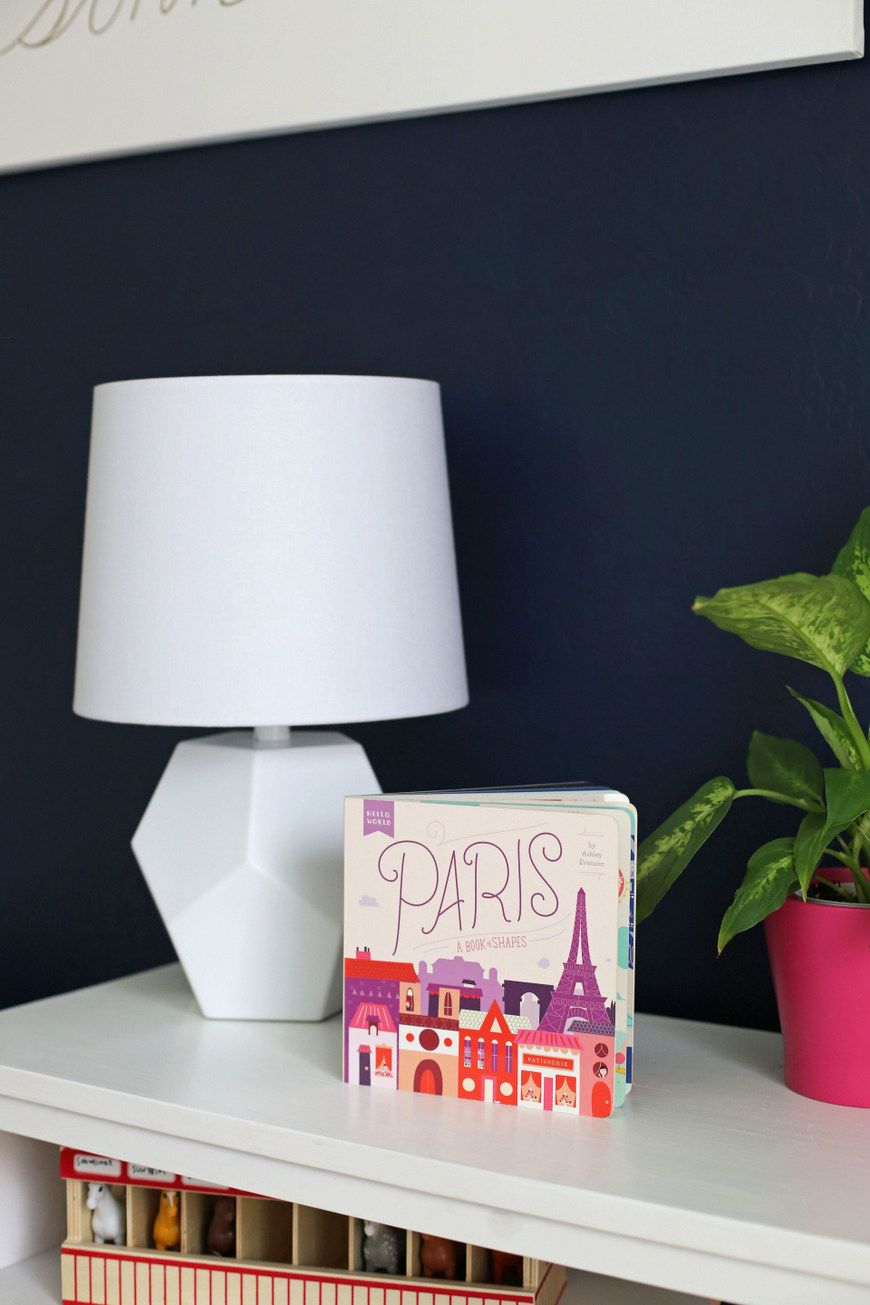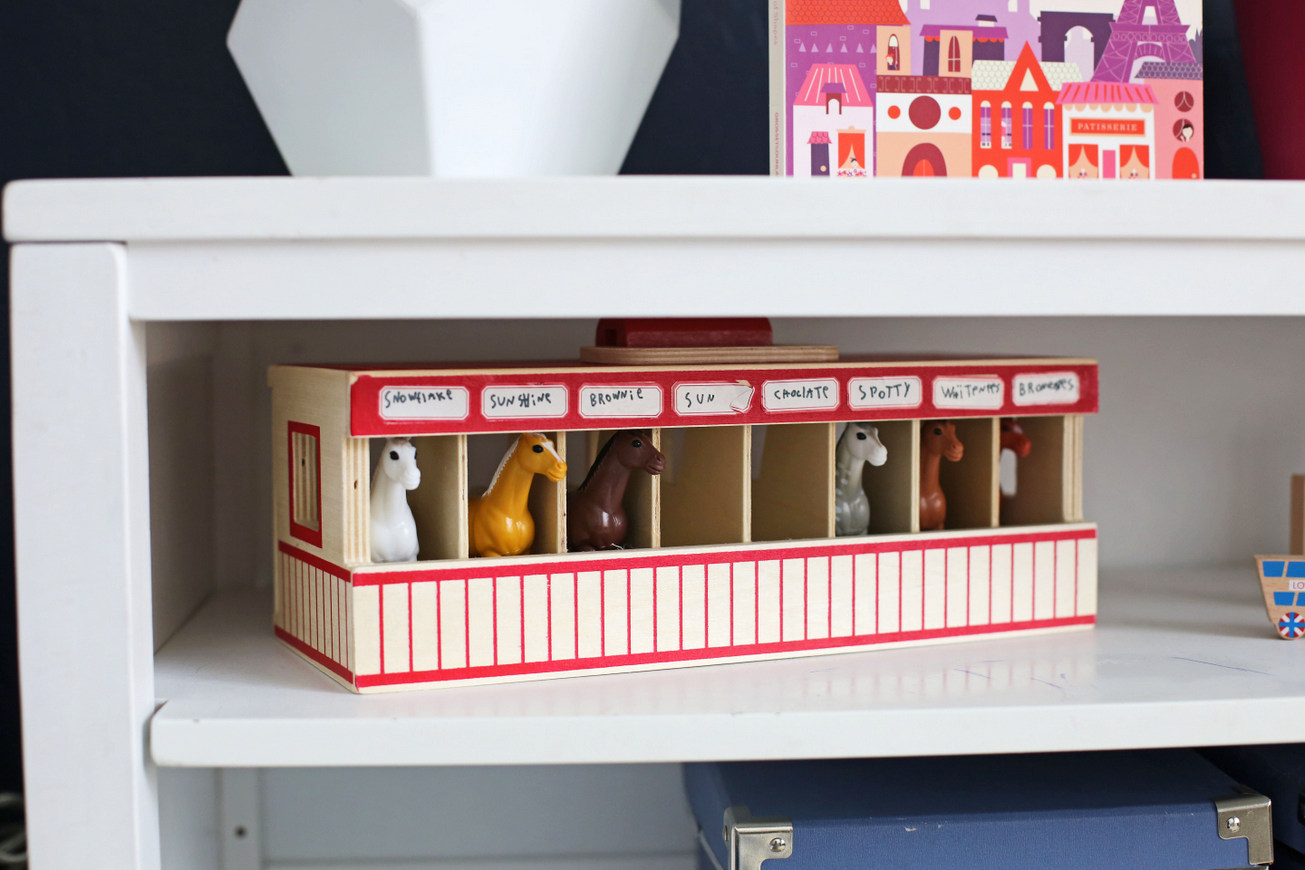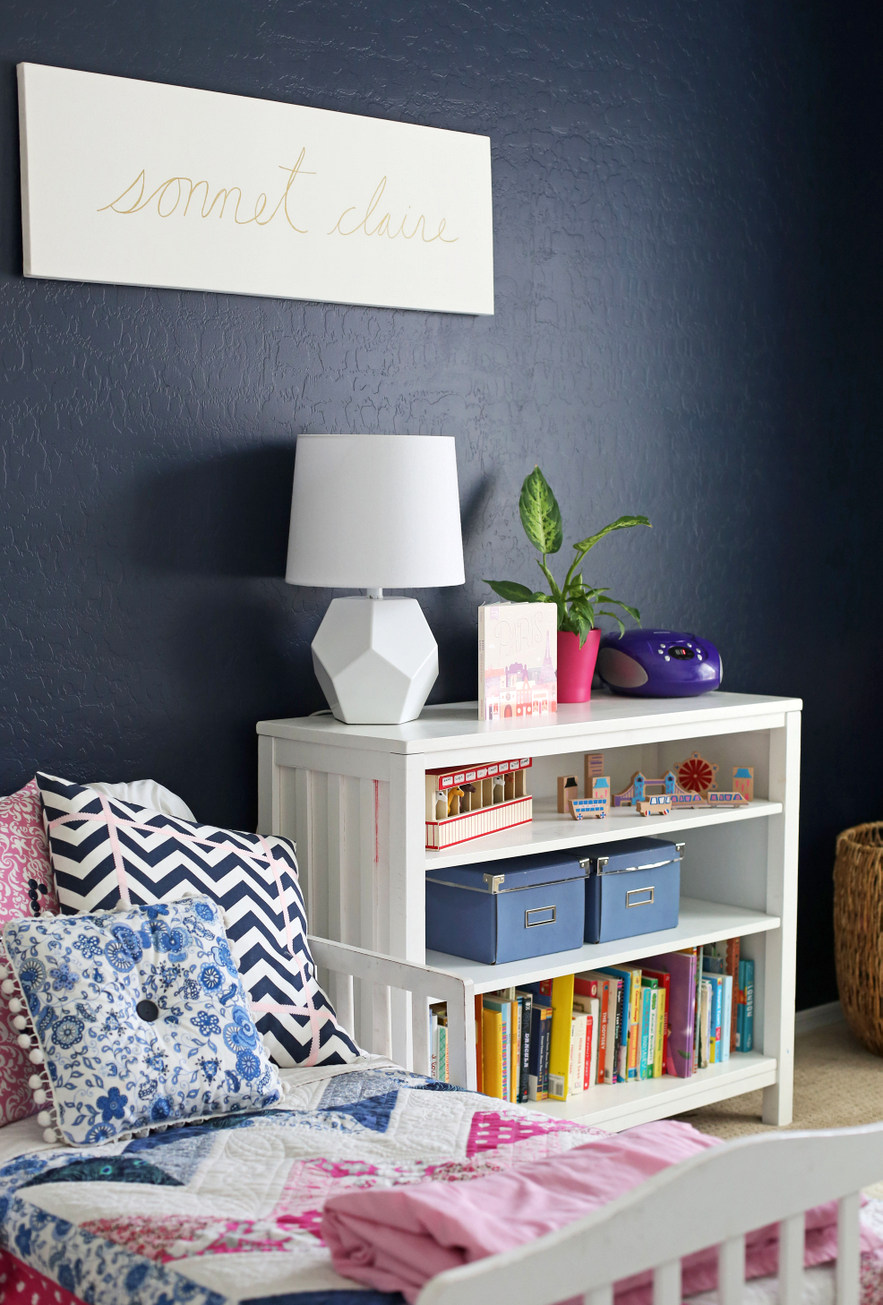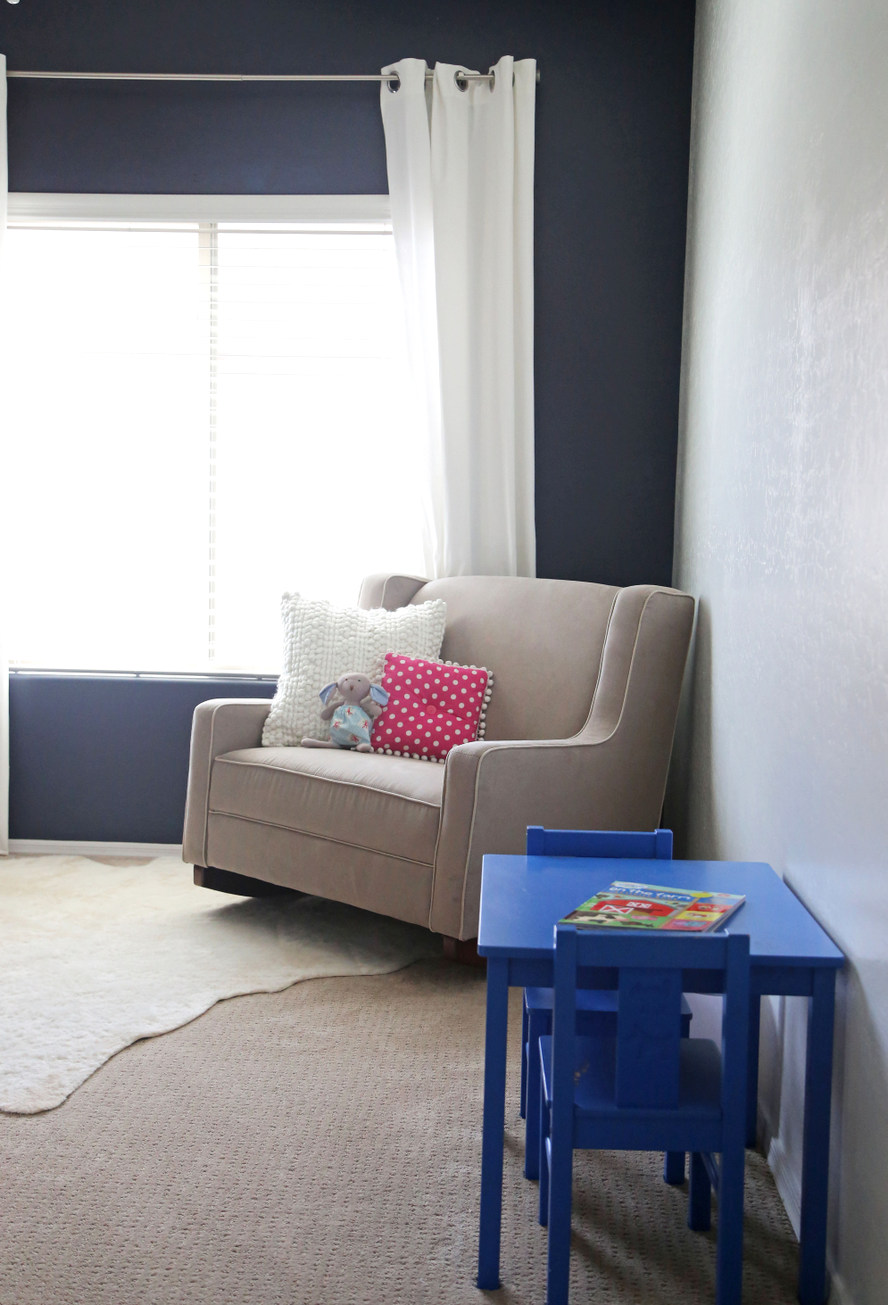 SOURCES:
Blue Paint: Naval by Sherwin-Williams (leftover from this room)
White Paint: Alabaster by Sherwin-Williams
Bed: Craigslist
Bedding: Made by my mom
Name Canvas: Made by Bart
Double rocking chair: c/o Hayneedle
White Pillow: c/o Hayneedle
Bookshelf: old from Home Decorator's Collection
Rug: Overstock
Curtains: IKEA
Toy Basket: Home Goods
Lamp: c/o Land of Nod
Plant: The Home Depot
Pink Pot: IKEA
Table and Chair Set: IKEA
if you liked this little girl bedroom update post, you might also like these other posts: