I can't remember how I came across the idea of baby-led weaning, but when Ella was a few months old, I requested the book from my library and was totally sold. (I thought the book was pretty repetitive and you can find out basically everything you need to know on their website).
Since then, we've done it with all four of our girls with great success and I have bought or made basically zero baby food in my 9+ years of parenting.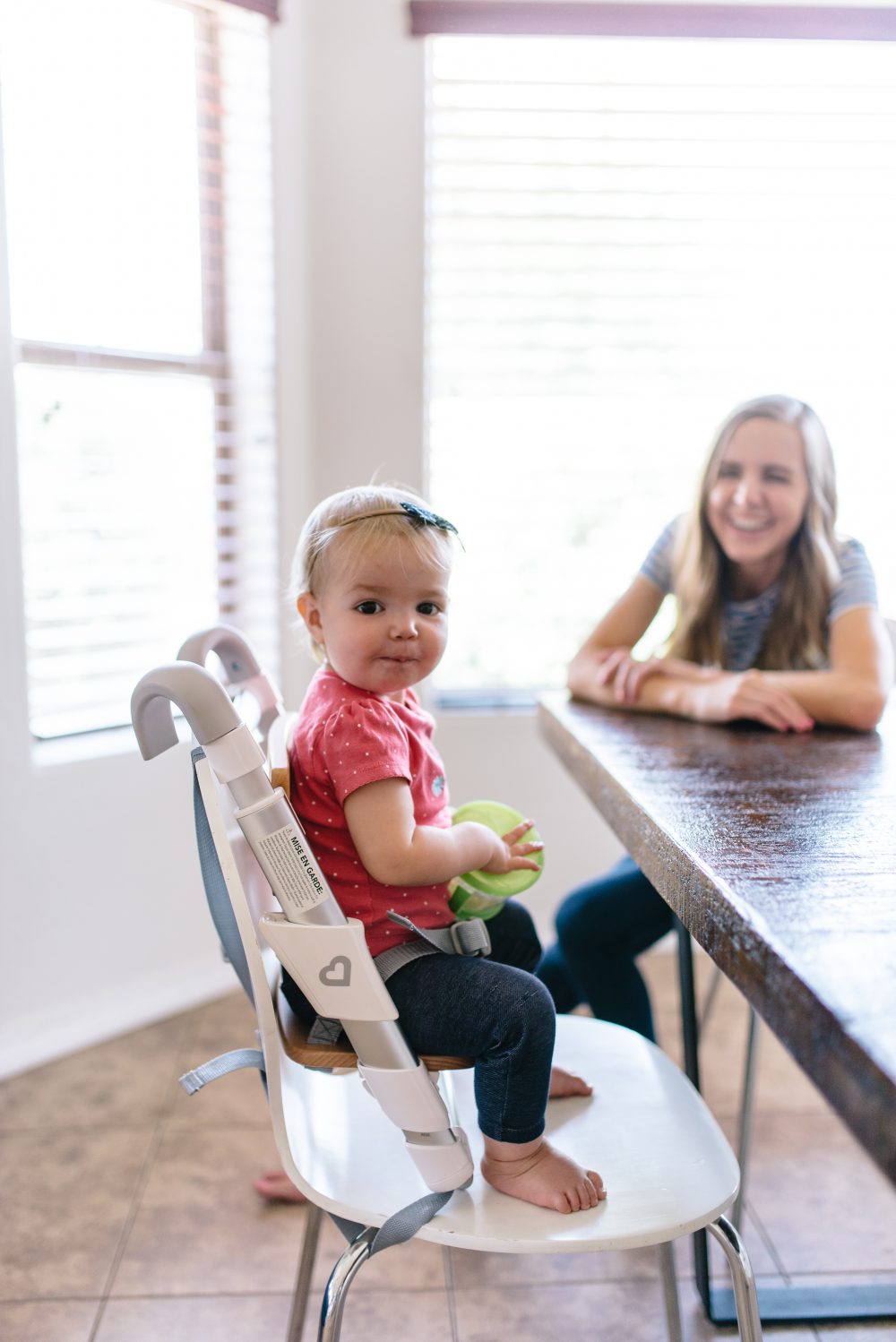 What is Baby Led Weaning
The basic idea behind baby led weaning is that there's no reason to start babies on the usual tasteless rice cereal and then slowly graduate up to jarred mashed vegetables and fruits, all of which you spoon-feed your baby.
The Baby Led Weaning folks say your baby can feed themselves, eat most table foods, and skip the puree stage entirely.
This appealed to me for three main reasons.
First, we didn't have a lot of money and I was kind of astounded by how much baby food cost.
Second, I like to cook but I had zeeeeeero interest in spending my cooking time cooking vegetables, pureeing them, and freezing them in ice cube trays. If that's your idea of fun, more power to you, but I'd rather be making cookies. And third, I wanted my children to be introduced to a wide variety of the kinds of food we regularly eat, rather than a diet of Puffs and pureed beans.
With each of the girls, we've waited to introduce food until they seemed interested in it (Baby-Led Weaning recommends around six months, rather than the four months for starting "solids" that you hear more commonly).
Ella started grabbing for our food when she was five months old, and Ani was closer to six months (she was fascinated by food, but it seemed to take her forever to figure out how in the world to chew or swallow – it was a mess!). At about five months, Star showed clear annoyance that she was being left of out meals, so we started sticking food on her tray and letting her have at it.
Bart and I get wild enjoyment over her serious concentration she hunts down a rogue blueberry on the tray or her loud indignation when no one is offering her food.
I LOVE that baby led weaning gives your baby so much practice learning fine motor skills. Star has been our fastest to pick it up, and watching her carefully pick up noodles or raspberries and try to get them to her mouth delighted me every single time for months and months.
I feel like one of the biggest concerns for most people about baby led weaning is choking.
If you give your baby a slice of apple, aren't they probably going to kill themselves with it?
Baby led weaning says that what's more likely to choke your baby is you shoving food into their mouth, instead of letting them control it and that if they're putting their own foods in their mouth, they won't stick it too far back or put in more than they can handle, and this has proved true for all four of our babies.
They may gag themselves, which is one of the methods babies have of moving food around in their mouths, but they can handle most things. Aside from soft things like oatmeal or yogurt, Baby led weaning recommends cutting sticks of foods about the size of a baby carrot or a finger for them to be able to hold and gnaw on, whether that's an apple slice, a carrot, or a piece of meat.
Obviously, when they are little, they only eat when we are right there with them to supervise.
It's amazing how many adult foods can easily be eaten by a baby. Whether it is vegetables from a salad (I never give them lettuce because that stuff is HARD to chew with few or no teeth), rice, noodles, a piece of meat, fruits, or curry, I can almost always find something in our regular meals to hand over to Star.
I also have go-to foods that I can give my babies for breakfast or lunch when I'm not making a full meal. Blueberries, a piece of wheat bread, a handful of breakfast cereal, pretzel sticks, halved grapes or baby tomatoes, slices of apples or peaches or pears or bell pepper to gnaw on, chunks of banana or pieces of cheese are all popular, easy choices at our house.
The main deviation we do from the official method is that we do spoon-feed them some foods.
If it's yogurt or soup or curry or oatmeal, I'll use a baby spoon (I love these soft ones and we've had them since Ella was tiny – we bought them at Target) to give them small bites of it, but I don't force it into their mouth, and if they grab for the spoon, I'll let them have it. But you'll be amazed at how quickly they learn to use a spoon on their own and with minimal mess.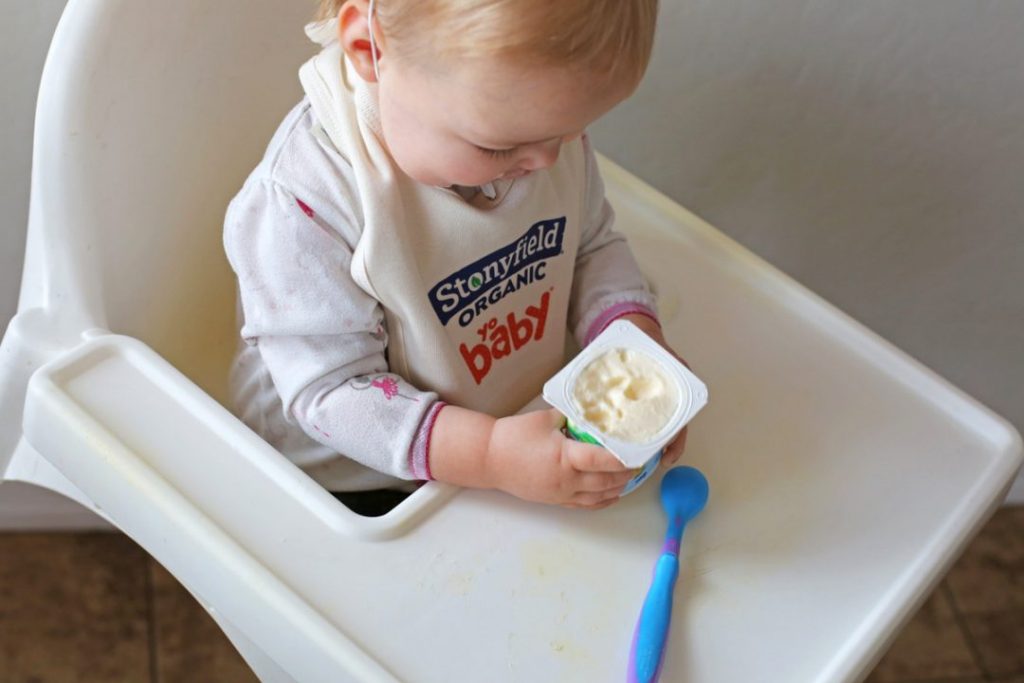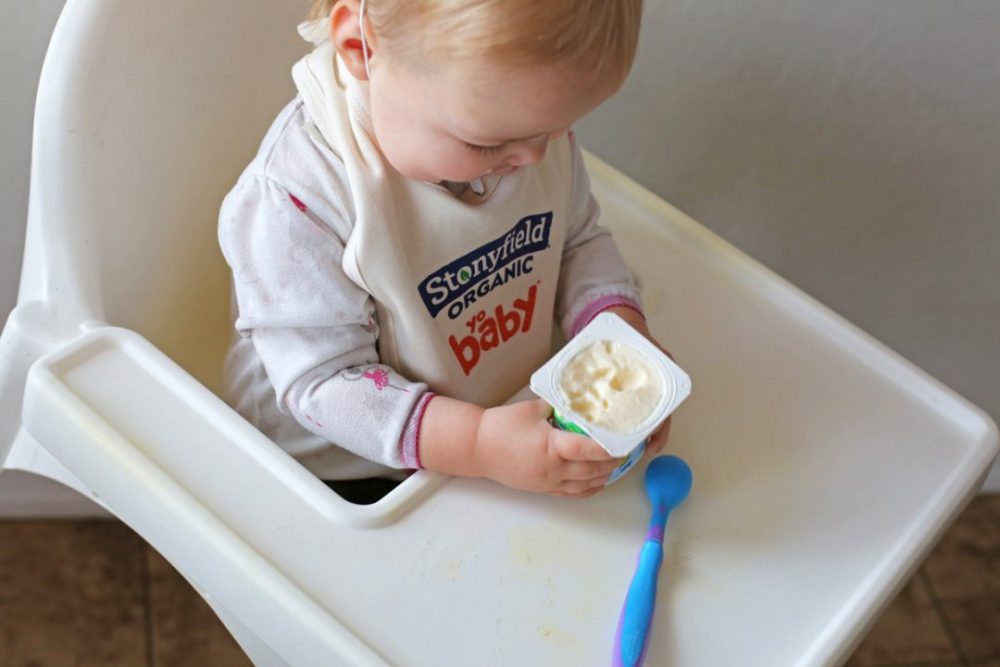 It also makes going out to eat or over to someone else's house really simple. I don't have to worry about packing baby food, my children get used to eating adult food rather than something off the kid's menu (which is usually unhealthy or over-priced anyway – don't I sound like a super fun mom?), and I don't have to ask a host to make my child something special. Whatever we order or are served, we can usually feed to our baby without difficulty.
I think doing baby led weaning has also given me a good mindset about dealing with my children and their diets as they get older. From the beginning, they mainly eat what we do, so I've never felt any need to offer them separate food. My job is to provide them with healthy foods – their job is to eat. If they don't eat, that's fine; I'm not going to push any foods on them., but I'm also not going to offer the an applesauce pouch or frozen chicken nuggets at every meal just so they'll eat something. From the start, there is not kid food and adult food, there's just food.
I've nursed all my babies and continued to nurse full-time as they started real foods, so I didn't worry about how much they're eating because I know they're getting enough calories and nutrition from breast milk.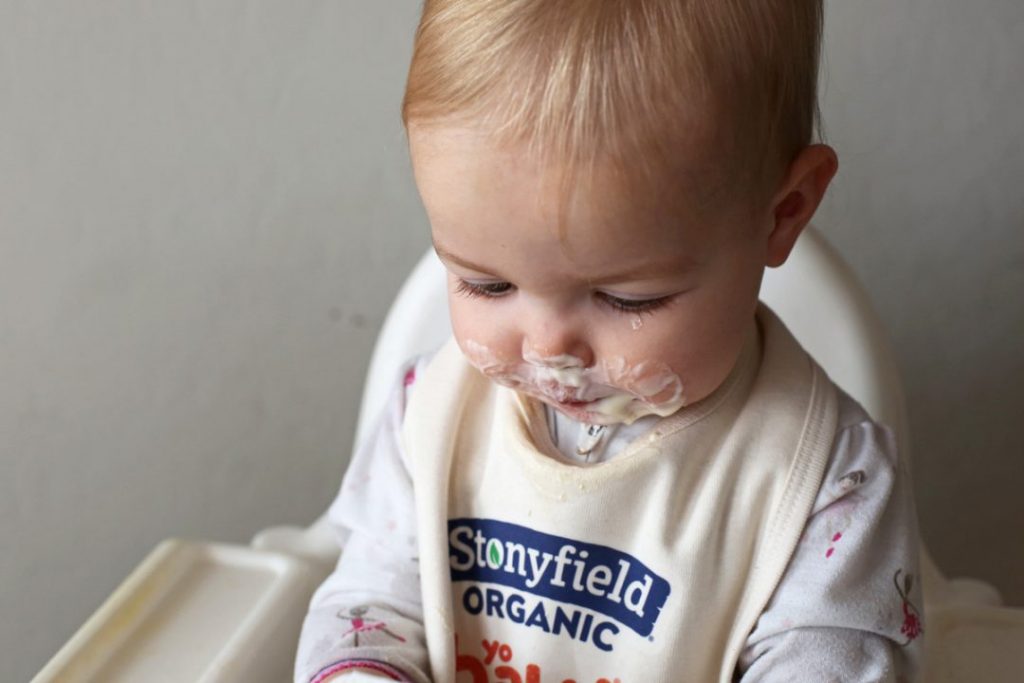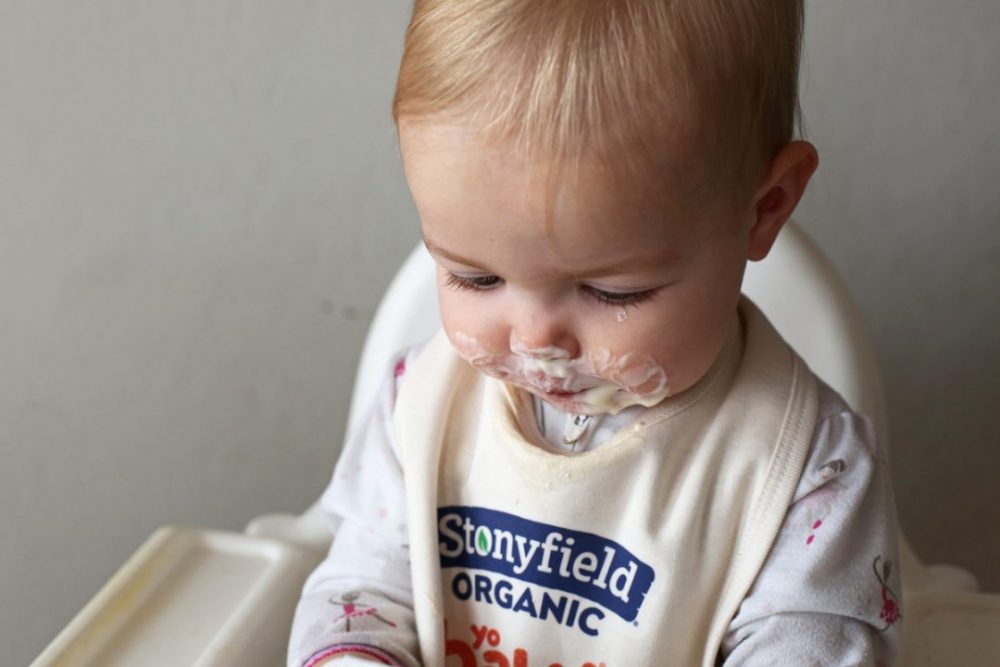 Ella loved a bottle from her earliest weeks of life and moved easily into whole milk when she turned one and drank a cup most mornings until she was around three. Ani was never really into a bottle, so when she stopped nursing at around 15 months, she mainly just drank water after that. We only drink water at meals and the girls rarely ask for anything else to drink except when they're eating graham crackers for a snack and want milk to dip them in.
I highly recommend this IKEA high chair because it's so easy to wipe down. Four kids in – plus another baby using it when we rented our house out with all our furniture in North Carolina – and it still looks pretty darn good.
Plus, it's super cheap. (Someone asked on Instagram if we have trouble taking off the tray. The answer is yes and so we basically never remove it. We just wipe the whole thing down with a sponge).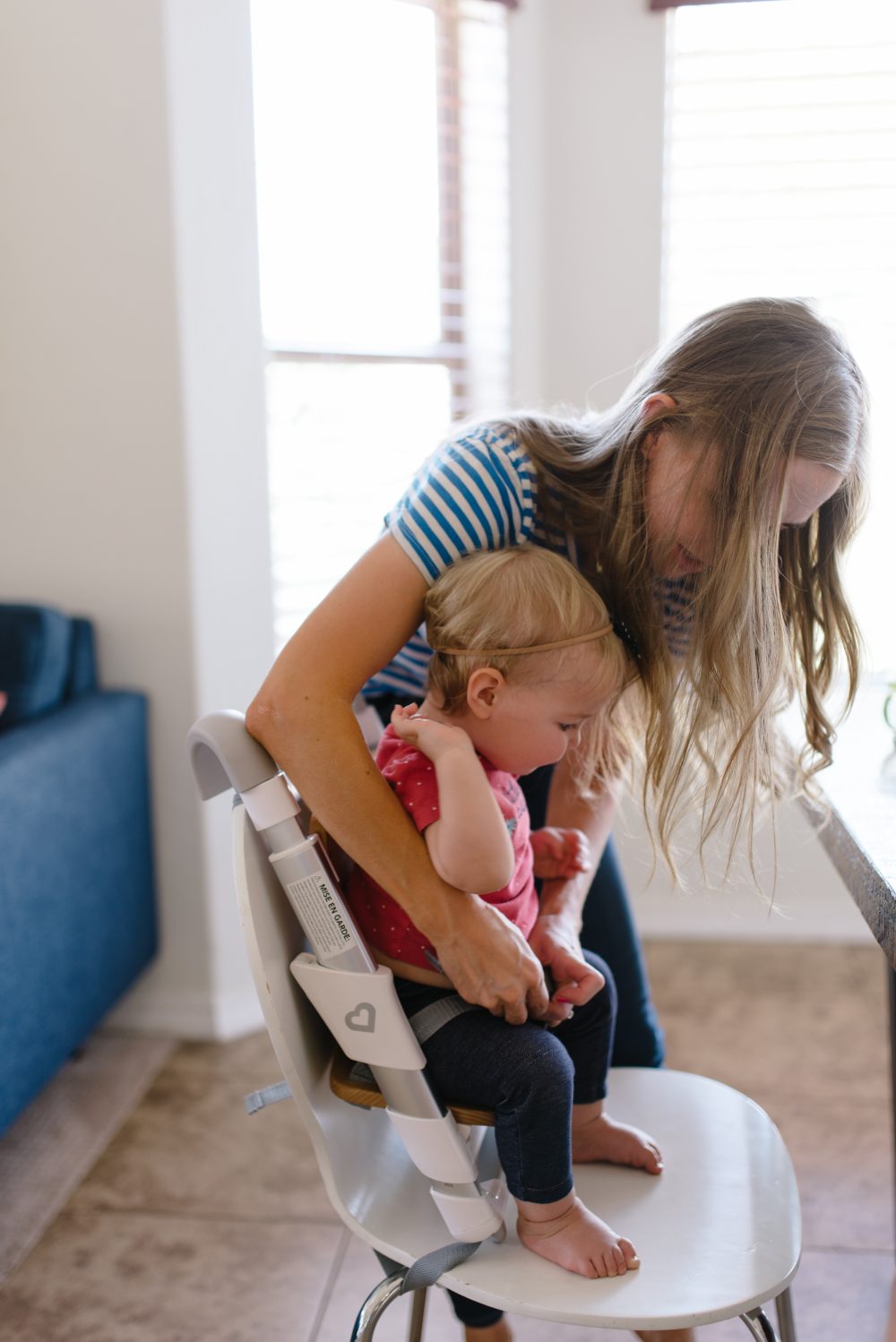 (We also had this portable high chair that was fantastic as my girls got older and wanted to eat at the table with the rest of the family but weren't quite ready to roam free in a grown-up chair).
My children are certainly not perfect eaters – they turn up their nose at various items, would rather eat popsicles than dinner, and, given their choice, always pick chicken fingers or macaroni and cheese at a restaurant.
When someone offered Ella a few Puffs as a baby, she pretty much scarfed down their whole bottle.
But they are willing to try most new foods, eat the majority of things I serve for dinner, and have many of their favorite foods are healthy.
Any other questions about baby led weaning? I'd love to hear if you've done it or if you want to know more details.
If you liked this post about baby led weaning, you might also like these posts: