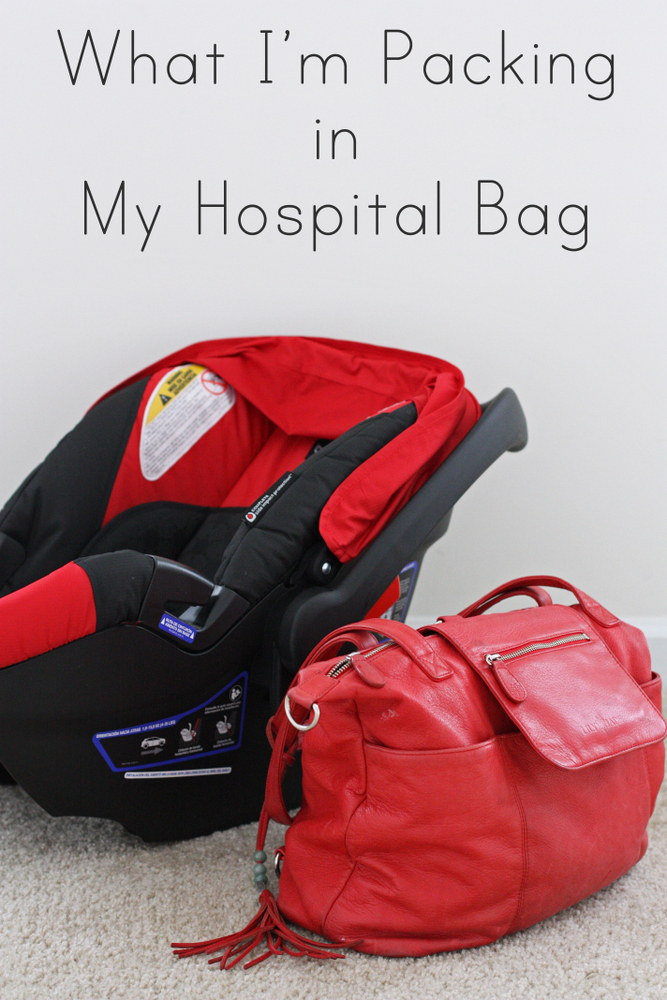 I'm writing this post three days before my due date, and I haven't actually packed my hospital bag yet.
It's not likely that most women are going to have such a fast labor that they don't have ten minutes to pack a hospital bag, so it's not something that I do way ahead of time. I'm more bothered by the idea of a bag sitting for weeks on end in the way of everything than I am by having to hustle to get everything packed.
I'm a fairly light packer for the hospital, since they have practically everything you could possibly need and I also know that you always end up carting out a bajillion things (a new baby! a carseat, a breast pump, all the supplies the hospital sends home with you, etc), so I aim for a fairly minimalist set of things.
what I'm packing in my hospital bag
Camera. If I had to grab one thing on my way out the door, this would be it. I don't know that I'll ever have a baby in a hospital with as much beautiful light as Boston did when Ella was born (summer, the 17th floor, and floor to ceiling windows made for a pretty killer combo), but regardless, I'm always happy to have some nicer photos than I'm going to get with my iPhone. Don't forget the charger.
Books. I read two books while I was in the hospital with Ani (most of one during my induction and then the other one while nursing or just hanging out those first two days before we went home). I just take my Kindle because it's easier to read with one hand and I can bring fifty books without it adding extra weight. I'm not much of a TV watcher, so the idea of watching random television shows while I'm in the hospital is completely unappealing.
Yoga Pants and T-Shirt. I don't enjoy wearing a hospital gown (does anyone?) and when I saw that Merrick had brought her own clothes to wear post-delivery with her second baby, I quickly stole that idea. Especially because I knew what I was doing nursing-wise the second time around, it was way more comfortable to wear a decent t-shirt and some comfortable pants.
Makeup and Hair Stuff. I am that crazy person who brings my makeup bag and curling iron to the hospital so that I can take a shower both mornings and feel like a real person. Plus, with visitors and lots of photos, I just don't like to look like a hot mess for two days. Also, include your toothbrush. Obviously.
Phone charger. I think this is pretty self-explanatory. Don't forget it or you won't be able to Instagram ten million photos of your new baby. And what's even the point of having a new baby if you can't Instagram her?
Email/Text List. Bart and I usually sit down in the week or two before our babies are born and compile a list of numbers or email addresses so we can alert interested parties when our baby is born. Better than trying to come up with that on the spot after your baby is born.
Baby Outfit. This is NOT something I spend a lot of time agonizing over, probably because I'm just not that sentimental. In fact, we packed something for Ella and then ended up just taking her home in her hospital-issued kimono. So. . . I consider this completely optional. But, you know, nothing wrong with sticking in a tiny pair of jammies, especially for a winter baby.
Snacks. Also optional. I like to stick in a few things because I live in fear of being hungry, but . . .the hospital has plenty of food. No one is going to starve to death.
The Carseat. And, of course, the one thing you really need is a carseat to get the baby home. For Ella, some friends sold us their carseat/stroller combo, but we finally threw it away last summer when Ani moved to a forward-facing one because it was so beat-up and old. Britax sent us the new B-Safe 35 and I'm so happy to have a new, fresh carseat for this baby who will spend most of her life in hand-me-downs. Plus, it snaps right into our beloved B-Ready stroller, which I'm hoping will make outings with three children somewhat more feasible. If only they sent along extra arms too.
Anything totally essential that I'm forgetting?