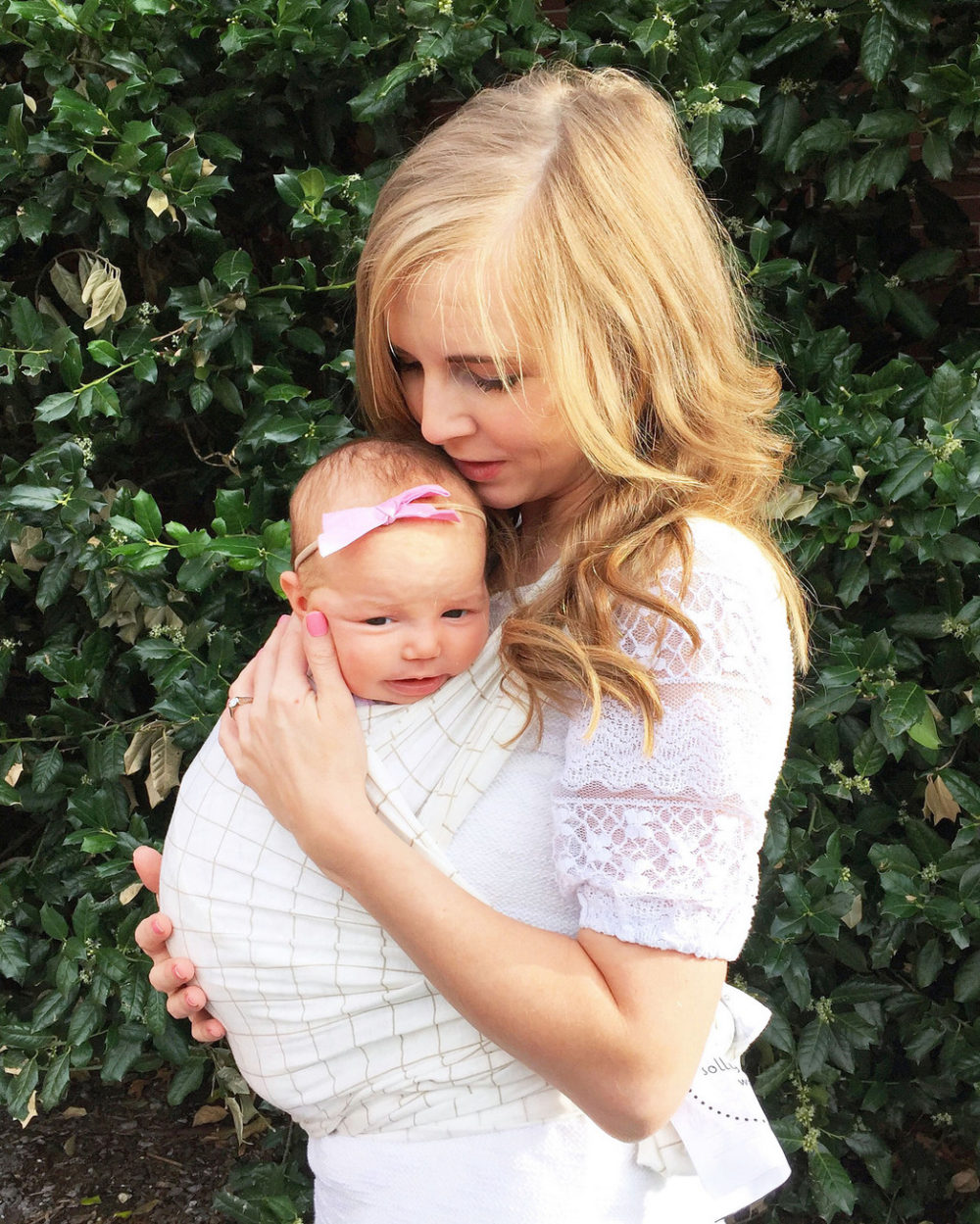 I don't use a million baby products. I feel like the newborn stage flies by so quickly that I don't want to invest a lot of money or space into things I'll only use for a couple of months.
Also, I have very easy babies – if they were colicky or terrible sleepers or struggled with nursing or bottle feeding, I'd be way more into products to make my life easier.
All of which is to say, my list of favorite baby products is pretty small. But these eight things are items I use ALLLLLLLL the time and love so much that I would recommend you don't ever ask me about any of them because I will talk to you about them for much longer than you really wanted.
my favorite baby products
Solly Baby Wrap. I remember when Ella was born being like, "Who even needs a baby wrap?" People with more than one child, that's who. I really liked my Nesting Days baby carrier with Star, but the Solly Baby wraps were so cute that I wanted to give those a try this time. Merrick sent me her gray and white striped one, and Solly Baby sent me this windowpane one in the photo above, and it's been super handy to have one to keep in my purse for when we're out and about and one to keep hanging on my laundry room hooks for use at home. I love how lightweight they are (that was the main reason I didn't want to use the Nesting Days one this time – the fabric is more like swimsuit fabric and since I knew I'd be carrying this baby around in lots of triple-digit days this year, I wanted something more light-weight and breathable. Also, the Solly Baby patterns and colors are just gorgeous.
Copper Pearl Swaddle Blankets. You probably already know Copper Pearl from their super popular bandana drool bibs, but before Copper Pearl existed, the two moms who started it lived in our apartment complex in Texas for several years when we did and both of them were dear friends of mine. They sent me two of their swaddle blankets as a baby gift and, you guys, these are the best swaddle blankets on the planet. I really loved the Swaddle Design blankets with my first three babies, but when I used one of them last week when both the Copper Pearl ones were in the washer, it was just no comparison. They're stretchy and big and soft, and I wish I owned ten of them.
Sound Machine. I've mentioned approximately ten thousand times that we live and die by a sound machine for our children. We now own four of them – each of the three older girls have one in their rooms and we have one in our room while Tally is still sleeping with us. We have a couple of this version, and the newest one we have is this touch-button one, which is great because I can turn it on and off with my foot (this makes me sound ridiculously lazy, but so be it). It helps Tally sleep in our room while the other girls are going crazy around the house, and it keeps the other girls from waking up in the night when the baby cries or if Bart and I are watching a movie before we head to bed.
Baby Swing. We got this swing just after Ani was born and it's been a mainstay in our house since then. It plays a little song and every time Bart turns it on, I joke that the sound makes me feel sleep-deprived because its ALWAYS playing when we have a newborn in the house. Ours is not the best looking one in the world (it's Lion King themed, because I got it when I was writing for Disney Baby), and I'd love one of those sleek modern 4moms swing that does basically everything except change your baby's diaper (apparently you can even play music from your phone through it!). But ours works perfectly well and has rocked many a fussy baby to sleep over the past four and a half years, so there was no reason to replace it, even if I don't particularly want Simba, much as I like him, as a focal point in our family room for six months. But clearly, I'll happily trade style for a pleasant baby any day of the week.
Wunderkin Co Schoolgirl Bows. A few years ago at Alt Summit, I sat next to Hilary, the owner of Wunderkin Co, at a dinner and she was the MOST delightful lady and super easy to talk to. We talked about books and business and she sent me home with some little bows for my girls. I haven't been a massive bow user for my girls in the past, but I'm finally getting things right on my fourth go-around, and the schoolgirl bows are my favorite. They're just so sweet and simple and come in a million darling colors. Also, I recognize that hair bows are not exactly a baby essential. It's just something that I have really loved this time around.
Britax B-Ready stroller. I wrote a whole long love story to this stroller back in 2013 and I still adore this thing. We have an umbrella stroller now too, which is handy for quick trips or when your children are a bit older, but in the newborn stage, the Britax is my best friend. I love that I can snap the carseat right into it, that I can stick another child in the bottom seat, and that it folds up flat in my trunk. I use it almost every single day.
Baby Rocker Seat. My dear friend Ralphie lent us hers with my first two babies and then we got a Minnie Mouse version for our second two (another perk of writing for the Mouse). Again, I'm happy to subject my bedroom to a character-emblazoned hot pink product if that product means I get more sleep. Our babies have all LOVED these things and slept many many nights in them (we have a bassinet, but Tally sleeps a lot better at a slight angle). And I love that it's so easy to move from room to room. We don't keep that little toy-hanging thing on it because it makes it harder to get a baby in and out of it, and I don't think we've ever put batteries in it to take advantage of the vibrating option.
Kindle. I generally prefer a physical book to a digital book because I'm more likely to pick up a physical book sitting on my bedside table, but when I'm nursing or rocking a baby, I'm a Kindle lover all the way. I download a trillion titles and love that it's so light and easy to turn the pages with one hand. Also, I'm still in awe of how good the battery life on these things are. I got the smallest cheapest one back in London after Ani stepped on my original one and cracked the screen, and it's been fantastic since I can toss it in my purse and it weighs almost nothing. Also, I opted for the version that shows special offers to save $20 (can you tell we felt EXTREMELY poor when we lived in London and the cost of living was sky-high and we were knee-deep in student loans for Bart's MBA program?) and it hasn't bothered me one bit over the last two and a half years. I don't think I've ever actually bought or even looked up a book it suggested to me with those special offers on the lock-screen, but I've never been annoyed to see them when I pick up my Kindle.
What have your favorite products for the newborn stage been? And if the answer is a Netflix subscription so you can take a nap while your other children watch endless shows, I think that's totally acceptable too.