This post is sponsored by ShopNBC.com but I personally picked everything on this list with no sponsor input and wrote all the text with my very own fingers (fingers that apparently had way too much to say about sun protection even though that's truly the most dull topic on the face of the planet. Brace yourselves).
We are heading to the beach later this week, down in Galveston, so I'll probably deluge you with photos when we return. Try not to be too excited.
When we told Ralphie and Brian that we were moving, they suggested we rent a house down on the coast and spend a couple of days together before we left. So we are (Ralphie snagged us the best rental house ever. At least, I'm HOPING it's the best ever – it's always a little scary renting sight-unseen). I've never actually been to the coast here, so I'm glad to squeeze it in before we leave.
Anyway, some things I would like to take to the beach (besides massive massive amounts of sunscreen — I just wrote and then deleted some eight sentences about how strongly I feel about protecting my skin and my children's skin from sun damage, because, no one wants to read that. Consider yourself warned to never bring the topic up in real life with me):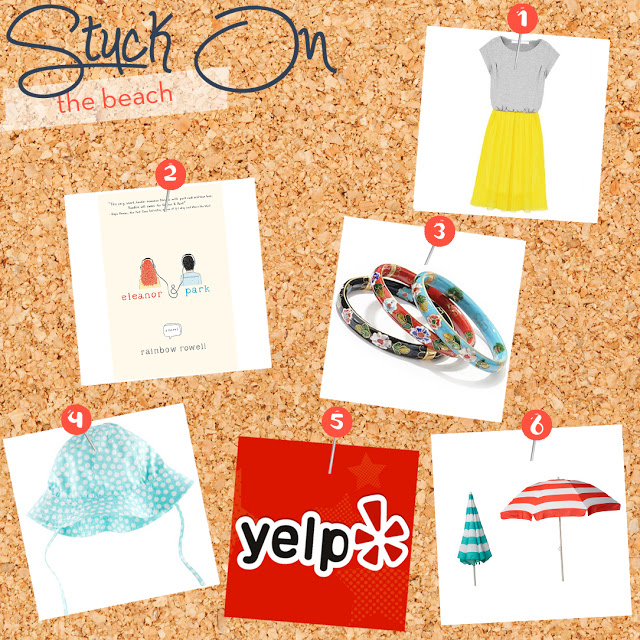 1. A beach dress. Although I'm a total jeans wearer year-round, when I'm at the beach, I really like a dress that I can just toss on either over my swimsuit or after a shower to go to dinner. I'm kind of in love with this one which is a great cross between dressy and casual. Also, it's under $25.
2. I've loaded up my Kindle with lots of things to read at the beach (am I living in a fantasy world? Very possibly. Please don't tell me). Eleanor and Park is at the top of my list. I've heard such good things about it for nearly a year now, and just haven't gotten around to it. And if anything calls for YA reading, it's the beach.
3. These bracelets. I've really turned into a bracelet fan this year, and I'm in love with these patterned ones. Also, I love the look of bangles, but I hate that usually they're so big that they're falling off your arm. So hinged ones? My idea of a good time (I need a better idea of a good time, I think).
4. This child's sunhat.
Okay, okay, I promised not to say too much about sun damage, but hats
are pretty much my best friend when I'm outdoors, and Ani owns about six
(all of which have been hand-me-downs). Ella, though, has a fairly
large head and when we started hitting the pool again this year, it was
quickly obvious that none of our hats fit her anymore. I shopped around
for one (buying and returning two) and could not find one in her size
that had straps on it. I saw this one at H&M which was cute,
cheap ($5!), and tied under the chin so it wouldn't be constantly
blowing off. My mom bought it for me because I was screeching out the
door trying to get children down for naps.
5. Yelp. I probably shouldn't be allowed to use these kinds of sites because I tend to get completely bogged down by reviews ("ONE PERSON A YEAR AGO HATED THIS PLACE. PROBABLY SHOULDN'T GO"), but I find Yelp to be consistently the most reliable and useful source of online reviews. Since I was in charge of planning many of the activities of this trip, I spent a lot of time on there, and it's always been my go-to for finding good restaurants. I used the app constantly last year when we went to Seattle and we had almost no dud meals (the ones that were duds were ones that we went to on Bart's co-workers recommendations. But I'm not mad. Anymore.).
6. A beach umbrella. I won't bore you with the sun-protection features of these umbrellas. Instead, let's focus on how darling they are. And $15! What's a beach trip without a big old beach umbrella, anyway? No beach trip I want to go on.