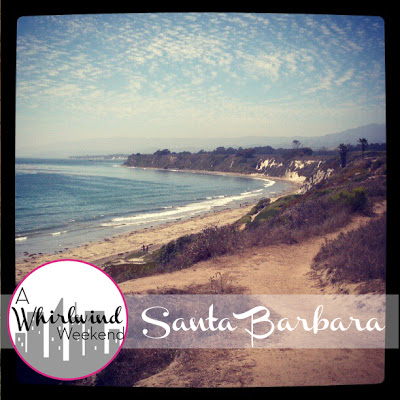 1. I'd take you out for lunch at La Super-Rica Taqueria, a tiny place
where you can get some truly authentic and delicious Mexican food. Even
Julia Child threw her weight behind it, saying it was the best in Santa
Barbara. You can order whatever you want, but the Super-Rica Especial
comes highly suggested. If you want some amazing pasta for dinner, we
can go downtown to Palazzio where the servings are so huge you could easily split a half plate 3 ways!
2. It's famous for a reason! You shouldn't miss the gorgeous
Catholic Mission. It's known as the "Queen" of the 21 original Spanish
missions built along the California Coastline. I love the beautiful
Sacred Gardens inside, as well as the rose garden out front. If you are
interested, you can even attend a Mass.
3. Calories don't count on vacation, so we'll stop in and grab a treat at the I.V. Drip.
They have an assortment of cookies and ice cream flavors so that you
can build your own Cookiewich. Or, if you just feel like loading up on
ice cream, we could stop at McConnell's
(we went a little over board once when we found out you can have as
many flavors as you want in your bowl at no extra charge, and
consequently our bowl was bursting with way too much ice cream).
4. The weather is perfect (I mean it when I say it's the most
perfect weather on earth) and getting outdoors is a must. We'll take
advantage of the gorgeous day at the beach where you can try your hand
at surfing, boogie boarding and paddle boarding, or just enjoy the
sunshine and tide pools (or all the cute surfers, if that's what you're
into). If you aren't feeling like the beach, then it's a good thing we
also have great mountains where we can hike and catch some excellent
views below. It's also lovely to wander down State Street on a nice day
and check out all the shops- great shopping for those who love to shop!
5. You're so fortunate to have a Santa Barbara insider showing you
around. The locals would stone me if I didn't show you the Ellwood Butterfly Preserve. Every winter thousands
of Monarch Butterflies migrate to the Eucalyptus grove. And if it's not
butterfly season, we can still enjoy a walk or a bike ride through the
trees and along the bluffs where you get an amazing view of the ocean,
the mountains, and the Channel Islands.
6. You didn't ask, but I'll tell you anyway
that a trip to Santa Barbara wouldn't be complete without visiting the
farmer's market. Everyone is so friendly and they have all the food you
can imagine, mouth-watering samples, and street performers to add to the
fun.