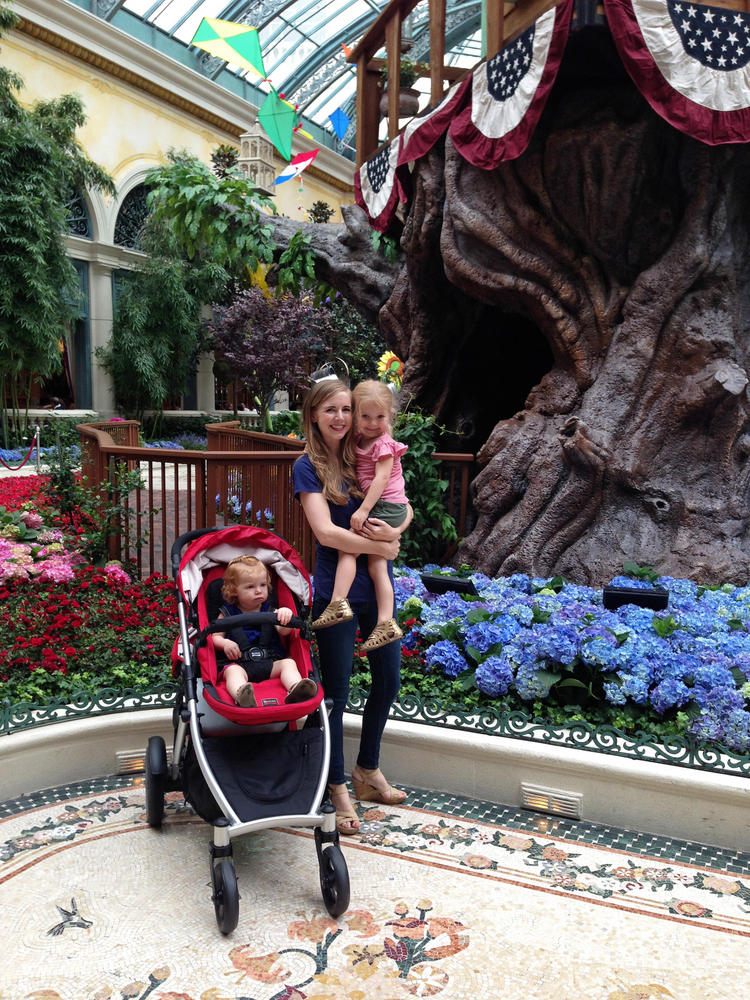 This isn't a sponsored post. I asked Britax to send me a stroller for Europe this fall and I'd include it in our Instagram photos while we were traveling and they kindly agreed, but I love this stroller so much, I just want to tell you all about it in more than an Instagram caption. Also, ignore how crabby my children look in all these photos. 
Bart and I like to joke that we like a 3:1 stroller to child ratio.
Sadly, it's not all that much of a joke.
We have the carseat/stroller combo-type stroller (which we bought for the princely sum of $20 from some friends in Boston before Ella was born), the umbrella stroller we bought at a garage sale (after a year or so, I said something about how we paid $8 for it and Bart said that we grossly overpaid. I agree – it's a pretty pathetic stroller), and the Craigslist jogging stroller.
When Ani was born, we bought a double jogging stroller. For the last 18 months, that's been our primary stroller and we've gotten a lot of use out of it, but it's hard to put in the car (unless you hook the wheel over the back seat, it rolls around while you drive), it's a little too wide for some doors (the first time I walked to storytime in Texas, Ani had to sleep in the hallway outside the storytime room because I couldn't get it through the doors), and then in the early spring, it fell over in the garage and I ran over it with the car. It was miraculously unharmed except for the little plastic piece that locks it shut, so it was even MORE hard to transport or store.
When we went to Chicago, we ended up just taking the travel system stroller because we could snap the carseat into it around the airport and if we put the seat back all the way flat, both girls could sit in it (which sometimes worked like a charm, and sometimes resulted in them fighting like cats and dogs because neither of them wanted the other to sit in front of them and they couldn't avoid touching each other).
We knew we needed to get a new stroller before we went to Europe this fall. We absolutely had to have a double stroller, and we needed one that wasn't side-by-side. So, after four years of avoiding stroller research at all costs, I finally started looking into what double strollers would fit our needs.
Basically all our friends in Durham have the City Select stroller (at MBA family events, there is always a half dozen or more identical black strollers all lined up in a row), and Merrick has that one too, but I knew you had to break it down into multiple pieces to fold it down, and with all the traveling we have this fall, I just didn't think that would work well for me.
I was sold on the Britax B-Ready for several reasons.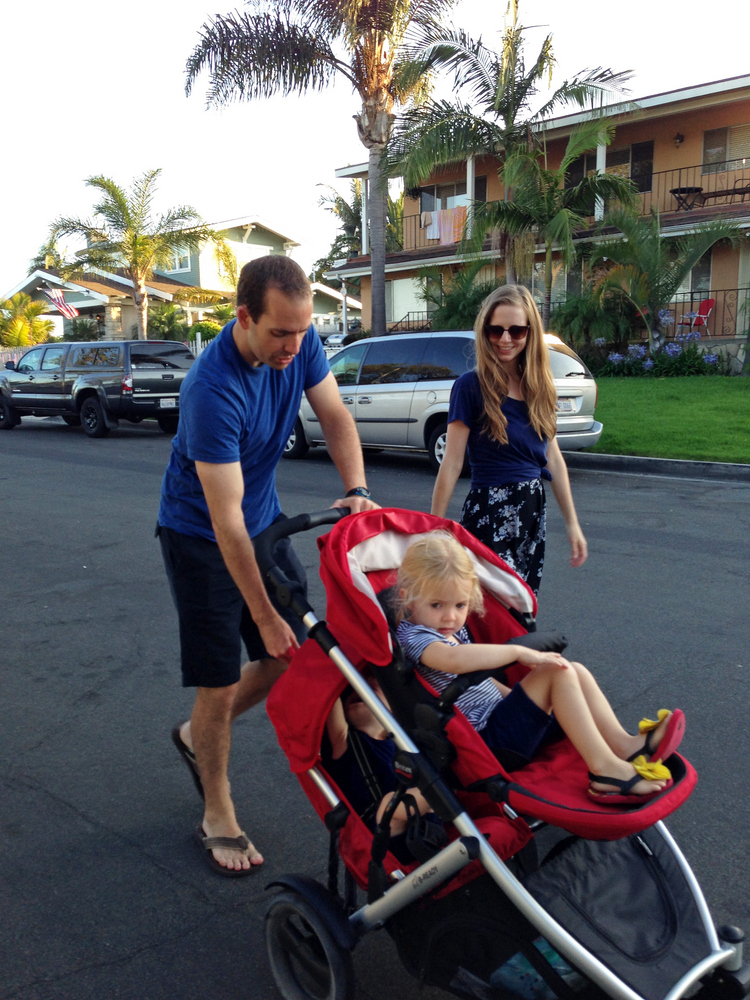 why we love the britax b-ready stroller
It's basically the size of a decent single stroller (in fact, you can just buy it as a single stroller and then add the second seat on when you have a second child). It's not too wide for any doors and I knew in Europe, where the streets tend to be narrow, I'd need something thin.
The seats can both lay almost completely flat (without touching the other seat). Since I'm guessing we'll have a lot of early morning/late nights/long days while we're traveling, I really wanted it to be possible for both the girls to sleep simultaneously. Assuming Ani decides to be a stroller sleeper. Cross your fingers on that one.
It can collapse flat with both seats in place. This was the biggest selling point for me. You just lay the bottom seat flat and then fold it up and snap the lock in place. Done.
I love that you can get an attachment so your infant carseat can snap in. I love the convenience of the stroller/carseat combo (no finagling a sleeping, boneless infant out of the carseat and into the stroller for a 5 minute errand). When we have another baby, I'll buy that attachment and a compatible carseat. Then I won't constantly have to be deciding between taking the stroller that can fit both a child and an infant and one where I can snap the baby in and out of the car and stroller without waking it up or dealing with buckles and what-have-you.  (I was constantly making that decision when Ani was born, and it was exhausting (and I basically always chose wrong)).
This is a totally stupid tiny thing, but I love that the brake on this is a push pedal (you just push down on it to lock it and then push down again to release). All my other strollers have had a brake where you had to put your foot UNDER the brake level to release it and since we've always lived somewhere where I wear sandals 90% of the year, this was always super painful when I had to pop the brake up with the bare top of my foot. (Of course, I'm guessing I won't be wearing a lot of sandals in London from September to December, but. . . it's the principle of the thing).
The day after my Britax B-Ready shipped, I happened to see a mom at the grocery store parking lot loading the same stroller into her car, and I asked her how she liked it. She said, "This is my second baby and third stroller and it's the best stroller I ever have used. You will LOVE IT SO MUCH." She was not wrong.
My main concern was that my girls would hate being sort of underneath. But actually, neither of them minds it at all. They switch back and forth, sometimes requesting one or the other, but with no real preference. When we were in California for the Fourth of July, Merrick also mentioned that she thought her boys wouldn't like that setup, but when we took only our stroller down to the beach one morning and made the older kids walk, her little guy happily sat in the bottom seat with no complaints.
And my girls can climb in and out of the bottom seat on their own, which I find really convenient because then I only have to snap them in. And Ella can get in the front one by herself too – I'm not sure about Ani, although she probably could because if she sees Ella do something, she's convinced she can do it too. And she's usually right.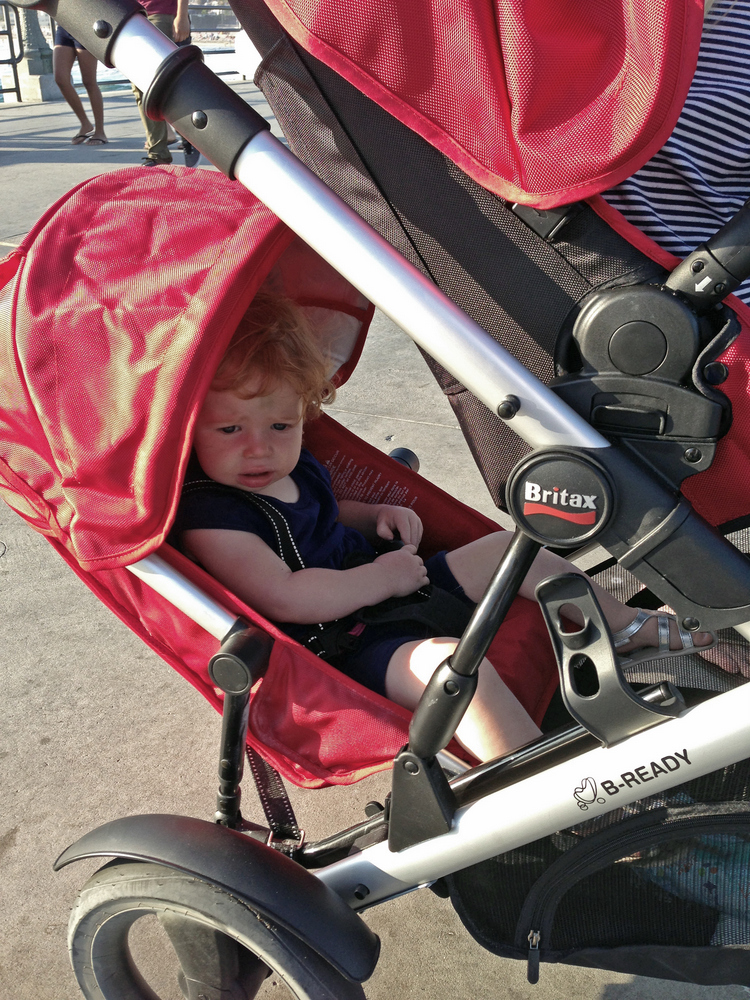 I also like that, because the second seat is below, the stroller isn't particularly long. Some double strollers are like pushing a boat – they are SO long.
Also, it's really amusing to take it on in public and have someone comment on the child in the front seat and then, as we pass, do a double-take and say something like "There's ANOTHER one down there!" That's probably not necessarily a selling point, but it does make life and outings a little more fun.
I really wish we'd just gotten this stroller to start with, since it would have been perfect for one child and then we'd only have to have bought a second seat when Ani was born instead of a complete second stroller.
Of course, when Ella was born, we had about $5 of disposable income, so any stroller not from a garage sale was pretty much out of our budget.
But after buying four strollers before this one, we should have just gone with the Britax B-Ready.
if you liked this post about why i love the britax b-ready stroller, you might also like these other posts: