I don't know what it is about pirates, but they are just fun (. . . in books. I assume they are substantially less fun in real life). If your little one or elementary school child is into pirates, take a peek at this list of pirate books for kids!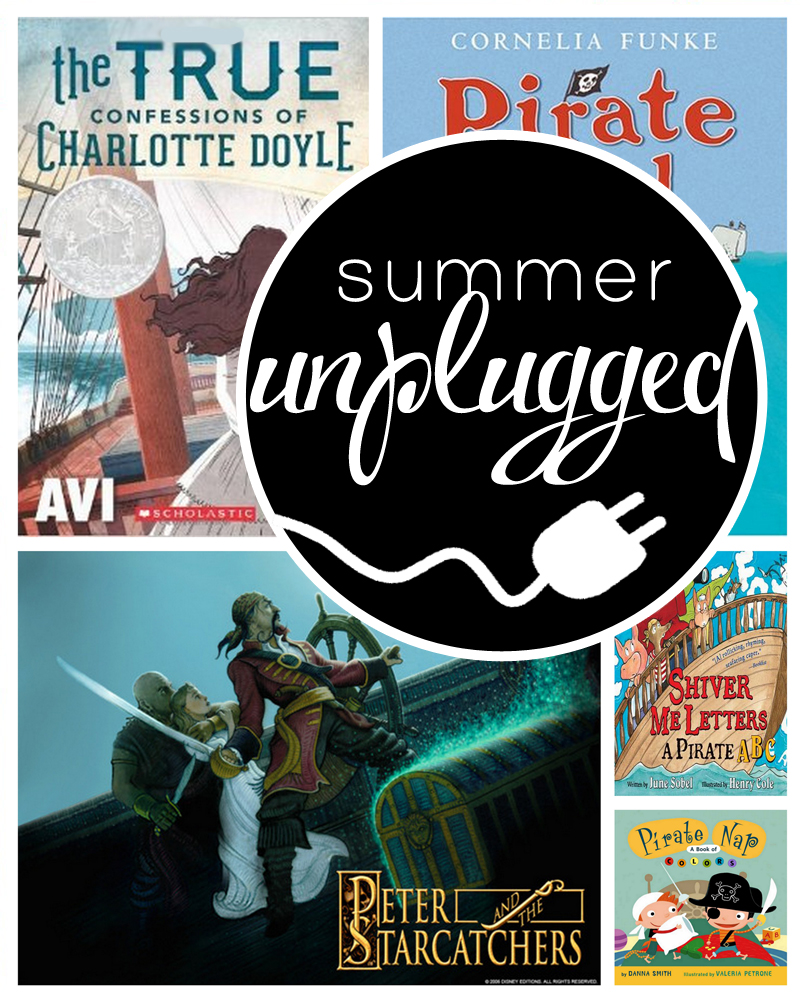 pirate books and activities for kids
Picture Books
Pirate Nap: A Book of Colors by Danna Smith and Valeria Petrone. This was one of Ella's favorite books for many many months, and the cute illustrations delighted me every time.
Pirate Girl by Cornelia Funke and Kerstin Meyer. When Molly is kidnapped by pirates, they have no idea what's coming when she summons her parents.
Shiver Me Letters: A Pirate ABC by June Sobel and Henry Cole. My mom bought this book for us a while back, and Ella was instantly in love.
How I Became a Pirate by Melinda Long and David Shannon. Pirates AND David Shannon? This is a match made in heaven.
Tough Boris by Mem Fox and Kathryn Brown. Even tough old pirates can get a little sad when their parrots die.
Chapter Books
The True Confessions of Charlotte Doyle by Avi. This book's original cover made it a hard sell to boys since it looks like a romance novel, but it's actually one of my all-time favorites about a girl sailing back to America that turns out to be mutinous. She's quickly caught in the middle and finds herself standing trial for murder.
Peter and the Starcatchers by Dave Barry, Ridley Pearson and Greg Call. I love this story based on Peter Pan, much of which takes place on a pirate ship in the first book.
A Few Crafts, Activities, and Recipes:
And if you'd like a printable copy of this list that you can take to your library or screenshot on your phone for easy access, just pop in your email address below and it'll come right to your inbox!
if you liked this post about pirate books for kids, you might also like these posts: