When I was maybe ten or eleven, we did a unit on astronomy in homeschool. Part of it was to track the moon for a month and I remember my mom waking us up each morning around 5 a.m. before she left on her run so we could come outside and see the moon. It was so magical standing out in the dark street in our pajamas, looking for the moon, and then drawing it on our charts.
And then dashing upstairs to snuggle back in our warm beds for another hour or two before it was time to get up for real.
I don't know what it is about the stars and the moon that are so intriguing, but there's almost nothing better. Here are some wonderful children's books about astronomy if you are also intrigued by this kind of thing!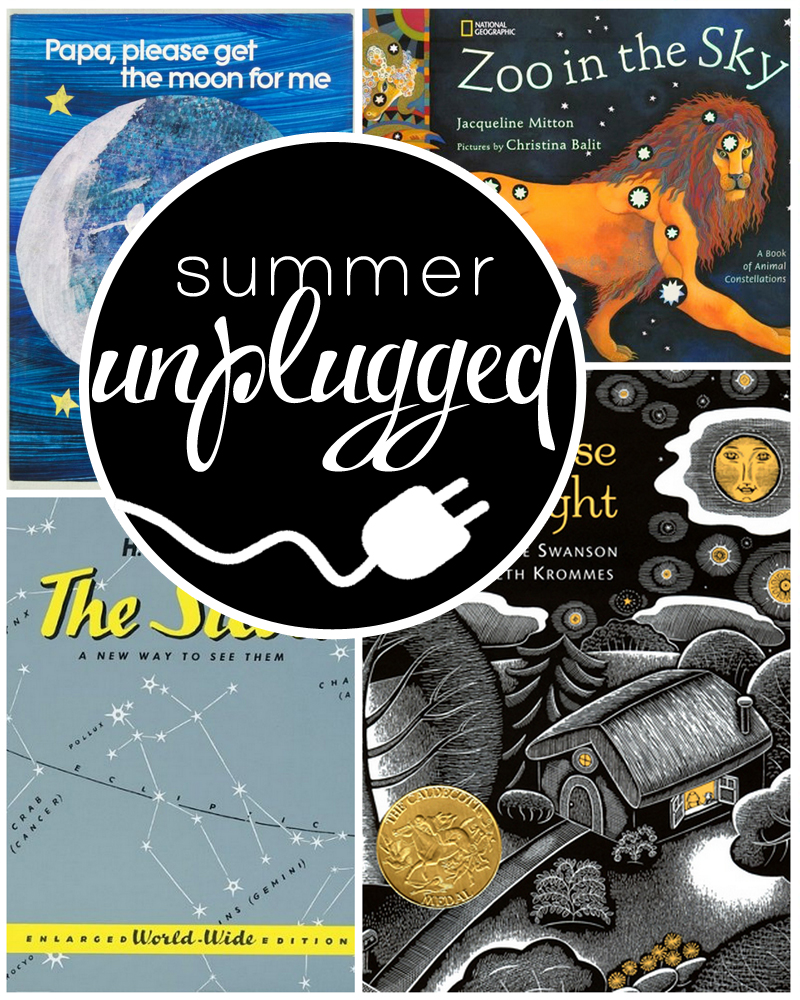 Crafts and children's books about astronomy
Picture Books:
Chapter Books:
Carry On, Mr. Bowditch by Jean Lee Latham. This classic Newbery winner is the biography of Nat Bowditch, who spends his life aboard ships learning to navigate by the stars and math.
The Stars: A New Way to See Them by H. A. Rey. He likes things besides mischievous monkeys and yellow outfits – this book is a really great guide to stargazing, constellations, and all things celestial.
A Few Crafts, Activities, and Recipes:
Make your own constellations cards and shine them in a dark room with a flashlight.
Build a rocketship (out of blankets, a cardboard box, or under a table) and take a journey into space.
Watermelon stars.
This constellation jar is amazing!
Make your own 3D stars and hang them for your own stargazing.
And if you'd like a printable copy of this list that you can take to your library or screenshot on your phone for easy access, just pop in your email address below and it'll come right to your inbox!
if you liked this list of crafts and children's books about astronomy, you might also like these posts: