About seven years ago, my sister Merrick and I were driving in the car together with no children.
At the time, we both had two year olds and so, in the middle of a perfectly calm, adult conversation, I interrupted her mid-sentence to say, "Look! There's a . . . "
And then I realized she probably didn't care one bit that there was a horse in a pasture next to the road.
She burst out laughing and then said she and her husband had frequently caught themselves pointing out construction vehicles to each other, by their proper names no less, even when their little guy wasn't along for the ride.
It's funny how you become an expert on the topics your child is obsessed with.
So if vehicles happen to be that topic in your house, I'm willing to bet these fifteen picture books about cars and trucks will be big hits at your house.
Plus, you never know when you'll want to show off your knowledge of technical terms for construction vehicles.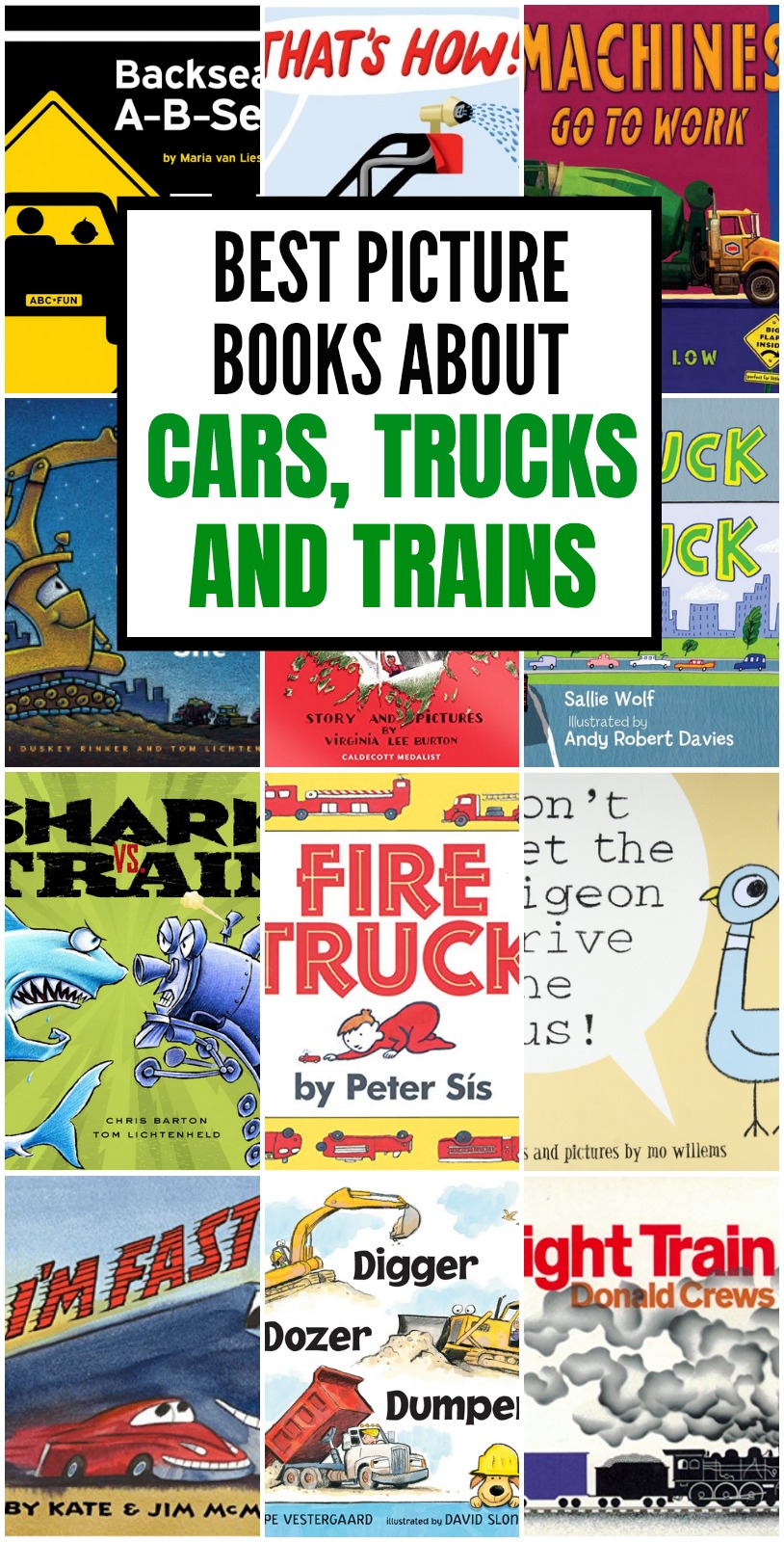 15 picture books about cars and trucks for kids
Mike Mulligan and His Steam Shovel by Virginia Lee Burton. I see this as the classic vehicle book. The sweet story and vintage illustrations about Mike's mission to prove his beloved steam shovel isn't antiquated has been a favorite for generations (and for good reason!).
Goodnight, Goodnight, Construction Site by Sherri Duskey Rinker and Tom Lichtenheld. Who knew bedtime rhymes and cement Mixers, bulldozers, and excavators would mix so well? Each of the vehicles settles in to rest at the construction site after a busy day. Plus, there are more books in this series so if your child is a fan, you've got more up your sleeve!
Freight Train by Donald Crews. This train book won a Caldecott Honor and I never get tired of the beautiful colors against the crisp white background as each train car is introduced and then zips along for a speedy ride.
Fire Truck by Peter Sis. What could be more thrilling than waking up to discover you are a fire truck? Flashing lights, speedy tires, and emergencies to solve, it's a pretty good life for a little boy. But when pancakes show up on the breakfast table, it might be time to turn back into a human again.
I'm Fast! by Kate McMullan and Jim McMullan. A race between a train and a zippy little race car speeds through the desert, over mountains, and into a city. And you'll have to wait until the very end to find out which one wins!
Don't Let the Pigeon Drive the Bus by Mo Willems. Doesn't every transportation lover secretly just really want to drive that big truck or bus or car? The pigeon does too. And it's your job to keep him to the rules.
Truck Stuck by Sallie Wolf and Andy Robert Davies. When a truck gets stuck under a bridge, the whole community gathers together trying to figure out how to get it unstuck and life back to normal.
Night Light by Nicholas Blechman. I love a book with clever die-cuts, and this one, where you have to guess what vehicle is on the next page based on the lights shining through the cuts in each page is beautifully designed. My girls loved this one just as much as I did.
Shark vs. Train by Chris Barton and Tom Lichtenheld. I love this wacky book about various matchups between a shark and a train. The train might be better speeding through the flat desert, but the shark wins a diving contest every time. And who is a better at ping pong? Or bowling?
That's How! by Chistoph Niemann. This clever book shows two kids checking out a bunch of different vehicles and wondering how they work. One of the children has all sorts of wild ideas about what's inside that makes them run. Ella and I giggled through every page.
Digger, Dozer, Dumper by Hope Vestergaard, illustrated by David Slonim. I don't know how the idea for writing a book about poetry featuring trucks came about, but it works better than you might expect!
Trucks Go by Steve Light. For the very youngest truck enthusiast, this book features all the sounds various trucks make, in a simply-illustrated board book format that can stand up to 10000 readings (if you can stand up to that many readings).
Machines Go to Work by William Low. Showcasing nine machines in beautiful detail, this book with giant flaps shows all the kinds of things these amazing machines can be used for.
Little Blue Truck by Alice Schertle and Jill McElmurry. Does it get better than this classic book about a little truck that gets stuck while pushing a dump truck out of the muck? Blue has made a pack of farm animal friends along his route and so when he's in trouble, they're ready and willing to help. Plus the truck sounds and animals noises make this one an extra fun read-aloud.
Backseat A-B-See by Maria van Lieshout. Set against deep black pages, you see all different kinds of traffic signs from the vantage point of a small child in the backseat of a car. I LOVE this book about cars – it's definitely one of my favorite ever alphabet books.
And if you'd like a printable copy of this list that you can take to your library or screenshot on your phone for easy access, just pop in your email address below and it'll come right to your inbox!
And other favorite vehicle books I missed? I'd love to hear – leave your suggestions in the comments. It helps make these posts more useful for other families and I appreciate your input so much!
If you liked this list of books about cars, trucks and trains, you might like these book lists too: