My dad loved the I Spy books when I was a child. Not only did he love searching for whatever was hidden on each page, but he also loved discovering the clever objects that were used to build the scenes.
Almost every year for many years, we'd get him the newest installment of the I Spy books for his birthday or Father's Day and then we'd spend the next few days poring over each page.
Now, when we go to my parents' house, my girls love looking through their huge collection of I Spy books and my dad is always happy to spend a while helping them find a shadow cat or fourteen dimes or whatever.
Over the years, I've discovered lots of search and find books, and they've become favorites in our home, from the very simplest I Spy books to super complicated ones.
Here are the I Spy Books we know and love, and if you have other search and find favorites, definitely share them in the comments!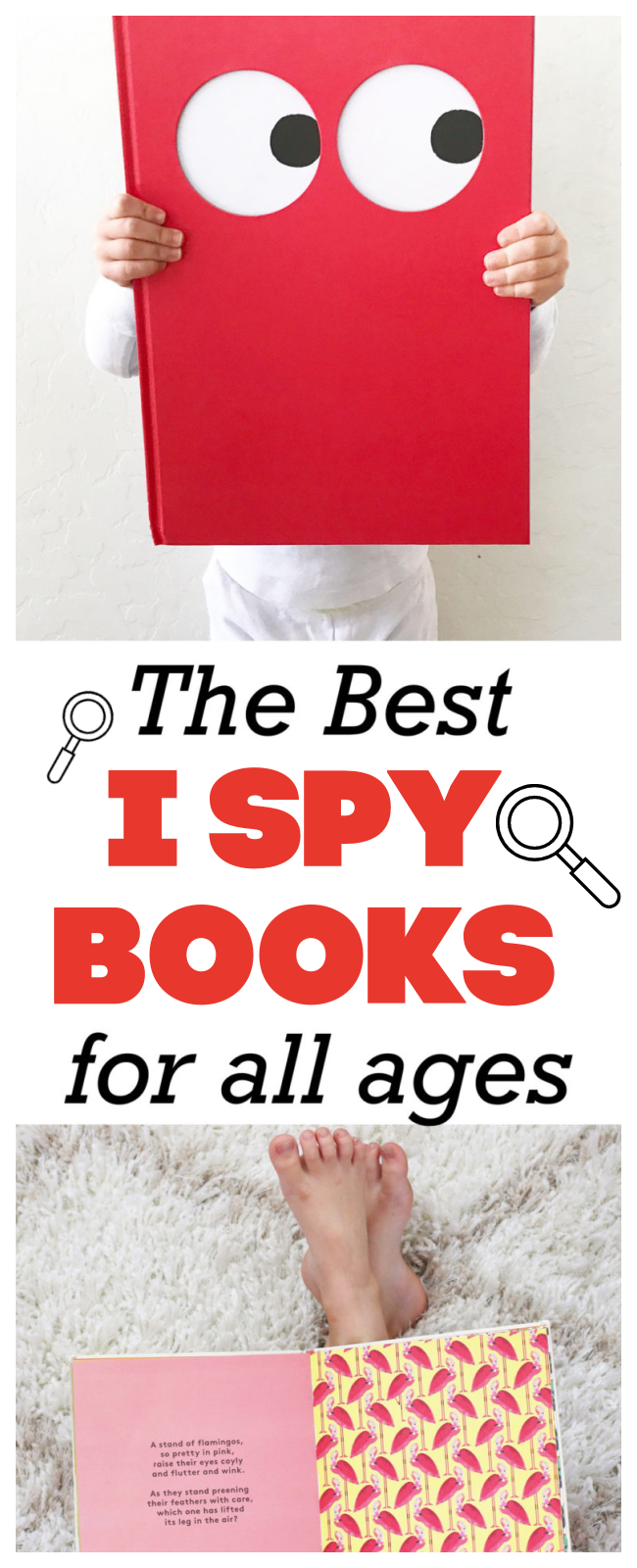 The Best I Spy Books
The Bear's Song by Benjamin Chaud
I really like Benjamin Chaud's style and these oversized books are just a darn lot of fun with a little bear who gets lost and his papa bear who is determined to find him, so your job is to find both the baby bear and the papa bear on each page. There is also The Bear's Sea Escape and The Bear's Surprise.
Busy Bunny Days: In the Town, On the Farm & At the Port by Britta Teckentrup
This reminds me of Richard Scarry's books a little, with tons of animals going about their day. On each page, there are a few listed things to find, but you could look at these scenes endlessly.
LMNO Peas by Keith Baker
After the first few times I read this one to Ella, I realized there was a ladybug hidden on each page, and Ella LOVED finding it. This is perfect for your 2-3 year olds and there's also 1-2-3 Peas, Hap-pea All Year, and Little Green Peas.
Have You Seen My Dragon? by Steve Light
As you might have guessed, in this one you look for a dragon and it doubles as a counting book. The companion book, Have You Seen My Monster? deals in shapes. They're both so fun with blank and white ink illustrations and a splash of one color.
The Lost House by B. B. Cronin
This search and find book is fun because every page has a room of a different color and EVERYTHING is that color, so it is surprisingly tricky to find the objects. And then in the final page, all the colors come together and it's absolutely vibrant and delightful.
The Odd One Out by Britta Teckentrup
I am obsessed with this series with the most gorgeously designed patterns and you have to find the animal that's just a little bit different. For example, which camel only has one hump? Which butterfly hasn't yet left the cocoon? My girls love this book and the other books in the series including Where's the Pair? and One is Not a Pair.
Adele & Simon by Barbara McClintock
I love the decidedly old-fashioned feel of this book about a brother and sister pair headed home from school through Paris. Simon leaves school with a whole slew of items – sweater, gloves, knapsack, etc – and on each page loses one. There are so many details on this book that are just fun to look at and I always am aching for a little trip to France after we read it.
Where's Walrus? by Stephen Savage
This is another look and find favorite for the super young. A wily walrus escapes from the zoo on a sleepy afternoon and the zookeeper tries to find him on each page, but the walrus hides (not very trickily) among the people on each scene, from firemen to dancers to painters.
A Thousand Billion Things (And Some Sheep) by Lois Clement, illustrated by Anne Montel
Basically, this is the I Spy book equivalent to tossing all your toys on the floor and then searching through for a few very specific and tiny things. I cannot imagine the amount of work it took to illustrate this. It's the perfect book for a rainy afternoon, a road trip or the witching hour.
Where's Waldo? by Martin Hanford
This one is an I spy classic, and I like it that you only have to find one thing, but you can also spend as much time as you want looking for other characters or just funny things in each page.
Where's the Elephant? by Barroux
Here you get a small set of animals to find (an elephant, parrot, and snake) on each page, which is challenging at the beginning in a full jungle, but gets easier as the jungle is developed into a city and the animals eventually end up in a zoo. At the end, they make a break for freedom and say hasta la vista to city living.
Uno's Garden by Graeme Base
This one also has something of an environmental theme like Where's the Elephant? with Uno building a home in the middle of a very dense forest and eventually it gets deeply urbanized. You count down to the middle of the book with one less animal to find on each page, and then as the city goes wild again, you count back up as the foliage and animals reappear.
Yoo-hoo, Ladybug! by Mem Fox, illustrated by Laura Ljungkvist
Perfect for the youngest reader, you can find a ladybug on each page of this I Spy book. We checked this one out from the library at the beginning of the year, and Star and I read it over and over again together.
Look! A Book! by Bob Staake
I love the rhymes that go along with this book and that there are only three things to find on each page. But then you can do the extra finding at the end, so it's basically as long or as short as you want it to be, which, as a parent, I deeply appreciate.
Find Me: A Hide and Seek Book by Anders Arhoj
This one is brand new and I'd buy it just for the cover alone. When you start the book, you're introduced to a character and then find him on each page. When you get to the end, you're introduced to a second character and you go backward through the book to find her on each of the pages.
And if you'd like a printable copy of this look and find book list that you can take to your library or screenshot on your phone for easy access, just pop in your email address below and it'll come right to your inbox!
I've also heard amazing things about In the Town All Year Round and Welcome to Mamoko, but I haven't personally read either of them. If you have other favorite I Spy books, please share!
If you liked this post about I Spy books, you might also enjoy these posts: