There are some products that you cycle through pretty quickly (especially when it comes to baby gear) and other items that really stand the test of time.
Our double stroller is one of the latter.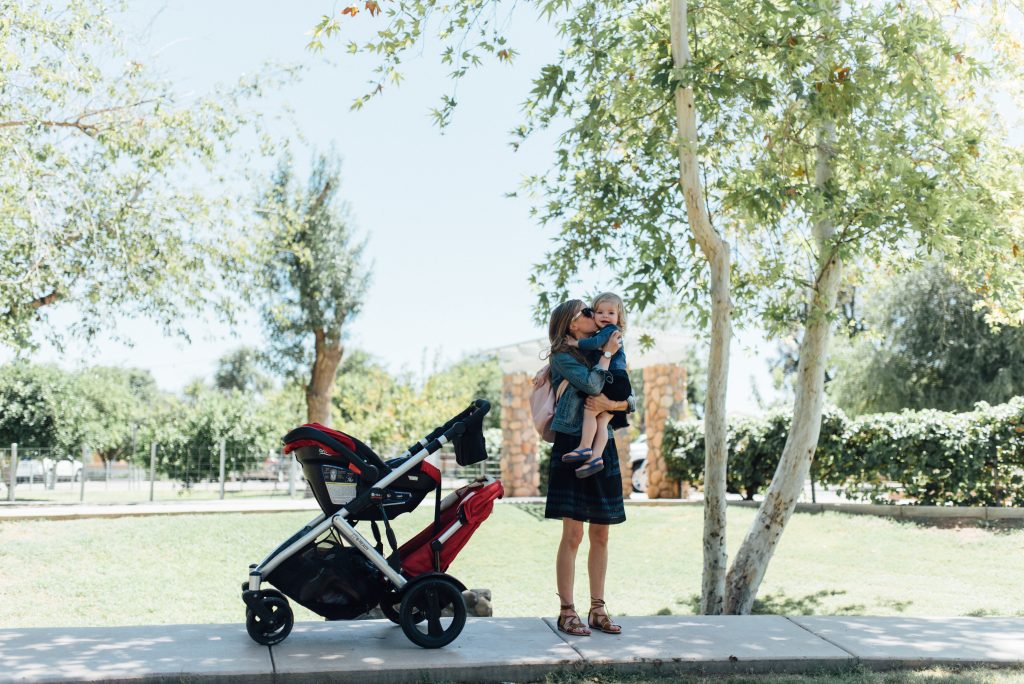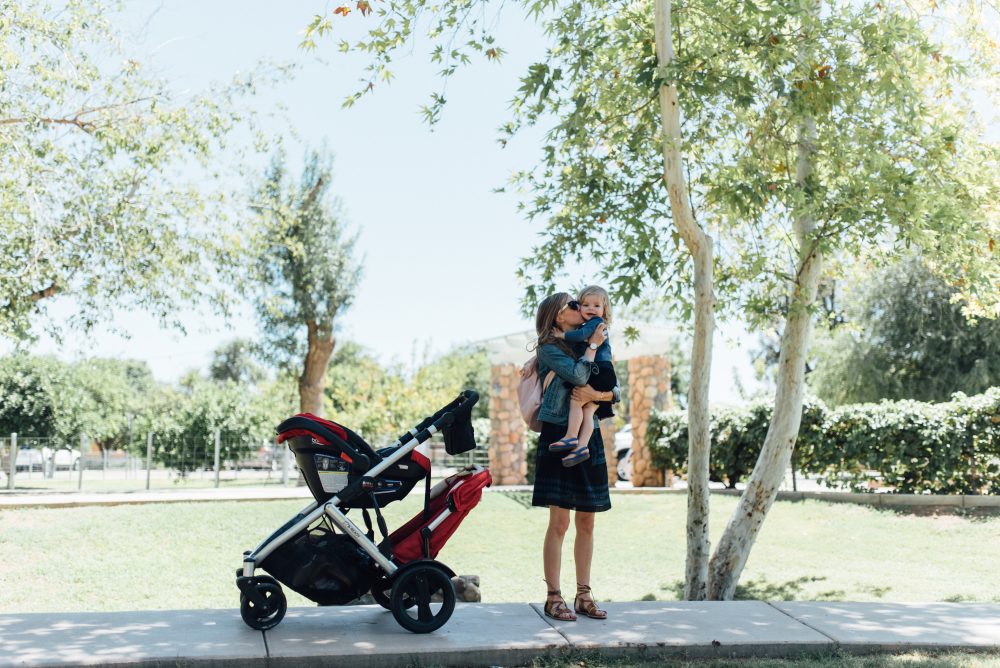 We have the Britax B-Ready and it's been a serious workhorse for the last 5 years.
I wrote a post about it here, a month or so after we got it, but now that we've had it for five years, I figured it was time for a follow up, especially since I still use it ALL THE TIME.
We got it right before we headed off for four months in Europe with our two oldest daughters (they were 18 months and 4 at the time) and we are still OBSESSED with this stroller.
We started our stroller life with a Graco travel system we bought used from a family at church for a whopping $20. So our bar for good strollers was low (no offense meant to Graco – I think they make fantastic budget products. They're just not a higher-end stroller).
Sadly, the difference between a cheap stroller and a more expensive stroller is just . . . REAL. The moment I opened the Bitax B-Ready, it was so clear that this was a much better made stroller than I'd ever used before.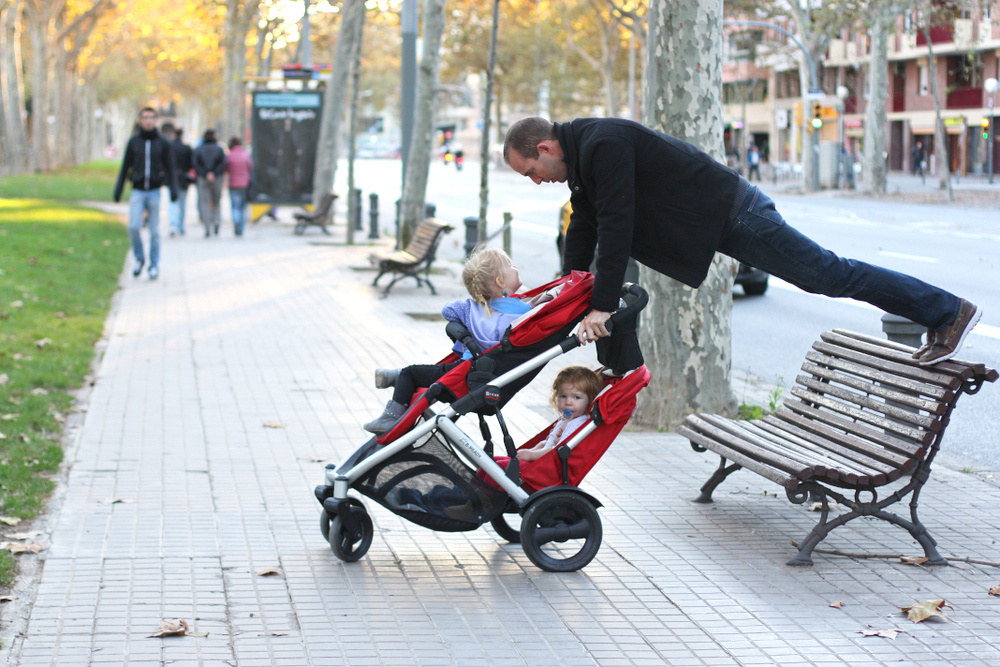 WHY I Love the Britax B-Ready Stroller
This thing is STURDY. Our Graco stroller got bent very quickly (which made the basket difficult to access) and on our double jogging stroller, the lock broke off in the first year so that it no longer could snap shut anymore. This thing? It's all made of very sturdy materials and it's held up beautifully.
I love that you can by the B-Ready as a single stroller for one child and then add another seat when you have a second child. And when your older children no longer need a stroller, you can easily take the bottom seat off and go back to a single stroller again (we're not at that point – I'm still frequently wishing I had a TRIPLE stroller because apparently my children all hate to walk).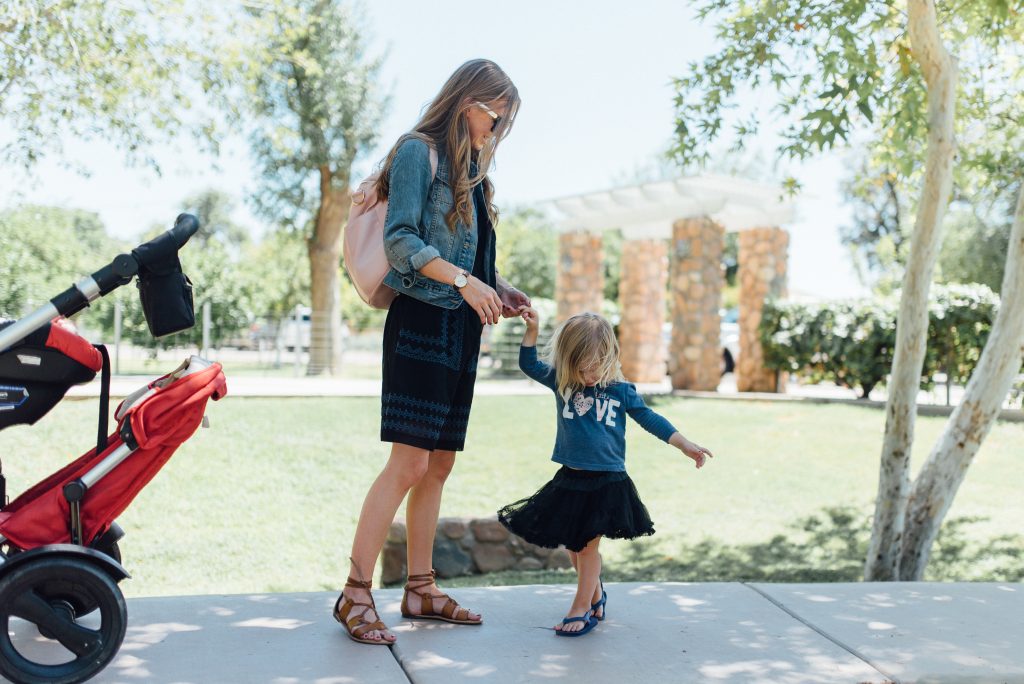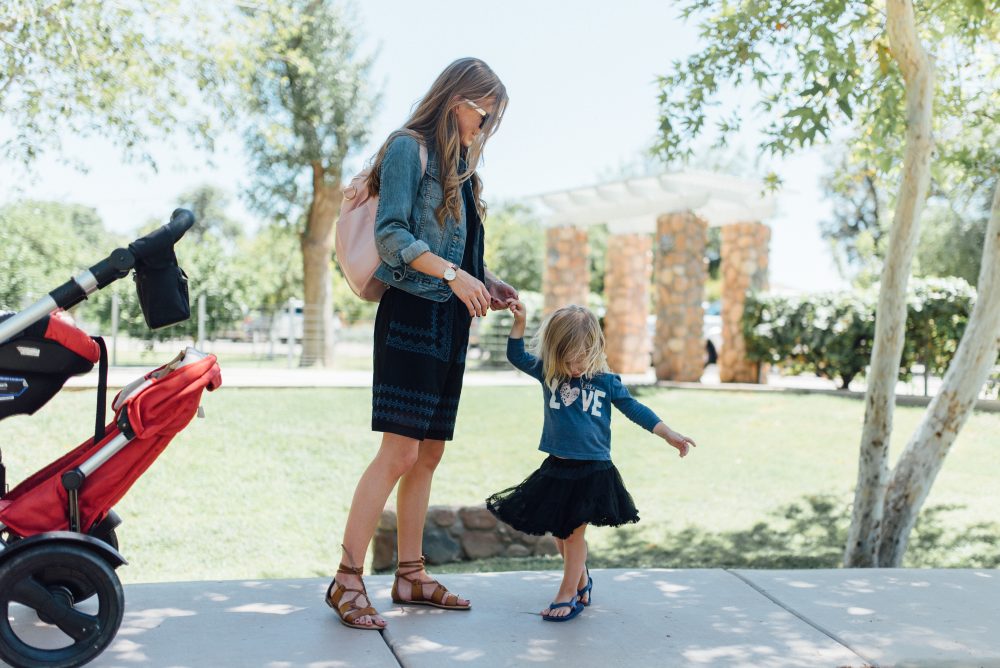 I also like it that when it's a single stroller, it doesn't look like a massive double stroller missing one of the seats. It's so well-designed to work as both a single and a double stroller.
I love that both seats can lay almost flat so it's easy to get a good nap in(not that we've needed that option as often as I've wished – we've only had ONE time that both of our children both fell asleep in the stroller at the same time).
I love that the braking system is super easy to engage.
I love what a smooth ride it is (I can push it with one hand as long as my two bigger children aren't in it).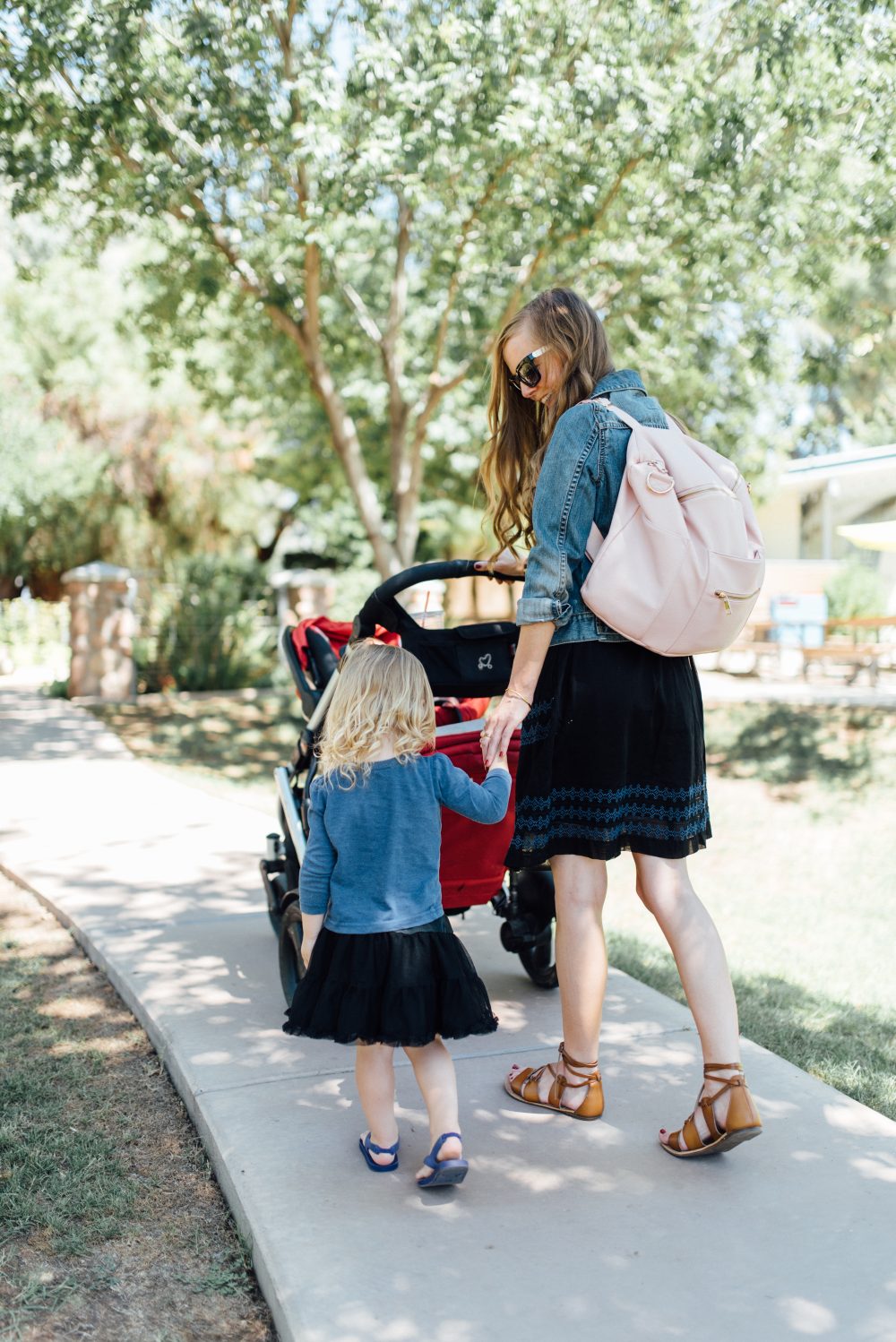 I love that you can do two seats (which is what we usually do) or put a carseat in the top or bottom spot or even both. The top seat can face backward or forward (although if you have the bottom seat in, an older child's feet will hang in the face of the child sitting on the bottom).
Basically, it's as near-perfect a double stroller as I've ever seen.

Why I like the Britax B-Ready more than the City Select Double Stroller
I'm pretty sure the most popular double stroller ever is the City Select by Baby Jogger (many of my friends and both of my sisters have the City Select), but I've never regretted going with the Britax B-Ready.
The number one reason we went with the Britax instead of the City Select is that to fold down the City Select, you have to remove one of the seats.
Since we were going to be traveling like crazy, all over Europe, on planes, trains, buses, and subways, and with Bart in school, I'd often be on my own, I knew I needed a stroller that could fold down in one piece so I could still hold a toddler with one hand instead of having both of my hands taken up. Plus, reassembling it every time I unfolded it sounded wildly unappealing.
This all-in-one fold design was the deal-maker for me. And every time I got on a bus in London and now every time I take it in and out of my trunk, I feel fantastic about that decision.
The second reason is that the Britax is less expensive. I mean, it's still a pricey stroller (the main stroller is $499 and then the second seat is another $149), but the City Select runs over $800 for the stroller with both seats.
The third reason is that the B-Ready stroller is smaller. I always feel a little like the City Select is like a BOAT. Whenever I've used one, it feels really long to me. I like that it takes up less room in my trunk and that I can maneuver more easily when we're in busy places or big cities. And since it folds up all in one piece, it's easy to tuck in a corner of a restaurant or to check on an airplane.
Don't your children hate that bottom seat?
This is the question I get asked most about the B-Ready double stroller. People assume children hate that bottom seat, but haven't found that to be the case. Sometimes they both want the top seat and sometimes they both want the bottom seat.
And that bottom seat is fairly big – my six-year-old can still sit comfortably in it (and she usually prefers the bottom to the top).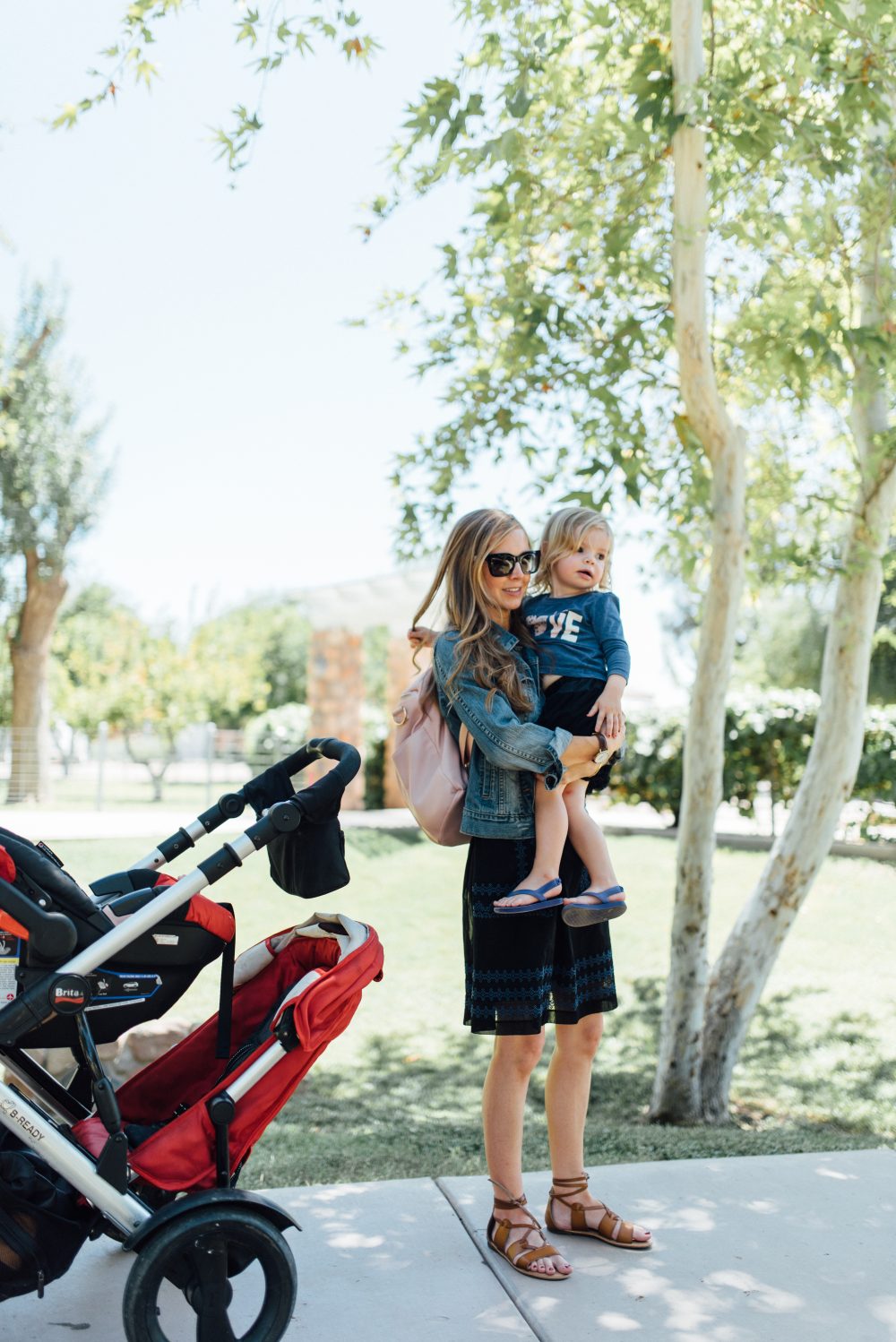 My second favorite stroller
Until this past year, I haven't had a runner-up favorite stroller, but in the fall, I got an Ergobaby stroller and I LOVE it. Because it's a single stroller, I don't use it as much right now and it wouldn't be as good for an infant because it's not compatible with a carseat, but holy cow, I love it.
It legitimately folds down with one hand (just pull a strap on the seat and it collapses right down), it's light-weight, the seat lays almost completely flat and it's a very smooth ride. Plus the handle can pivot so you can have your child face in or out without having to move the seat.
It has a big basket and it's easy to access.
Basically, for a non-infant single stroller, I haven't found one better.
Did I miss anything?
And. . . I think that's all I have to say about strollers for at least another year.
If you have questions about either stroller, I'm happy to answer – I know I'm a real mom when I have THIS MANY OPINIONS about strollers.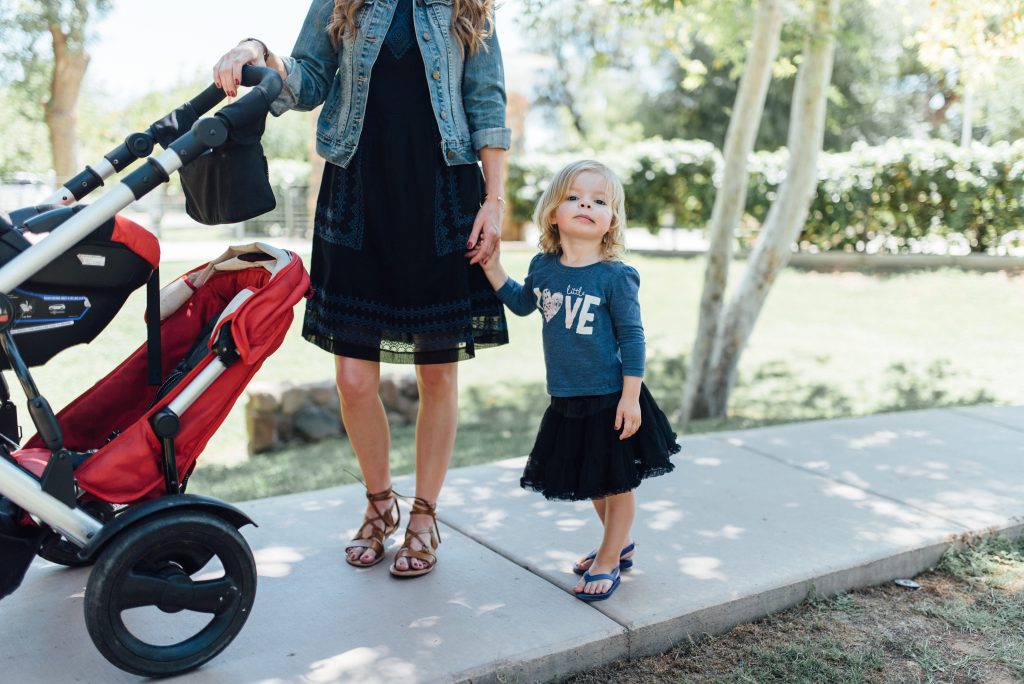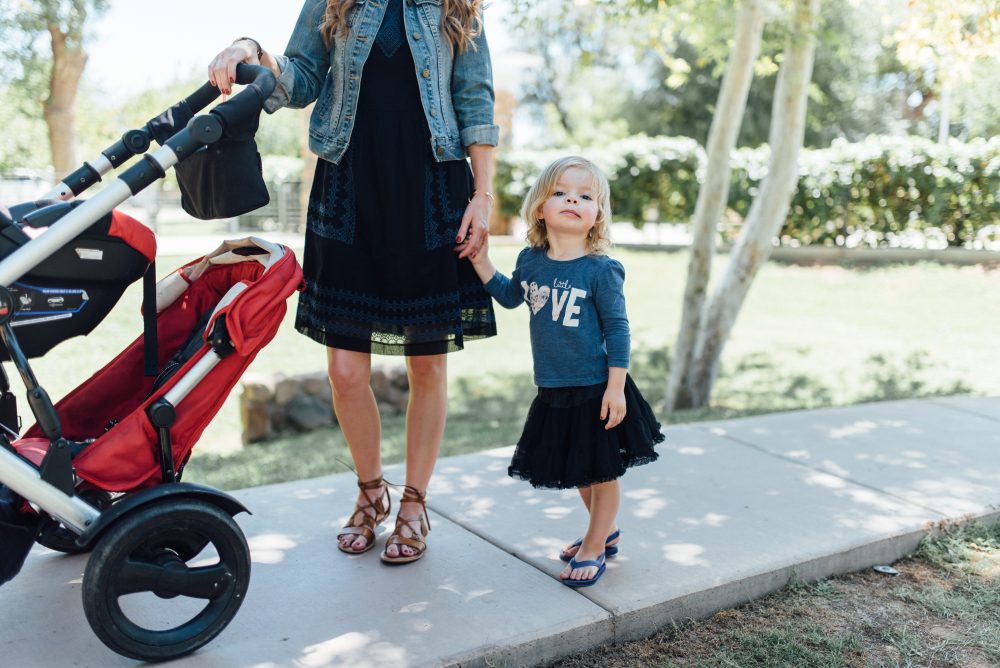 Photos by Christie Knight Photography