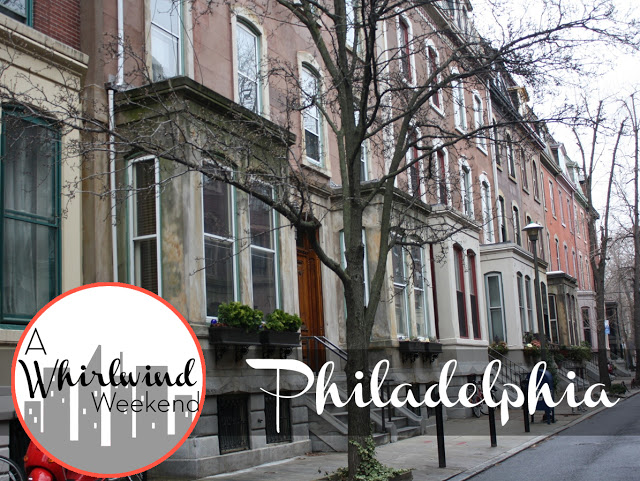 1. I'd take you out for brunch at 
Sabrina's Cafe
. You can order whatever you want, but I'd strongly recommend the Challah stuffed French toast. They always have one on their specials menu filled with gobs of cream cheese and delicious homemade syrup.  There are 3 locations now, but my favorite is the original in the Italian Market.  It's an adorable old home with charming little tables.  But we should get there early – it gets crowded!
2. It's famous for a reason! You shouldn't miss Old City.  Independence Hall, the Liberty Bell, the National Constitution Center.  A million "firsts" – Carpenter's Hall (hosted the 1st Continental Congress), Christ Church (where the Founding Fathers worshiped), The Library Company (nation's oldest lending library), Elfreth's Alley (nation's oldest residential street), oldest jewelry district and fabric district, etc. etc.  It's all beautiful and meaningful and terrific.  If you're especially into history, there's some cool stuff over in West Philly, too – like original copies of the Bible and Book of Mormon at the Penn library, a fantastic archaeology and anthropology museum, and an abundance of beautiful murals.
3. Calories don't count on vacation, so we'll stop in and grab a treat at 
Franklin Fountain
 (old fashioned ice cream shop) or 
Capogiro
 (amazing gelato).  Or both.  Yes, both.
4. The weather is perfect and getting outdoors is a must. We'll take advantage of the gorgeous day at Boathouse Row.  I love walking by the old Waterworks behind the Art Museum and taking a stroll down Boathouse Row, ending up at the lovely Laurel Hill Cemetery.  You'll have a great view of the city, Fairmount Park (the largest urban park in the world, even bigger than Central Park), and rowers on the Schuylkill River.  We'll finish up with a nearby museum – I'd suggest the Philadelphia Museum of Art, the Rodin Museum, or the Barnes Foundation.
5. The locals would stone me if I didn't show you the markets: Reading Terminal and Italian.  Reading has tons of little shops and stands selling everything from (wicked cheap) produce to lavender-scented hand soap.  The Italian Market has stores selling bulk produce, meats/cheeses/olives, etc. etc.  It's also where the most famous cheesesteak shops are located (although I'm a vegetarian, my husband says Pat's > Geno's).  There are also a million little amazing, family-run Italian restaurants; 
Scannicchio's
 is our personal favorite, and the eggplant rollantini is to die for.
6. You didn't ask, but I'll tell you anyway that a trip to Philly wouldn't be complete without visiting some of the musical sites.  You could watch the Philadelphia Orchestra perform at the Kimmel Center, or hear the world's largest organ in the old Wannamaker building.  If music isn't your thing, you could always head down to catch a Phillies game – as much for the experience of watching the crazy fans as for the baseball!
Want to share your city? Email Me!