Starting about the time I turned 14, my parents took turns going on vacation with just one child. I think if you grow up in a family with multiple children, you can't help but dream (at least once in a while) about being an only child, and having several days of one-on-one time with a parent is just fantastic. I have happy memories every one of those trips with my parents (most notably DC with my Dad and New Orleans with my Mom).
Now that all three of us girls are married, my mom has restarted this tradition and this past weekend was my turn. I picked Portland, because I'd never been there.
My mom mentioned that each trip has its own flavor, depending on which daughter it is with, because we all have some variation in our interests. For me, I want books, food, and being outside. This trip was a win in all three of those categories.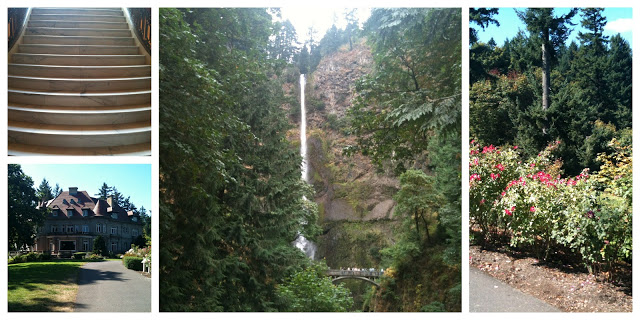 We visited:
The downtown library (and got a prime parking spot right in front of the building. We had amazing parking luck the entire weekend).
Powell's (this was like heaven for me). Every single person who knew I was going to Portland recommended this. I am very predictable.
Multnomah Falls. I'm so glad we made the drive out there. It was astoundingly beautiful.
Portland Saturday Market. A lot of interesting and fun vendors. We bought exactly nothing, but enjoyed poking around.
The Pittock Mansion. Gorgeous house, lovely grounds.
The Rose Garden. (If I was going to smoke, it would not be in a public Rose Garden – narrowed eyes at you, sir).
The movie theater and saw Trouble with the Curve which, despite a lot of swearing, was a delightful movie.
A personal highlight for me? Happening to look up and notice as we passed Klickitat Street (where many of the characters in Beverly Cleary's books live. We had to stop for a picture, of course).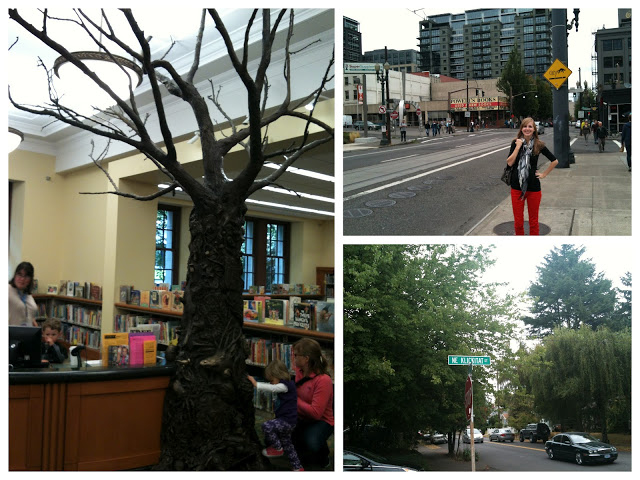 We ate (mostly on the recommendations of Rhiannon, who did not lead us astray):
Little Big Burger. Fantastic little cheeseburger and great fries. Why is it so difficult to find a place that does good burgers AND fries?
Salt & Straw. We went twice. We tried many many flavors, all of which I liked, except for the Foie Gras S'more which was just. . .well, a little too much. The guy behind the counter was the most charming salesman I've ever met – my mom and I both commented on how delightful he was and knowledgeable and enthusiastic about all the ice creams. If you are in Portland, you should absolutely go here. Multiple times.
Pok Pok. I'm glad we went and the food was good, but Rhiannon said it's if you're feeling adventurous and it might have been a little too adventurous for me. This is not the kind of Americanized-Thai food I'm accustomed to.
Ruby Jewel. Oh yes. Another ice cream place. Delicious, but not QUITE as delicious as Salt & Straw.
Voodoo Doughnut. Some weird doughnuts, people. Who really wants a doughnut rolled in Cap'n Crunch? (Not me). But the ones we ordered were very good. I do think I'm a bit ruined because I happen to live near some of the world's very best doughnuts.
Bollywood Theater. I had some amazing Pork Vindaloo. We were drawn in by the amazing smell (and the fact that going to lunch here meant we could have ice cream afterward at Salt & Straw next door).
Por Que No? RA mentioned this place and how much they loved it on a recent trip to Portland. One of the best quesadillas of my life. I had a sample of the watermelon jalapeno beverage and it was very spicy. Also, right down the street from Ruby Jewel, so of course we had to visit THAT one a second time.
We stayed at a little bed and breakfast, where we stayed in the converted garage (it was lovely! also, it has the only private bath on the premises) and enjoyed some really good breakfasts. Also, a CUTE neighborhood.
It was a delightful weekend and I enjoyed every minute with my mom (except the three minutes we spent sprinting through the Las Vegas airport to catch our delayed and then UNDELAYED flight. We were the last people on the flight). I am anxiously awaiting my next trip with her, three years from now. . .
Bart put Ella down for a nap on Sunday afternoon and then left our neighbor to keep an eye on her. He drove to the airport to catch his flight for a work trip as I drove back home from the airport. We literally waved to each other as we passed on the toll road (we were on the phone, so we knew when we were going to cross paths).
Also, I should stop having doctor appointments the day after I come home from vacation, because inevitably, the doctor congratulates me on my excellent weight gain. And then I have to remember my four ice cream stops remorsefully (or, in the case of the Seattle trip, my many many pain au chocolates).