For nearly the past 20 years, my parents have done one-on-one trips with each of their children.
My dad and I went to Washington DC and Milwaukee, and my mom and I went to New Orleans and Portland and Seattle.
(I wrote a whole post about these kinds of trips here).
This year, though, we decided to switch to an every-other-year girls trip with all three sisters and my mom, alternating between the years when we have a full family reunion.
Earlier this month was our first trip with the four of us and we decided to spend a long weekend in San Francisco.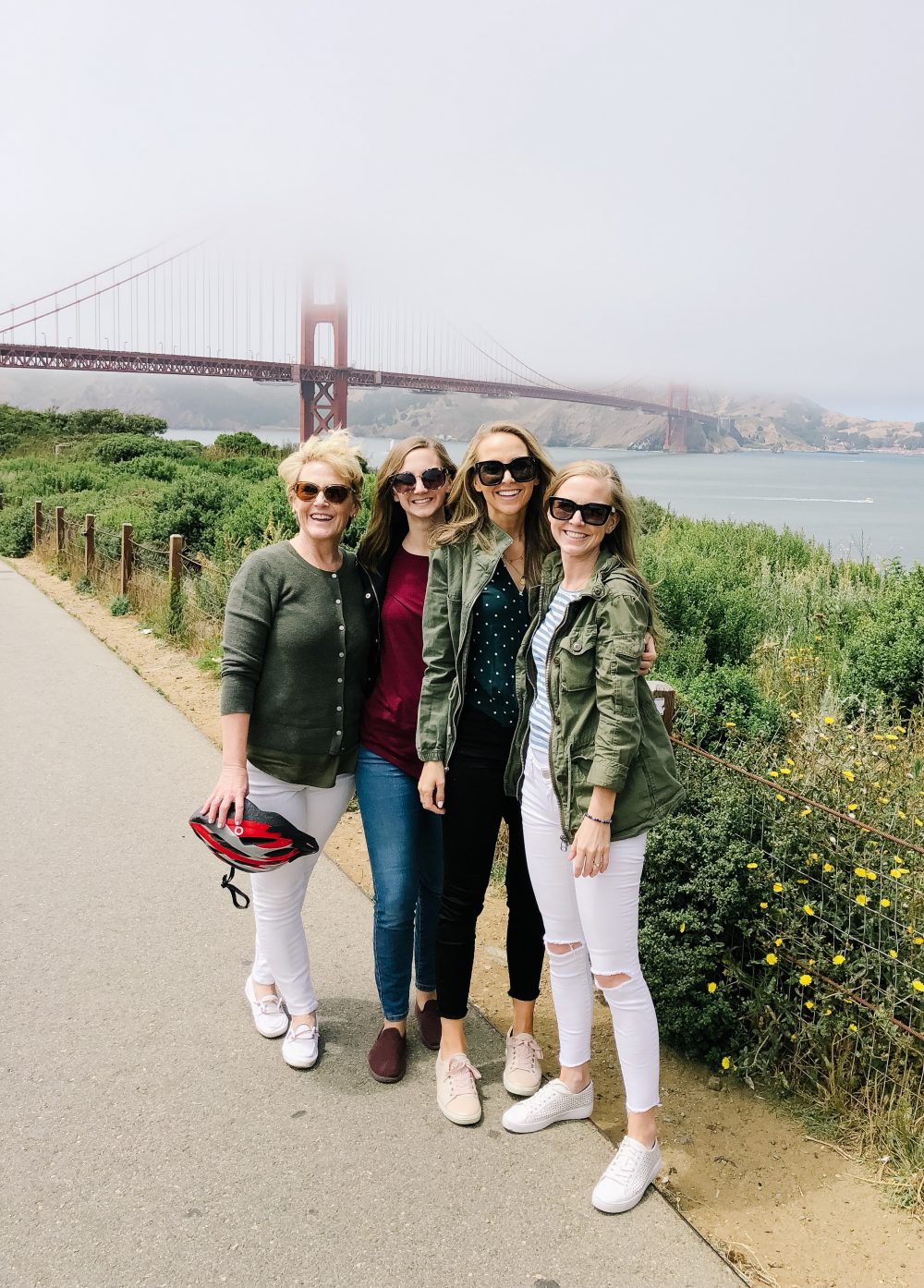 My mom flew in from Las Vegas, Merrick flew in from Texas, and Landen and I flew together from Salt Lake City.
Landen and I arrived several hours earlier than the other two, so we took the BART from the airport, checked into the Westin St. Francis on Union Square (we'd considered staying in an Airbnb, but a hotel was actually cheaper, and we didn't need any of the amenities that an Airbnb offers), and then headed out to find some dinner.
My friend Preethi recommended Del Popolo, a few blocks away from our hotel, so we walked over and put our name down. It was an hour long wait, so we wandered down the street and looked at the menu at Aliment. It wasn't busy, so we snagged a table and ordered some truffle fries to share, which were delicious.
Once we'd finished up, we walked back to De Popolo and when I checked on our status (even though we still had nearly half an hour left to go), the host looked at me wide-eyed and said "Are you psychic? I was JUST about to call you." And our table was ready.
We split a delicious pizza at one of the communal tables and then walked back to our hotel, got into pajamas and settled in to bed to read until my mom and Merrick arrived, which ended up being quite late, thanks to both of them having delayed flights.
Landen and I were both super tired, but once everyone was there, we caught a second wind and we stayed up chatting for another hour or so.
In the morning, we went down to the gym, then everyone showered and got ready and we grabbed an Uber to Tartine Bakery, which I'd been dying to try for years. By this time, it was nearly lunch time, so we ordered two sandwiches (no one was super hot on the Goat Cheese and Walnut Bread one, but the Pastrami sandwich was AMAZING) and a morning bun, frangipane croissant, and a bowl of brioche bread pudding (that bread pudding was change-your-life good).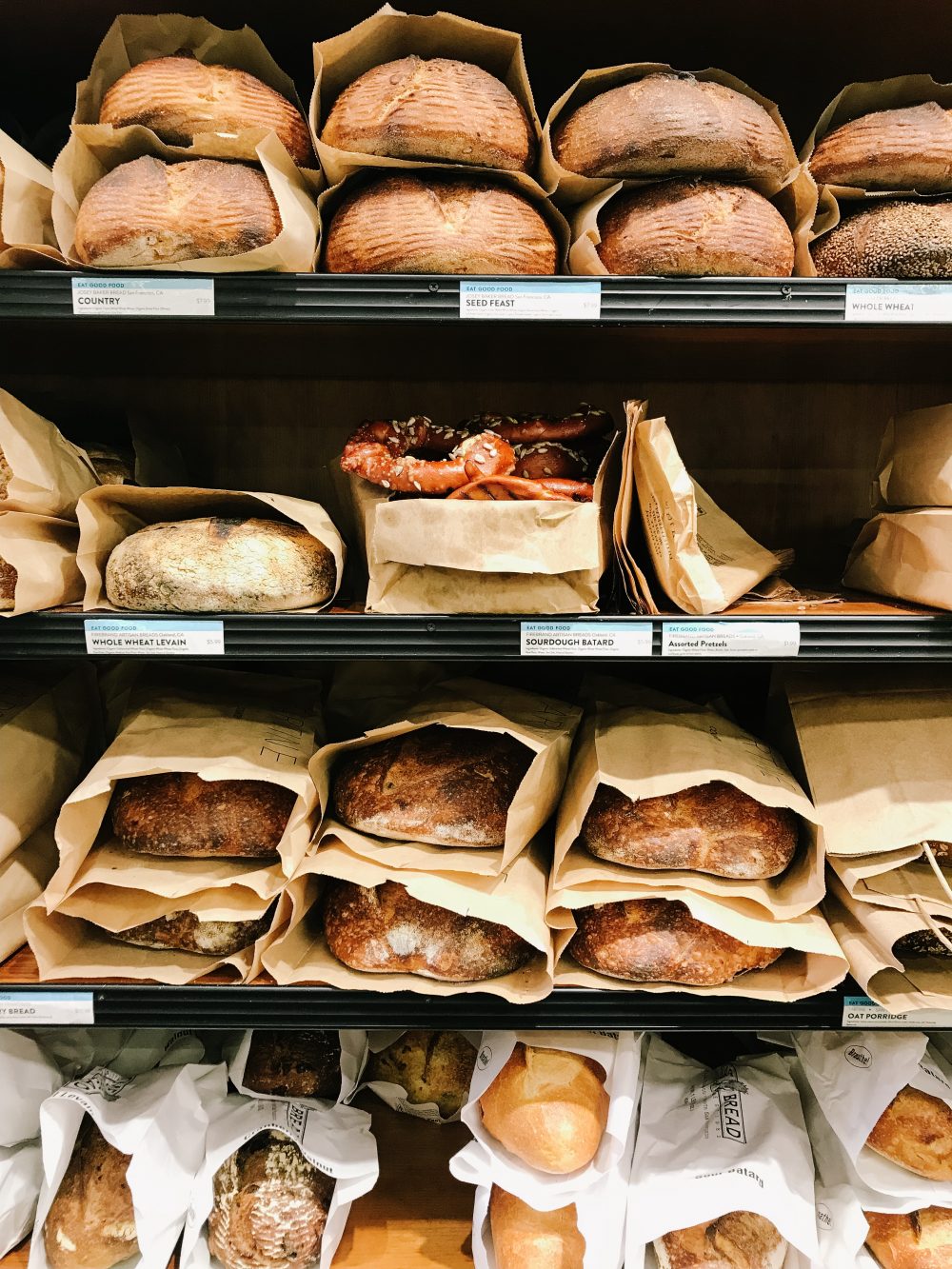 We walked around the corner and stopped in Bi-Rite Market which was so charming, and then down the street, poked our head into Bi-Rite Creamery, but we were all too full for ice cream, so we kept going to Dolores Park which has beautiful views of the whole city. Plus, it was a gorgeous sunny day, so it was perfect.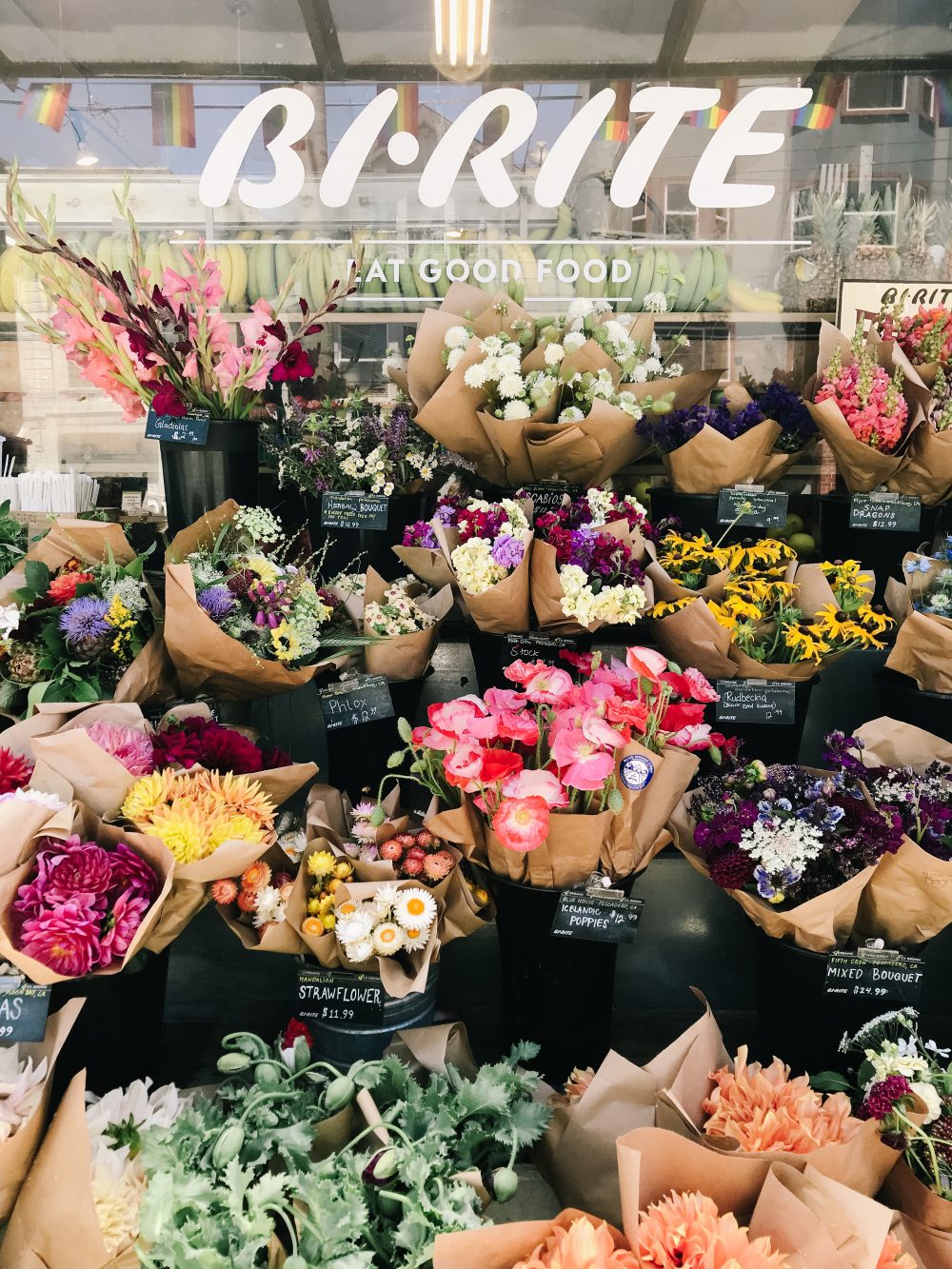 We caught an Uber down Golden Gate Bridge Bike Rentals where we all rented a bike and then took off to bike the bridge. It was a perfect day and we went across the bridge and then all the way down into Sausalito, where none of us had been before. We sat out in the sunshine and shared some smoothies, then waited in line to catch the ferry back to San Francisco. We sailed right by Alcatraz (which we skipped on this trip since we'd all been before), and finally landed back in the city where we rode along the piers until we got to Pier 39 and made a quick stop to see the sea lions lounging in the sun.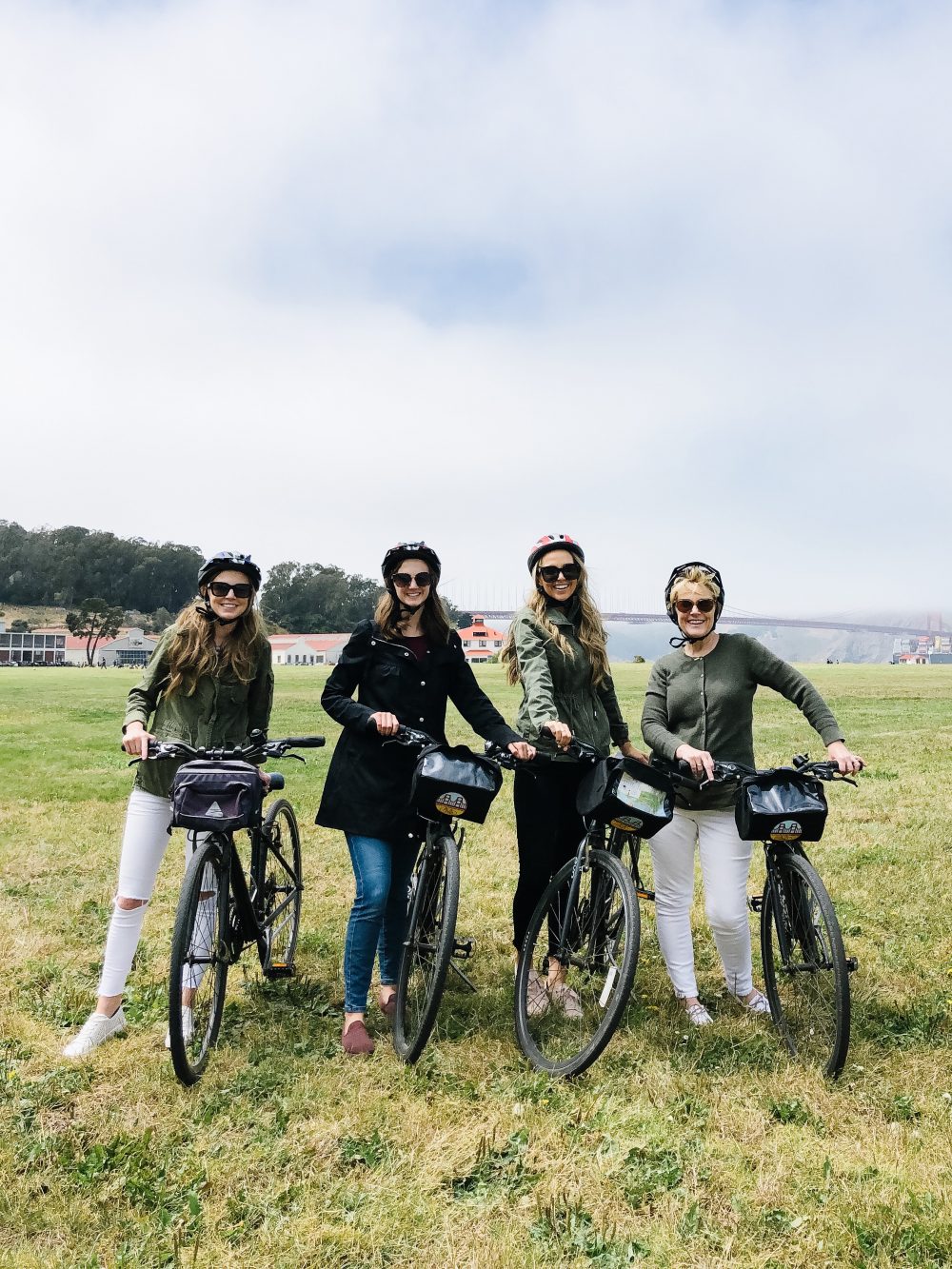 We made it back to return our bikes in the nick of time before they closed at 7:15 and, all feeling a little sore, ubered back to our hotel.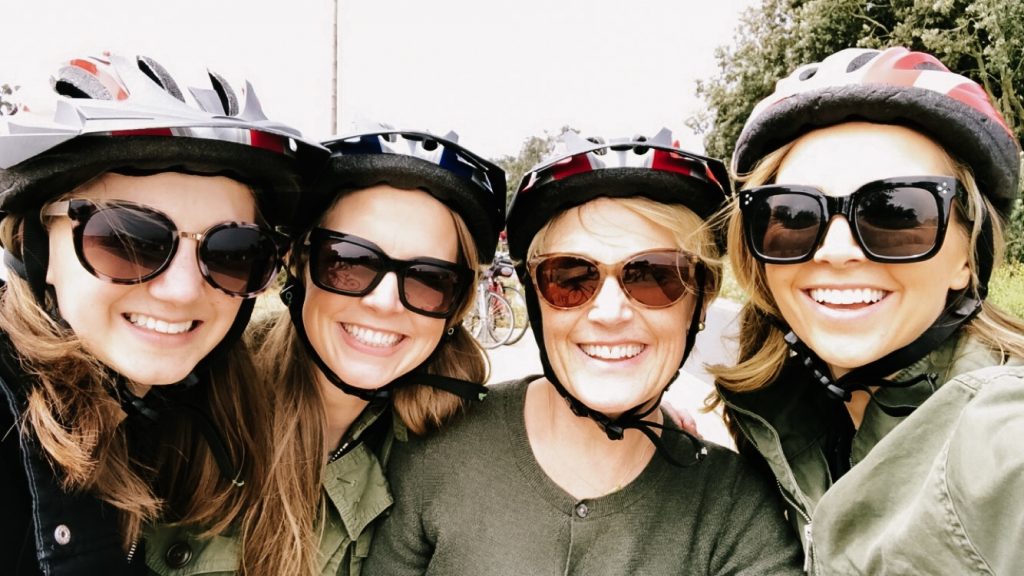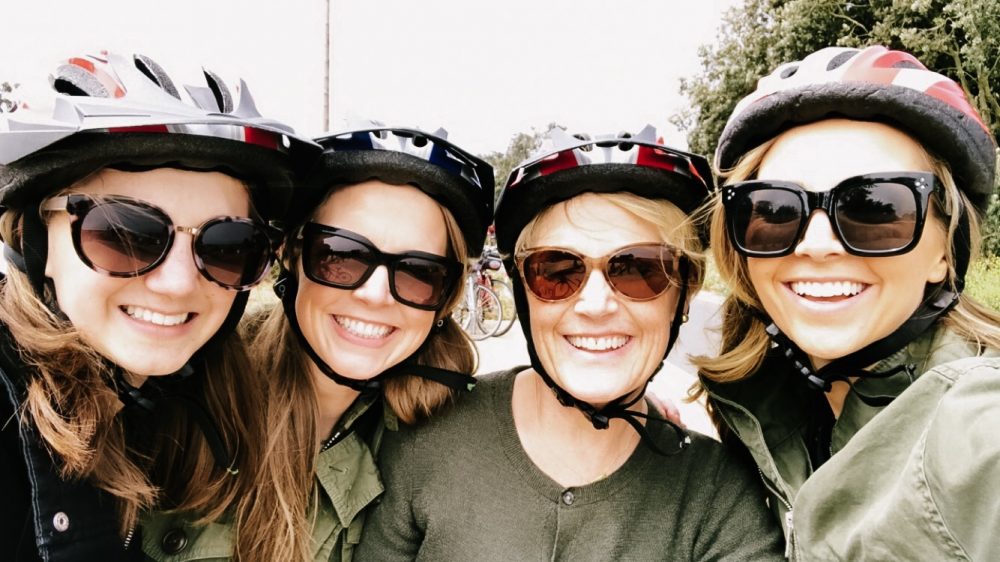 We had a dinner reservation at Trestle, but since we'd only made it that morning, it was for 9:15 (which, with the time difference, is normally the time I'm going to BED), so we had a little time. We spent maybe 45 minutes in our room and then headed out to the restaurant, which was cute and tiny.
When the hostess came out to tell us our table was ready, she said "Were you at De Popolo last night?" It turned out she'd been sitting right next to me at the communal table! I recognized her once she said something, but probably wouldn't have placed her on my own.
Eating at Trestle was one of the highlights of the trip for me – my friend Jessica who lives in the Bay Area and knows ALL the best places to eat had recommended it and she wasn't wrong. They have a $39 three course tasting menu and it was fantastic. The appetizers were either a watermelon and tomato salad with feta and mint or corn chowder with shrimp and they were both terrific.  We skipped the optional pasta course and went straight to the main dish which was a fish (Merrick got this) or a chicken-fried brisket with mashed potatoes which was amazing (the rest of us went this route).
Before dessert, they brought out a tiny bowl of peach sorbet with frozen watermelon cubes and edible flowers, and then for dessert we all went with the polenta cake with basil ice cream and stewed blueberries, which was amazing.
It was such a fun meal in the most beautiful atmosphere. I would 100% go back again.
The next morning, we didn't get up until nearly 9 a.m. and then sat around and chatted for almost two hours before we finally went to the gym and then got ready, so we missed our plan to hit the Farmer's Market at Ferry Plaza (Merrick and I had been before) and we went straight to lunch at Kin Khao which was just a couple of blocks from our hotel. It was fantastic Thai food and we ordered four dishes to split between us (we should have just done three) plus the black sticky rice for dessert which I really liked, but others were more neutral on.
When we finished up, we walked across the street and rented GoCars which we'd seen all over the place the day before (and my friend Jessica had strongly recommended them). We thought we'd just take them out for maybe 90 minutes, but we ended up doing about three hours, going by the Chinatown Dragon Gate, then through the Financial District, up along the piers, then up near the bridge, down the coast and then all through Golden Gate Park.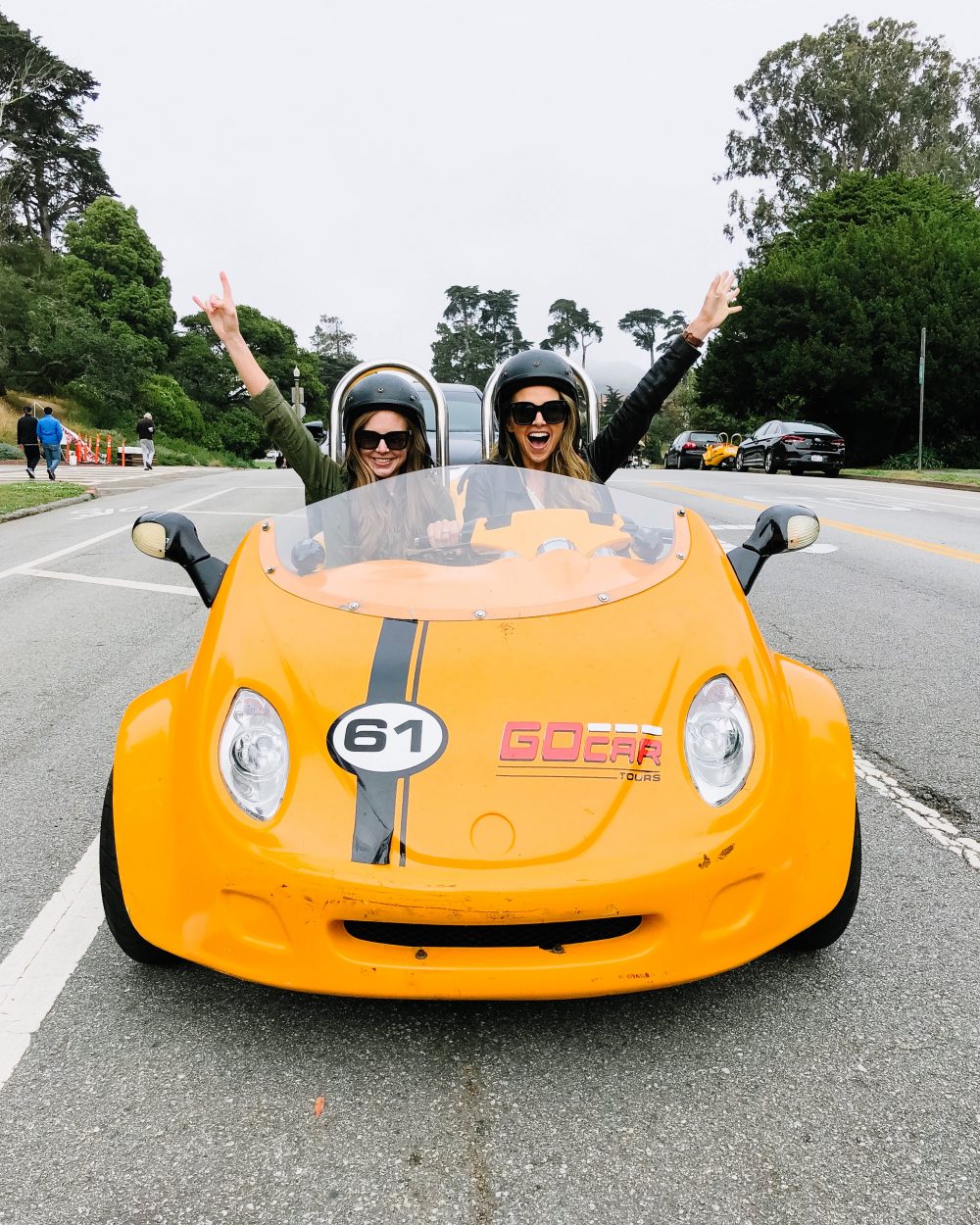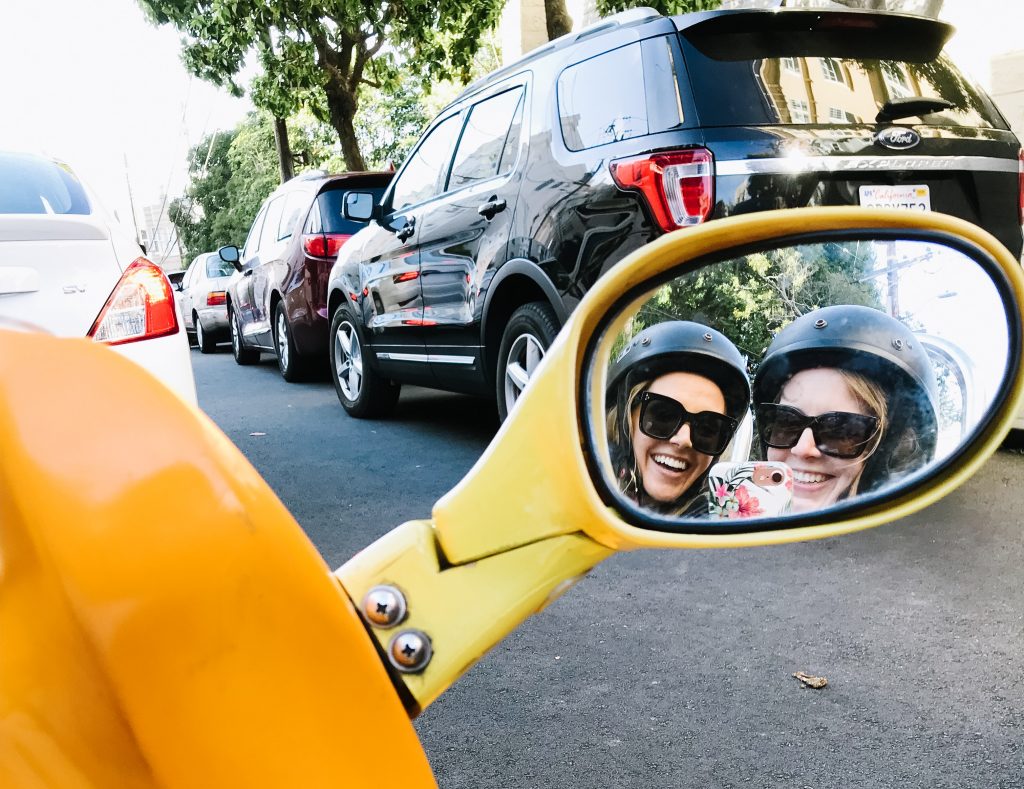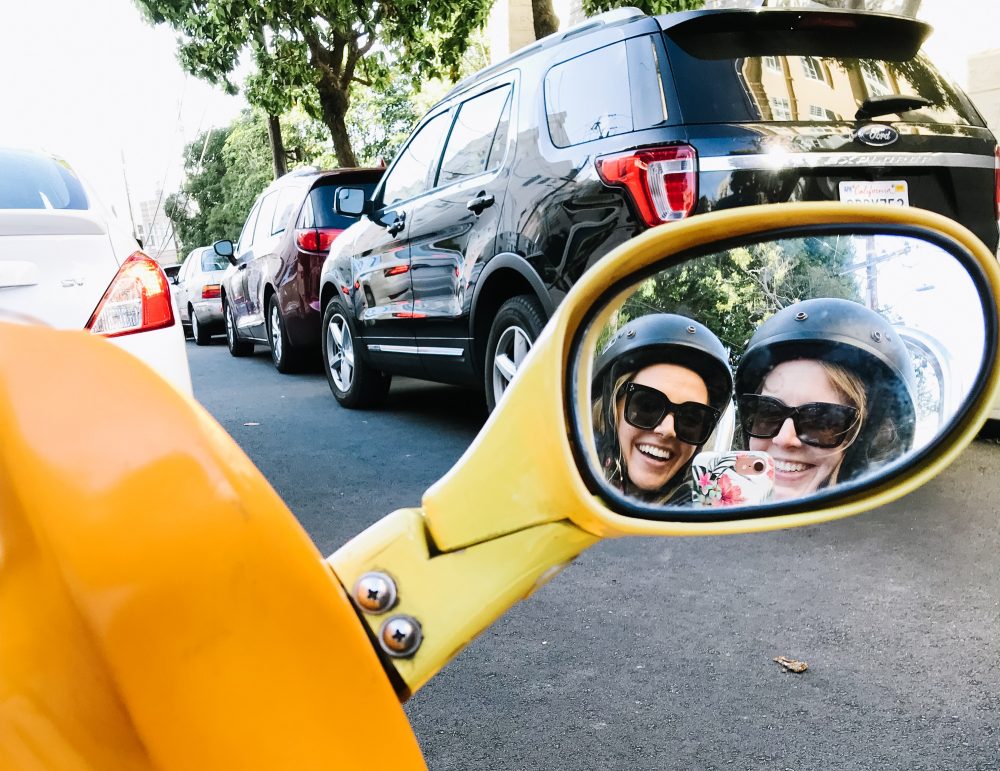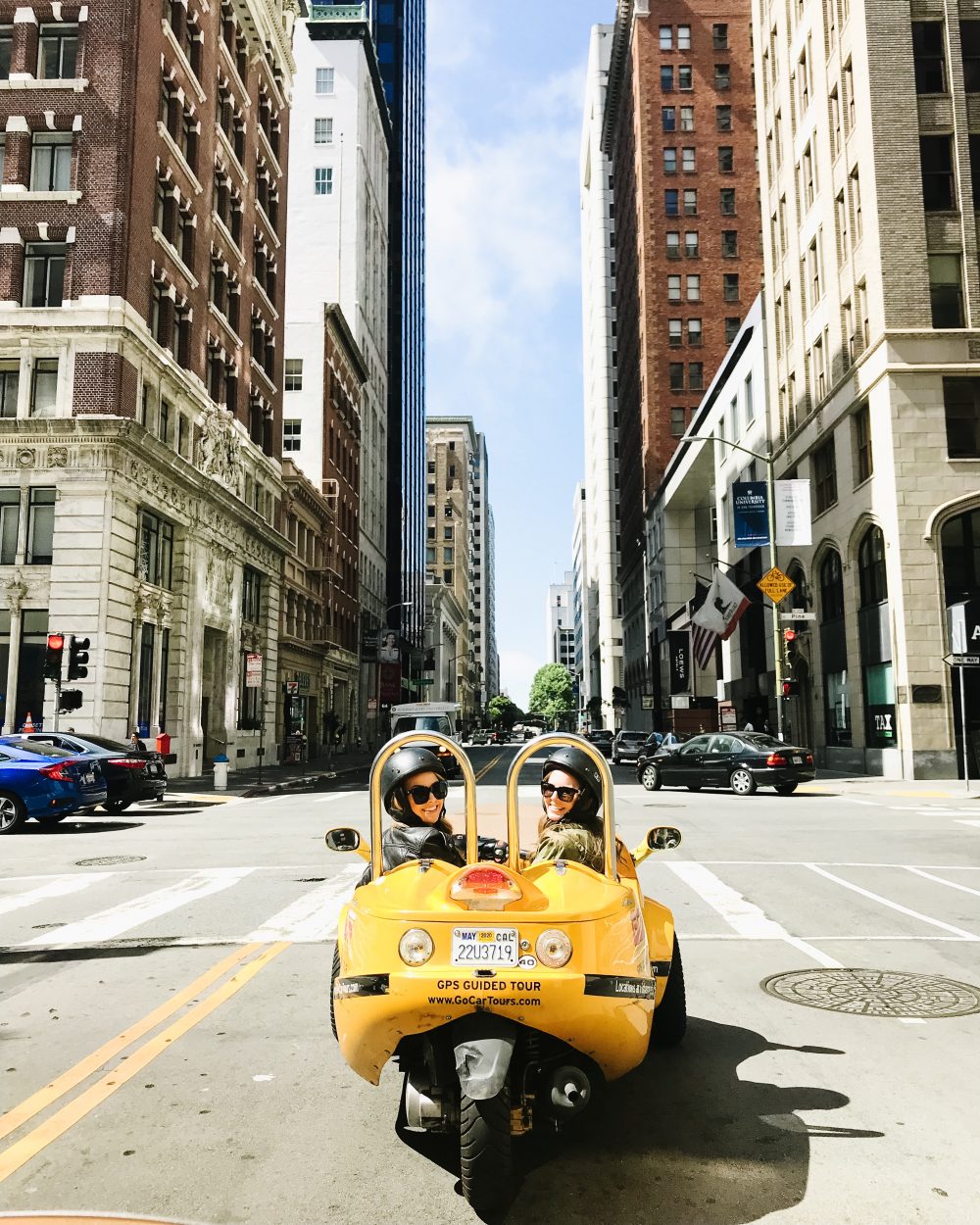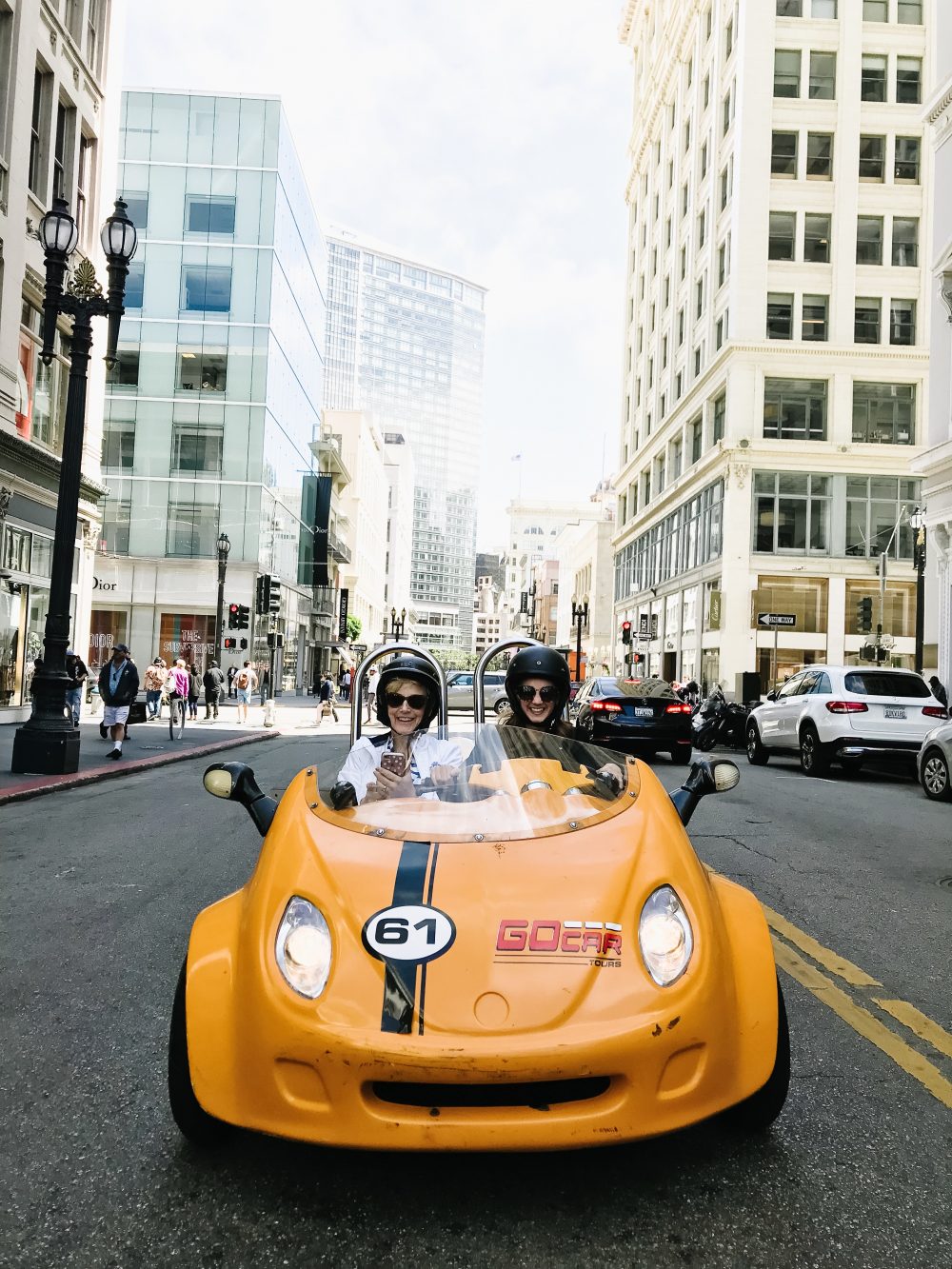 We stopped to go to the bathroom and take a few photos, then hopped back in our little GoCars and zipped through the city, driving past the Painted Ladies, by City Hall and then all the way up to Lombard Street where we went down the famously steep and crooked street. At this point, we got separated and Merrick and I took our GoCar up to Coit Tower, while my mom and Landen returned to Union Square to turn in their GoCar.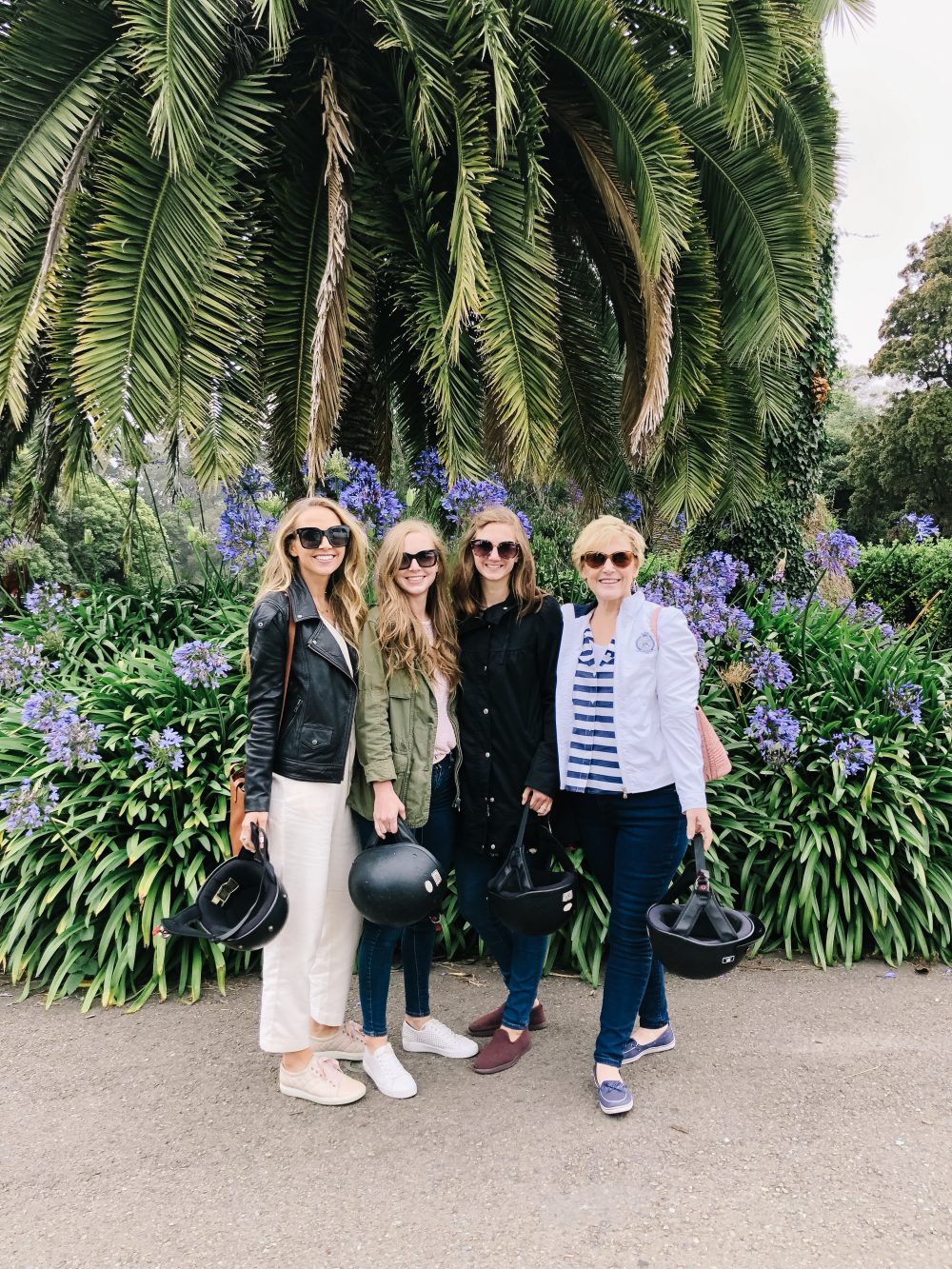 Once we were all back, we picked up some snacks at CVS across the street and then grabbed an Uber to the movie theater where we saw Yesterday.
We'd considered having dinner after the show, but thanks to our snacks and the late hour, we just decided to go back and go to sleep instead.
On Sunday morning, we got up a little earlier and got ready, then took a cab down to the Sunset neighborhood to attend church at the building that my great-grandfather was in charge of building some 80 years ago and that my grandmother attended throughout her childhood. After church, we walked a few blocks over to the house where she grew up (and that I'd visited as a baby when my great-grandfather still lived there). It was a chilly overcast morning with a little drizzle, so we didn't stay long.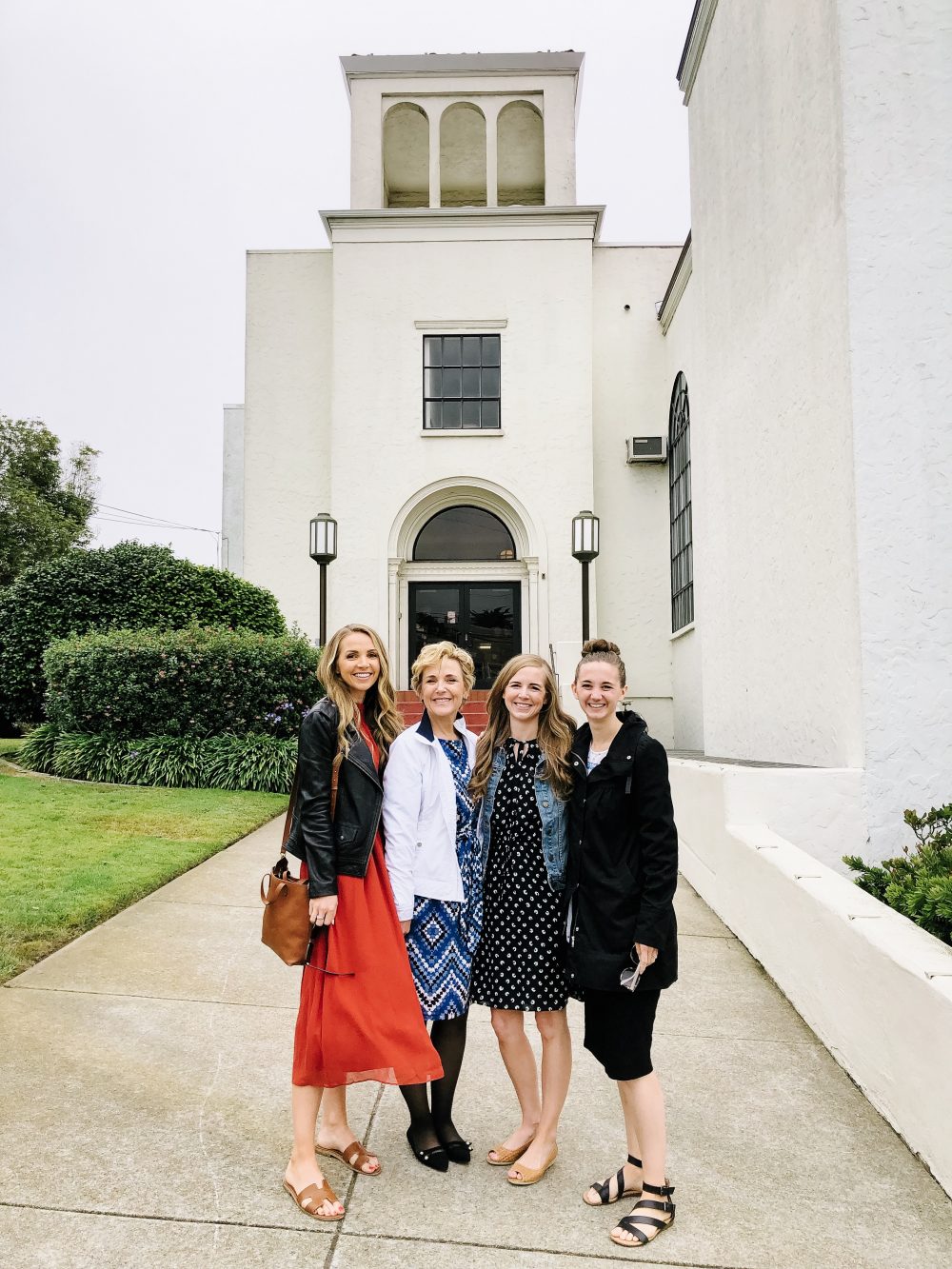 We caught an Uber back to our hotel, had some breakfast, and then packed up and took the BART to the airport where we said goodbye and all caught our separate flights home (except for Landen and I who flew home together).
It was the BEST weekend and we're already talking about where to go in 2021. I'm so lucky to have such fun sisters and the best mom and I can't wait to someday take these same kinds of trips with my own girls.