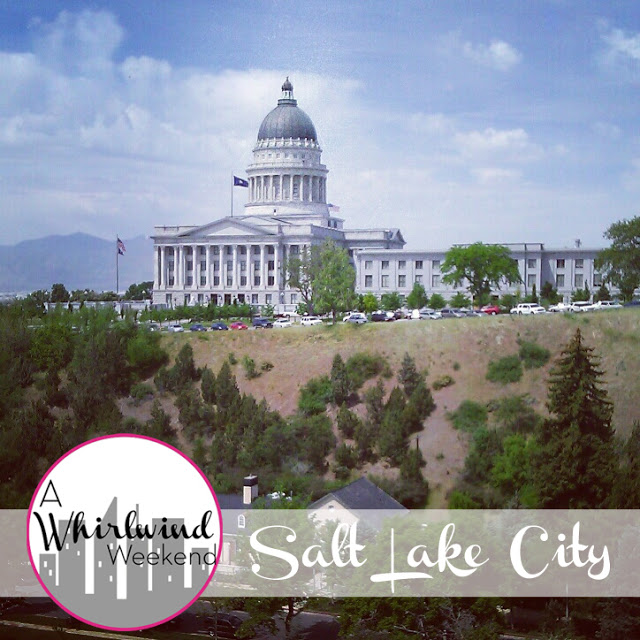 1. I'd take you out for breakfast at Ruth's Diner,
the 2nd oldest operating restaurant in Utah, located in Emigration
Canyon. You can order whatever you want, but I'd strongly recommend
Ruth's Famous Mile High Biscuits & Gravy.
2. It's famous for a reason! You shouldn't miss Lagoon Amusement Park
where you can enjoy a waterpark, Pioneer Village, and a variety of
roller coasters and thrill rides. I worked there for 4 summers as a
teenager, and loved it! It's located just 15 minutes north of Salt Lake
City.
3. Calories don't count on vacation, so we'll stop in and grab a treat at The Sweet Tooth Fairy.
There's a reason why they won Cupcake Wars! Their cupcakes and
cakebites are amazing. One of my favorites, Sweet Potato Pie, is from
their Cupcake Wars episode. Another favorite is VaNIElla Squared, named
after Stephanie Nielson from The NieNie Dialogues.
4. The weather is perfect and getting outdoors is a must! We'll take advantage of the gorgeous day at the Utah Olympic Park in
Park City. There we can enjoy rides on the Ziplines, Alpine Slide,
scenic chairlift rides, and much more. There are also many hiking and
biking trails close by. I also recommend looking into the Visit Salt Lake Connect Pass. The pass allows you to go to 13 of the top places to see in Salt Lake City, many of which are outdoors, at a 45-80% savings.
5. You're so fortunate to have a Salt Lake City insider showing you around. The locals would stone me if I didn't show you City Creek Center
located in downtown Salt Lake City. It is Salt Lake City's premier
shopping and dining destination. There are over 100 stores and
restaurants, with something for everyone. My favorites are Teavana,
LUSH, Gap, H&M, and Disney Store for the little ones. We'll have
lunch at Kneader's Bakery and Cafe, a local favorite.
6. You didn't ask, but I'll tell you anyway that a
trip to Salt Lake City wouldn't be complete without visiting TempleSquare. You can walk around the grounds
and gardens of the Salt Lake City Temple of the Church of Jesus Christ of Latter-day Saints, and take tours of the visitors' centers and Tabernacle. On Sunday mornings you can go to a free
concert featuring the Mormon Tabernacle Choir at the Salt Lake Tabernacle.
Want to share your city?
Email Me!