In March, Bart told me there was a conference in San Diego he wanted to go to and when I looked at the date, I saw that it fell over our spring break.
Well, there was no way I was going to stay home and entertain four children over spring break while Bart was in San Diego, so we decided we'd all go.
It's a fairly long drive (usually 11-12 hours) and we headed out early on Sunday morning and drove allllll day long, finally arriving at our Airbnb around 8 p.m.
The Airbnb was our biggest splurge of the trip because we really wanted a pool (when we'd asked the girls, it was their number one request for spring break activities). This Airbnb was brand new to the site, so we got a major discount as one of the first three bookings.
Bart had his conference Monday through Wednesday, so during the days it was just me with the girls and then he joined us every evening for dinner and a little exploring and then we had all of Thursday with the six of us before heading home on Friday.
Here's what we did on our San Diego trip: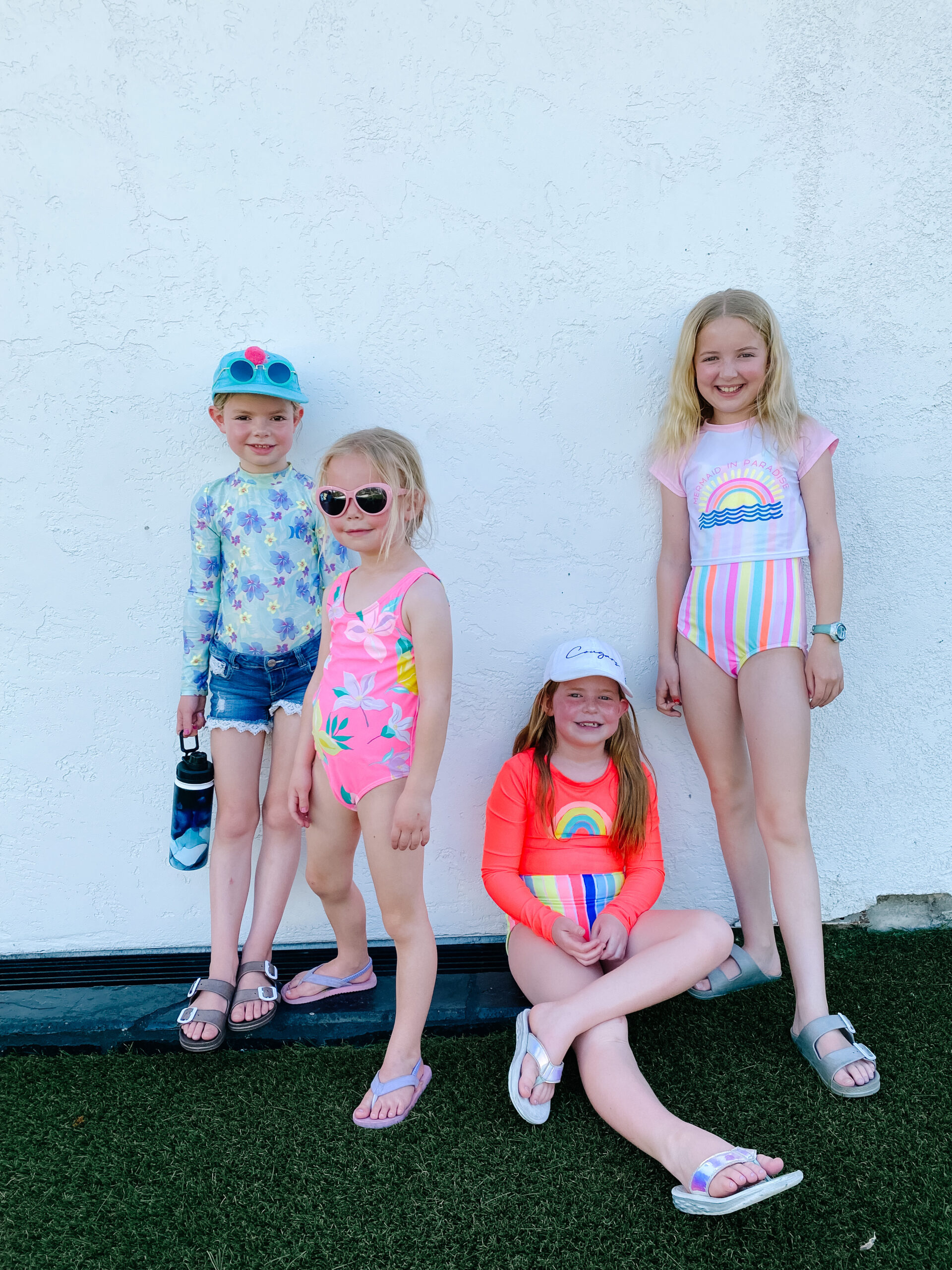 Four days in San Diego
DAY 1:
The girls naturally wanted to swim first thing. After a morning swim, Tally did her Savvy Reading class while we all got ready and packed lunches. As soon as she was done, we headed downtown and parked by the USS Midway and then bought tickets to take the ferry to Coronado.
We had quite a bit of time to burn so we walked down to Waterfront Park which the girls really enjoyed. After a bit, we walked back, ate our picnic lunch on the pier and then boarded the ferry.
Once we got to Coronado, the girls made a beeline to the beach and played for about an hour. After a bathroom stop, we decided to walk to the other side and visit Fuzziwig's Candy Factory. It was over a mile away, but the weather was beautiful and Coronado is charming and we were in no rush. We stopped halfway for a long park and bathroom break and finally made it to the candy shop. After much deliberation, we bought a few pieces of fudge, a caramel apple and some gross candy sprays that two of my children were enchanted by. We sat on a bench outside and tried everything and then walked back, barely making it in time to catch the ferry back to San Deigo.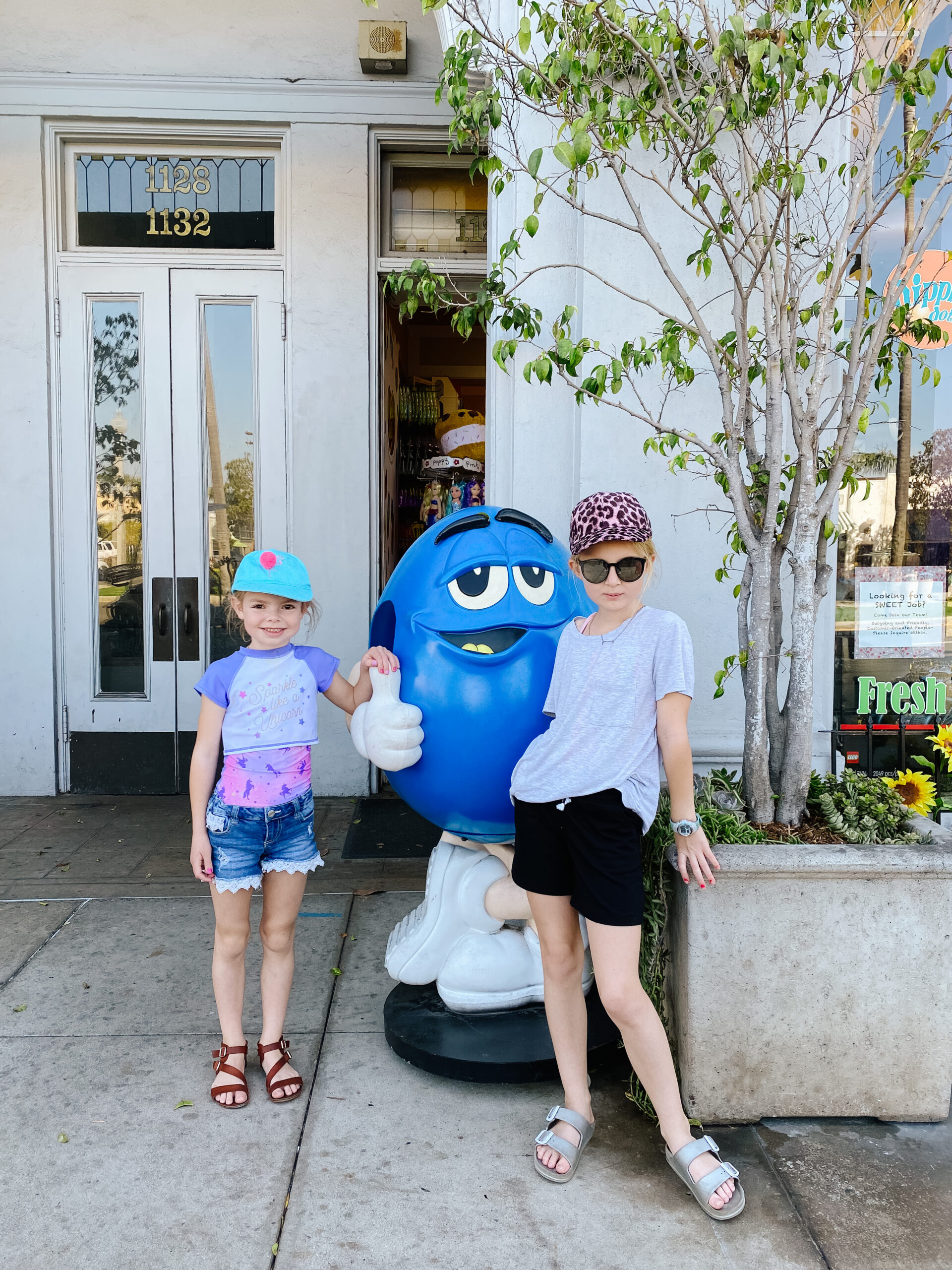 When we got back to the pier, we headed home and everyone changed out of their swimsuits. Bart called to say that he and Jeremy (one of our Savvy Reading partners) were done at the conference. I loaded everyone in the car and we drove to the hotel to pick them both up and then drove a few blocks into Little Italy and had dinner at Cap's (it's the most basic looking place ever and the pizza options were mostly standard, but the crust was terrific). After dinner, we walked over to Extraordinary Desserts, which a million people had recommended. There were so many good options and we bought four different desserts and split them around (we only finished about half of them).
We dropped Jeremy off at his Airbnb and then headed back to the house for a night swim (and hot tub for the parents who did not want to swim in the not-that-warm pool).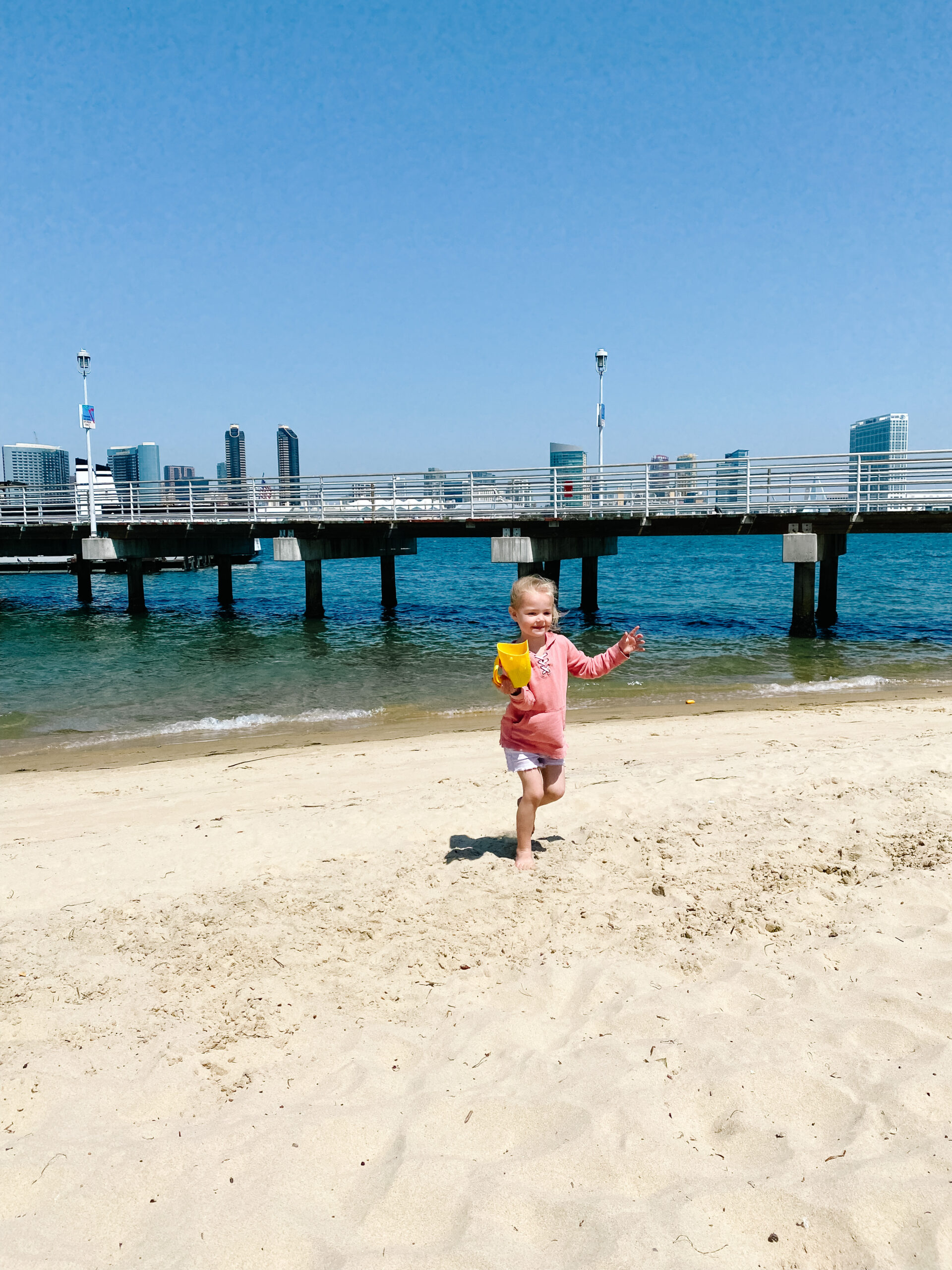 DAY 2: 
I got up early (the sun was pouring in our bedroom windows) and caught up on a little work until Star woke up and came out to the living room. I turned on a movie for her and slowly the other girls joined us on the couch. After the movie was done, they all had breakfast and got ready and then the big girls went swimming while Tally did her Savvy Reading class.
Everyone was feeling tired and lazy and they started another movie after her Savvy class and we watched for an hour or so until lunch time. After everyone had eaten, I rounded everyone up and we headed out to the Cabrillo tide pools. The girls were VERY into these and we had a great time exploring for a couple of hours.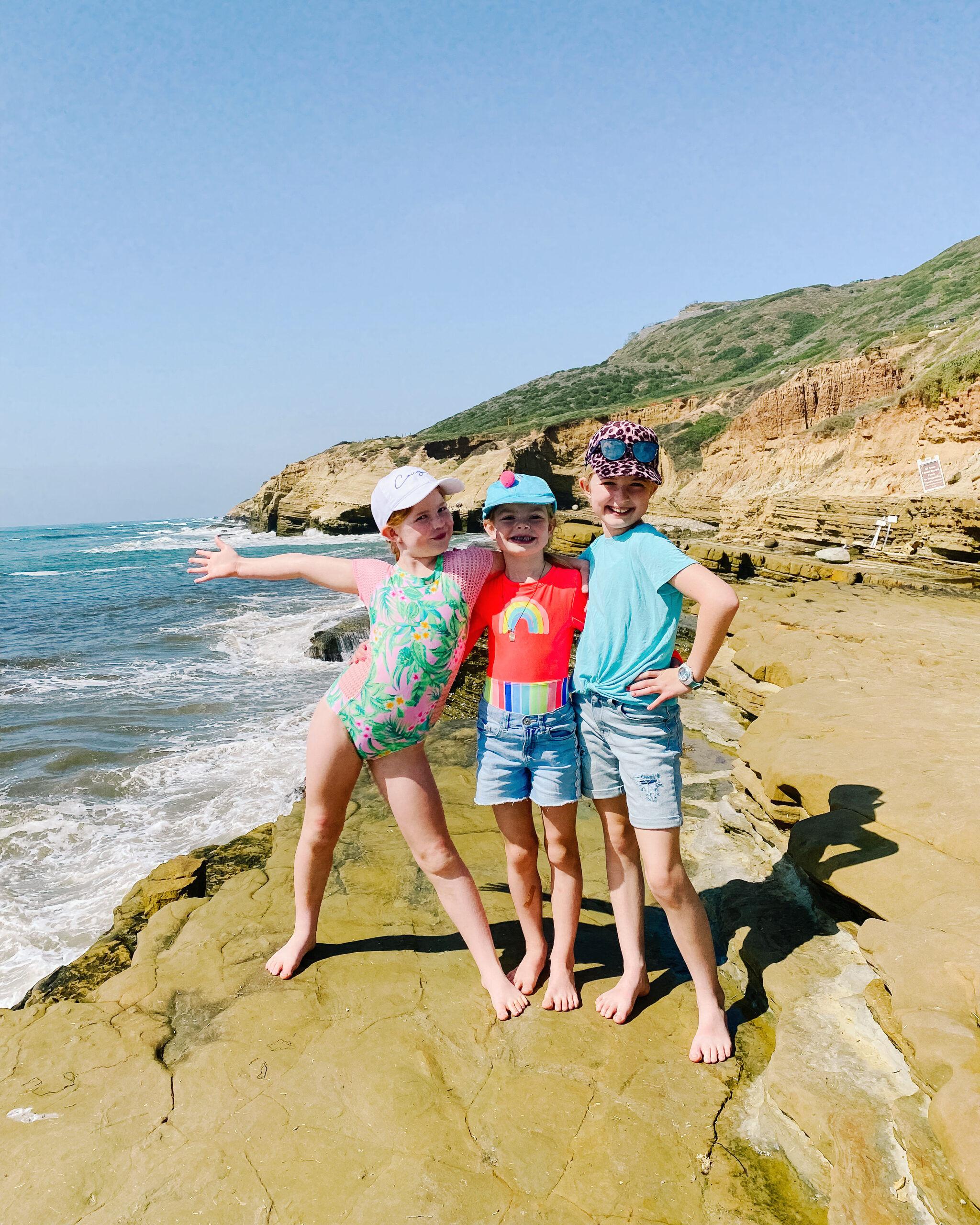 We came home, everyone showered and changed into normal clothes and finished our movie and then we picked up Bart and headed out to La Jolla for dinner and churros at The Taco Stand. Afterward, we headed down to the beach and saw lots of seals and sea lions and the girls played in the tide until it was quite dark.
We headed home, put away the leftover food and put everyone to bed.
DAY 3:
A few of the girls were really pushing for a full day at home, but I suspected that would get old quickly, so after Tally's Savvy class, we headed back to La Jolla to play in the waves and see the seals again in the daylight. The girls were THRILLED to see seals swimming so near them. We ate our picnic lunch on the walkway and then stayed until Tally got knocked over by a wave and was DONE.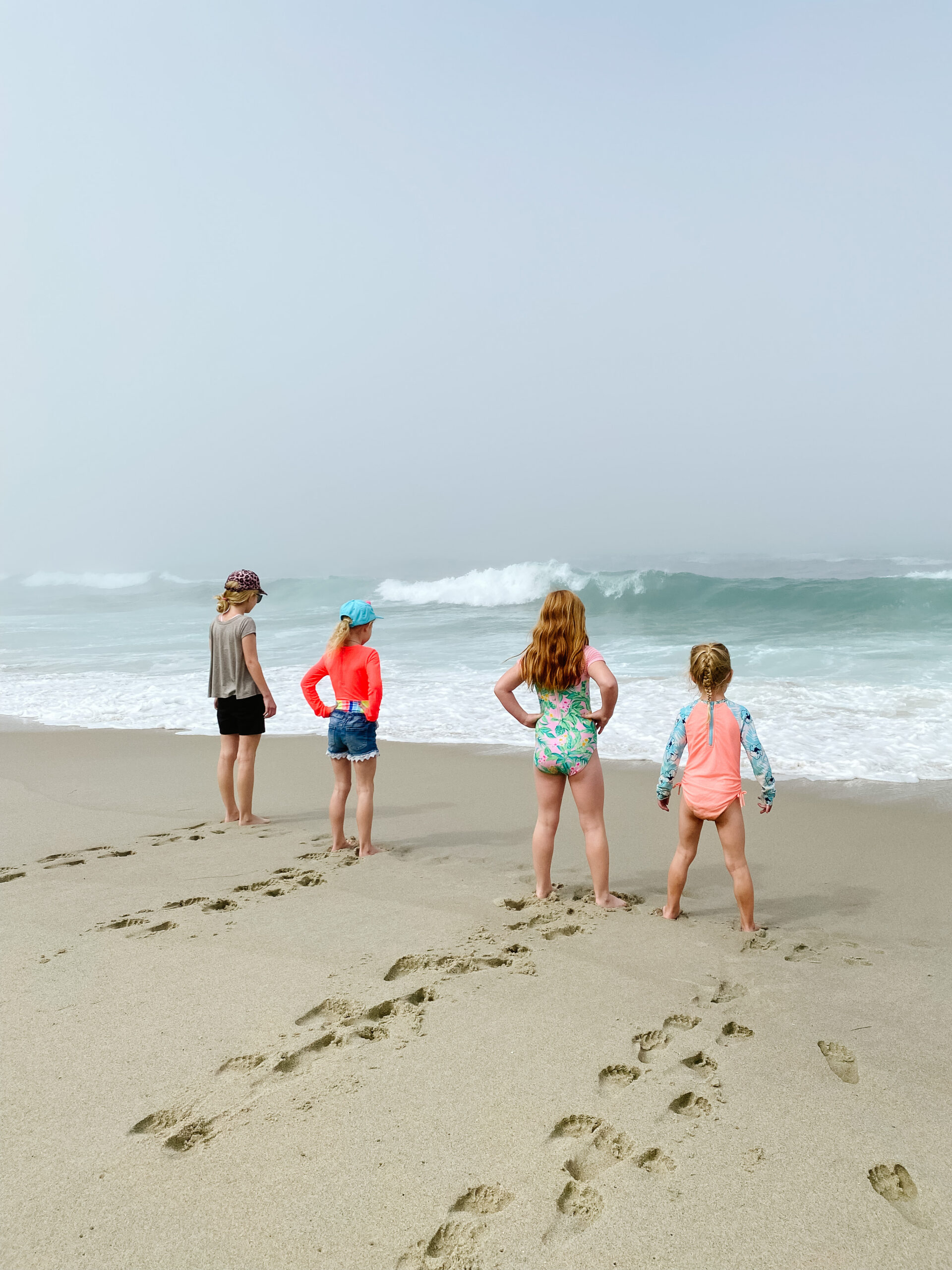 We went home and swam for an hour or two and then we still had several hours before Bart was going to be done. I looked at the list of options on my phone and remembered that the Mormon Battalion Historical Site was on my list and was only about 5 minutes away.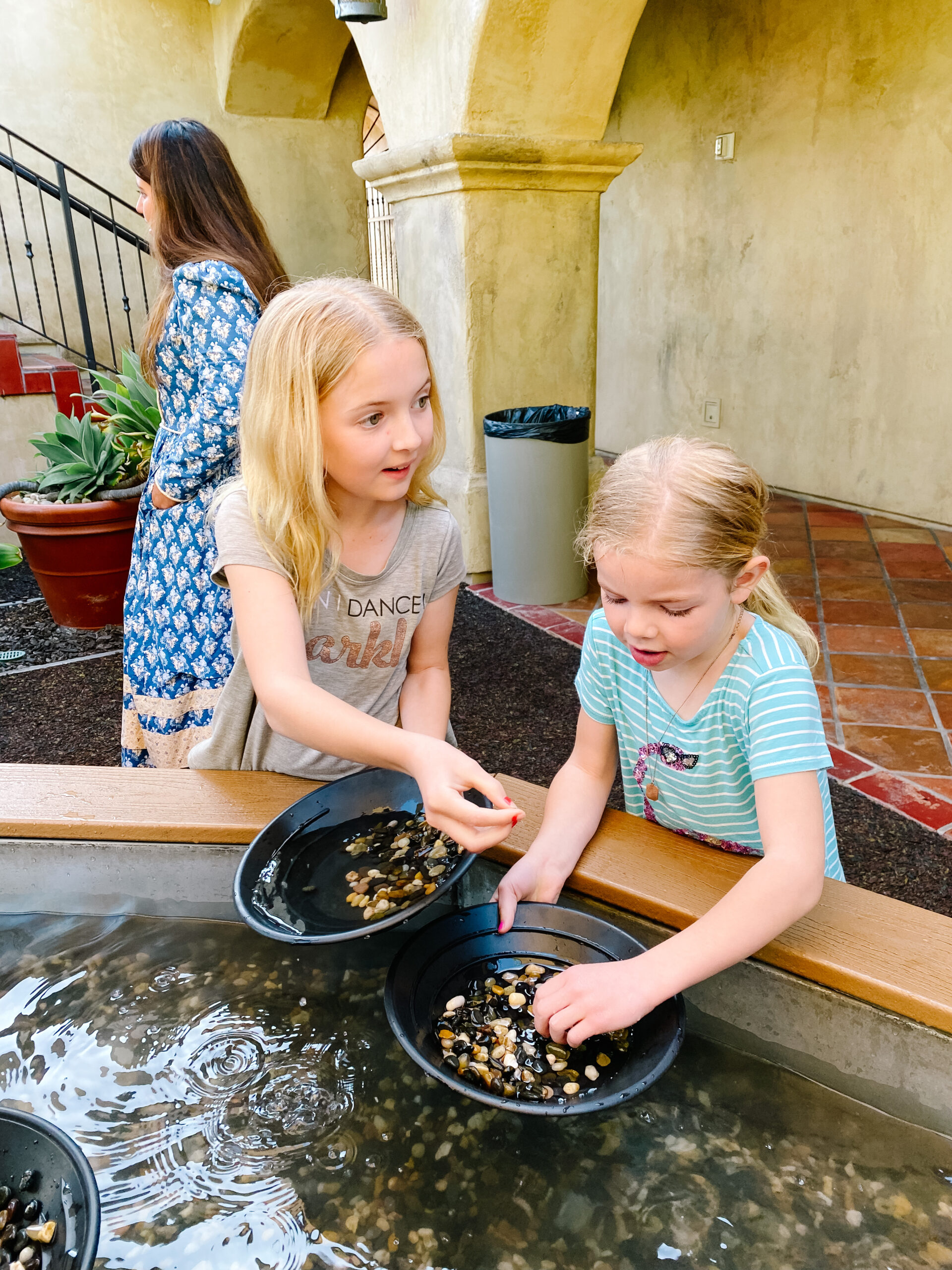 Everyone got dressed and we drove over and spent a really great hour there – the girls all commented afterward how it was much cooler than they expected. Just as we were finishing up panning for gold, Bart called to say he was done and we went to pick him up and then went to Hodad's for dinner (very medium in my opinion). After dinner, we drove back to La Jolla to have gelato at BoiBoi but it was so expensive and they didn't have any chocolate flavors that excited the girls or Bart so instead we just went over to the tide pools and explored until the sun went down and then went back to the house and made s'mores.
DAY 4: 
This was Bart's one full day with us and we kicked it off with a morning swim. After Tally's Savvy Reading class was done, we headed out to hike Annie's Canyon. Several people had recommended this as a fun, kid-friendly slot canyon and it was very cool (although it made Ani pretty claustrophobic). After the hike, we drove a few minutes to Glen's Park and had a picnic lunch, before heading home to swim again for a couple of hours.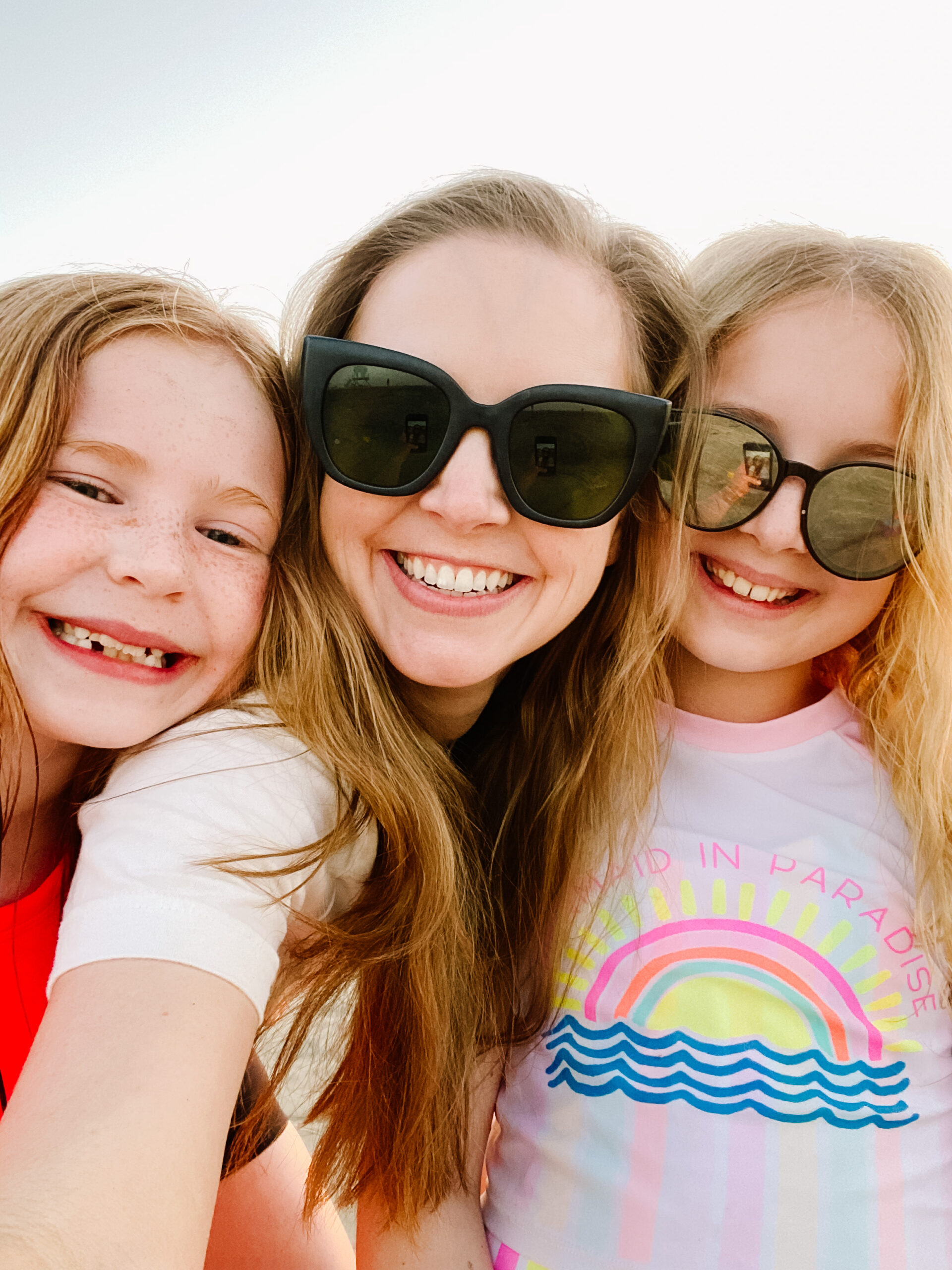 We came inside and got changed and sat down to play some games and quickly realized the AC wasn't working – it kept getting hotter and hotter, eventually topping 88 degrees. We contacted the Airbnb landlord and then headed out to the beach. We went to Silver Strand State Park and enjoyed a beautiful breezy couple of hours as the sun went down.
We drove home in the dusk and then ate our many leftovers for dinner and had one more round of s'mores before watching a show as a family and putting everyone to bed so we could get a good night's sleep before our long drive home the next day.
It was such a great week together and I loved having so much uninterrupted time with the girls.
(I asked on Instagram for San Diego suggestions and there were more than a hundred recommendations for places to go, things to do, and places to eat in San Diego so if you want more ideas, check out this post!)
If you liked this post about San Diego, you might like these posts too: