Our family's favorite things to do in Provo, from the best places to eat in Provo to free things to do with kids. Whether you're a local wondering what to do in Provo or coming for a visit, I hope you'll find this helpful!
In 2018, our family moved to Provo, Utah after a dozen years of living all over the country (Texas, Arizona, North Carolina, and Massachusetts).
Bart grew up here and most of his family still lives here, so it was an easy transition and it's been fun to get to know Provo and the surrounding areas as a family of our own now.
We've loved trying the many restaurants that keep popping up and discovering fun things to do in Provo and beyond as a family.
Here are some of our favorite Provo, Utah spots!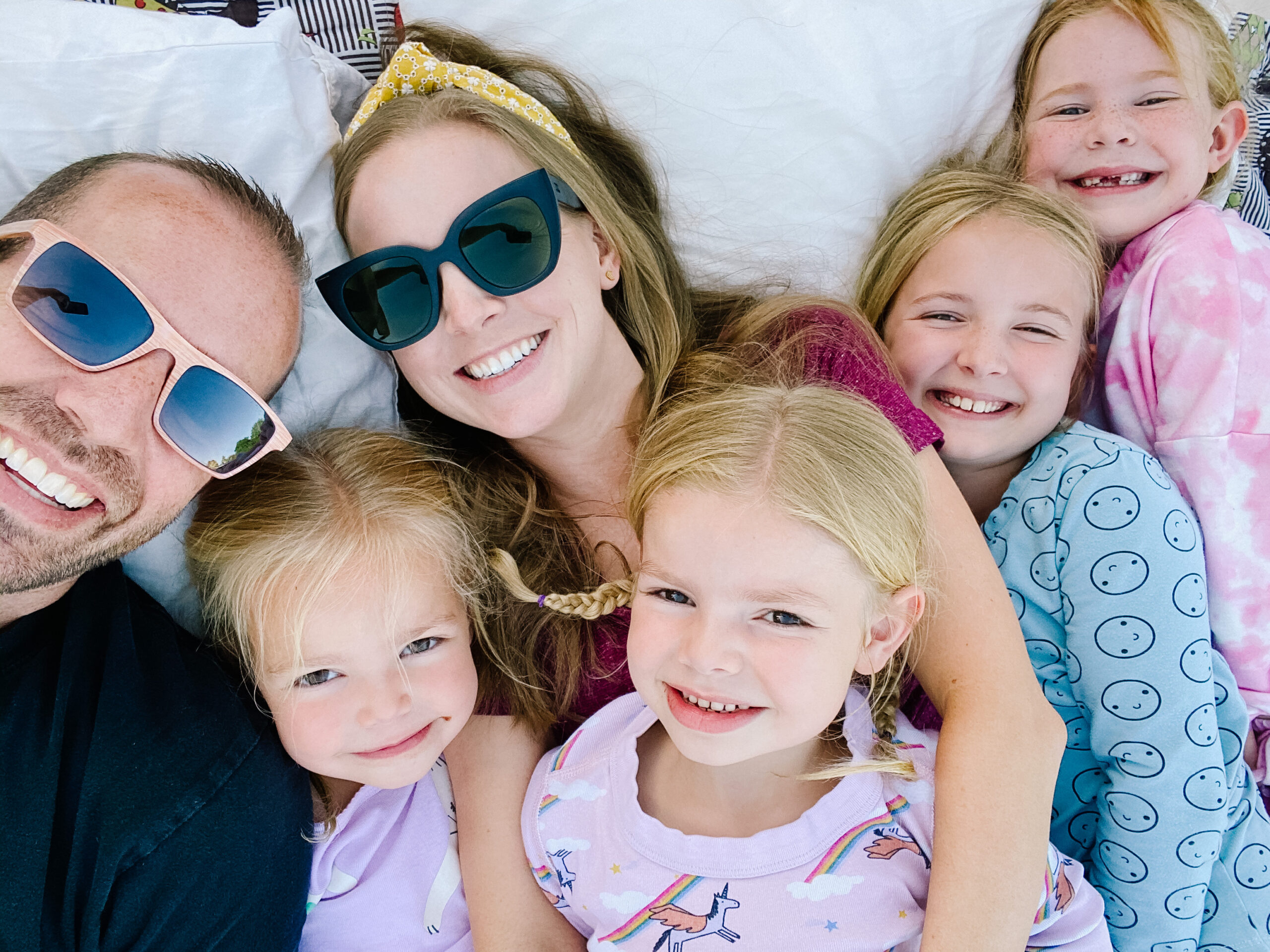 The
best food in provo
Provo Restaurants
BLACK SHEEP CAFE
This is probably our favorite restaurant in downtown Provo – it has great food, a fun, intimate vibe, and you absolutely cannot beat the Bleu Burger (it's only on the lunch menu but they'll pretty much always make it for you at dinner time too).
COMMUNAL
This place is tiny and you might be seated at the giant communal table with strangers, which is a fun twist. They have great food made for sharing and it's almost all locally sourced. Don't miss their weekend brunch!
BLOCK RESTAURANT
This is a newer Provo restaurant and quickly has become one of our favorites for a nicer meal together or with another couple. The Block Burger is especially excellent (we went on a burger hop with Bart's sister and her husband a few years ago and the Block Burger was hands down the best).
YUMMY'S KOREAN BBQ
Bart lived in Korea for two years and is always on the lookout for good Korean food and Yummy's is our favorite. We've been many times and never had a dud!
SUNDANCE'S TREE ROOM 
This isn't really in Provo – you'll need to drive about 15 minutes up the canyon, but it's a gorgeous drive and an incredible restaurant. We had dinner here the night we got engaged and then went back for my birthday 15 years later and it was just as good as we remembered. The pepper steak with the mango chutney is to die for. I definitely recommend making a reservation several weeks in advance- especially if you want to eat there on a weekend.
BOMBAY HOUSE
This Indian restaurant is wildly popular and for good reason. They don't take reservations, so be prepared to wait a bit most nights of the week.
INDIA PALACE
This Indian restaurant is just around the corner from Bombay House and usually much less busy, but just as good! We go here most of the time because we're too impatient to wait for Bombay House lines.
THAI NEIGHBOR CUISINE 1
This is our very favorite Thai restaurant in Provo (and we've tried pretty much all of them!). Their curries and noodle dishes are all top notch!
BRUNCH HOUSE
This brunch place has huge portions and every single thing we've tried has been top notch! Don't miss their bakery counter either!
YAMATO SUSHI
This is our favorite sushi in the Provo area since my brother introduced us to it a few years ago. They have some really interesting combinations and our favorites are the Sunset and White rolls.
BACKDOOR BURGER
This burger place is probably my favorite burger place in Provo – they have a small menu with interesting burger combinations (my favorite, hands down, is the peanut butter one, which I know sounds weird but is incredibly delicious). You can also do a slider set of different ones to try them out.
FAST CASUAL PROVO RESTAURANTS 
SLAB PIZZA
This is hands down the best pizza in Provo and it's my choice for a birthday lunch every year. I always get the Buffalo Chicken pizza and Bart always gets the Austin. The Thai Chicken is also terrific!
AUBERGINE
This is one of our favorite casual date night restaurants and we often hit it up after a game of pickleball with another couple! Don't miss the cheese puffs and the smoothies are also phenomenal.
CUPBOP
This casual Korean place is a staple for us – you can't go wrong (and ask for extra sauce!).
JDAWGS
I almost fear to count how many JDawgs we've eaten since we moved to Provo – I never eat hot dogs, but these ones are exceptional. Go all out on the JDawgs sauce.
CHOM
I was pretty medium on Chom the first few times I went there, but in the last year, it's really gotten good. Do not miss the sweet potato fries. My personal favorite is the Blue Burger.
PITA PIT
Bart's been going here since high school and it's still a solid pick! This is usually Bart's pick for his birthday lunch with his family. He always gets a Philly cheesesteak one and I always get a gyro version.
THE BAGEL DEN
This is a newer Provo restaurant and almost immediately became one of our girls' favorite places to go on the weekends.
Our favorite Provo TREATS and desserts
ROCKWELL ICE CREAM
This is hands down the best ice cream in Utah (don't even try to tell me that Handel's is as good – it's not even in the same ballpark. And Rockwell beats out Brooker's for me too). My favorite is the GOAT ice cream and Bart loves the Muddy Buddy. But you can't go wrong with any flavor. Pro tip – if you're going on a date, split the triple scoop and you can get 6 half scoops. It's way cheaper than getting two single or double scoops!
PROVO BAKERY
This tiny little bakery sells out fast, so go earlier in the day for sure! From delicious cinnamon rolls to incredible muffins to every kind of classic doughnut you can imagine, this is one our favorite family stops.
SODA SHOPS
Utah is known for the soda shops on basically every corner selling every kind of soda concoction you can dream up, plus usually cookies or other treats. I'm not much of a soda drinker, but if you want to try one out, visit Swig, Sodalicious, or Twisted Sugar.
FREE Things to do in Provo with kids
BEAN MUSEUM
One great thing about living in a college town is that the university offers plenty of (often free) things to do. The Monte L Bean Museum is a natural history museum with an impressive array of animals and exhibits. It is a great place to spend a couple of hours and they have many fun interactive exhibits that will appeal to kids. Tours are mostly self guided although you can schedule a guided tour in advance. There are QR codes throughout the museum with links to videos giving insights. (Anyone that is a fan of Studio C will especially appreciate these videos.) The museum's website has some great additional resources here if you want to print out scavenger hunts or coloring pages before you go!
BYU MUSEUM OF ART
This is another free spot in Provo and they have rotating exhibits that are generally incredible! I've visited with my kids many times and occasionally stop in on my own too!
PROVO LIBRARY AT ACADEMY SQUARE
Who would I be if I didn't recommend a visit to my very own local library? The Provo Library is a beautiful, historic building. It occupies the former Brigham Young Academy built in 1892. In addition to being a library, the building houses several art galleries and rotating exhibits. The upper ballrooms host public and private events throughout the year. There is a robust children's library in one wing while the other wing caters to a broader adult audience. They have I Spy challenges in the children's department, excellent story times (outdoor ones in the summer), make and take crafts, and usually a fun summer exhibit for families up in the Attic!
BYU DUCK POND
This duck pond full of ducks and turtles is a HIT with little kids, plus it has plenty of benches around so you can sit down while your children go crazy.
HIKE THE Y
The most famous hike in Provo is the one to the giant white Y on the side of the mountain that's visible for miles around. It's a fairly steep hike, but we've done it with a four year old who handled it just fine. The first few switchbacks are forever long, but then they get quicker and quicker.
ROCK CANYON
This is a gorgeous hiking area that's pretty flat with plenty to explore. If you hike past the gate there are five foot bridges to cross and a natural spring drinking fountain.
PROVO RIVER TRAIL
This beautiful canyon trail runs along the river and is perfect for walking, biking, or scootering, plus you can stop at Bridal Veil Falls! We also love to stop at the parks along the canyon, like Vivian Park or South Fork. There are several companies at the mouth of the canyon that rent electric bikes or scooters if you want to ride up the canyon.
SHOPS AT THE RIVERWOODS
Most kids probably aren't thrilled about an outdoor mall, but this one has a big fountain/splash pad in the middle that always makes it a hit! They also host fun seasonal events throughout the year like a summer beach party and chalk the block for charity event. These are always great for the whole family.
OREM ALL TOGETHER PLAYGROUND
This play for all abilities park is top-notch and our absolute favorite playground to visit in the Provo/Orem area. It's endlessly fun for little kids and bigger kids alike!
WAYNE BARTHOLOMEW PARK
This reservoir has sand along half of it which makes it extra fun for a free beach day without going far! We sometimes stop at SUP Rentals in Springville on the way and rent some kid kayaks or a giant water mat for extra fun. Spanish Oaks is another excellent nearby reservoir with plenty of sand and water.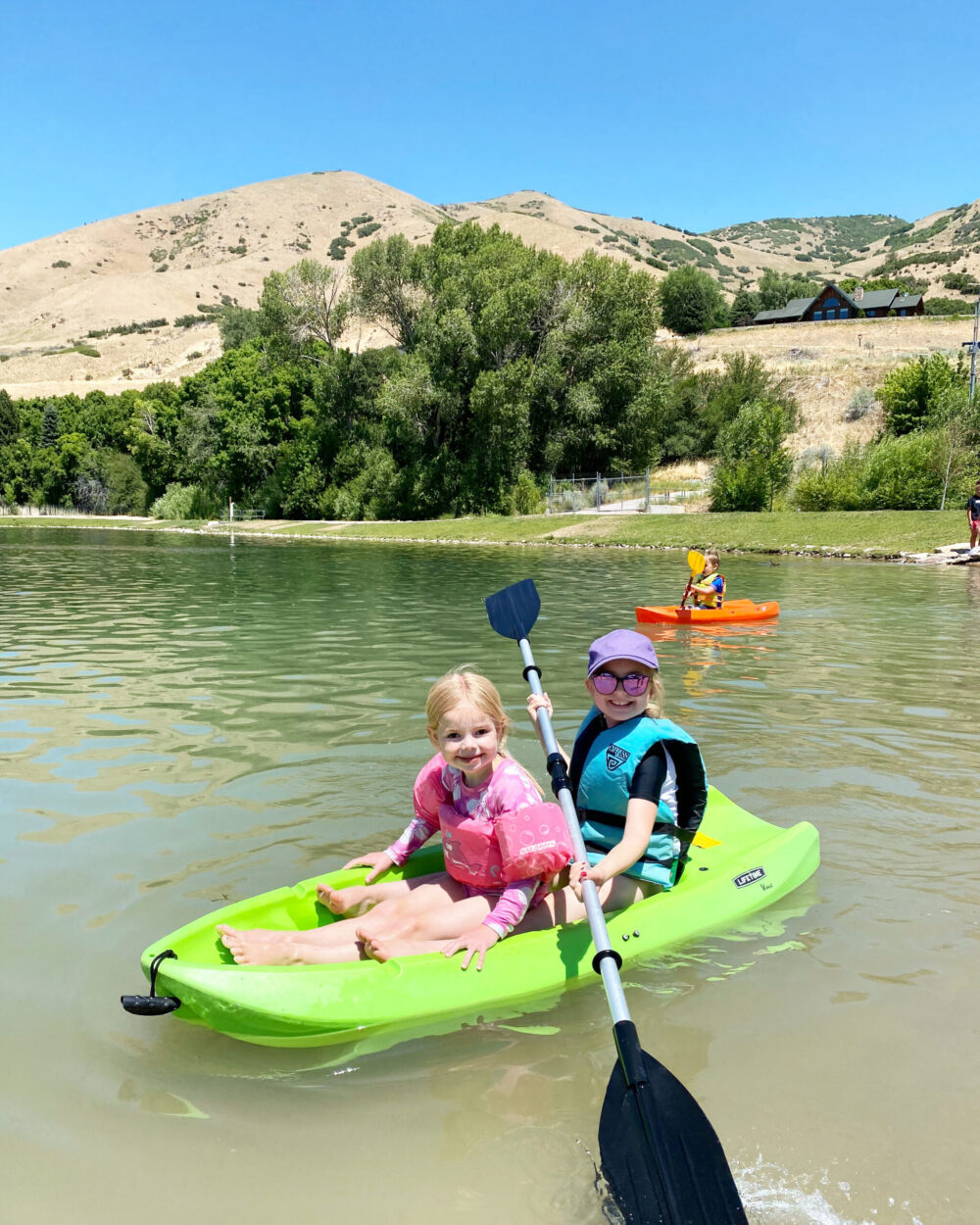 PAID Things to do in Provo with kids
PROVO REC CENTER
In 2021, Provo Rec Center was voted the best rec center in the country and whoever was doing the awarding, wasn't wrong. It's incredible and we're so lucky to have it in our community. There are amazing indoor and outdoor pools, pickleball courts, an indoor playground, bouldering walls, exercise classes all day long, and more. We have annual passes, but you can buy day passes too.
SPLASH SUMMIT
Splash Summit is Provo's water park. It features multiple water slides, a lazy river, a wave pool, and three different pools that cater to different ages. We've gotten season passes for the past couple of summers and it's an unbeatable deal. It's such a great way to beat the heat on hot summer days. Be sure to check out Groupon for the best deal on a day or season pass!
SCERA SHELL PERFORMANCES
In the summer, one of our favorite things to do is attend plays, concerts, or outdoor movies in the Scera Shell – the weather is perfect, tickets are affordable, and it's the perfect way to soak up a Utah summer night to the sounds of music. Bring a blanket and some snacks, snag a spot on the hill that makes perfect stadium seating and enjoy!
SUNDANCE RESORT
If you've been here a while, you know that we have skied at Sundance the last several years. It is a beautiful little resort that is only a twenty minute drive up Provo Canyon. The skiing is fantastic and I honestly don't have enough good things to say about it. When you think of a ski resort your typically don't think about going there in the summer, but Sundance has really great offerings all year round. They have outdoor plays and concerts during the summer as well as mountain biking, zipline tours and studio art classes.
WILKINSON CENTER BOWLING
Bowling is one of our favorite easy family activities and the bowling center at BYU is inexpensive, clean, and usually not too busy. We go all the time!
Seasonal Festivities in Provo
4th of July- Provo Freedom Festival
Provo has one of the best Fourth of July Celebrations. The festivities span the whole week and include a 5k race, a parade, a hot air balloon festival, and the Stadium of Fire. This is a ticketed event at BYU's Lavell Edwards Stadium. They typically book a big name country music singer and have a world class fireworks show at the end. Whether you attend the event in the stadium or not, the fireworks are great to watch from anywhere in the valley.
Any other recommendations for things to do in Provo or Utah County? I'd love it if you left them in the comments to make this post even more useful!
if you liked this post of things to do in provo utah, you might also like these other posts: