It's a thrilling moment when you introduce those first chapter books to read aloud to your child.
You've probably been waiting for this moment for years – all through those board book years and through millions of picture books and finally it looks like your child might be ready for some chapter books!
(It'll vary what age your child is ready for first chapter books – many readers are ready around 3 or 4 but some may be younger or older. There's no right age and there's no rush!).
But picking the right first chapter books to read aloud matters!
You want chapter books to feel fun and exciting, not dull and confusing, and jumping into something too long can get things off to a rocky start.
(A famous story in my family is when my mom read me the first 50 pages of Little House in the Big Woods when I was four and when she asked if I had any questions, I replied, "Yes. Who is Laura?" She put it back on the shelf and revisited it a year later and that time I was old enough to really enjoy it).
The books on this list are perfect first chapter books to read aloud – they're not too long, they have plenty of illustrations, and the storylines aren't too complicated.
And, of course, introducing chapter books to your read aloud time doesn't mean ditching picture books – keep those in the rotation for sure! They tend to have higher vocabulary because they're intended for adults to read them aloud and they're so fun, engaging and have so much variety.
I hope you'll find a few books on this list that you'll love reading together and will kick off years of chapter book reading together.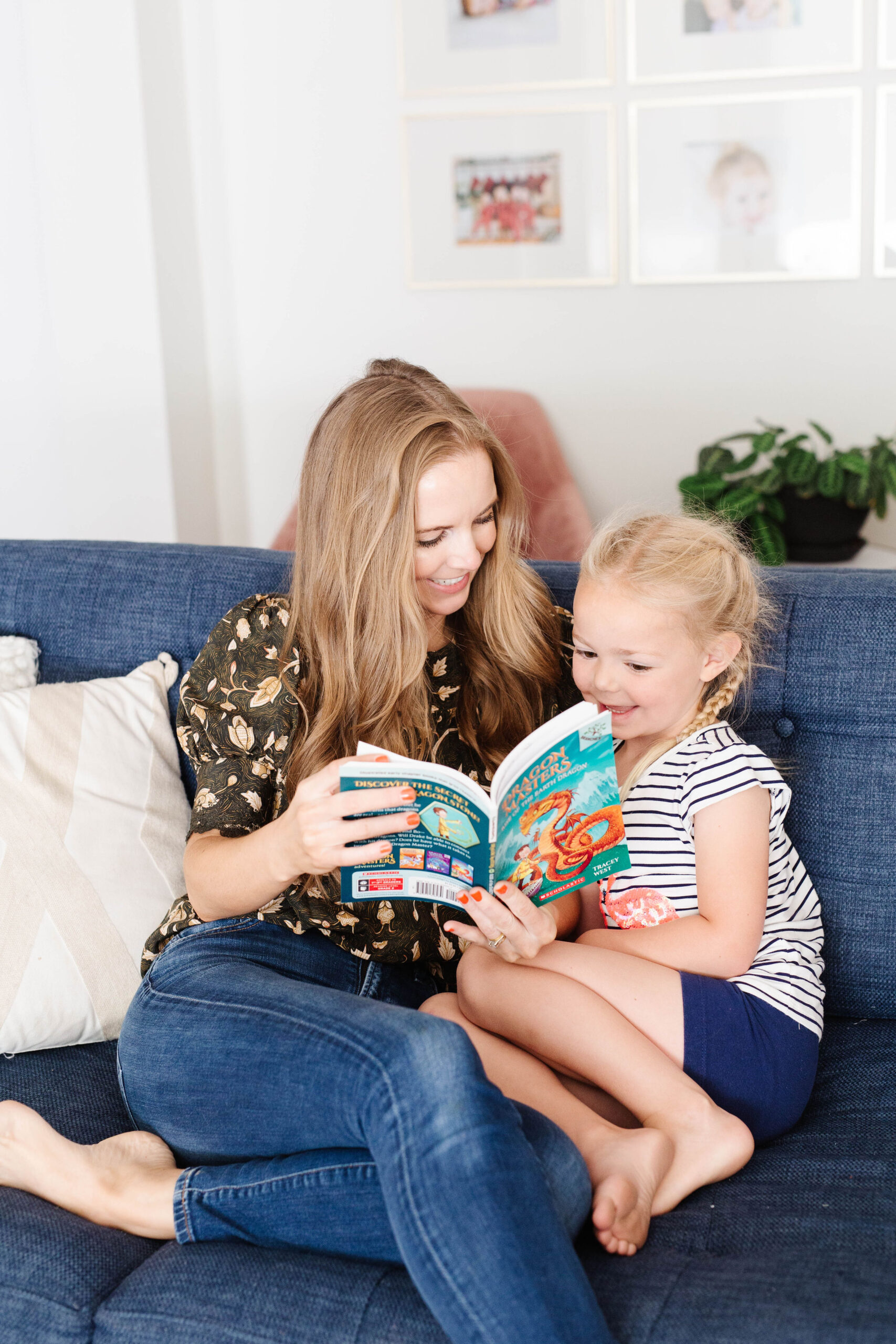 First Chapter Books to Read Aloud
Toys Go Out by Emily Jenkins, illustrated by Paul O. Zelinsky
144 pages
The first one is the best, but we read all three and they are all excellent, about three beloved toys who live with a little girl. They're around 150 pages with a lot of illustrations, so they're a nice place to start with chapter books.

Mercy Watson series by Kate DiCamillo, illustrated by Chris Van Dusen
80 pages
This is the perfect introductory series, with full-color illustrations and about 80 pages each (for reference, a standard picture book is 40 pages long). Plus, they're just so darn funny.

The Princess in Black by Shannon Hale & Dean Hale, illustrated by LeUyen Pham
96 pages
Most of the time, she's Princess Magnolia, prim and proper. But when her Monster Alarm rings, she transforms into the Princess in Black and no monster will get the better of her!

Frog and Toad by Arnold Lobel
64 pages
To me, this is the classic easy reader chapter book series. We have several of them on Audible and Star listens to them almost daily during quiet time. The stories are so clever and fun, even for adults.

Oliver & Amanda Pig by Jean Van Leeuwen, illustrated by Ann Schweninger
56 pages
I grew up with this series and I still love it just as much today. This sweet pig family has every sort of adventure you can imagine, from first days of school to grandmother coming to visit. I own every holiday one and I never get tired of them. The illustrations are perfect and the stories are gentle and also amusing.

Ruby Red Shoes by Kate Knapp
48 pages
If you love Beatrix Potter, you will love this one. Ruby Red Shoes loves living with her grandma who has a soft spot for all living things and is as sweet as they come. This sweet story is perfect to cozy up to.
Flat Stanley by Jeff Brown, illustrated by Macky Pamintuan
96 pages
This beloved Flat Stanley series is especially fun if your child is participating in a Flat Stanley project at school.

The Masterpiece Adventures by Elise Broach, illustrated by Kelly Murphy
128 pages
This is the first book of the series created for young readers. James is best friends with a beetle named Marvin. Marvin is very worried about what he will do when James goes on vacation, but actually finds himself getting into quite a few mishaps while James is gone.
The Fabled Stables by Jonathan Auxier, illustrated by Olga Demidova
112 pages
If your beginning reader loves adventure, this book series is perfect. Auggie is the only one in charge of the one-of-a-kind Fabled Stables. In this installment Auggie is trying to help Willa the Wisp escape the torment of the Rook hunters on the island. This is fun and illustrated in full color!
Zoey and Sassafras by Asia Citro, illustrated by Marion Lindsay
96 pages
A series with magical animals, science, and mystery? My girls were INSTANT fans of this book series where Zoey and her cat sidekick Sassafras help a magical animal using science.

Heartwood Hotel by Kallie George, illustrated by Stephanie Graegin
176 pages
I'm always on the lookout for chapter books with lots of illustrations for the 4-6 crowd. This one is about a little mouse who stumbles into a hotel in a storm and takes a job as a maid. (Full review here)

The Story Of: A Biography Series for New Readers by Susan B. Katz
68 pages
I always love a good nonfiction book for kids, but they are hard to find for emerging readers. However, this series of biographies is fabulous!
Zoe's Rescue Zoo by Amelia Cobb
128 pages
A girl named Zoe has the secret power of being able to talk to animals. This comes in handy a lot when her uncle brings back lost and homeless animals to the zoo where Zoe's mom works as a vet.
Our Friend Hedgehog: The Story of Us by Lauren Castillo
128 pages
Hedgehog lives all alone on a tiny island, except he does have his stuffed dog Mutty. Until a huge storm crashes the island and Mutty gets lost. Determined to find her best friend, Hedgehog sets out on a journey and discovers there are more friends on the island she never noticed.
Skunk and Badger by Amy Timberlake, illustrated by Jon Klassen
136 pages
Having a roommate can be bad enough, but getting a new roommate who is a skunk might be the worst thing that has ever happened to Badger. Can these two opposites ever become friends?
Henry and Mudge by Cynthia Rylant, illustrated by Sucie Stevenson
40 pages
Aside from Frog & Toad, this is the classic easy reader chapter book series in my opinion. There are SO MANY of them, and the adventures of this young boy and his massive somewhat-ill-behaved dog never get old.

Mr. Putter and Tabby by Cynthia Rylant, illustrated by Arthur Howard
44 pages
This easy reader chapter book series is a hit with so many preschoolers and early elementary schoolers – in this edition, Mr. Putter goes to the library for some new reading material. But the library might be less quiet and calm than they expect.
Triplet Trouble by Debbie Dadey and Marcia Thornton Jones, illustrated by John Speirs
64 pages
The triplets in Mr. Parker's class cannot wait for the upcoming bike race! Each one of the three thinks they are going to win the bike race, but their class thinks the outcome will not go in the favor of any of the triplets.


Heidi Heckelbeck series by Wanda Coven, illustrated by Priscilla Burris
128 pages
I knew when I picked up the first book in the series for Ella that Heidi turns out to be a witch, but she didn't know that and when she reached the end of the first volume and made that incredible discovery for herself, she went berserk with excitement, leaping around the kitchen as she told me about how Heidi was actually a witch and had magical powers.

The Shark Report by Derek Anderson
64 pages
This early read aloud book is full of fun, humorous illustrations along with a silly idea of a shark following a boy home from school.
Camila and the Record-Breaking Star by Alicia Salazar, illustrated by Thais Damiao
27 pages
Camila really wants to be famous and what better way than through a video contest describing why her city, Los Angeles, is special to her.
The Journey of Ching Lai by Eleanor Frances Lattimore
123 pages
Ching Lai and his cousin are playing when they notice a riderless donkey approaching. Ching Lai decides to hop aboard the donkey, but quickly regrets his decision when the donkey won't stop and he is too fearful to get off. To make matters worse, the donkey never stops trotting making Ching Lai very far away from his home.
Freddy and Linda by Jane Quigg
123 pages
Freddy is shocked one morning when his mom tells him that a new six year old girl is moving in next door. Freddy meets Linda soon after and the two of them become friends that are hard to separate.
The Minstrel in the Tower by Gloria Skurzynski
64 pages
Brother and sister, Alice and Roger, are missing their father who has been gone to France for the Crusades. He is supposed to be coming home shortly, but the duo decides to venture out to find their lost uncle, which turns into a bad idea as they get captured right away.
Lumber Camp Library by Natalie Kinsey-Warnock, illustrated by James Bernardin
96 pages
Ruby loves her lumberjack Pa fiercely and is sad when she can't join him to lumber camp. Dreading going to school, Ruby surprisingly finds her love for books!
The Long Way to a New Land by Joan Sandin
64 pages
Another nonfiction read aloud. This book depicts what life was life for the early European immigrants. Full of history and a compelling story that will keep any reader captivated.
In Grandma's Attic by Arleta Richardson, illustrated by Patrice Barton
144 pages
Grandma's attic is full of all sorts of keepsakes that spark the best stories from grandma. This is the first installment of this beloved series.
Kondo and Kezumi by David Goodner, illustrated by Andrea Tsurumi
80 pages
Kondo and Kezumi are best friends who live together on a deserted island loaded with fruit trees. They think they are all alone until a bottle washes ashore telling them otherwise, map included. Will Kondo and Kezumi leave the comforts of their fully stocked island to follow the map?
Violet Mackerel by Anna Branford, illustrated by Elanna Allen
112 pages
This series has a very similar feel and charm to Beverly Cleary's beloved Ramona books (think endearing mischief maker).

Cornbread and Poppy by Matthew Cordell
80 pages
The perfect read aloud for readers who loved The Princess in Black or Mercy Watson books. Best friends, Cornbread and Poppy, have opposite personalities, and when winter comes they must work together to make sure they both have the food they need to be well stocked for winter.
The Boxcar Children by Gertrude Chandler Warner, illustrated by L. Kate Deal
154 pages
I was obsessed with this chapter book series growing up and read probably a hundred of them. I like that the mysteries aren't too scary and I really love that they showcase siblings that like each other, get along, and work together to solve problems.

The Chocolate Touch by Patrick Skene Catling, illustrated by Margot Apple
128 pages
I read this when I was little and I still remember it so clearly – the idea of everything you touched turning into chocolate is so exciting. Ella loved it too.
The Secrets of Droon by Tony Abbott, illustrated by Tim Jessell
96 pages
This magical series has 35 books in it, so if your children are fans, they'll be stocked for a really long time.

Socks by Beverly Cleary, illustrated by Tracy Dockray
176 pages
A book from a cat's point of view (was a little too advanced for my just over three year old). And . . . I don't even like cats.

Kitty series by Paula Harrison
128 pages
My little girls were SO THRILLED by this story of a little girl who discovers she has cat skills (night vision, amazing balance, etc) and uses it to help rescue a tiny lost kitten.

Adventures of Sophie Mouse by Poppy Green, illustrated by Jennifer A. Bell
128 pages
For Christmas, we gave Star a 10 book box collection of these books and she was THRILLED (there are 18 books in the series currently) and they follow the adventures of brave little Sophie Mouse and her woodland friends.

Upside-Down Magic by Sarah Mlynowski, Lauren Myracle, and Emily Jenkins
208 pages
My girls listened to this series non-stop. They love these funny stories of children with magical powers that aren't quite regular.

Little Bear by Elsa Holmelund Minarik and Maurice Sendak
63 pages
I love all of the Little Bear books and they're a great value because they have several little chapters. They're just some of the best stories for kids!

The World According to Humphrey by Betty G. Birney
144 pages
There are 12 books in this series. That being said, these books stand alone well, so you can jump right in to these classroom adventures with Humphrey, the class hamster.

Henry and the Chalk Dragon by Jennifer Trafton, illustrated by Benjamin Schipper
222 pages
Henry Penwhistle draws an amazing chalk dragon on his door, but is completely shocked when it comes to life, runs away, and starts to cause trouble in the town. 
Charlotte's Web by E. B White, illustrated by Garth Williams
192 pages
This was our first read-aloud and you better believe I sobbed through the whole last 15 pages.

The Mouse and the Motorcycle by Beverly Cleary, illustrated by Jacqueline Rogers
176 pages
Have I mentioned that I love Beverly Cleary? This one is just as good as any of her other books, but totally different, with a little mouse who meets a boy staying at his hotel and starts riding his toy motorcycle.

Big Foot and Little Foot by Ellen Potter, illustrated by Felicita Sala
160 pages
All Hugo the Sasquatch wants is for life to be exciting and full of adventure. And the little boy Boone is dying to see a real life Sasquatch. When they actually meet, they become fast friends. 
The Daily Bark by Laura James
128 pages
After living in the city his entire life, Gizmo is moved to the country where he meets the dog next door, Jilly. Jilly confides in Gizmo and tells him her fear of her puppies being taken far away where she will never see them again. Gizmo takes matters into his own paws and decides to get the word out about the puppies by starting a newspaper, The Daily Bark.
Fabio The World's Greatest Flamingo Detective by Laura James, illustrated by Emily Foxf
144 pages
Flamingo detective Fabio and his giraffe associate, Gilbert, investigate when a singing hippopotamus disappears during auditions for a talent show being staged to save the failing Hotel Royale.

The Adventures of Pug by Laura James, illustrated by Églantine Ceulemans
128 pages
Pug and his faithful companion, Lady Miranda, are always on some sort of  adventure. Would you be surprised if I told you they seem to get into some sort of mischief? 

Ella and Owen by Jaden Kent, illustrated by Iryna Bodnaruk
112 pages
A young dragon named Ella convinces her twin brother Owen to join her on a bold quest. This series is full of humor, dragon facts, and action packed adventures.  
Black Lagoon Adventures by Mike Thaler, illustrated by Jared Lee
64 pages
If you have a child who loves the illustrations of There Was an Old Lady books, Jared Lee is also the illustrator in this fun series! Think monsters, school, kid trials and a whole lot of wackiness that will have you and your little one giggling.

Gooseberry Park by Cynthia Rylant, illustrated by Arthur Howard
144 pages
This animal tale is about untamed creatures and domesticated pets working together to help Stumpy the squirrel reunite with her newborn babies.
Fortunately, the Milk by Neil Gaiman, illustrated by Skottie Young
128 pages
A father is abducted by aliens while picking up milk for his children's cereal. He finds himself on a wild adventure through time and space.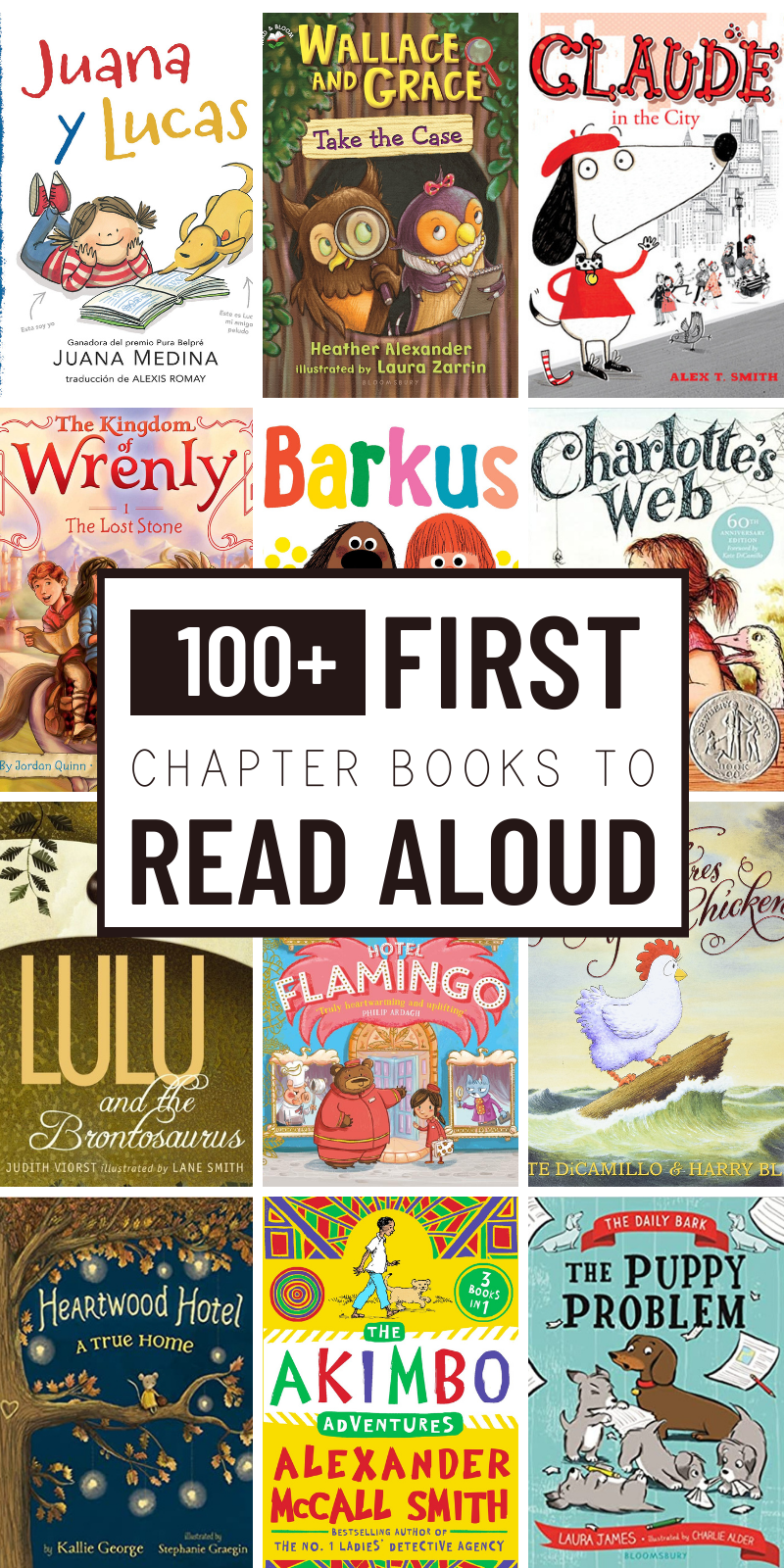 The Night Fairy by Laura Amy Schlitz, illustrated by Angela Barrett
128 pages
Flory the night fairy has to learn to do everything differently when her wings are accidentally broken and she cannot fly.  
The Lighthouse Family by Cynthia Rylant, illustrated by Preston McDaniels
80 pages
Pandora is all alone in a lighthouse, while Seabold is alone on a boat. That is until the sea does something amazing and puts the two together for some quests.
Good Dog series by Cam Higgins, illustrated by Ariel Landy
128 pages
Bo Davis is a loveable dog at the Davis Family Farm and he loves getting into things. But when Bo loses his very important dog tag, his search for it takes him to every corner of the farm. This is the first book in the series and has outstanding reviews!
Billie B. Brown by Sally Rippin 
44 pages
This cute series has either word art or illustrations on every page, sure to keep your little reader engaged with you. Jump into Billie B. Brown's attempt at becoming a professional ballerina when she starts her first ballet class!
Tales from Fern Hollow by John Patience
80 pages
Fern Hollow is full of a gaggle of friendly animals. There are always happenings to follow them on or little mishaps they get themselves into.
Gooney Bird Greene by Lois Lowry, illustrated by Middy Thomas
128 pages
Ella and I listened to one of these together when Ella was just past four, and she wasn't really into it at the time, but a year later, she rediscovered the series and blew through all of these larger-than-life stories that Gooney Bird shares with her new second-grade classroom.

Babe: The Gallant Pig by Dick King-Smith, illustrated by Melissa Manwill Kashiwagi
128 pages
I love all his books, but this is the best. Ella fell asleep during the last chapter on a road trip, and Bart asked me to finish reading it. 

Jenny and the Cat Club by Esther Averill
176 pages
In this delightful read, you will fall in love with Jenny Linsky, her master Captain Tinker, and the Cat Club. Filled with fine storytelling, endearing characters, and adorable illustrations. 
The Akimbo Adventures by Alexander McCall Smith
240 pages
3 books in 1
Akimbo's dad has a very important job. He's in charge of keeping the African animals safe from poachers and people safe from some of the scary situations they can get themselves into. These three books we watch Akimbo look up to his dad and try to be just like him.
Polly Diamond by Alice Kuipers, illustrated by Diana Toledano
112 pages
Polly Diamond loves words, books, and writing stories. When a magic book appears that makes everything she writes into reality, she learns she has to be careful because what you write may not always be what you mean.
The Secret of the Hidden Scrolls by M. J. Thomas
112 pages
This series of books is perfect for emerging readers. Brother and sister, Peter and Mary, find a mysterious scroll that transports them back to the time when God was creating the world. They continue to find these ancient scrolls and time and time again, get transported to different biblical times!
Agnes and Clarabelle by Adele Griffin and Courtney Sheinmel, illustrated by Sara Palacios
80 pages
We discovered this series this year and Ani and I have loved reading it together. While lots of these beginner chapter books feature animals, you don't see a lot of farm animals in them. But this one has a chicken and a pig who enjoy all sorts of shenanigans from holidays to birthday parties.

Lulu and the Brontosaurus by Judith Viorst, illustrated by Lane Smith 
128 pages
Lulu is used to always getting her way – until her fourth birthday when she didn't receive her birthday wish – a brontosaurus. After she throws a four day tantrum, she sets off to find a brontosaurus on her own!
The Nine Lives of Aristotle by Dick King-Smith, illustrated by Bob Graham
80 pages
Aristotle is always getting into a bit of trouble and feels lucky to have nine lives. But does she really have nine lives or has she been saved by her owner, witch Bella Donna, each time?
Blue Hill Meadows by Cynthia Rylant, illustrated by Ellen Beier
48 pages
Blue Hill Meadows is the perfect place to live. Enjoy the serene landscape and the peaceful happenings when you read this lovely book aloud together.
Hotel Flamingo by Alex Milway
192 pages
I didn't know the Hotel Flamingo books before we got them as Yoto cards, but they're listened to on repeat around here now.

Louise, the Adventures of a Chicken by Kate DiCamillo, illustrated by Harry Bliss
56 pages
I love Kate DiCamillo and this one looks just as fabulous! Louise is a chicken with a heart full of adventure. And she experiences just that when she leaves her home and everything that's familiar.
Greetings From Somewhere by Harper Paris, illustrated by Marcos Calo
128 pages
With their mother as a travel writer for a newspaper, twins Ethan and Ella find themselves in a new location in every book. And naturally, each new location has a mystery for them to solve.

Here's Hank by Henry Winkler and Lin Oliver, illustrated by Scott Garrett
128 pages
Hank doesn't mean to be the class clown, but he always seems to make everyone in his class laugh! Join in on the fun with this comical read aloud!
Isadora Moon by Harriet Muncaster
128 pages
Isadora Moon is half-fairy and half-vampire. And she loves both parts of herself. But now she has to choose — fairy school or vampire school?

Wallace & Grace by Heather Alexander, illustrated by Laura Zarrin
80 pages
For young mystery lovers, this is the perfect introductory series that follows two owlets as they try to crack cases together from a rabbit who thinks he saw a ghost to a lost puppy.

The Critter Club by Callie Barkley, illustrated by Marsha Riti
128 pages
These sweet animal-centric mysteries are just perfect for readers making the jump to chapter books – the text is nice and large with black and white illustrations on nearly every page.
Poppleton by Cynthia Rylant, illustrated by Mark Teague
64 pages
Embarrassingly, I had never read a Poppleton book, but I'm hooked. And apparently I really love books featuring pigs.

The Owl Who Was Afraid of the Dark by Jill Tomlinson, illustrated by Paul Howard
112 pages
Plop is a baby barn owl and just like everyone else except he is afraid of the dark and refuses to go hunting at night with his parents. Will he be able to overcome his fear and step into his role as a nocturnal animal?
A to Z Mysteries by Ron Roy, illustrated by John Steven Gurney
96 pages
When Ella was finished with the Boxcar Children for the first time, she was desperate for some more mystery books, and this series was the perfect fit for her. She's gone on to read all of this series as well as the Calendar Mysteries and often revisits both when she's out of new books.
Uncle Wiggily's Story Book by Howard R. Garis
247 pages
This one has been around for years! Full of endearing characters and a bunny rabbit who loves to make things right, this book has a high chance of capturing your child's heart.
Cinders and Sparks by Lindsey Kelk, illustrated by Pippa Curnick
224 pages
An incredibly cute re-telling of the classic, Cinderella. Cinders isn't supposed to go to the ball, know how to do do magic or know her dog actually talks, but she does and she is ready for a fun journey!
The Wish Library by Christine Evans, illustrated by Patrick Corrigan
96 pages
Raven's best friend and presenting partner has just moved away, making it one of the worst weeks in her life. However, when she stumbles upon the Wish Library and begs for school to be canceled, she soon realizes that presenting by herself wouldn't have been such a bad thing.
Jeanie & Genie by Trish Granted, illustrated by Manuela Lopez
128 pages
Jeanie Bell loves a regular day with no surprises, but her world is turned upside down when Willow Davis moves in and has a huge magical secret.
A Mouse Called Wolf by Dick King-Smith, illustrated by Melissa Manwill Kashiwagi
80 pages
A little mouse named Wolf absolutely loves hearing the piano played and he often wishes he had the voice to sing along with it. One day, Wolf actually gives his singing pipes a try and much to his surprise, he is good!
The Enormous Egg by Oliver Butterworth, illustrated by Louis Darling
188 pages
Imagine one of your hens laid an egg and when it hatched, a triceratops came out.

Itty Bitty Princess Kitty by Melody Mews, illustrated by Ellen Stubbings
128 pages
Itty Bitty Princess Kitty is about to become a princess and is nervous about all of the changes that will follow. Will she be cut out for it all?
Billy and the Mini Monsters by Zanna Davidson
80 pages
There's nothing more that Billy hates than swimming. Just when he thinks swimming lessons couldn't get any worse, all of his mini monsters show up to class.
Mouse Scouts by Sarah Dillard
128 pages
These little mice girls belong to the Mouse Scouts and work hard to earn different badges. This is such a charming chapter book series.

Ricky Ricotta's Mighty Robot by Dav Pilkey, illustrated by Dan Santat
112 pages
Captain Underpants author Dav Pilkey teams up with accredited illustrator Dan Santat for a full color, emerging reader series that your little one is sure to love.
The Prairie Thief by Melissa Wiley,illustrated by Erwin Madrid
224 pages
If you like a good mashup, this one is dynamite! Think Little House on the Prairie meets The Spiderwick Chronicles!
Bink and Gollie by Kate DiCamillo andAlison McGhee, illustrated by Tony Fucile
88 pages
This three book series (from the author of Mercy Watson) just delights me to the CORE. Bink and Gollie are two young girls who head out on three hilarious adventures in each book. They're just bursting with the irrepressible joy of childhood and friendship. If you haven't read these, you're missing out.
Starla Jean by Elana K. Arnold, illustrated by A. N. Kang
96 pages
I read this one aloud to Tally after Star raved about it and it was very cute. Starla Jean spies a chicken at the park and, despite her dad's warning that it's very hard to catch a chicken, she manages to catch the chicken (whom she immediately names Opal Egg) and brings her home as a pet. Which is delightful until someone shows up to claim the chicken.
Astrid and Apollo by V.T. Bidania
64 pages
Twins, Astrid and Apollo, are ready for their first tae kwon do competition and have their eye on the shiny trophy. But when things don't go like they wanted them to, they learn a really great lesson.
Two Times the Fun by Beverly Cleary, illustrated by Carol Thompson
96 pages
I love a good chunk of Beverly Cleary books and this one looks just as cute as some of her others. Twins, Janet and Jimmy may have been born just minutes apart, but they are very far from being alike.
Mrs. Noodlekugel by Daniel Pinkwater, illustrated by Adam Stower
80 pages
Mrs. Noodlekugel is every child's dream babysitter. With dogs who serve you cookies, to mice throwing a tea party, Mrs. Noodlekugel is always up to something magical!
The Kingdom of Wrenly by Jordan Quinn, illustrated by Robert McPhillips
128 pages
If your child loves a fantasy series, this is a winner, with Lucas, the prince, who becomes friends with Clara, the daughter of the queen's seamstress. Together, they explore the kingdom and, naturally, have all sorts of adventures.

King & Kayla series by Dori Hillestad Butler, illustrated by Nancy Meyers
48 pages
These beginning mystery books are perfect for a child who loves cracking the case. Told from the perspective of King, the dog, each story has 5 chapters as King and his human, Kayla, try to find clues and solve the mystery together.

Juana and Lucas by Juana Medina 
96 pages
These delightful books about Juana and her beloved dog Lucas are peppered with Spanish words and full color illustrations. My 5.5 year old has LOVED having me read these with her.

Claude by Alex T. Smith
96 pages
These short stories have been a huge hit with my girls. The antics of this goofball dog are endless entertaining. Everyone loves Claude.

Little Pilgrim's Progress (Illustrated Edition) by Helen L. Taylor, illustrated by Joe Sutphin
320 pages
Calling all animal lovers! Little Pilgrim's Progress follows a variety of woodland creatures with incredible images on every single page.
The Giggler Treatment by Roddy Doyle
112 pages
A hilarious story about a dog trying to get revenge.
The Tales of Olga Da Polga by Michael Bond
126 pages
You might be familiar with Michael Bond from his series Paddington. Instead of following a charming bear, this story recounts the adventures of an unusual guinea pig that specializes in tall tales.

Anna Hibiscus by Atinuke, illustrated by Lauren Tobia
112 pages
Anna Hibiscus lives in Africa with both her immediate and extended family, including twin baby brothers and there are plenty of adventures to be had in this sweet chapter book series.

Henry's Awful Mistake by Robert Quackenbush
48 pages
Henry the Duck is excited for his friend Clara to come over for lunch. But he quickly gets distracted by a pesky ant roaming around in the kitchen.
The Complete Brambly Hedge by Jill Barklem
248 pages
A treasury of the enduring Brambly Hedge, bringing together eight much-loved classic stories. This collection is full of sweet whimsical illustrations.
Mia Mayhem by Kara West, illustrated by Leeza Hernandez
128 pages
I read one of the books in this series aloud to my girls in an afternoon and we all loved this fun story of an undercover superhero. Like many series at this level, you don't need to read them in order – each one will catch you up quickly.

The Not-So-Tiny Tales of Simon Seahorse by Cora Reef, illustrated by Liam Darcy
128 pages
This new series has three books in it so far and just came out in December. Simon is a teeny seahorse with a BIG personality and loves to tell elaborate stories. They're meant for beginning chapter book readers with good size text and illustrations on nearly every page.

Sydney & Taylor by Jacqueline Davies, illustrated by Deborah Hocking
80 pages
Sydney and Taylor are best friends even though they make an odd pair being a skunk and a hedgehog. Beyond their physical differences, they have a lot in common including a dream to see the world.
Barkus by Patricia MacLachlan, illustrated by Marc Boutavant
56 pages
If your favorite uncle came to visit and brought you a large dog as a surprise, you'd probably be THRILLED! (Your parents? Not so thrilled). Nicky and Barkus have all sorts of adventures together and I'm crossing my fingers for more books in this series.

Kung Pow Chicken by Cyndi Marko
80 pages
A superhero chicken? You BET! With lots of humor, plenty of speech bubbles and full color spreads, this series is perfect for readers who want something fast paced.

Penny by Kevin Henkes
48 pages
This book has been a favorite for years at our house – every one of my girls has absolutely LOVED the adventures of Penny the mouse.

The Last Firehawk by Katrina Charman, illustrated by Jeremy Norton
96 pages
This series is full of magic and fantasy! With a great story line and text to keep your little one engaged, this is a great series to start if you have an adventure lover.
And if you'd like a printable copy of this list that you can take to your library or screenshot on your phone for easy access, just pop in your email address below and it'll come right to your inbox!
What have been some of your favorite first read aloud chapter books? I'd love to hear in the comments!
if you liked this post about first read aloud books, you might also like these other posts: