When Christmas rolls around and your child has just started to master reading, it's really fun to have some Christmas books that they can read themselves!
All of these title are perfect Christmas books for kindergarten and first grade readers or make great read alouds for younger children!

Easy Reader Christmas books for Kindergarten and First Grade
Poppleton in Winter by Cynthia Rylant, illustrated by Mark Teague
Poppleton is a staple of the easy reading shelf and this is the perfect one for winter. And if you want specifically Christmas,
Poppleton at Christmas is slated to come out next fall, so keep an eye out for that one!
Oliver & Amanda's Christmas by Jean Van Leeuwen
I grew up with this series and I still love it just as much today. When I started my own Christmas book collection, this was one of the very first titles I bought. I love these sweet and funny stories of finding the perfect tree, writing to Santa, and making gifts for family members. The illustrations are perfect and the stories are gentle and also amusing. These books are a bit more text-heavy, so they'll be perfect for readers are are gaining some confidence.
Pete the Cat Saves Christmas by James Dean, illustrated by Eric Litwin
I can't put my finger on what makes Pete the Cat so beloved with children, but you can count all four of my children among his fans! This one is perfect for the holidays and kindergarten and first grade readers will be delighted that they can read it on their own!
There Was a Cold Lady Who Swallowed Some Snow by Lucille Colandro, illustrated by Jared Lee
This old familiar song or story about the old lady who swallowed a fly gets a festive update as she swallows first snow and then a pipe, some coal, and other holiday items!
Jack & Santa by Mac Barnett, illustrated by Greg Pizzoli
The Jack books are nice and easy with a big font and not too much text. In this one, Jack discovers that his antics have landed him on the naughty list and he's very worried that Santa will bring him nothing but coal. Is it too late to prove to Santa that he's not so bad after all?
Happy Narwhalidays by Ben Clanton
I've already waxed poetic about my love for Narwhal and Jelly here – after we listened to the audiobook multiple times, I checked out some copies of the various books in the series from the library and the Christmas one is a total slam dunk. It's great for a kindergartener or a first grader to read on their own, or grab the audio version and be delighted by the full cast narration!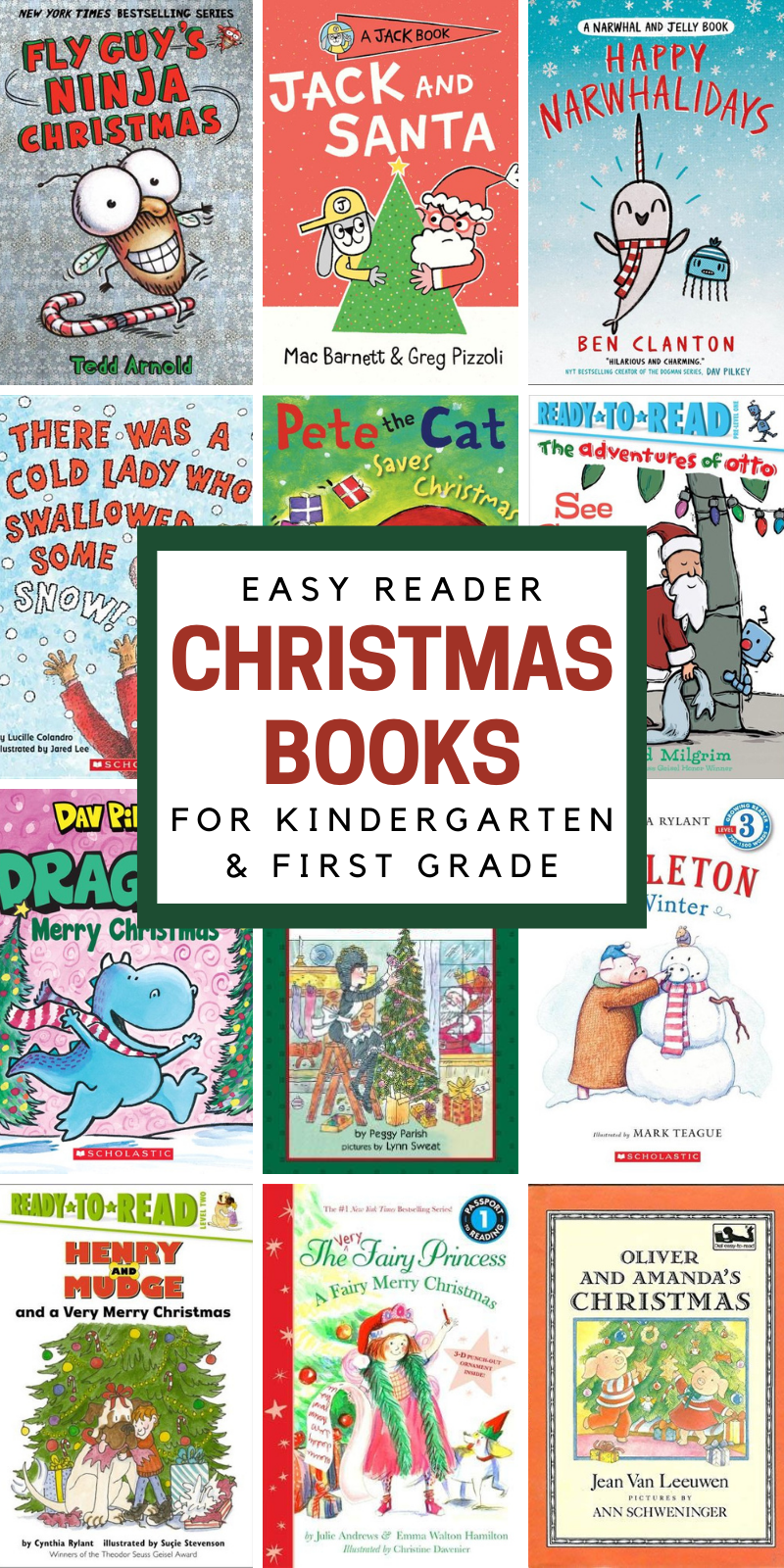 Dragon's Merry Christmas by Dav Pilkey
It's possible I enjoy the Dragon books as much as my children do – they're just HILARIOUS and we've read through the series multiple times. You'll recognize the author's name from his wildly popular Captain Underpants and Dogman series, although these ones don't have the crude humor that many parents object to in those series. The Christmas one is a great addition to the series.
Henry & Mudge and a Very Merry Christmas by Cynthia Rylant
Aside from Frog & Toad, this is THE classic easy reader chapter book series in my opinion. There are SO MANY of them, and the adventures of this young boy and his massive somewhat-ill-behaved dog never get old. And of course, Christmas gives them plenty of opportunities to have delightful adventures together. 

The Very Fairy Princess by Julie Andrews and Emma Walton Hamilton, illustrated by Christine Davenier
Geraldine can't wait for Christmas and it's finally almost here. This year, her mom suggests that the family give each other homemade gifts and Gerry knows JUST the right gifts to make!
See Santa Nap by David Milgrim
Delivering presents all around the world is exhausting and Santa needs a nap. But everywhere he tries to grab some shuteye, he's woken by loud noises (who thought giving Flop a drum for Christmas was a good idea?!). Finally, Otto helps him find exactly the right spot for a well-deserved nap.
Fly Guy's Ninja Christmas by Tedd Arnold
For each of my girls, as they've moved into the early reader phase, the Fly Guy books have been a serious hit. In this one, Fly Guy – on the hunt for a present for his best friend Buzz – discovers a stranger in the house. He's ready to fight him and young readers will be delighted that the stranger is actually Santa Claus.
Merry Christmas, Amelia Bedelia by Peggy Parish, illustrated by Lynn Sweat
I've never met a child who doesn't just love Amelia Bedelia and her crazy antics as she misunderstands virtually every direction ever given her. With, of course, hilarious results. And the holidays give her more than ample opportunities to take instructions incorrectly. The good new is that every young reader will know things will turn out just fine.
And if you'd like a printable copy of this list that you can take to your library or screenshot on your phone for easy access, just pop in your email address below and it'll come right to your inbox!
if you liked this post about Easy Reader Christmas books for Kindergarten and First Grade, you might also like these other posts: