I did not grow up skiing.
I went snowboarding a single time with some friends when I was 18 and that was the extent of my winter mountain sports experience.
Then I married who Bart, who had been skiing since he was 8 years old.
He'd picked up snowboarding in high school and had a season pass most of his growing up.
Fortunately, we moved away from Utah shortly after we got married and I avoided any skiing for a solid 14 years.
Then we moved back to Utah and I knew that if we were going to live in Utah long term, I really wanted to learn how to ski.
I didn't want to live so close to some of the best ski resorts on earth and not know how to ski.
I also wanted my girls to learn how to ski and I didn't want to be the mom sitting in the lodge while my whole family skied without me.
Our elementary school does ski school each winter where they bus students up to Sundance Ski Resort once a week for a month and the first year we lived here, Ella participated.
She wasn't much of a fan but then the next year, the whole fourth grade had a skiing field trip and she suddenly fell in love with skiing.
I'd put off skiing lessons the first year we lived here, but now that we were more settled in and the girls were getting a bit older, I knew I couldn't wait any longer.
So in January of 2020, I signed up for ski lessons.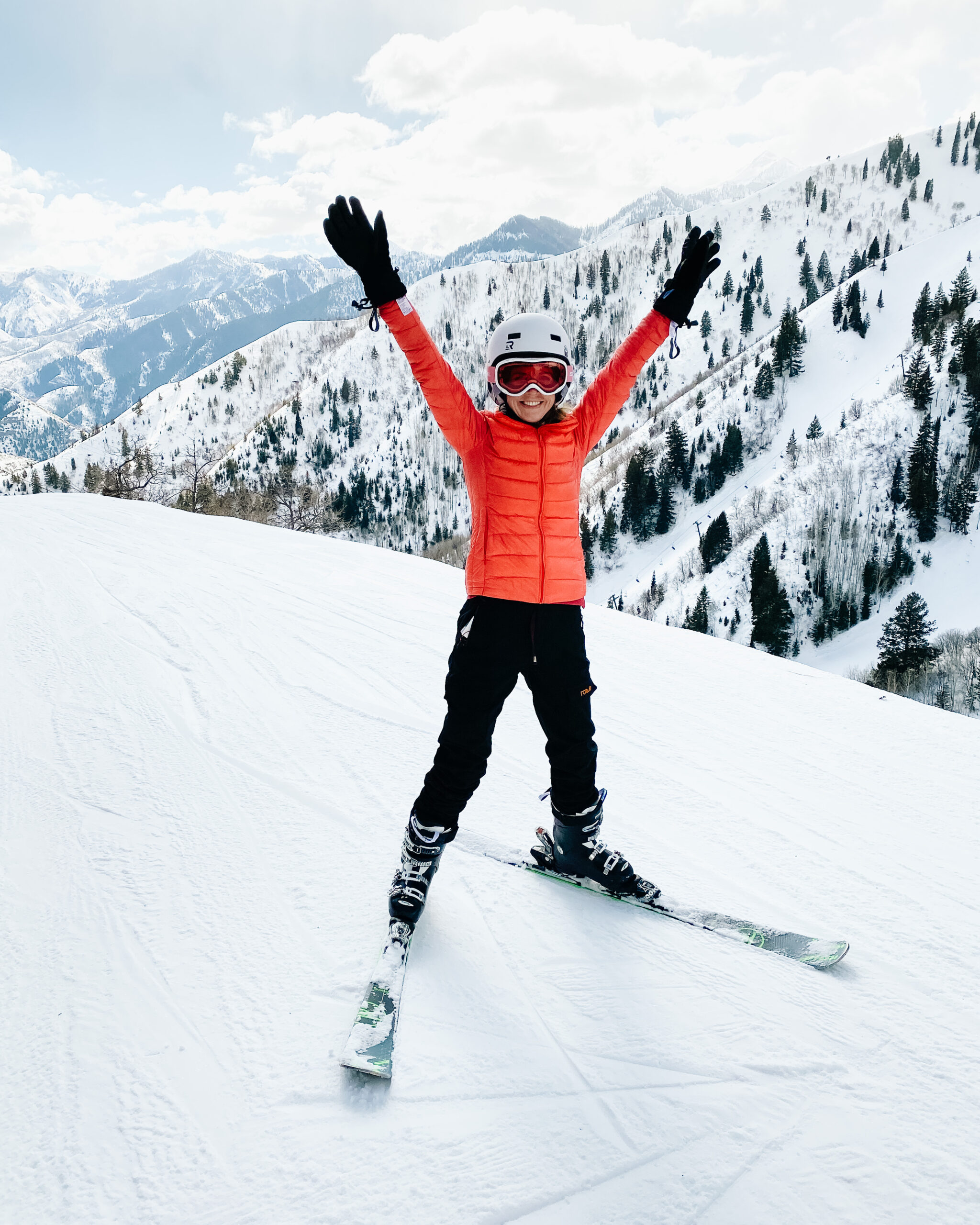 I knew that I didn't want Bart to teach me how to ski – I know how frustrating it can be for both teacher and student in a scenario like this and I didn't want the pressure of picking it up quickly or feeling like I was holding him back from doing actual skiing. Plus, I wanted to learn from someone who wasn't just a good skier but also had a lot of experience TEACHING skiing.
Sundance does a program called Ladies Day Ski Clinic each winter – it's a four week program (you can do it in January, February or March) and you go on the same day each week for those four weeks in the morning.
They divide you up by level and each class is around 4-8 people with a dedicated instructor (or two if your class is on the bigger side).
I signed up, paid my fee, and then tried not to throw up for the next month before my classes started in February.
There were so many reasons I didn't want to do it.
I didn't have any ski gear – no snow pants, no skis, no poles, no gloves or helmet.
I don't enjoy being cold.
I don't consider myself particularly athletic.
I'd have to pay a babysitter to come watch my little girls for about four hours while I went and paying a babysitter while I did something that WASN'T work felt incredibly painful to me.
But I decided I'd do it anyway as a long-term investment in our family winter fun.
I found a pair of snow pants on thredUP. I ordered a helmet and goggles and gloves.
I figured out where I could rent skies each week (I did my rentals through Outdoors Unlimited and I'd pick them up on my way to Sundance and then drop them off on my way home).
I was SO NERVOUS on my first day. I didn't know exactly where to park, where to pick up my pass, or even how to get my ski boots on and the whole thing felt incredibly stressful.
But when I got there, the parking attendant told me right where to park and when I took the shuttle down to the lodge, there were plenty of people to tell me exactly where to grab my pass, and then I went out and met my class.
There were six of us in the class and only one of us had ever skied before (and she'd been once). We started at the very beginning, with how to clip in and out of our skis, then practiced walking up and down a small hill, and the spent the rest of the lesson on the bunny hill.
This wasn't so scary!
By the second lesson, we were doing actual runs on the mountain and by the fourth day, I felt like, if not a GOOD skier, at least a competent one.
And, to my surprise, it was FUN.
The rush of overcoming the hurdles and learning something new and pushing myself well outside my comfort zone gave me a new confidence that I can't even describe.
On one of the days, Bart and Ella came up with me and skied together during my lesson and then we all did some runs together, including meeting up with Bart's sister and her family (who are very into skiing).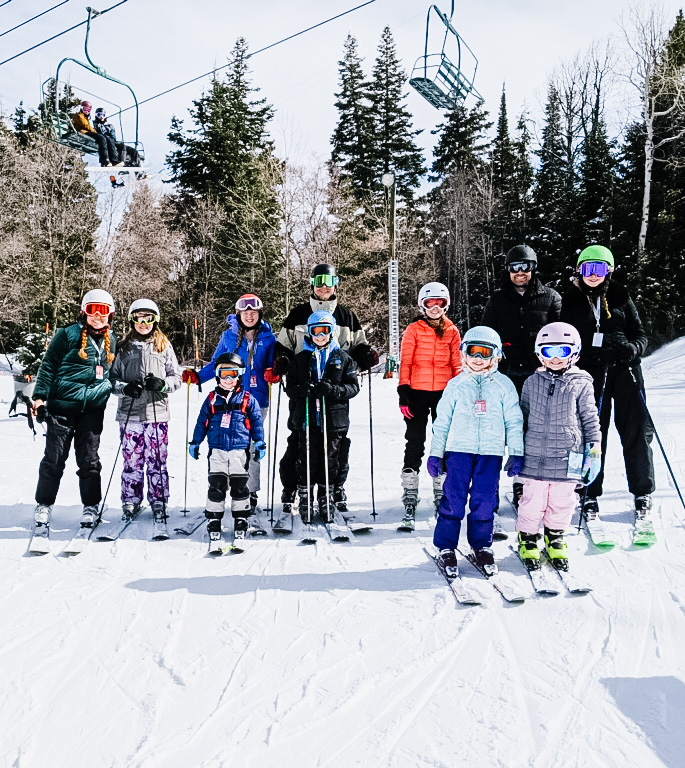 The next year (2021), I signed up for another month of lessons and this time I was much less nervous and made SO much more progress. I even met up with a high school friend on a different day and we skied together for the morning.
I was SKIING!
Ani also took ski lessons through the school's program that year (along with Ella who did a higher level) and she fell in love with skiing too.
This coming winter, we're getting ski passes for the first time and I cannot wait. We'll have the two little girls take ski lessons and I probably won't do ski lessons this year (although, I'm not ruling it out).
Of the many things I've done in my adult life, learning to ski has to be in the top ten for things that have given me an incredible amount of confidence.
If you have questions about ski lessons, I'd be happy to try to answer! Let me know in the comments what you'd like to know.
If you liked this post about ski lessons, you might like these posts too: