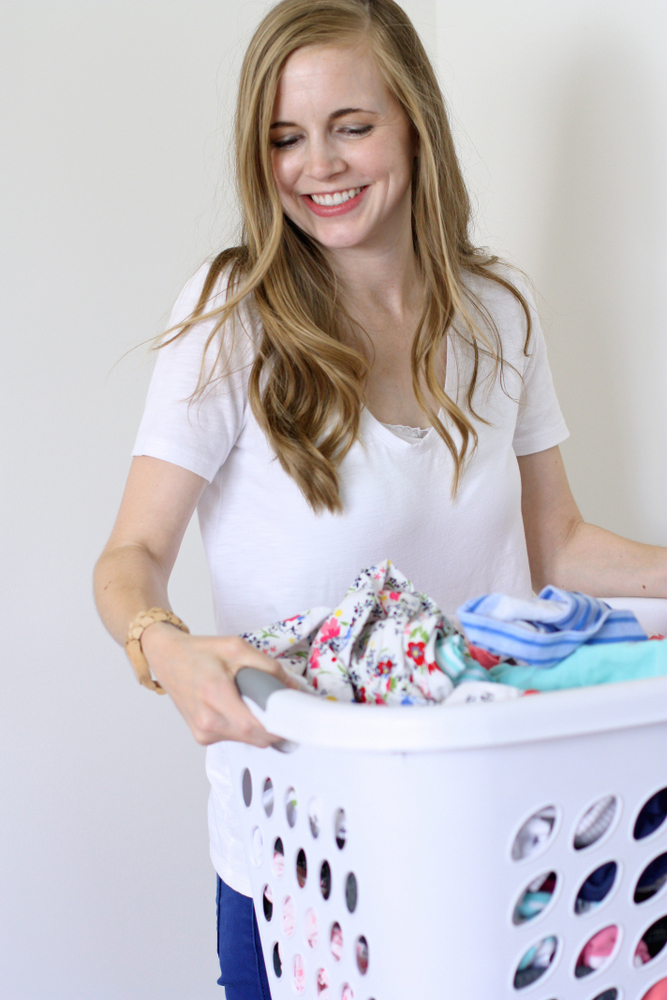 This post was sponsored by OxiClean through their partnership with POPSUGAR Select. While I was compensated to write a post about OxiClean Stain, all opinions (and laundry!) are my own.
I started doing my own laundry when I was five.
My dad made a big hook out of a wire hanger so I could get clothing out of the washer. My parents made up a little song about me taking things out of the washer and handing them to Merrick who would put them in the dryer ("Janssen takes 'em out; Merrick puts 'em in, I said Janssen takes 'em out. . . " I didn't say it was a great song, but it's definitely been memorable for the last 25 years).
I've never particularly loved laundry, but now that I'm in charge of all the laundry for five people, I've developed some strategies to make it as minimally invasive to my life as possible. Because folding t-shirts is not my idea of a great time.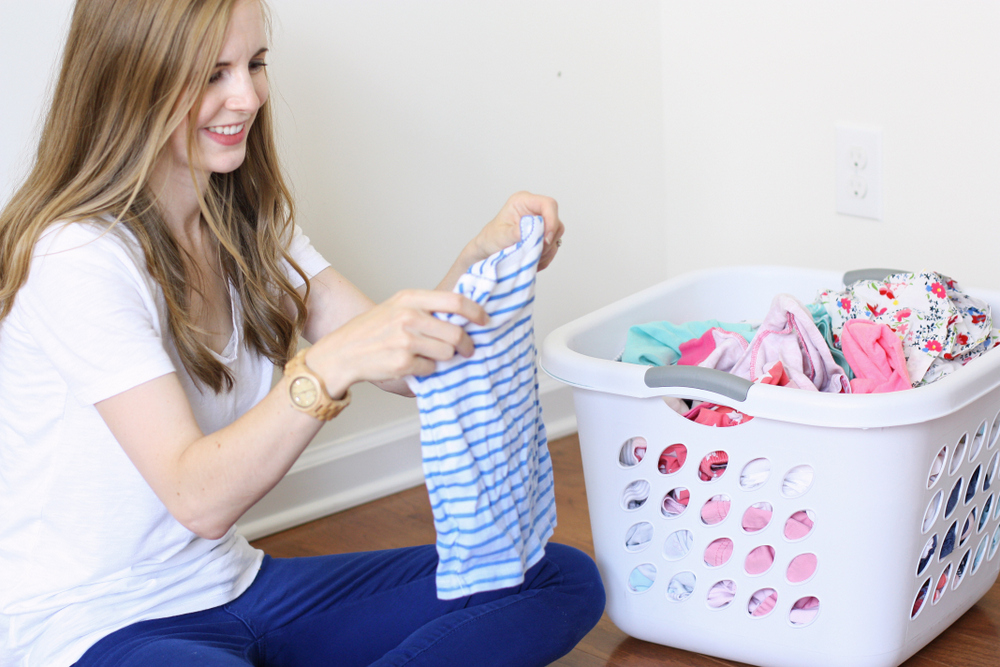 Pick one day to do the laundry. I know some people prefer to do one load every day, but I do not want laundry to be part of my daily life, so I just only do laundry on Monday. Everyone in the house owns enough clothing, pajamas, underwear, and socks to make it through a full week, so unless there is a major emergency, I only do laundry that one day a week. I throw a load in the minute I wake up, run them through, remake the beds and put all the clothing away, and don't think about laundry again for another week.
Sort your laundry as you go. In our closet, we have two laundry baskets. One is for whites and one is for colors, so I don't have to sort laundry before I throw it in. I can just grab the white basket and throw everything directly in the machine with some OxiClean White Revive to keep everything looking pristine. Next I do the colors, and then I wash all the little girls' clothing in one load. One load of bedding, one load of towels and the laundry is finished.
Stain treat every load. In a perfect world, there wouldn't be any stains (actually, in a perfect world, there wouldn't be any LAUNDRY), but with little kids, there is a plethora of various spills and stains on the laundry, and I'm not on the ball enough to catch them as they happen, so I just put a scoop of OxiClean Versatile Stain Remover in every single load and then I don't have to worry about whether or not I noticed spaghetti sauce on a pair of white 2T shorts or a baby sleeper that mysteriously got spit-up on it. Everything comes out sparkling clean and I didn't have to do any extra sorting. 
Put together a clothes storage system that works for your life. Set up your closet in a way that you can put things away pretty easily. I don't fold underwear or socks – they just all go in a bin (I know that Marie Kondo would be horrified, but I'm more horrified by clothing in a pile in my bedroom). I hang up all the shirts for everyone in the family because I'm not a great folder and I find hanging easier to put away and also to get dressed in the morning.
Involve your children. Once the laundry comes out, I have Ella and Ani help me out by sorting their laundry into their own piles and then fold their pajamas and shorts, put their socks and underwear away, and lay out their shirts and dresses so I can hang them up (Ella also loves putting shirts on hangers).
Put your clean laundry on your bed. I always put the clean laundry on my bed so that I won't go to bed without it getting done. Bart folds his stuff and puts it away, and then I do mine and the girls. Because if I wake up on Tuesday and have to deal with laundry a second day in a row, I'm not a happy camper.
Any other tricks for making laundry easier? Or would you like to come do my laundry for me?
I'll happily take either.