If laundry feels like it's never-ending in your house, try these laundry tips to streamline your system and keep your clothes looking good as new! 
I started doing my own laundry when I was five.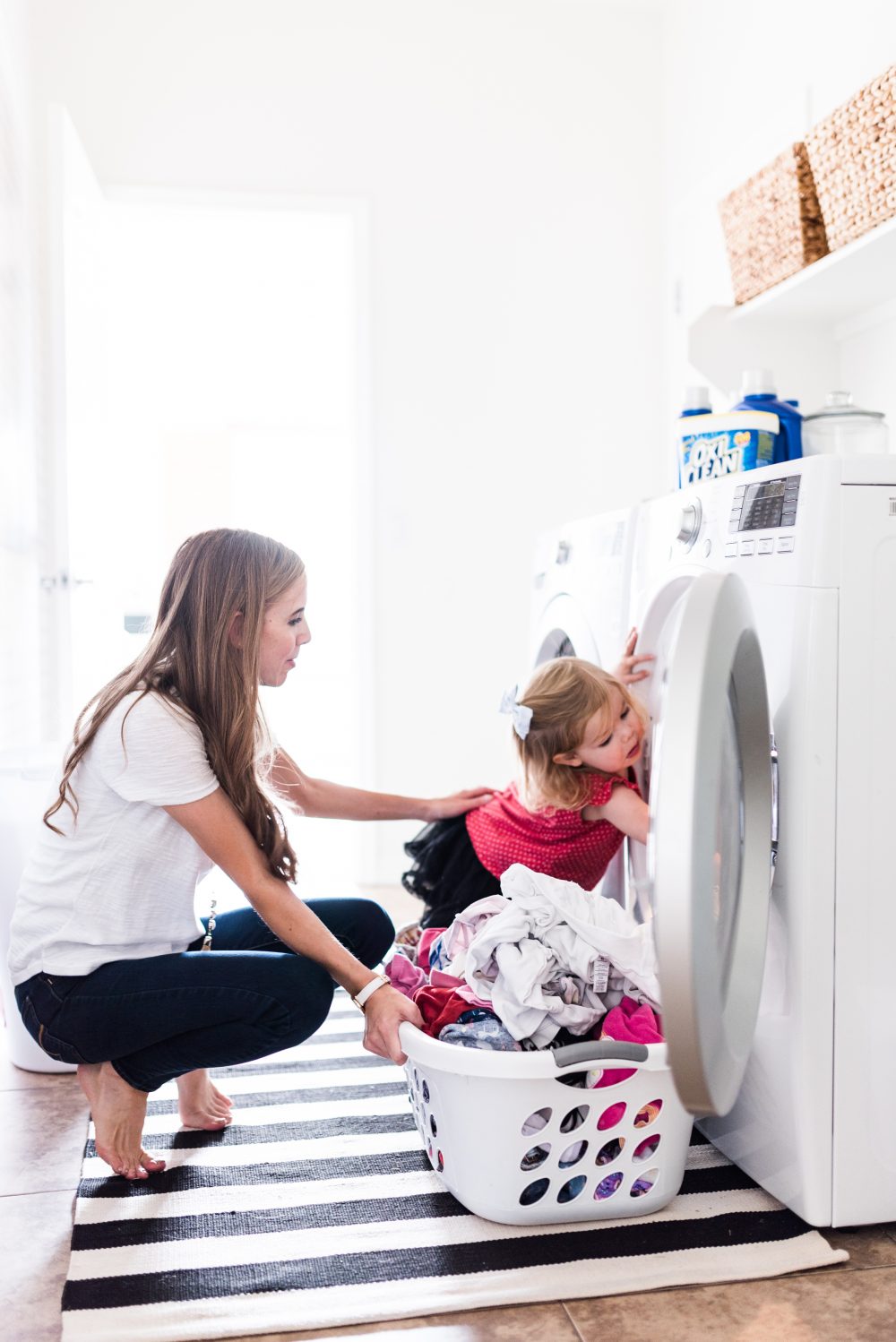 My dad made a big hook out of a wire hanger so I could get clothing out of the washer. My parents made up a little song about me taking things out of the washer and handing them to Merrick who would put them in the dryer ("Janssen takes 'em out; Merrick puts 'em in, I said Janssen takes 'em out. . . " I didn't say it was a great song, but it's definitely been memorable for the last 25 years).
I've never particularly loved laundry, but now that I'm in charge of all the laundry for six people, I've developed some laundry tips to make it as minimally invasive to my life as possible. Because folding t-shirts is not my idea of a great time.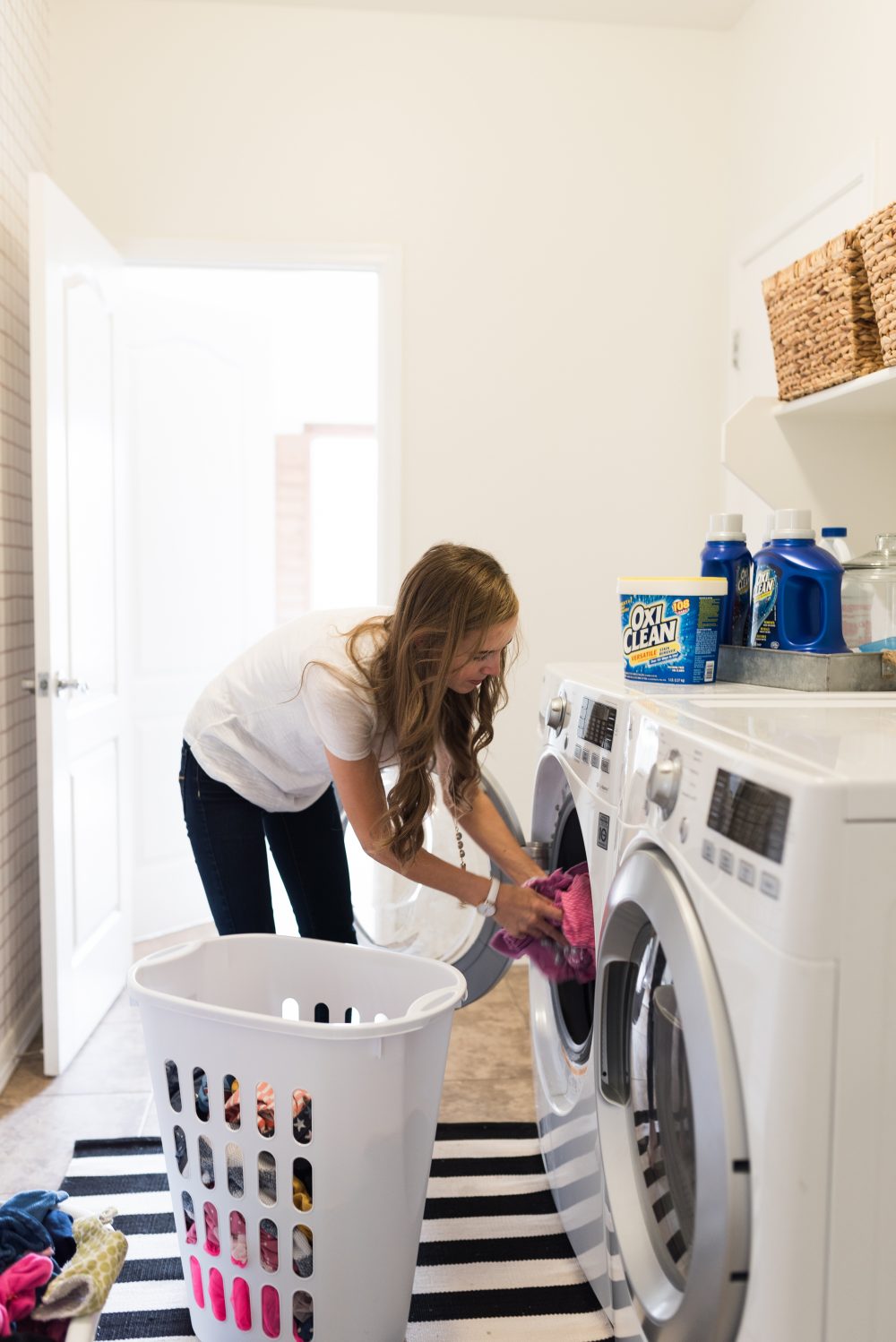 My Best Laundry Tips
Pick one day to do the laundry
This is MY best laundry tip, so if you're one of those people who would rather do a load every day, go ahead and ignore this. I personally do not want laundry to be part of my daily life, so I only do laundry on Monday so I can have six glorious laundry free days. Everyone in the house owns enough clothing, pajamas, underwear, and socks to make it through a full week, so unless there is a major emergency, I only do laundry that one day a week. I throw a load in the minute I wake up, run them through, remake the beds and put all the clothing away, and don't think about laundry again for another week.
Sort your laundry as you go
In our closet, we have two laundry baskets (just these basic square ones). One is for whites and one is for colors, so I don't have to sort laundry before I throw it in. I can just grab the white basket and throw everything directly in the machine. Next I do our colors, then our towels, then our bedding (I only wash our bedding every 2-3 weeks. Judge away). Then I dump out the three laundry baskets from our girls' rooms and sort those (or have them do it) into lights and darks and run those loads. I usually have to do two loads of their darks because there are too many to fit in my washing machine.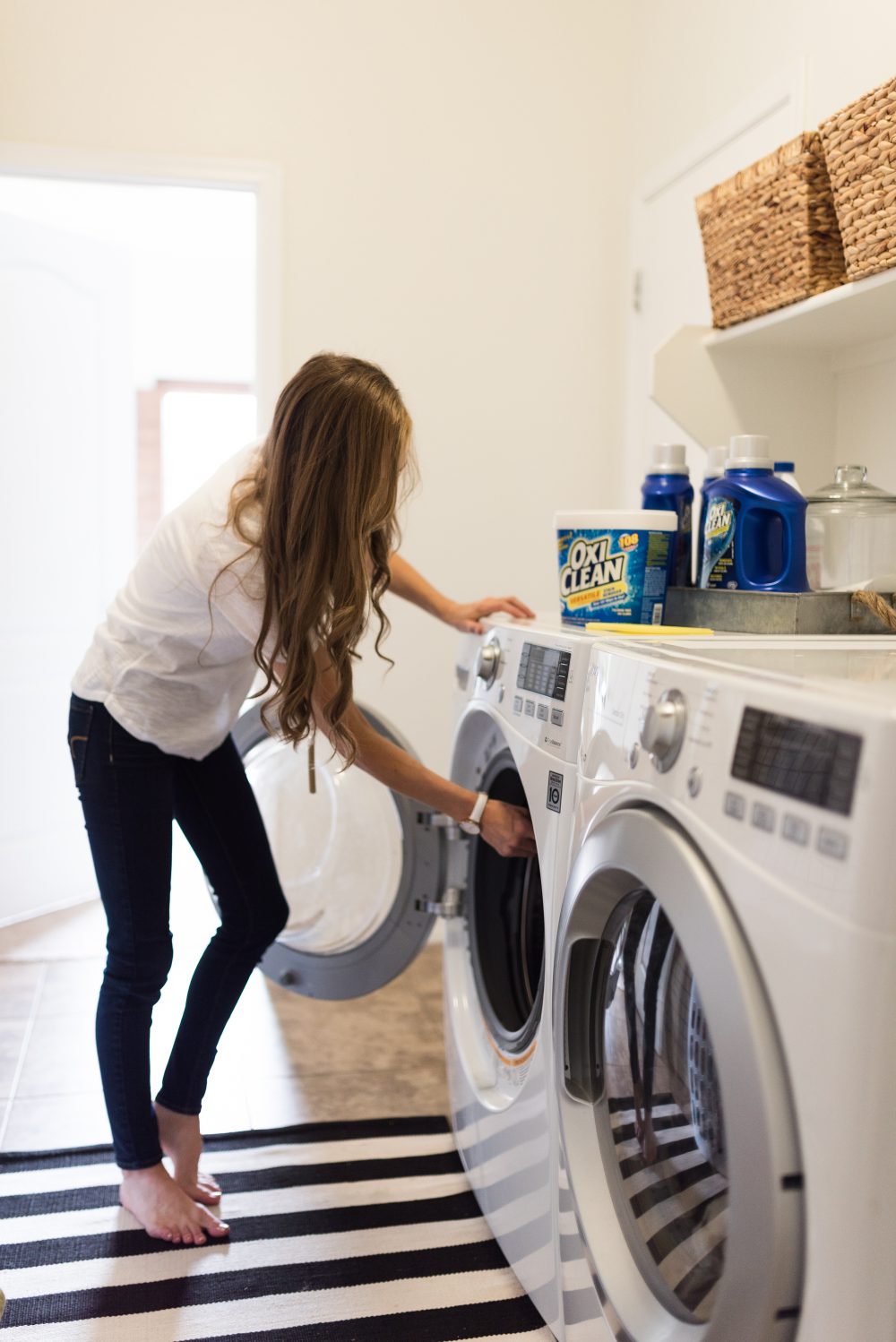 Use good laundry supplies
For years, I bought the cheapest laundry detergent available and . . . surprise. Stains were for life. One drop of melted butter on your shirt? Don't even bother washing it – right in the donation pile. Now I've learned that it's cheaper in the long run to buy the best laundry detergent. My favorites are Tide (Bart think it's the best smelling laundry detergent ever), OxiClean and Persil ProClean. I think you can't go wrong with any of them. I happen to like a liquid laundry detergent better than a powdered one most of the time (I have no actual reason for this and when I write this down, it sounds kind of ridiculous). I also keep a Clorox Bleach Pen with my laundry supplies so I can bleach out stains on white things as needed. And if something is really gross, Lysol Laundry Sanitizer is nice to kill all those germs too.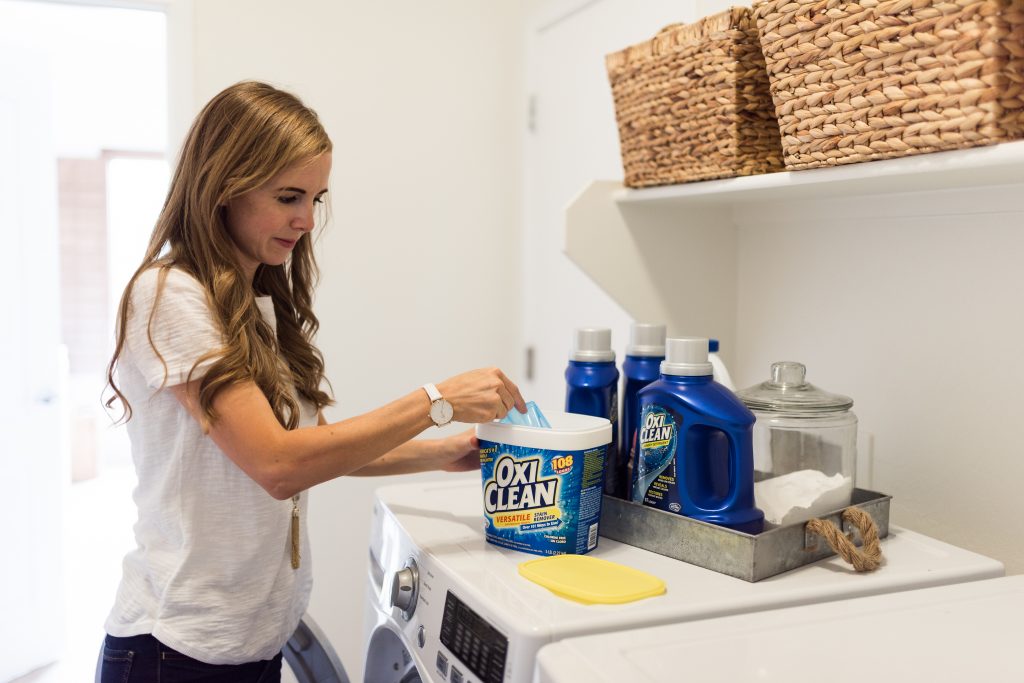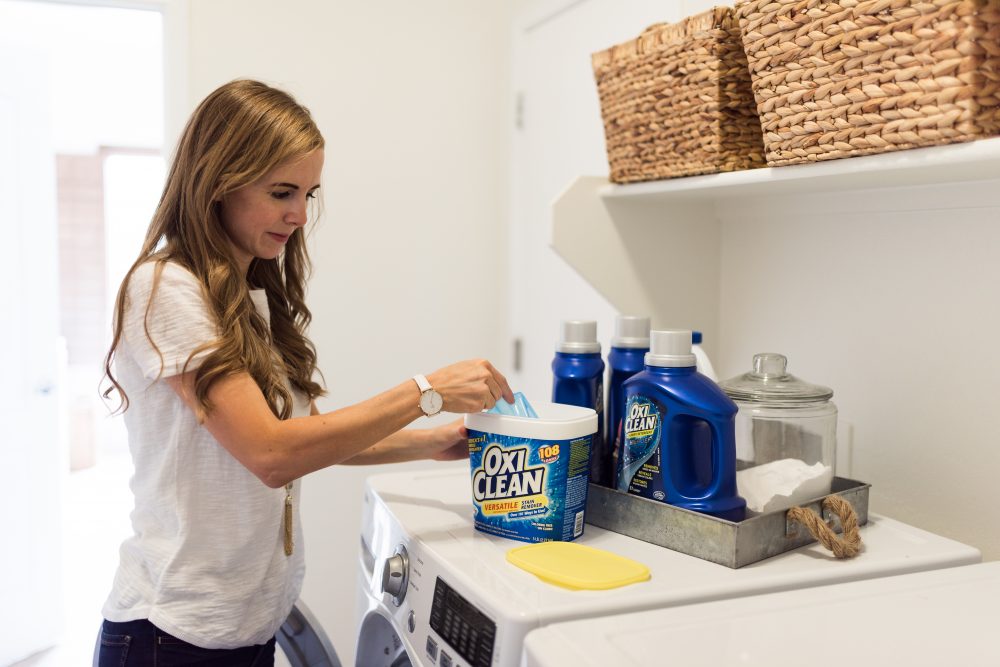 Have a bucket to pre-treat stains
I worked with OxiClean a couple of years ago and they said that their legal department says they aren't allowed to talk about things soaking for more than like 6 hours even though they told me the know that MANY people let things soak for a couple of days or even up to a week. Fortunately, this post isn't sponsored so I'm not held to their legal standards and I can tell you that one of my best laundry tipis is to have a big bucket in my laundry room (up high where it's not a drowning danger to my children – this disclaimer is because I don't want to be sued any more than OxiClean wants to) that I fill with water and a big scoop of OxiClean stain remover and then as things get stained during the week (blood, grass, oil, food, etc) I just dump them in the bucket and let them soak until Monday. This system means that I have VERY few ruined clothing these days. Hallelujah!
Stain treat every load
In a perfect world, there wouldn't be any stains (actually, in a perfect world, there wouldn't be any LAUNDRY), but with little kids, there is a plethora of various spills and stains on the laundry, and I'm not on the ball enough to catch them as they happen, so I just put a scoop of OxiClean Stain Remover in every single load and then I don't have to worry about whether or not I noticed spaghetti sauce on a pair of white 2T shorts or a baby sleeper that mysteriously got spit-up on it. Everything comes out sparkling clean and I didn't have to do any extra sorting. I should add that Ralphie told me about OxiClean Stain Remover after Ella was born and stains were suddenly a major part of my life and now I live and die by it.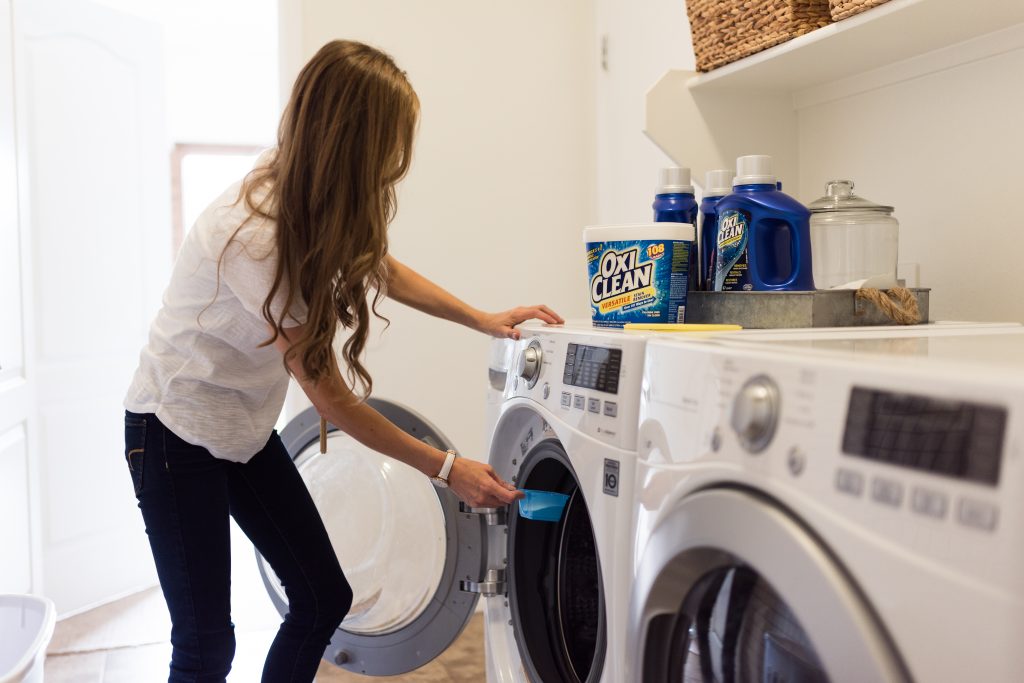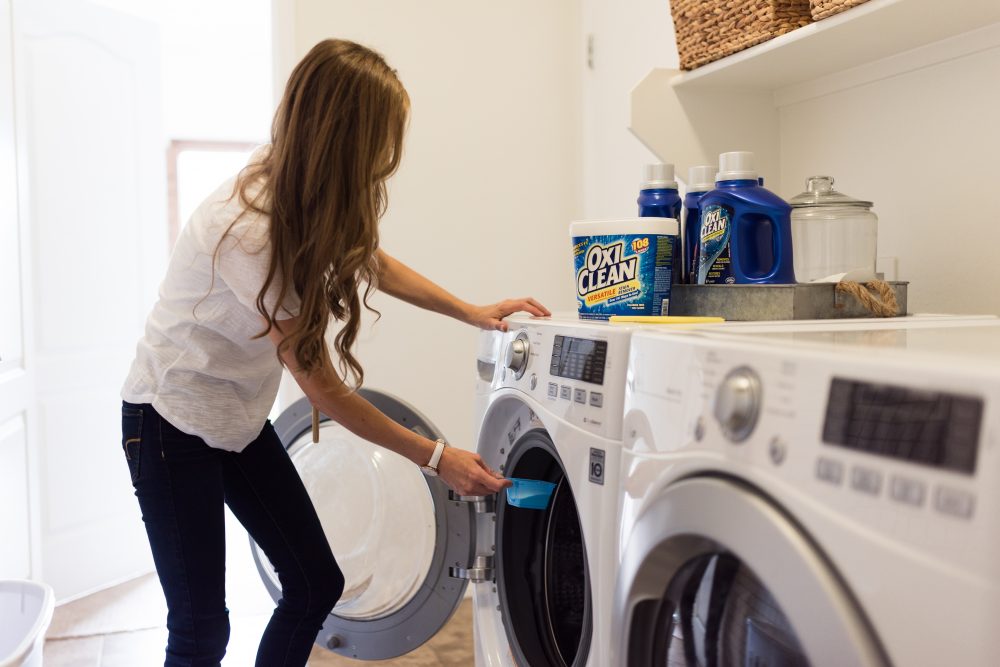 Put together a clothes storage system that works for your life
Set up your closet in a way that you can put things away pretty easily. I would rather hang things than fold, usually, so I hang up most of the shirts for everyone in the family because I'm not a great folder and I find hanging easier to put away and also to get dressed in the morning. I have bins for socks and underwear so they don't need to be folded (sorry, Marie Kondo).
Put your clean laundry on your bed
I always put our clean laundry on my bed so that I won't go to bed without it getting done. Because if I wake up on Tuesday and have to deal with laundry a second day in a row, I'm not a happy camper. I usually put away all our whites early in the day (it takes about 7 minutes to fold and put the whites away because it's almost all socks and underwear and maybe a few white shirts that just get hung up) and then Bart and I both fold and put away our own dark laundry in the evening.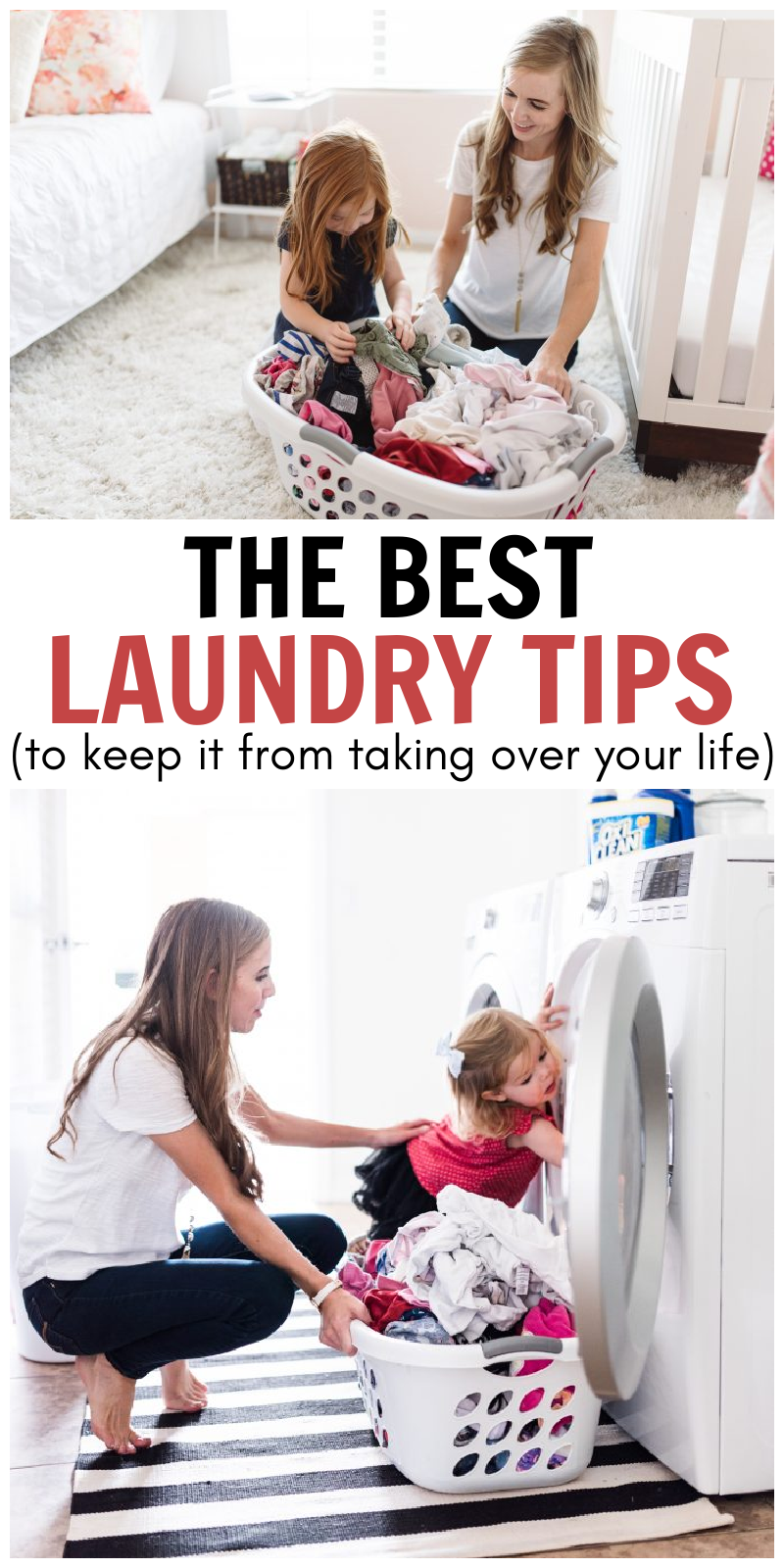 Involve your children in the doing the laundry
Everyone in our family knows that on Monday nights, we fold laundry. I dump out all the loads of the girls' laundry on the rug in the playroom and I sort it into four piles while the girls start folding it. After it's sorted, I fold and put away all of Tally's laundry, then I help whoever is working hardest to finish folding theirs (and then when that's done, on to the next child if they're not done). They put away their socks, underwear, and pajamas and I hang up the shirts and dresses (except for Ella who is tall enough to hang her own) and put their pants, shorts, and skirts up on the  I will say, that it took more than a YEAR of consistency on this before certain children stopped whining and crying incessantly about laundry, but now they know it's not optional and we have virtually no complaining and they're all pretty good at it. It was fairly painful for that year, but I simply don't have the time or inclination to fold all their laundry when they're perfectly capable and it's THEIR laundry, and now it's paid off big time. I guess one of my laundry tips is "be able to withstand a prodigious amount of whining." That might actually be my main parenting tip too.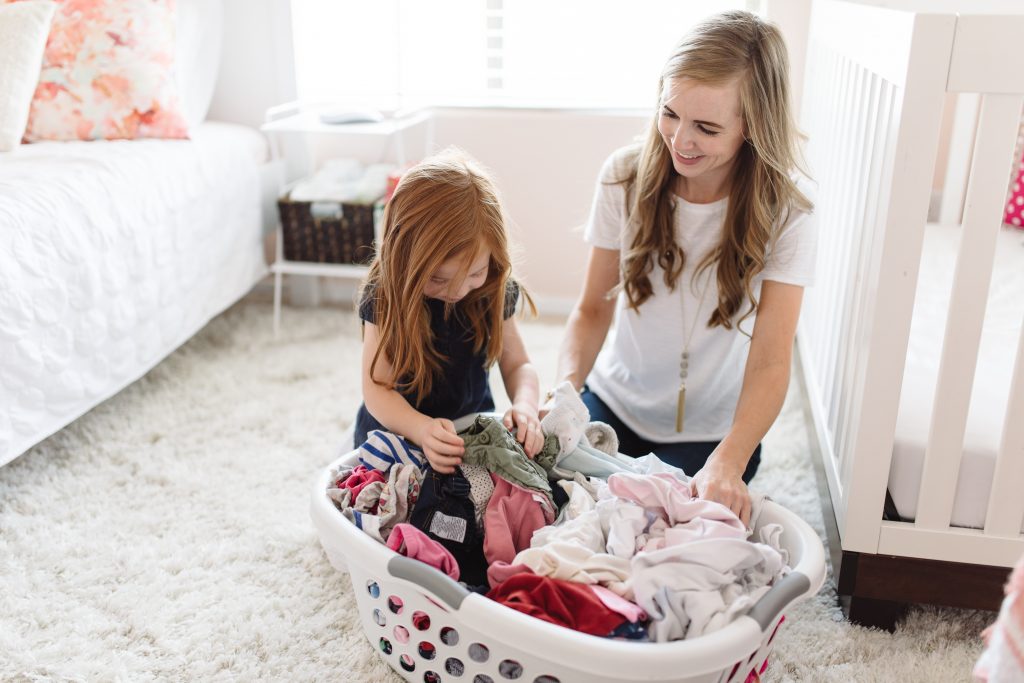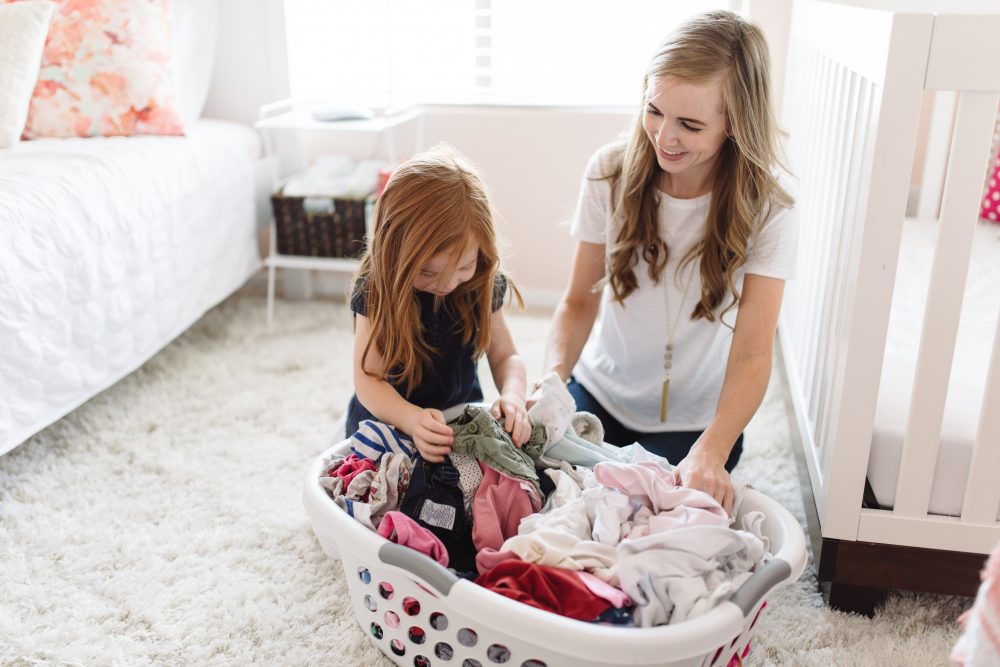 Any other laundry tips to make the whole thing easier? Or would you like to come do my laundry for me?
I'll happily take either.
If you liked this post about laundry tips, you might also like these posts: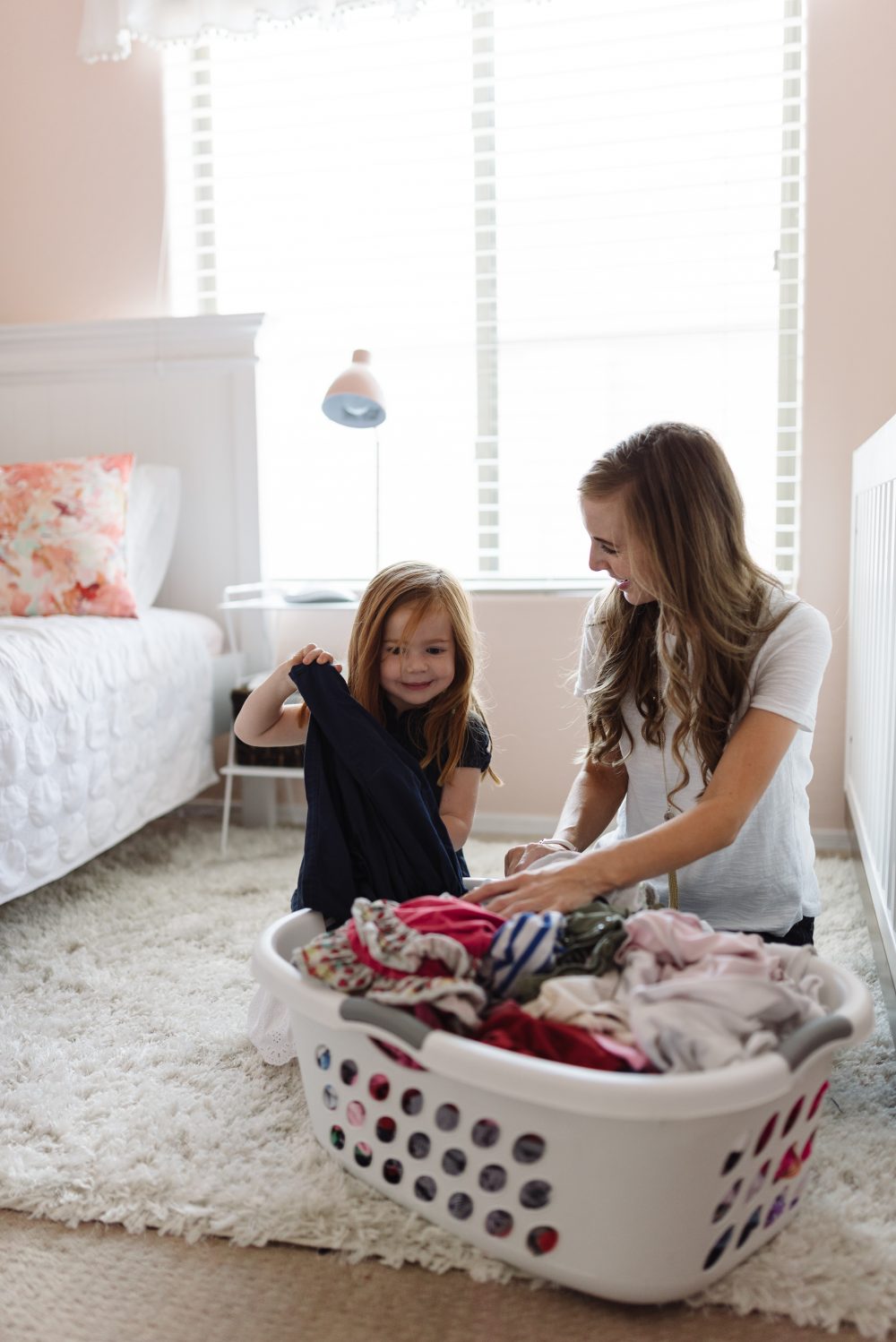 Photos by Christie Knight Photography