Remember a couple of years ago when I wrote about how grocery pickup had changed my life?
I've taken it one step further and drunk the grocery delivery kool-aid.
Our address in Arizona didn't have a Walmart grocery delivery option, but when I was placing my grocery order after we moved to Utah, I noticed that it did have a grocery delivery option here.
I had no intention of using it until one week when we'd been out of town and the idea of driving 20 minutes to the closest Walmart that did pickup didn't seem appealing at all when I was so crunched for time.
I decided that this ONCE I would pay the $10 delivery fee so I wouldn't have to leave the house (and actually, I had a $10 coupon for Walmart, so it was kind of free, although if I'd done grocery pickup, that $10 would have been applied to my groceries instead of the delivery fee).
And. . . . now I've done it every week for the past three months.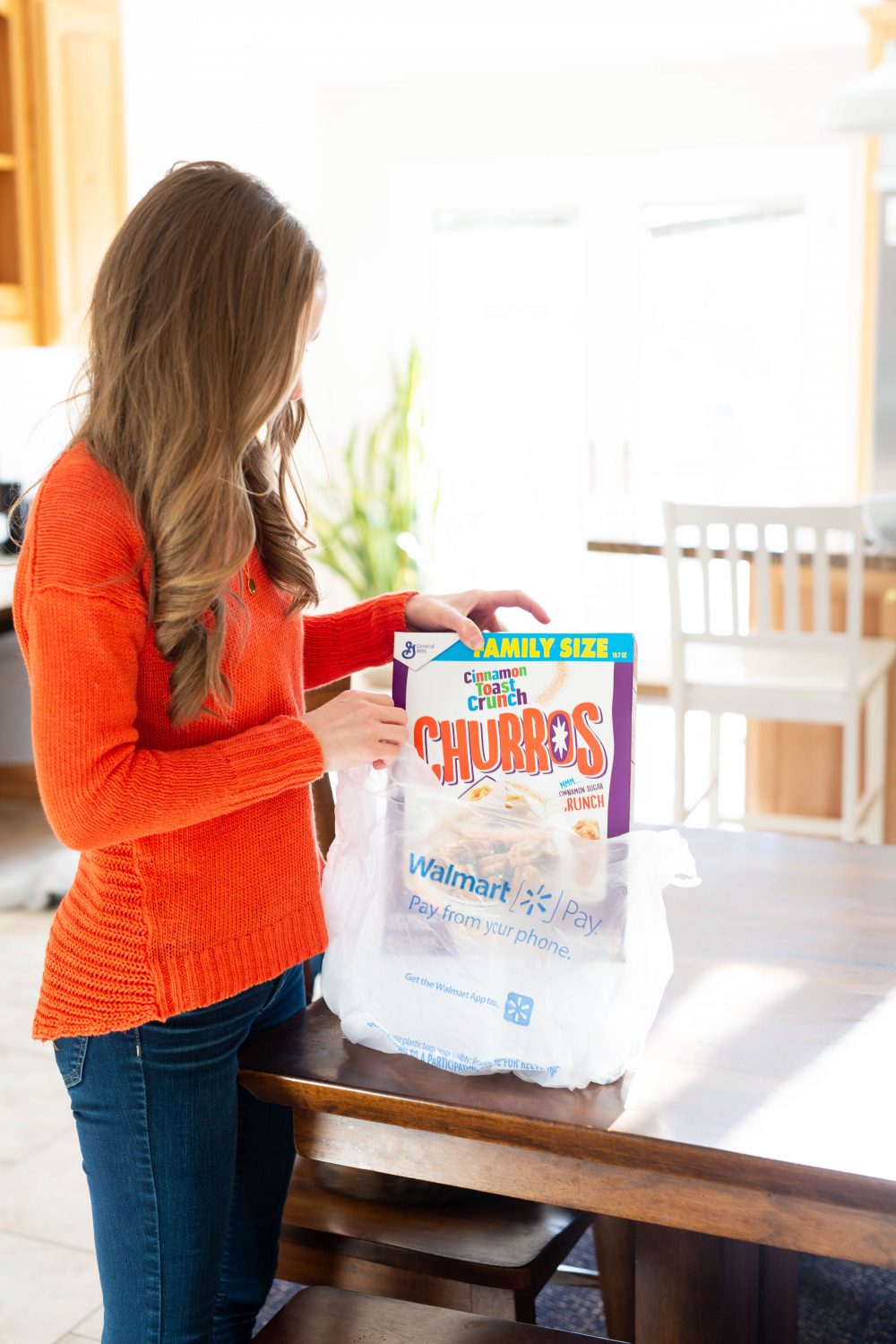 I just cannot overstate how convenient it is to have someone arrive at my doorstep with all my groceries. It doesn't take any of my time and I don't have to get four children in or out of the car. That seems worth $10 in my book.
Also, a couple of years ago, my mom mentioned how inefficient grocery shopping is – you walk around the store and put things in your cart. Then you take them out of your cart and put them on the conveyer belt. Then you put them back in your cart and load them into your car. Then you take them home and take the OUT of your car and put the groceries away. How many times can you possibly touch a box of pasta??!
Since then, it's been hard for me to not think about what a complete waste of time grocery shopping is.
Now, I sit down on Sunday evening, make up my menu for the week (which, thanks to my meal planning service takes about 5 minutes), put in my order and then it's delivered first thing on Monday morning. It's like MAGIC.
I mentioned to one of my friends that I was doing grocery delivery these days and she said, "I just can't understand how it took this long for grocery delivery to be a thing!"
Amen, sister.
Frankly, I've only tried Walmart grocery delivery so far, but I know that with Instacart and Shipt, you can do grocery delivery from Sprouts, Macey's, Smith's, Costco and Target. Since both of them offer free trials, I'm tempted to give them both a try.
Have you tried it? If so, I'd love which grocery delivery services you've used and if they felt worth the money to you!
P.S. If you haven't tried Walmart grocery delivery or grocery pickup, you can use my referral code for $10 off your first order.