I LOVE summer with my girls home and more relaxed time together.
I love more relaxed mornings, reading aloud in the afternoons, cousins and friends coming over to play, visiting the water park, and planning weekend adventures.
But to support all that relaxing, I also have to put summer routines in place to keep everything running smoothly so that we don't come home from the pool and have nothing to eat or that our house is a disaster that isn't fun to spend time in.
These six summer routines help keep me sane and more of a fun mom than I would be otherwise.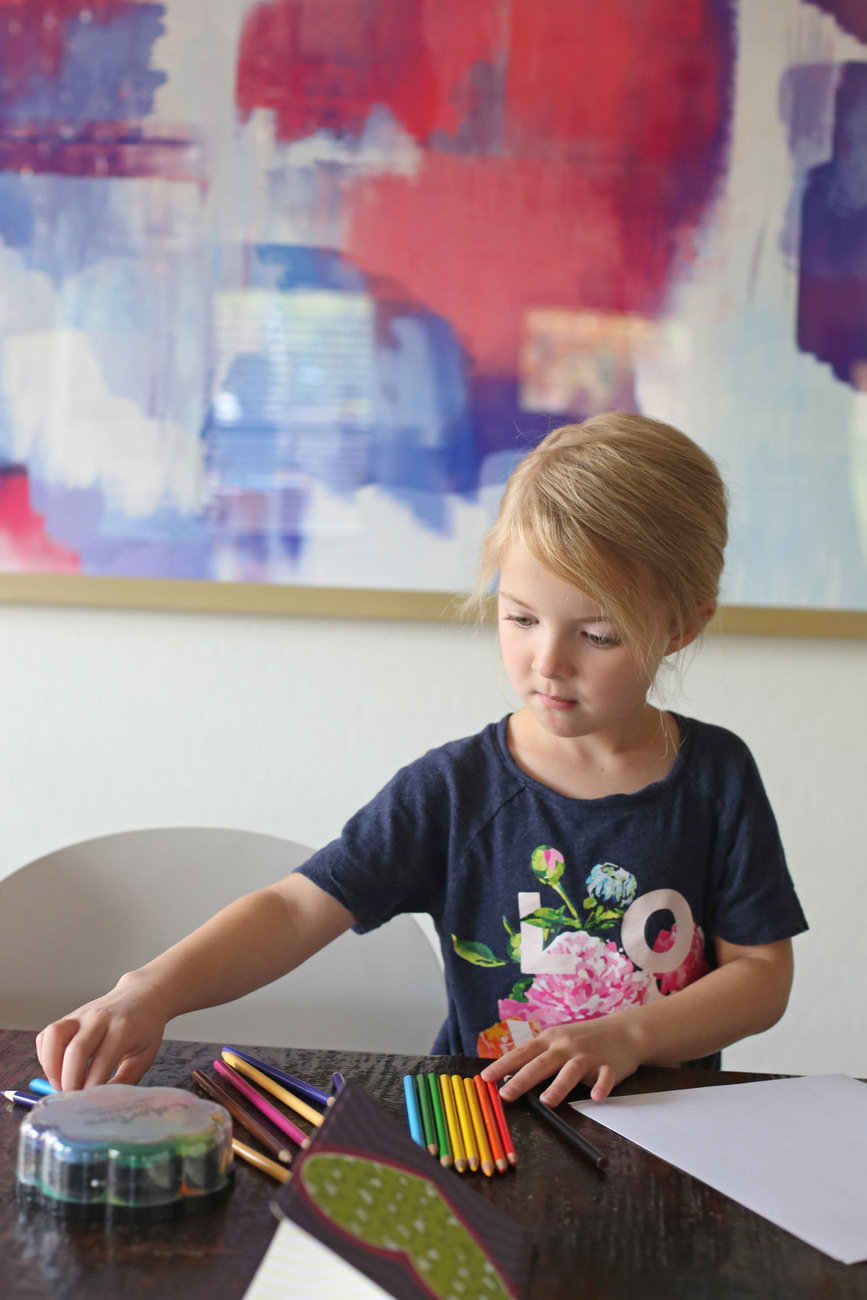 Six Summer Routines that are Keeping Me Sane
Monday grocery shopping. A good grocery shopping routine evaded me for YEARS but in the last couple of years, I've finally found a system that works for me. As part of my Sunday planning for the week, I make the weekly menu and grocery list and then place a grocery order for delivery first thing Monday morning. Then I've got things for every meal for the rest of the week, plus snacks for outings. This has taken SUCH a massive weight off of me and means there's actually something to make for dinner every night.
Daily house pick-up. I'm not one of those people who can just ignore a mess. I really need a pretty decently clean house to feel very happy, but I also don't want to spend my whole life cleaning or make my children feel like they can't really enjoy being at home. So I have dedicated time that we clean everything up. After dinner, while Bart does the dishes, the girls and I clean up the main living areas and get everything looking good again for the night, so that once the girls are in bed, I'm not spending my free time cleaning up the house. And when I wake up the next morning, I'm greeted by a clean home, which is basically my favorite thing and one of my favorite summer routines.
Friday pizza and movie night. I love Friday movie night – it's such a nice, calm end to the week and I don't have to think too much about dinner because it's the same every week (this is the best homemade pizza crust ever). Plus, because we don't watch a ton of television, it's totally thrilling to the girls to plop down in front of a movie as a family. And it's a great excuse to snuggle up with my girls on the couch. This isn't just one of our summer routines – we keep this up all year!
Saturday date night. It's a lot of kid time at our house right now, so going out without the children keeps me a little more sane. We try to plan something fun, but frankly just going out to dinner or to a movie or meeting up with friends feels hugely luxurious and a nice end to Saturday.
Monday laundry. I do NOT want to spend my whole summer doing laundry, so even with school out, I stick religiously to my routine of doing all my laundry every Monday. I throw in the first load the minute I wake up and then just keep everything cycling through all day long (one load of adult whites, one load of adult colors, one load of Tally's clothes, one load of Ani and Star's clothes, one load of towels, and one load of sheets). Bart and I put our own laundry away, and then the girls sort and fold and put away their clothing (and I help Tally too. Ella does her own laundry on a different day). It's so nice not to think about laundry for the next six days except for maybe a quick load of pool towels.
A weekly library visit. One thing that really rains on my summer parade is library fines, and I find it very hard to stay on top of my library books if we don't have a dedicated day to visit the library each week (plus, after a week, Ella's finished all her chapter books and the girls are all complaining that we've read every picture book ten times). Before we go, I renew all the library books and set aside books that need to go back to the library, then we turn them in, check out new books, maybe play with some games or toys, and go on our merry way.
What summer routines have kept you sane when you don't have the regular structure of school?
If you liked this post about summer routines, you also may find these posts helpful: