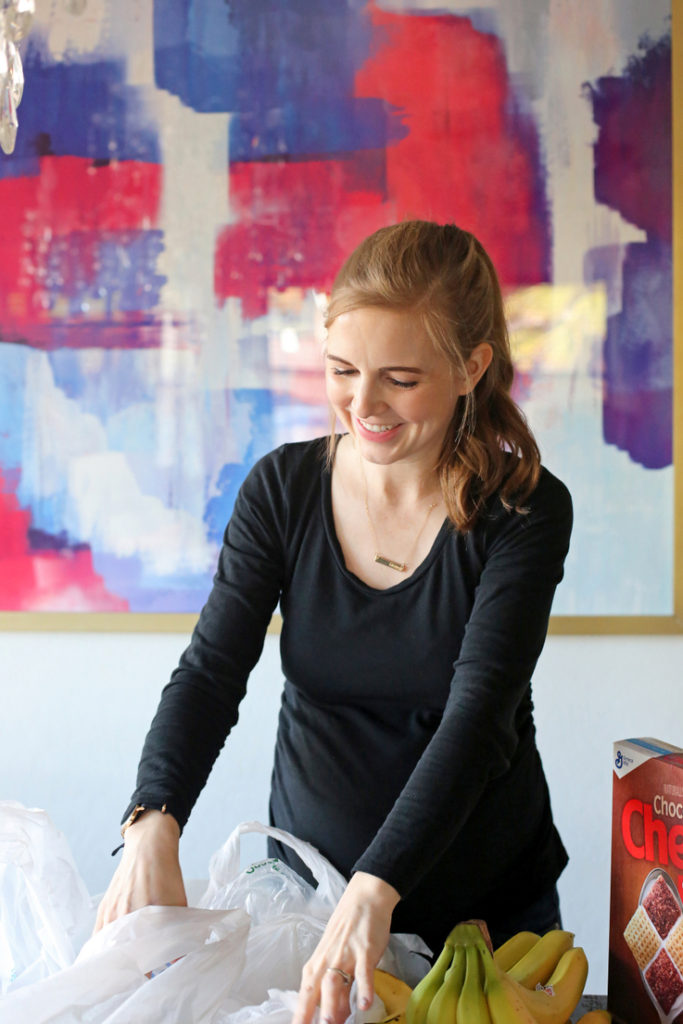 This isn't a sponsored post, but if you use my affiliate link for Walmart Grocery Pickup, you'll get $10 off your first order and I'll get a $10 credit too. Happy disclosed Monday. 
Grocery shopping is not one of my strengths.
I don't particularly love going and my inclination since we got married is to stretch out trips as far as possible until the fridge and pantry situation is getting quite desperate.
After Ella was born, and I was staying home with a very small child, I enjoyed grocery shopping more than I ever had because it was a way to get out of the house and productively use up an hour or two.
Even when Ani came along, I still was pretty consistent about going every week and I was really in a good groove.
But since we've moved to Arizona, my grocery shopping has just gone completely downhill.
Three children, apparently, was the straw that broke my grocery shopping camel's back. I could never do it in less than two hours from the time I made the list, to loading everyone up, driving to and from the store, and actually doing the shopping and then unloading it at home, and by the time I got home from the grocery store, I was never interested in actually doing any cooking.
Also, my mom off-handedly mentioned to me how inefficient grocery shopping is, since you go around the store taking all the items off the shelf, then you put the items on the conveyer belt, then you bag them all (at least at Winco, where you bag your own groceries – I appreciate the savings, but holy hannah do I hate bagging all my own groceries), then you put them back in the cart, then you load them into your car, then you UNLOAD them from your car, and then you finally put them all away in your fridge and pantry.
That's a lot of handling of your groceries to get them from the store to your home.
After reading a few sponsored posts about Shipt, which delivers groceries straight to your door, I looked into it, but not only was there a membership fee ($99 a year or $14 per month), but when I started making a grocery order with my free $15 of credit for signing up, the prices were through the roof.
I know almost to the penny how much every item I generally buy is, so even with the $15 off, there was no way I could justify an order of groceries that was 2-3 times what I would normally spend.
Plus, it was really difficult for me to find items in their system.
Then, someone mentioned to me Walmart's Grocery Pickup.
Walmart Grocery Pickup
Walmart grocery pickup has no membership fee, the pickup cost is $0, the food is the same price as in the store, and I could just pick it up while I was already out but not have to load or unload my children.
Having looked at Shipt, I was a little dubious, but I figured with a $10 off coupon, I'd at least give it a spin.
You guys, Walmart grocery pickup is now basically my favorite thing ever.
It's incredibly easy to use their website, the prices are excellent, and after my first order, they show me my frequently bought items so I can just go through and pick out the things I always buy like milk, eggs, yogurt, mini bagels, and apples.
And after I've placed my order, there are several hours to go back and add things you've forgotten (which I always have).
I schedule a time to pick it up (I usually try to time it when I'll already be out and about, say coming home from the library or after a doctor's appointment), check-in on the app so they know I'm coming (and what car I drive), and then when I pull in, someone comes out, loads my order into the car, and I'm on my way home with my groceries in five minutes.
I also love that if what you ordered is out, they'll sub a bigger version at the same cost (recently I ordered two small jars of salsa and got two enormous ones at the small-jar price instead, although you can also mark what items you won't accept a substitute for, if there is a certain brand you're committed to).
Because it's Walmart, you can grab tons of non-grocery items too. Last week, I added a makeup bulb brush to my order, and the weekend that we painted our door back in November, my Walmart grocery pickup order included a mini paint roller.
And so far, after several months of using it, I've been completely satisfied with the quality of my food, especially my produce.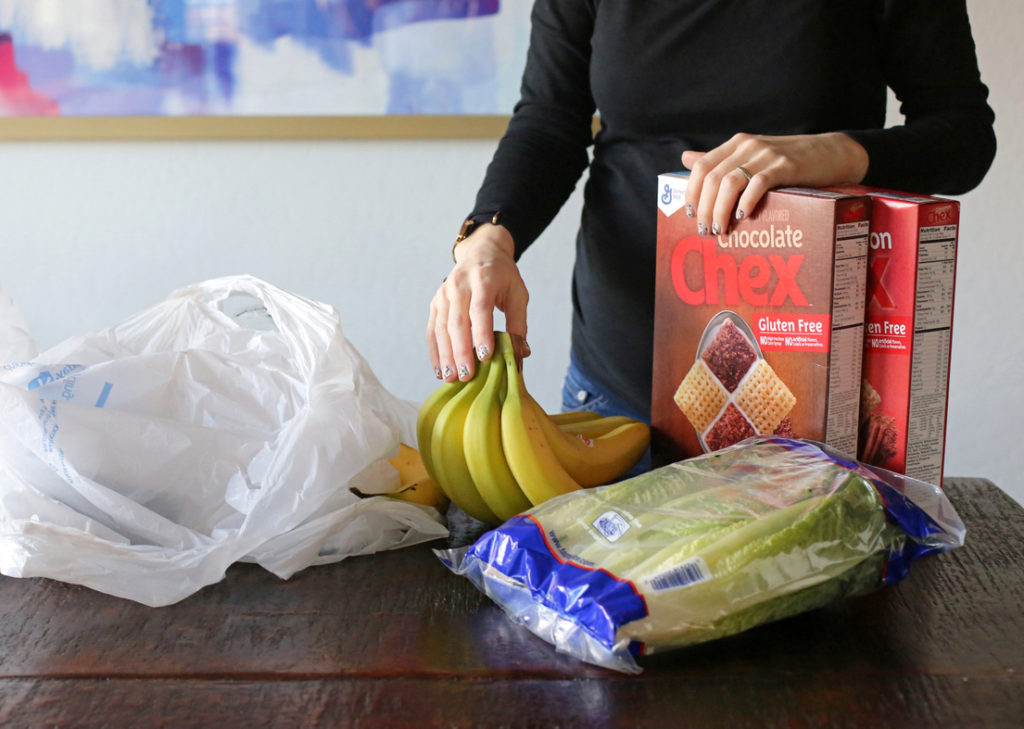 All of this is not to say it's a 100% perfect system.
Often there isn't same day pickup, since there aren't available pick-up windows until the next day, so you have to plan a little ahead – I frequently place an order Friday night and then pick up early on Saturday morning.
And the minimum order is $35, so it doesn't work if you just need a gallon of milk and some dish soap.
Plus there is a learning curve for figuring out how something is per pound. For instance, I never weigh my bananas – I just grab an appropriate-looking amount and go. The first time I ordered bananas from Walmart grocery pickup, I ordered a pound and. . . that was two bananas.
And I'm a pretty religious reusable bag user, so it bothers me to have so many plastic bags (and to have to remember to return them to a recycling station).
I don't exclusively use it, since sometimes I really need groceries NOW or sometimes I want to go to Winco and stock up on the plain yogurt they sell, which I prefer to any of the brands Walmart carries, or get a bunch of oats or chocolate chips or nuts from the bulk section or the insanely good sourdough bread that Winco sells.
But at least 50% of my grocery trips now are through Walmart Grocery Pickup now and it has seriously reduced my grocery shopping stress level. To be able to fill up our fridge without a two hour excursion accompanied by an almost-two-year-old who doesn't want to stay in the cart is like magic to me.
The first time I used it, I came home with my groceries, put them away, and I still had the energy to actually make a meal afterward, instead of feeling like I'd completely exhausted all my willpower just procuring the food.
(And then I texted my mom and sisters approximately 40 messages about how insanely awesome Walmart  grocery pickup was).
On our way home from Las Vegas after Christmas, I knew we were coming home to a very bare fridge and pantry, so I made an order for Walmart grocery pickup through the app as we drove, and the next morning, I went and picked it up and voila!
Food again.
I'm not really a grocery impulse shopper, so I don't feel like it particularly saves me a lot of money, but I know lots of people have commented on how much their grocery costs have gone down because they get what they need and not a bunch of extras that catch their (or their children's) eye as they go down the aisles.
I'd been feeling so much dread about ever grocery shopping again once this new baby was born, since I wasn't even managing with three children, but after I used this for the first time, I felt like a little weight was lifted from my shoulders.
Walmart $10 off grocery pickup
And not only can you get $10 off your first order (just go through my link here for the Walmart $10 off grocery pickup), once you've signed up, you can share your personal code with friends so THEY get $10 off their first Walmart grocery pickup order and you'll get $10 of credit toward your next order.
You can only use one $10 credit for each Walmart grocery order, but since I'm buying groceries every week anyway, getting basically a free $10 worth of groceries each week feels like a big bonus on top of an already great little service.
I've heard that other stores are adopting this pickup system, like Fry's Clicklist (which is the Kroger brand in our neck of the woods), and I'll probably try that one out too, since Fry's is a little closer to my house than Walmart and I like the Kroger store selections quite a bit.
Now if only Winco would adopt it, I'd be a completely happy camper (but since they don't even bag your groceries for you, I'm not holding my breath).
Have you tried the free Walmart grocery pickup or Fry's Clicklist or another grocery pickup service? Anyone else feel like it's the BEST thing ever?
If you liked this post about Walmart grocery pickup, you might also enjoy these posts: