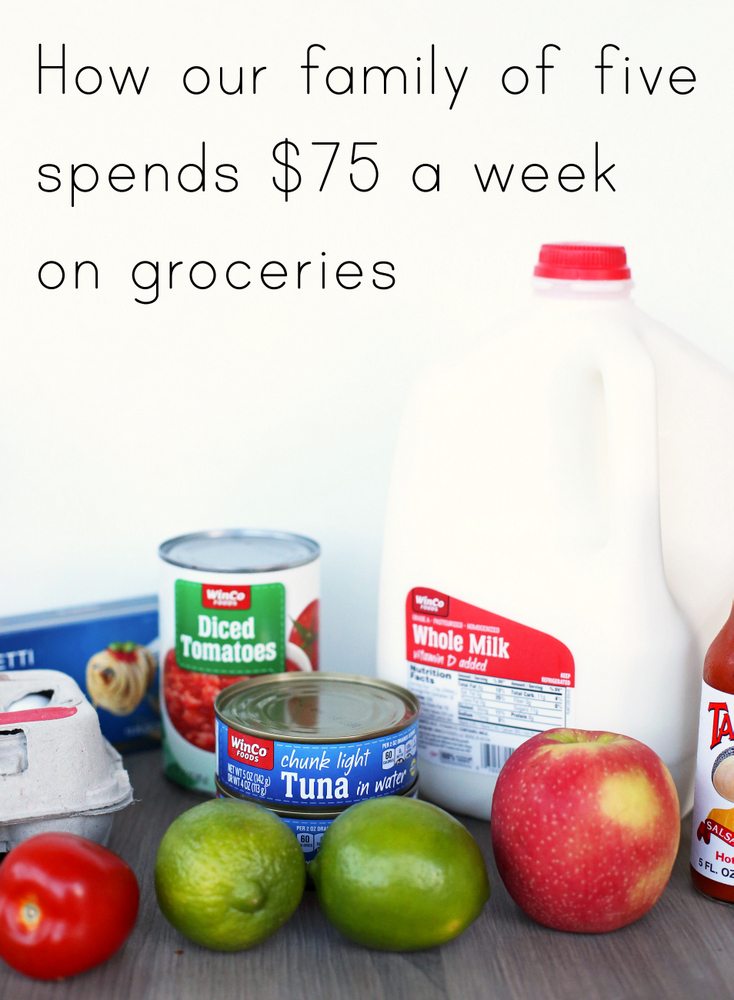 A few months ago, I wrote about my experience with Blue Apron, and in that post, I said that one of the main problems for me was how expensive it was.
Usually, I said, our weekly grocery bill for our family of 5 is around $75. And tons of people asked about how I keep our food budget so low.
I had big plans of showing menus for a month along with my grocery bills, but then right after I wrote that post, we started getting ready to move which means our grocery bill dropped like a rock since we were trying to use up everything in the fridge and freezer, and then when we arrived at our new house, our grocery bill skyrocketed for about six weeks while we slowly built back up our fridge, freezer, and pantry stockpile.
Last week, when I went to the grocery store, my bill came out to $64, so I feel like we're basically back on track. I can't FIND my receipt from that grocery trip (yes, I'm basically a paragon of organization over here), but here's what our dinner menu for the week and what I had to buy for it:
My parents were coming for the holiday weekend, so I bought a few extra things for lunches, including a new loaf of bread, some sliced turkey from the deli, and a bag of chips.
I know food budgets and eating styles vary drastically from family to family, but here's what works for us and keeps our food spending in check.
Also, the bad news is that none of this is groundbreaking. It's kind of like when you hear that the way to save money is to spend less or make more or both.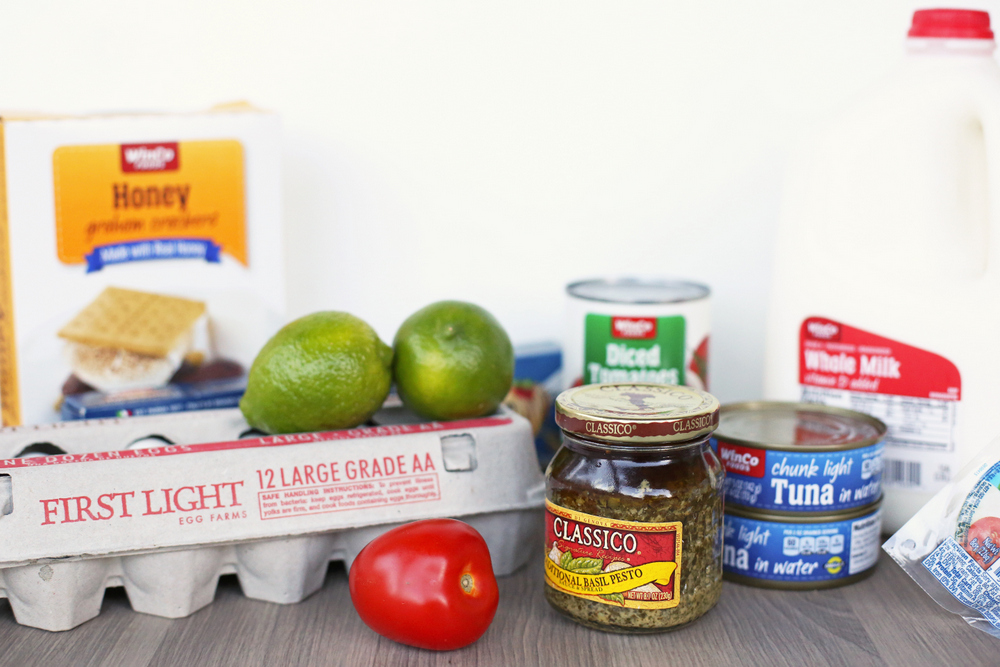 how to keep a low grocery budget
Meal Planning is KEY. You can tell from this week's menu that I don't always make everything on the menu. Sometimes the afternoon gets away from me and we have pancakes instead. Or I warm up a can of beans and make vegetarian tacos. I know people hate meal planning (one of the most popular things I share on Instagram are my weekly dinner menus). It doesn't have to be fancy, but planning out what you're going to eat every night for dinner is going to save you so much money. And also mental stress, too, which is worth a lot in my book.
Keep breakfast and lunch simple. Most of our food dollars go to dinner, and we keep breakfast and lunch pretty streamlined. I buy oatmeal in giant containers or bulk and my girls have that most mornings. Sometimes they have cold cereal and I either buy something on big sale or the off-brand version (I also don't buy sugary cereals – think Chex (my favorite), plain Cheerios, or Kix). I have homemade granola with plain yogurt (which I also buy in large containers) and sprinkle with some cashews (bulk section) and some mini chocolate chips. Bart has a muffin, which I make a batch of every two weeks. Bart and the girls have pretty simple lunches (fruit and veggies, pb&js, string cheese, reusable pouches of yogurt or applesauce, and some pretzels). Save the more exciting breakfasts for the weekends.
Keep your dinners simple. I don't have the time or interest in making complicated meals most nights for dinner. I try to find recipes that don't have too many ingredients (like these 5 ingredient recipes) and I don't pick recipes that use tons of ingredients I'll have to buy new. I'll look specifically on Pinterest for things that use up ingredients I have that are perishable, like feta cheese or bell peppers or zucchini or whipping cream. For side dishes, I usually just do fresh fruit and a salad or sautéed vegetable. Maybe biscuits or garlic bread. I'm not saying dinner has to be boring – I try lots of new recipes – but if you're staring down the barrel at a 90 minute dinner recipe on a Tuesday night, chances are good you're going to bail.
Skip or substitute obscure or pricey ingredients. Spices are a killer here. Thanks to Winco, I can usually buy spices from the bulk section (I love that about Sprouts, HEB, and Whole Foods too), but if you don't have that available to you, don't spend $4 on a bottle of smoked paprika. I keep seeing recipes with that ingredients and I keep using my regular paprika I bought for $1. If you need 1 Tablespoon of something, Google a substitute or just leave it out (blog secret: I almost never use fresh basil because it's so expensive and I haven't gotten around to planting my own and I'm not CRAZY about basil, although I like it fine. If you see a recipe of mine with optional basil on it, I've almost always just slivered some spinach leaves for a pop of color in the photos. If you can no longer trust me, I understand). If a recipe calls for a cut of meat that's way more expensive than a similar one on sale, I go right ahead and swap it for the cheaper one.
Make a grocery list. No good has ever come of walking into the grocery store without a shopping list. You'll buy things you didn't intend to and forget things you did intend to buy, and then you're back at the grocery store the next day to do it all over again. Figure out a system that works for you (I divide my grocery list into six parts (produce, meat, dairy, frozen, dry/can, and misc) so I don't miss a fruit I needed that was hidden between two dairy items) and stick to your list. I am pretty firm about not buying things that aren't on my list unless I see something I legitimately meant to have on the list.
Don't buy things with coupons (or on sale) that you wouldn't have bought anyway. I'm guilty of this too, but if you wouldn't have looked twice at some fancy yogurt or diet drink, don't buy it just because you have a coupon. $1.00 off of a $3.00 item is still $2 you didn't plan to spend. And $2 adds up fast.
Don't go to the grocery store too often. I am fairly religious about only going to the grocery store once a week. If I forgot something, I deal with it. If we run out of milk a day before shopping day? We can drink water. I Google a substitute, skip that ingredient or eat something else. Every extra time you swing by the grocery store, your budget will suffer.
Is a warehouse store really saving you money? I was just listening to The Kitchen Counter Cooking School (it's excellent) and she talked about how many of her nine students bought things in bulk and then couldn't use them up before they went bad, meaning they didn't save money at all. We have a Sam's Club membership because my parents have a business one and they've added all of us on. I go every couple of months and buy only the things I absolutely know are saving me money (butter, string cheese, goat cheese, and baby wipes, basically).
Go to one grocery store. Grocery shopping is kind of a THING for me, what with three small children, so I'm definitely not looking for ways to do more of it. And I find that when I go to multiple stores in order to take advantage of sales, it doesn't really save me that much money because I end up buying more. Plus, gas and the gigantic hassle. I've just given myself permission to not try to save 50 cents on yogurt by visiting two stores. If your store price matches, all the better, but honestly, I've never done it.
Go easy on the expensive things. Milk is actually super cheap here (less than $2/gallon), but I'm amazed at how much people spend on milk. We buy about three gallons a month – my girls eat it on their cereal and occasionally with graham crackers for a snack, plus I cook with it when needed. I also almost NEVER use more than one chicken breast in a recipe. I'd rather bulk up with vegetables because they're healthier and also way cheaper (zucchini for 88 cents a pound? Win).
Buy VERY few snacks and fun foods. As I was reading the comments and emails from the Blue Apron post and looking at my own grocery budget, I realized that one of the main things that keeps my bill down is that I don't buy many fun foods. We eat pretty basic foods around here. Anything fun we do eat is almost always when it is on killer sale (like when Capri Suns were on sale for 98 cents for a box of ten) or I buy it in the bulk section. I don't buy fruit snacks or many chips (in large part because I could eat ALL the chips in the store), cookies or single-serve packages, or fun cereal. I know this is not a fun answer, because I love new and exciting snacks and food as much as the next person, but if you're really serious about bringing down your grocery bill, the sodas, the packaged foods, and snacks and treats will make a huge dent in your bill right away. This definitely means we are the least fun house in the world to babysit at.
Try SO HARD not to waste food. The worst thing is to pay for food and then bring it home to rot. I eat leftover for lunch most days and if stuff starts to build up over a few days, we have leftovers for dinner (this may not be the most popular night of the week, but. . .I frankly don't care. I'm not interested in throwing away food, and I find that it's usually not as horrible as everyone anticipates leftovers being. And if you don't LOVE dinner one night of the week? Too bad. I am a mean mom/wife). I try to freeze stuff before it goes bad, like tablespoons of tomato paste so I don't have to buy a new jar every time I need 1 Tablespoon, or blocks of cheese.
Eat similar kinds of things so you don't end up throwing things away. We have pizza every week, so I'm never throwing away pepperoni that's been sitting in the fridge for six weeks or a moldy block of mozzarella. We eat salad several nights a week, so it's rare for a head of lettuce to go bad. I don't have just ENDLESS variety of foods that don't get used. I have no problem buying a quart of buttermilk because I use it all the time, so I know it will get finished.
I would love to hear how you keep your grocery bill low without subsisting on ramen. And if you have questions, I'm happy to try to answer.