Last year, one of my 2018 projects was to commit to 6 months of a meal planning service. 
I know there are a million choices out there when it comes to a meal planning service at every price level and serving every kind of diet, but I chose Sweet Peas Meals because the price was reasonable, the meal planning service was developed by two bloggers that I'd followed for years and had really good success with their recipes (How Sweet Eats and Two Peas and Their Pod), and it seemed like their recipes would be straight-forward to make, healthy, delicious, and things my children would (mostly) eat.
(Gretchen Rubin talks about people being either Maximizers or Satisficers – Maximizers want to look at every possible option before making a choice, where as Satisficers look until they find a good enough option and move forward with it. I am definitely a Satisficers. I don't want to spend half my life researching and once I find something that seems like a good choice, I'm going to stop spending time and energy looking at everything else).
Signing up for this meal planning service turned out to be one of the best decisions I made in 2018. I wrote a whole post about it here after a month or so with tons of answers to the questions I'd received, and more than a year later, I'm still a very happy paying customer.
It made my life a thousand times easier during our move to Utah and while we lived with my in-laws and my mother-in-law and I switched off cooking dinner, I got lots of rave reviews about the various dishes I made from Sweet Peas Meals.
The main thing about using a meal planning service for me is that it reduced the time I spent planning meals by nearly an hour a week. I just plugged everything into my grocery order (I've converted fully to grocery delivery in the last few months) and I had everything to make dinner every night. The mental load it reduced for me was enormous.
The other thing about Sweet Peas Meals is that I was blown away by how good all the dishes were. In a year, we truly only had one meal we didn't really care for and that was because it was a stir-fry. . . and I hate stir-fry. Always have, probably always will.
I also like the meal prep suggestions each week. I don't always do them, but on the weeks I do take a little time to prep, it makes dinner even easier.
Mostly, it made cooking feel fun for me again, which I hadn't experienced in years. I love to cook and try new recipes and I was just so sad that it had really dropped out of my life and become mostly a chore. I committed to just making exactly what they told me to each week, and it really helped expand our family dinner rotation, even when I was dubious if we'd really like something.
I thought it'd also be fun to share some of my favorite recipes we discovered this year using Sweet Peas Meals so if you're considering signing up, you can get a feel for what kinds of recipes they offer.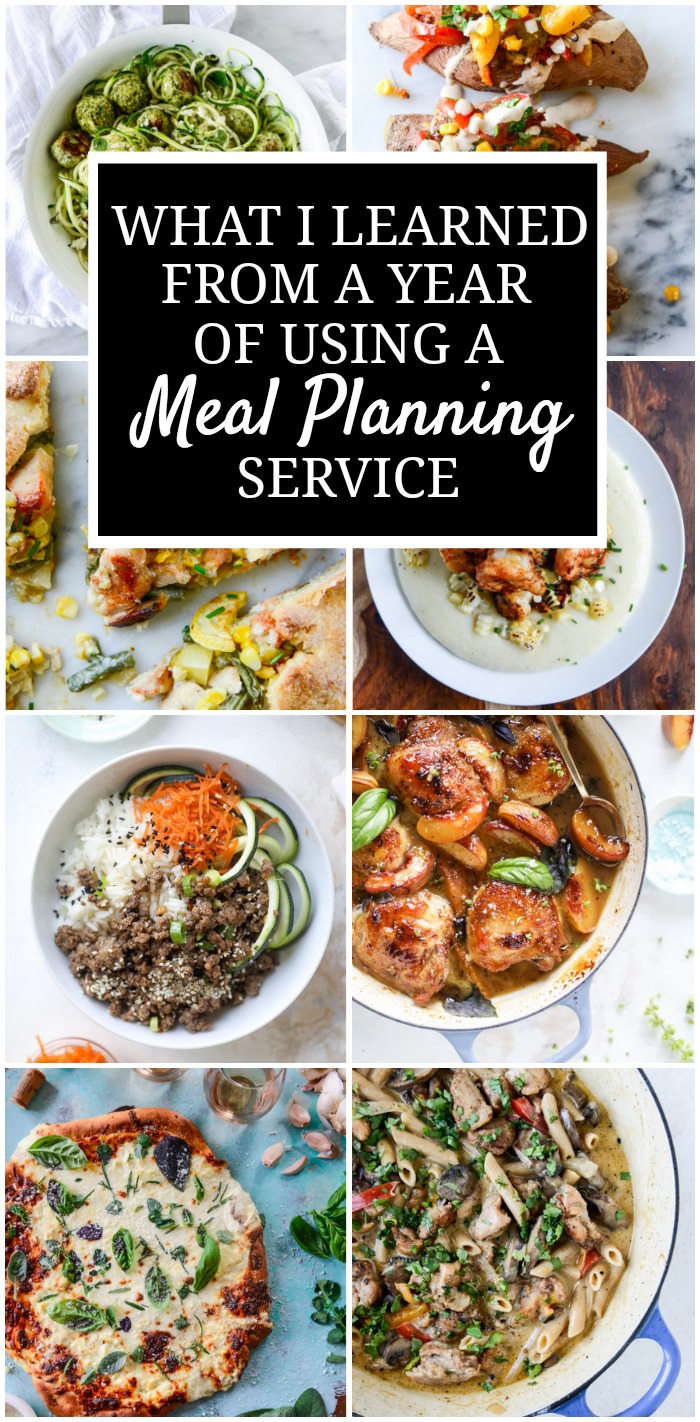 Our favorite meals from our Sweet Peas meal planning service
Mini Chicken Feta & Spinach Meatballs with Zucchini Noodles
I actually don't own a spiralizer so I borrowed one from my neighbor and this was easily one of the most popular meals I made all year – my girls LOVED it and Bart mentioned multiple times that he could eat it every night (this is a total lie – he loves variety at dinner and rarely wants to eat the same thing more often than every three months).
Korean Beef Bowls
This one came late in the year and was one of the first recipes I made in our new house and it was SO delicious (although I'd slightly reduce the sugar next time) and felt so good to be eating dinner around our own table again. We added fried eggs to the top because. . . why not?
Gouda Grits with Smoky Brown Butter Shrimp
I don't know that any of my children had had shrimp before last year, but now we've had them quite a few times over the course of using Sweet Peas meal planning service (if you don't like shrimp, they always have recommendations for what to use instead) and it turns out all my children like shrimp. I made this recipe multiple times during the fall because it was so tasty and so easy.
Creamy Cajun Chicken Penne Pot
I'll admit that I'm not a huge pasta lover, so for a pasta recipe to make this list, you know it's going to be good. This one was bursting with flavor and I enjoyed every second of eating the leftovers. I went lighter on the cajun seasoning so it wouldn't be too spicy for my kids.
Veggie Fajita Stuffed Sweet Potatoes
I actually hate eating a whole potato (sweet or regular) because it feels like so much effort to me (I'm a very lazy eater). So I peeled and diced the sweet potatoes and then roasted them and served them that way. Delicious and much easier for me and my children to eat.
One-Pot Peach Basil Chicken
There is an orchard in Provo that sells the most amazing peaches in the summer and I bought a huge box of seconds and made this dish a couple of times. It's summer in one pot.
White Pizza with Garlic Sauce and Fresh Herbs
I make pizza every Friday night and I loved all the new varieties of pizza we tried over the last year. This one was a big hit and fun because I'd never made a white pizza before.
Summer Chicken Pot Pie Crostata
I made this about six months ago and I'm still dreaming about it. I bought pie crusts to make my life easier and it was crazy delicious. I can't wait for summer vegetables to come back so I can make this again.
One extra bonus of Sweet Peas meal planning service this year was having so many of you cook along with me – it was so fun to swap thought about different recipes and cook together many evenings.
If you'd like to try out Sweet Peas Meals yourself, you can use the code Janssen20 at checkout for 20% off any order!
If you liked this post about my experience with a meal planning service, you might also enjoy these posts: