The first time I made this dish, it was a pathetic effort to try and use up the many almost-rotted foods in our fridge. An ignominious beginning, to say the least.
And then it ended up being one of our favorite dishes. I've made it several times since then and every time it's a huge hit, with the leftovers being devoured within a day or two. Also, I made it for some friends when they came for dinner and they asked for the recipe. So I'm calling it a smashing success.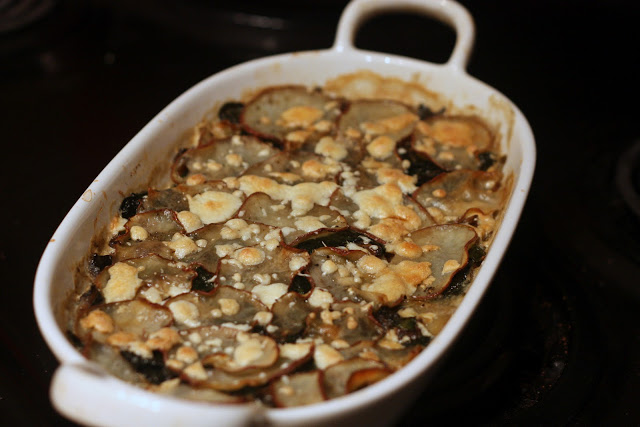 Potato and Greens Gratin
Ingredients
1

T

olive oil

1

bunch chard

stems separated and chopped and leaves sliced into ribbons (or you could use onions and spinach instead)

1 - 2

cups

chopped mushrooms

depending on how much you like mushrooms

3

medium - large red potatoes

Salt

preferably kosher and freshly ground black pepper

1

cup

half-and-half

or cream, mixed with some milk (I've done just milk and it's still tasty, but I like it to not be so runny).

3-4

ounces

goat cheese

crumbled

2

T

butter
Instructions
Preheat the oven to 350°F and grease a 9x9 or 6x9 pan.

Heat the olive oil in a large frying pan and, when hot, add the chard stems. Let cook for 5-8 minutes, until somewhat soft.

Add the mushrooms and let them cook for about 3 minutes, stirring occasionally. Add the chard leaves and cover, letting steam for about 3-5 minutes, until the chard is cooked down.

While the mushroom/chard mixture is cooking, slice the potatoes as thinly as you can (I aim for about the width of a credit card, although a little thinner or thicker is fine too).

Remove the mushroom/chard mixture from the heat and drain off any excess liquid.

Arrange a third of the potatoes in the bottom of the baking dish in a single layer, with the edges overlapping slightly. Sprinkle the potatoes with salt and pepper (and be generous).

Spread half of the mushroom/chard mix on top of the potatoes and then sprinkle a third of the goat cheese on top.

Repeat the potato, salt/pepper, mushroom/chard, goat cheese layers and finish off with a final layer of potatoes and salt/pepper.

Pour the half and half over the top of the whole thing. Reserve the last third of the goat cheese.

Dot the top of the gratin with butter and bake for 30 minutes. Remove the gratin from the oven, press the top down with a spatula to keep it from drying out and return to oven for 15 more minutes. Sprinkle the remaining cheese on top of the gratin and bake for a final 15 minutes. When the potatoes are soft and the cheese on top is melty and golden-brown, it's ready to go.