Twelve years ago this month, Bart and I flew to Chicago to spend about five days with his aunt and uncle.
We'd only been married a few months and we were both full-time students with pretty much zero money.
We lived in a tiny one-bedroom apartment with cinder block walls, an oven that didn't work, and carpet that was approximately as plush and soft as your average brick.
Bart's aunt and uncle lived in a gorgeous three story home that was beautifully decorated and, more importantly, welcoming and cozy.
We had the best time with them and they treated us like royalty, taking us out to eat, playing games at night after their boys were in bed, and finishing the trip off with an evening in downtown Chicago seeing Wicked.
It all felt about a million magical miles away from our regular life and that trip is still one of my favorites we've ever taken.
One afternoon, Bart's aunt took me along with her to Target where she was picking up a few items and she made a comment I've never forgotten.
She said, "I like things to be a good mix of Nordstrom and Target."
I've thought of that comment many times over the years.
She was specifically talking about clothing and accessories when she made that comment, but especially since we moved into this house, I think of it every time I'm making decorating decisions.
It's the mix, I think, that makes things really nice.
There's the mix of retailers – I try never to use to many things from one source when I'm decorating.
There's the mix of cost – I usually try to have one or two things that are a bit nicer, paired with more budget-friendly picks.
And my favorite is the mix of new and old things.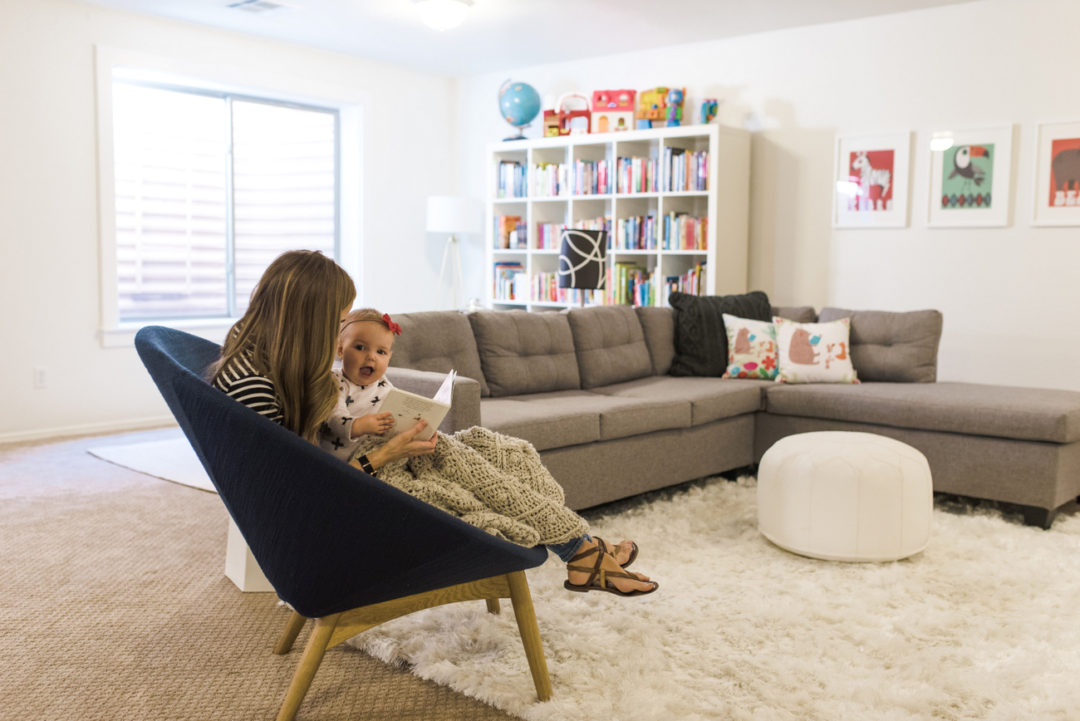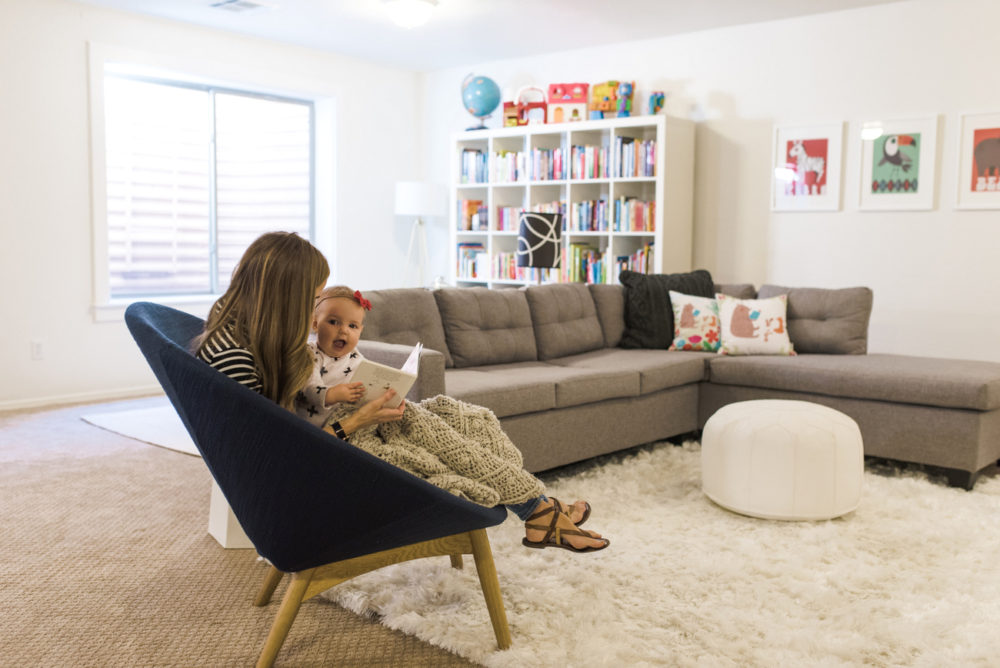 As we've gone room by room in our home, we've purchased quite a few new items for each space and I've loved those new pieces.
But what really makes them feel special to me is combining those beautiful new items with older things, particularly ones that have sentimental value to me.
For instance, my favorite item in our basement is the blue chair. I love the modern lines of it, the rich navy color, and that it's big enough to snuggle in with one of my girls.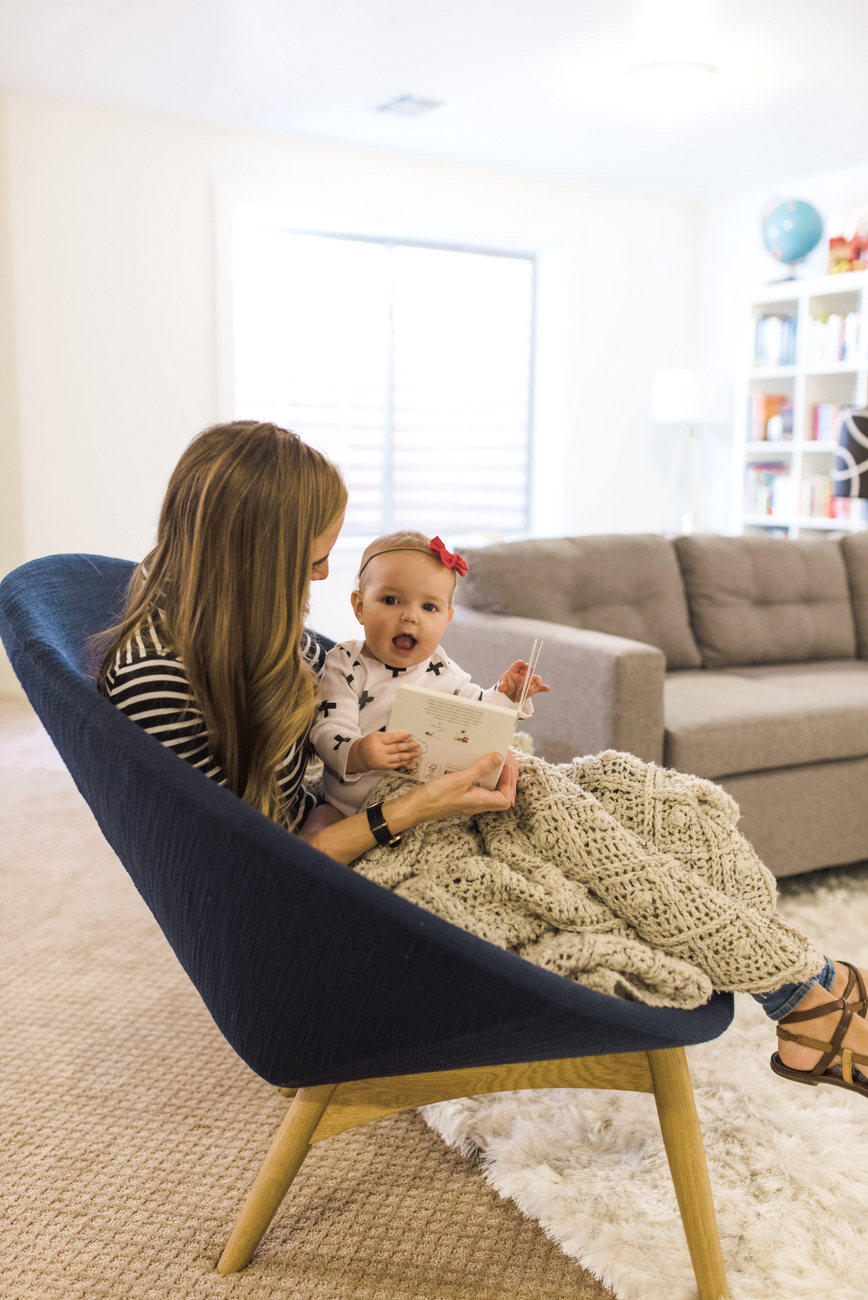 But I like it even more with this beautiful handmade afghan my aunt made for me when I graduated from high school.
That blanket sat on the bottom of my dorm bed my first year in college, keeping me warm as I experienced my first real winter in Utah.
Later, it was a permanent fixture on the couch in our living room in Boston and we spent many evenings snuggled up on the couch, watching Little Dorrit.
Now it keeps my girls, who always want a blanket, cozy as we read together or watch a movie.
Similarly, the bookcase in my office is an inexpensive IKEA piece we bought back in 2010.
But it holds my beloved (and in my mind, priceless) set of the Little House on the Prairie collection that my mom checked out from our tiny Wisconsin library and read to me when I was five and six. A year or so later, the library replaced the set with a new one and my mom bought that discarded hardbound set from 1953 for a quarter a book.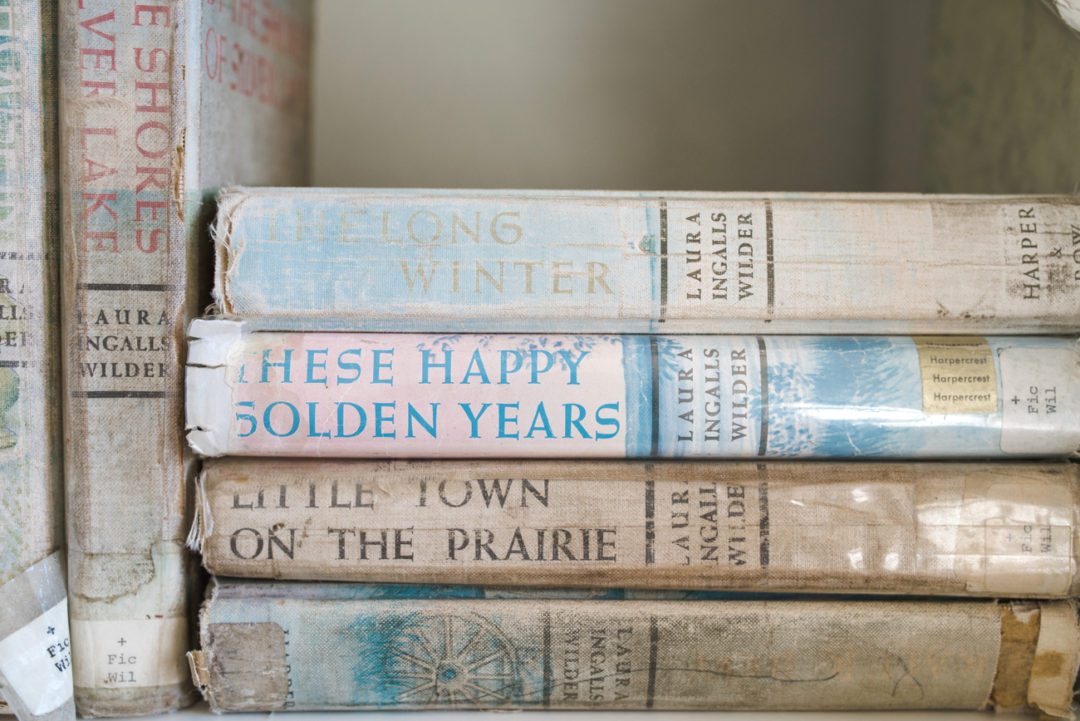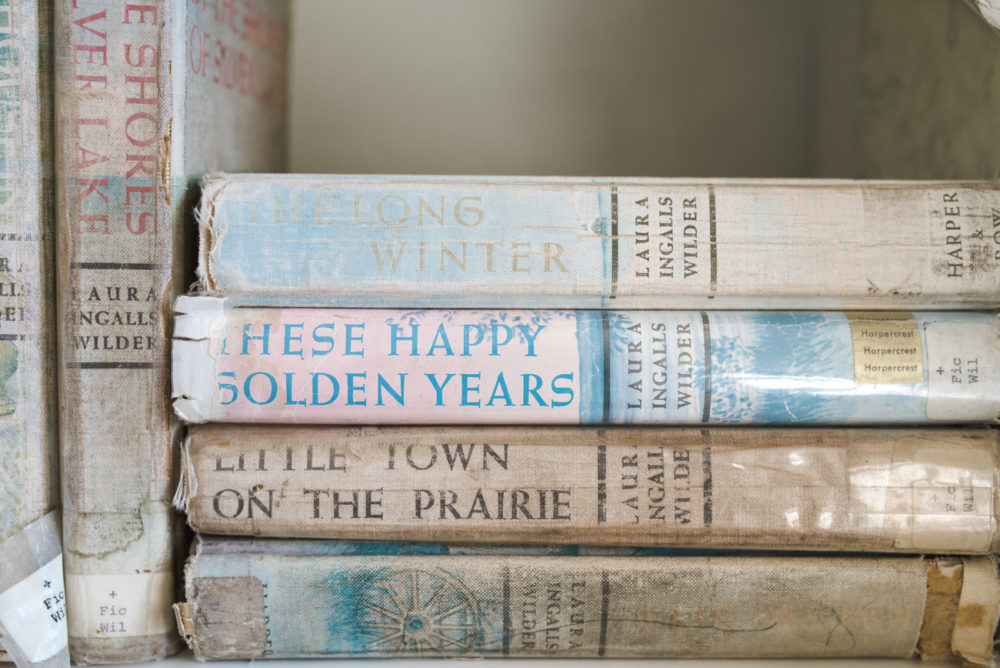 I re-read that series many times throughout my childhood and about eight years ago, my mom gave the whole set to me.
Last year, Ella and I read the first half of the series together and it was one of the moment I'd looked forward to for two decades.
We bought new bedding for Ani's room a few weeks ago, but we finished the bed off with the blue quilt my aunt made as a wedding gift and which was probably the nicest thing in our first apartment.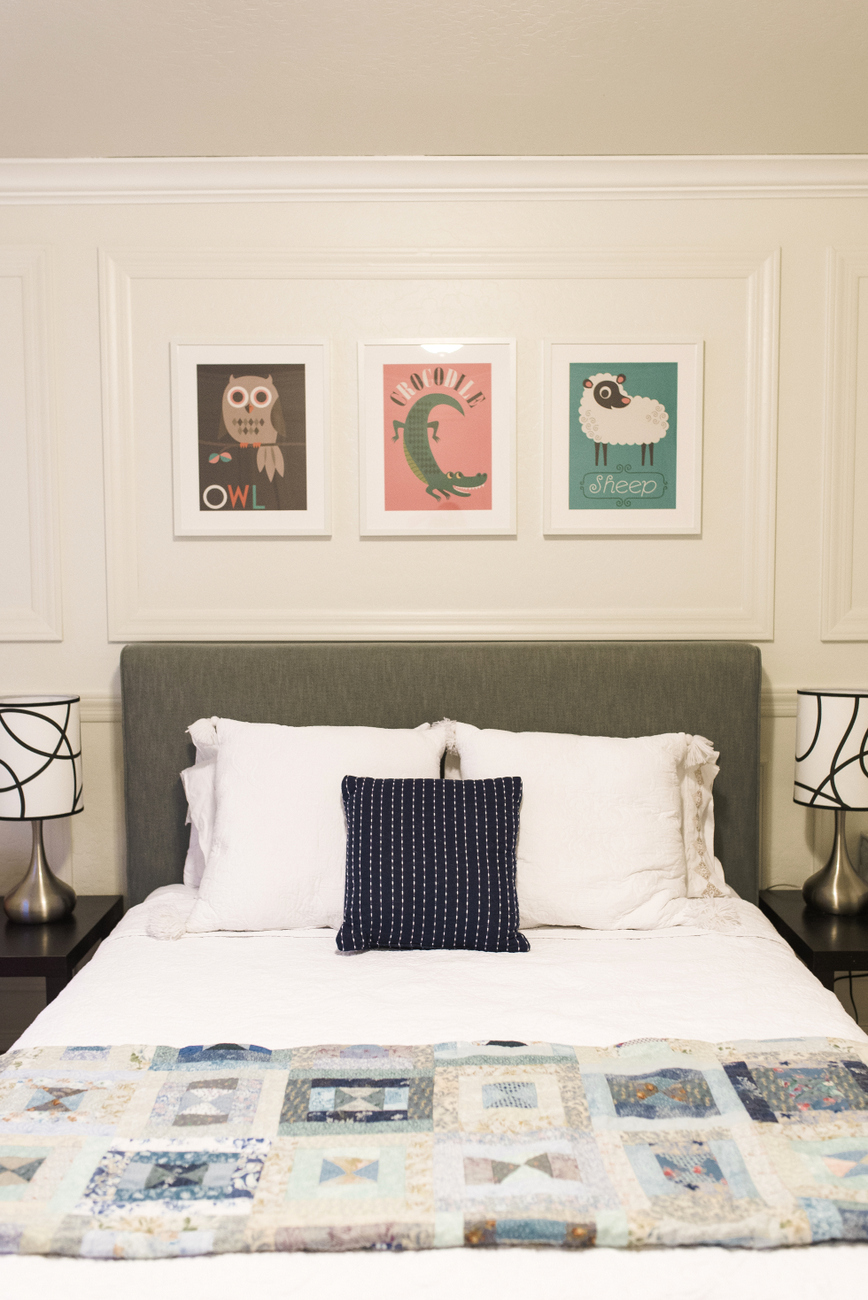 Ella's bedroom also got a new bed set, but my favorite thing in her room is a small newborn portrait my sister Merrick painted of her and gave to us when Ella was blessed.
Of course I love the new things in her room, but those personal touches are what makes that room feel really special to me, paired with those new furnishings.
When we have a holiday meal, our stemware cost about $8 from a discount store.
But our china was a wedding gift from Bart's parents, who bought it at the Wedgwood factory in England when they visited a few weeks before we were married.
Talk about mixing high and low.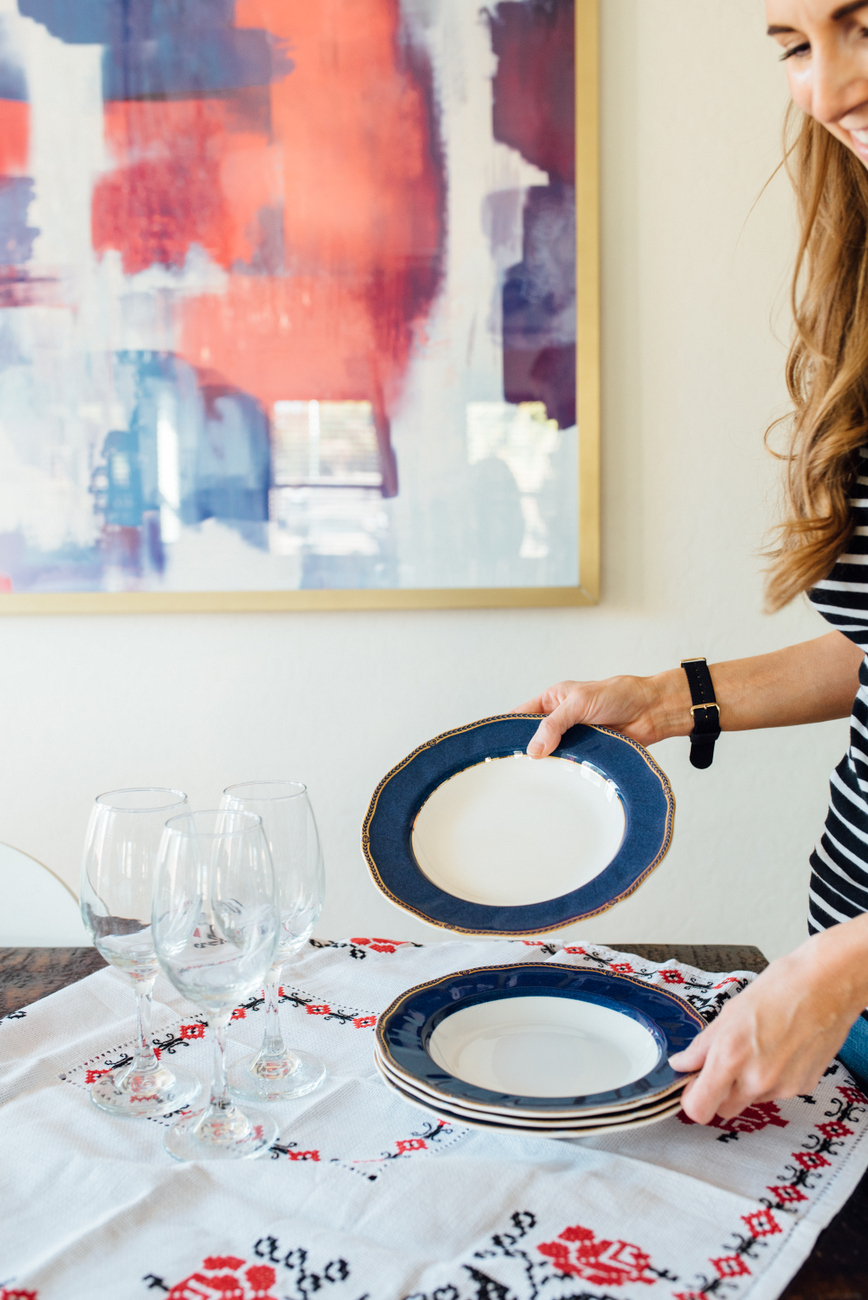 As we finish off each room, I try really hard to make sure that, paired with the new things, are some of our most precious and well-loved possessions that have special significance.
I want our house to feel like our home, with plenty of of personal touches, rather than something lifted out of a store display.
I love those pairings that make our house feel unique and loved and full of memories.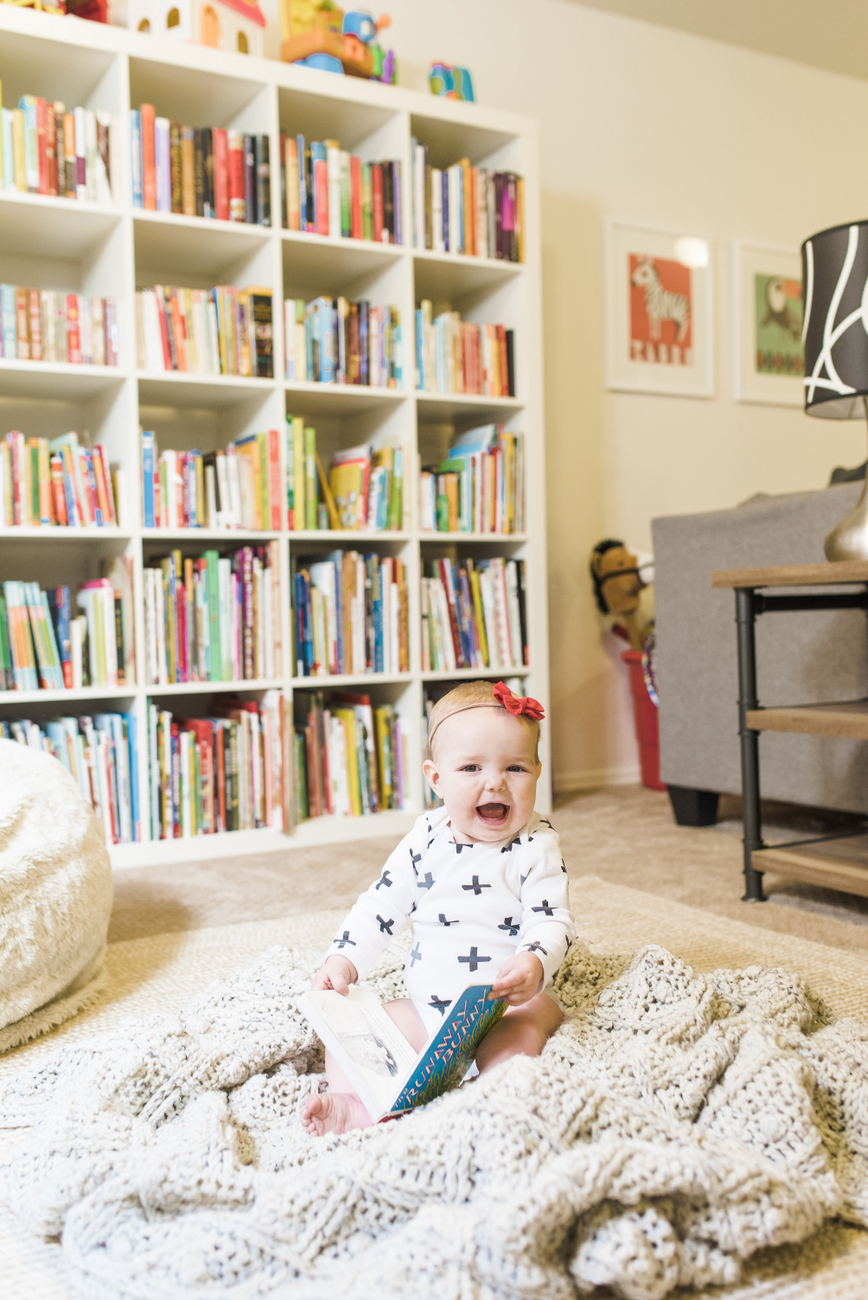 I wouldn't want a home where everything was fifty years old or handmade, but it's the combination of new and old, high-end and budget, purchased and handmade that make this feel like a home to me.
And for any items that you  love, the perfect combination is your most precious belongings and insurance that protects them.
The Cincinnati Insurance Companies have built their business over the years by putting people first, and helping protect the things that matter most to you, whether it's a vintage car, a collection of photos, or anything else you love and want to keep safe.
You can find an insurance agent near you and learn more about The Cincinnati Insurance Companies.
And I'd love to hear what things you love most that make your home feel personal and special.
Photos by Christie Knight Photography