My parents came over the weekend, so obviously last week (and by that I mean, Friday afternoon) was a blur of doing some of those house projects I've been meaning to do since we moved in, but have not.
And a trip to IKEA (which is two hours away, and required some juggling of children (I discovered that Celeste will happily exchange baby sitting for pickup of an Expedit bookcase – sadly, I'm guessing she doesn't need 40 bookcases, so the rest of you are out of luck for your free childcare needs)).
The IKEA trip was a success except for the part where my phone only had 4% battery left on the way home and so I couldn't listen to an audiobook. Had to make do with singing along to You're a Good Man, Charlie Brown extremely loudly for two hours. I am pretty much the epitome of cool and hip right here.
One of the projects I was most excited about was one I dreamed up nearly a year ago (besides being hip and cool, I am also very speedy).
Shortly before Ani's birth, I realized that all four of our family members have been born in different states, so I made some state maps that featured each of our birth states and birth dates.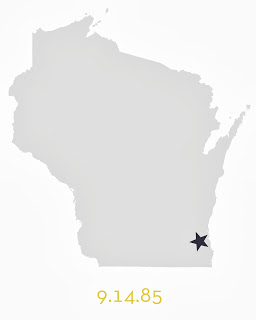 After letting them wither away on my hard drive for the last eight months or so, I finally got them printed last week and they showed up on Thursday night. Four nails in the wall, (and finally unwrapping the frames that have been sitting on Ella's floor since July), and now our hallway looks a little more fun.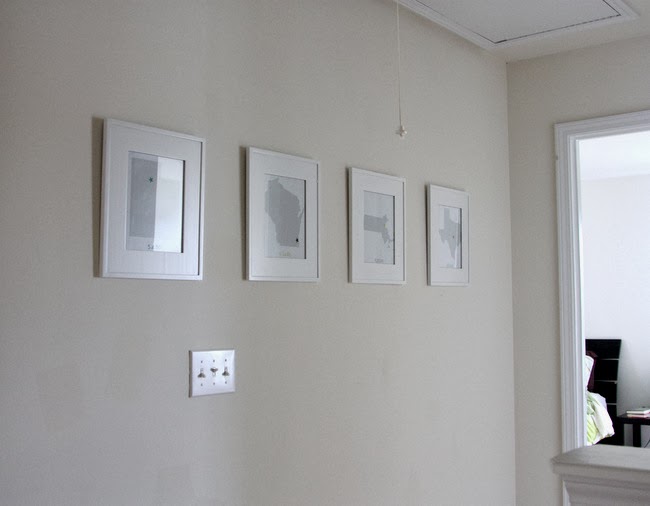 I LOVE them.
And, thanks to the MBA, there is a good chance our hypothetical third child could also be born in another state, unless we happen to move to one of four states already claimed by a prior family member after Bart graduates.