I frequently get notes from parents who have volunteered to read a couple of picture books to their child's classroom and they have no idea what books to choose.
It's such a fun experience to read aloud to a classroom of children and I'm always delighted to suggest a few great picture books to use as kindergarten read alouds or up through first, second and even third grade.
One thing I've noticed is that some parents feel pressure to choose a book that is new to the classroom, but I'll let you in on a little secret that you've probably noticed in your own home – children love repetition. They aren't afraid of reading the same book over and and over again.
If you bring out a book they've read before, children are almost always THRILLED and they'll be quick to tell you, "I've read this book before!" or "I love this book!" or "My grandma reads me this book!"
If you find a child who turns up his nose at listening to a book for a second time, especially when it's in a new setting and by a different adult, that child is definitely the exception.
So the trick isn't picking out a picture book that is so obscure they've never heard of it or that's brand-new, it's picking a book that will make a fun kindergarten read aloud (or whatever grade you're reading too. Picture books for everyone!).
I have lots of picture books I love that don't necessarily lend themselves to being read to a large group.
An interactive book, for instance, is less fun when only one child out of 25 gets to push the button on the page, and a wordless book can be more intimidating to read when you're on the spot in front of a crowd.
These are 25 picture books that are easy to read aloud to a group and are pretty guaranteed hits with the elementary school crowd!
If your little one is trying to learn the ABCs, pop in your email address and I'll send you a list of the best ABC books to keep it interesting!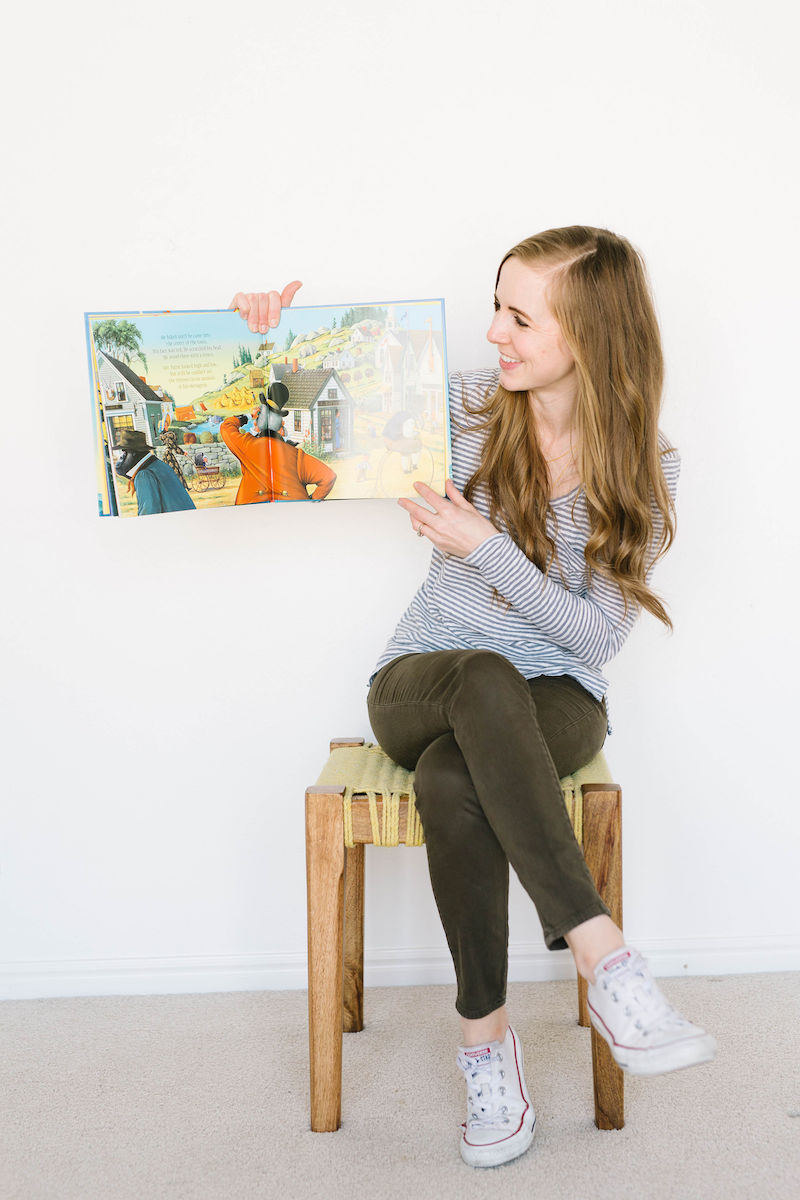 25 Kindergarten Read Alouds
The Circus Ship by Chris Van Dusen
If I had to pick one title from of all the kindergarten read alouds, it would be this one. My in-laws bought us a copy of The Circus Ship a few years ago and it's been a staple ever since (and probably one of those most popular picture books I've ever recommended on Instagram).  It's based loosely on a true story of a circus ship that went down in a storm off the coast of Maine and quite a few of the animals swam to shore. This one is done in rhyme and the illustrations are stunning (it's the book in these photos!).
Nothing Rhymes with Orange by Adam Rex
This book just makes me laugh every single time. Orange wants to be part of the story so badly, but . . . nothing rhymes with orange. The rhymes in the book get increasingly silly which in turn, makes Orange more and more irate – why can't anything rhyme with orange when even other totally obscure fruits get a rhyme?
The Boo-Boos That Changed the World: A True Story About An Accidental Invention (Really!) by Barry Wittenstein, illustrated by Chris Hsu
If you'd like to go with a non-fiction title, it's hard to beat this one about how band-aids were invented. After all, is there any audience that loves a bandaid more than a crowd of five and six year olds?
Lovely Beasts by Kate Gardner, illustrated by Heidi Smith
I LOVE this spectacular book about how lots of animals seem really scary but have more to them than meets the eye. On one page, you'll have the animals looking fierce in black and white, but when you turn the page, the illustrations are in color and you learn something interesting and surprising about the animal. For every animal-loving child, this one is a total win.
The Bear and the Piano by David Litchfield
This book has the most gorgeous illustrations and a little side of absurd whimsy (a bear who learns to play the piano on an abandoned keyboard in the forest? Why not?) that I find charming.
Penguin Problems by Jory John, illustrated by Lane Smith
It probably sounds easy to be a penguin, right? Swimming and diving and sliding on the ice? WRONG. It's hard. And this grumpy penguin is going to tell you alllllll about it. Prepare for a serious case of the giggles from your audience when you read this one (Giraffe Problems is the follow-up book and it's also delightful).
Brunhilda's Backward Day by Shawna J.C. Tenney
I've read this funny picture book dozens of times to my girls who never get tired of Brunhilda who LOVES being an ugly, warty witch, eating spider oatmeal for breakfast and, of course, playing tricks on unsuspecting children. But when her cat casts a backward spell on her, she wakes up to find herself beautiful (the horror!) and every curse she casts ends up good. What's a witch to do?
I Am Not a Chair by Ross Burach
A giraffe is VERY unhappy when all the other animals think he's a chair, and complains loudly about it. But when a lion comes along and takes a seat, the giraffe is too scared to say a word.
Charlotte the Scientist is Squished by Camille Andros, illustrated by Brianne Farley
Charlotte has everything she needs to be a serious scientist. Except some space. She has so many brothers and sisters (she's a bunny!) that she can't ever find some peace and quiet. This book is a delightful introduction to the scientific method and is one of those perfect read aloud picture books for 3rd grade or other slightly older children.
You Don't Want a Unicorn by Amy Dyckman, illustrated by Liz Climo
I know you THINK a unicorn sounds like fun. And when you have the chance to wish for one, you're probably going to take it. But I promise, you're going to regret it sooner rather than later.
I Will Take a Nap by Mo Willems
I don't think you can possibly go wrong with Elephant & Piggie and this one, where Gerald is very tired and cranky, is one of my favorites of the whole series.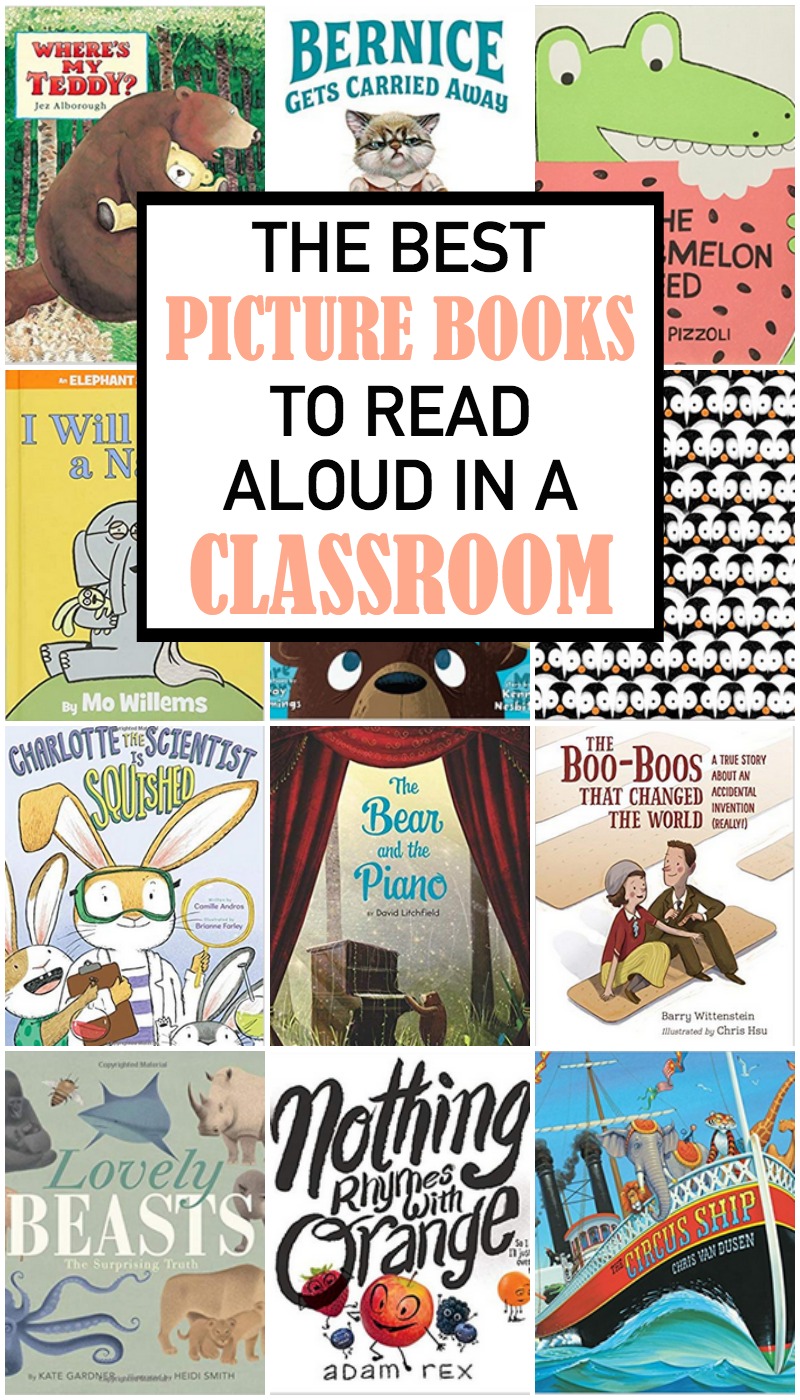 Don't Call Me Choochie Pooh by Sean Taylor, illustrated by Kate Hindley
It's no fun being a tiny purse dog when what you most want is to run and play with the big dogs at the dog park. But they aren't going to take a dog who eats heart-shaped dog snacks and gets called Choochie Pooh seriously. Right?
Count the Monkeys by Mac Barnett and Kevin Cornell
Mac Barnett is always a hit and this is one of my favorites of his. You're all ready to count the monkeys except a bunch of scary animals keep frightening them off. Will you ever have a chance to count the monkeys?
Bernice Gets Carried Away by Hannah E. Harrison
Bernice is decidedly NOT having fun at the birthday party. Everyone else got a rose made of frosting on their piece of birthday cake. Except Bernice. And everyone is got a delicious strawberry soda. Bernice's soda? Prune-grapefruit. And naturally it's warm. After all these injustices, Bernice takes matters into her own hands when the balloons arrive by grabbing them all. Which has some unexpected consequences.
It's a Tiger! by David LaRochelle, illustrated by Jeremy Tankard
This fun book with bright illustrations has a tiger appearing on each page. The main character tries to get away, but the tiger keeps following. I have read this book, I'd estimate, at least one bazillion times.
The Book with No Pictures by B.J. Novak
If you want a book that is GUARANTEED to have the whole class in stitches, this is that book. I never do voices when I read, and I can't help it with this one.
Blueberries for Sal by Robert McCloskey
This classic by the same author/illustrator as Make Way for Ducklings is one of my favorites about a little girl and her mom who visit a nearby hill to pick blueberries and discover that a mother bear and her cub are there to store up berries for winter too.
Miss Nelson is Missing by Harry G. Allard Jr., illustrated by James Marshall
If I had to pick ten favorite picture books, I'm fairly sure Miss Nelson would snag a spot. A classroom story is especially fun when you're reading to a group of students IN a classroom, and this one, about a tricky substitute teacher, is a no-fail.
More Bears by Kenn Nesbitt, illustrated by Troy Cummings
This book begins like a normal story. Until an off-screen voice demands MORE BEARS. The author has his own ideas about how the story should go, but the voices are so insistent that eventually he concedes and adds a bear. But that's not good enough. MORE BEARS. Ralphie from Simply on Purpose introduced me to this one years ago and she's never steered me wrong.
The Watermelon Seed by Greg Pizolli
This book is for every child who has ever swallowed a watermelon seed and been terrified that a watermelon plant might sprout in their stomach. This one makes me laugh every time and the bright, strong illustrations are great for a big crowd.
Where's My Teddy? by Jez Alborough
When Eddie loses his bear in the woods, he's relieved to find it. But. . .that bear suddenly seems to have grown! And meanwhile, a real bear has lost his teddy bear too. And when he finds it, it's shrunk so small there's no way for him to cuddle it!
Once Upon a Cool Motorcycle Dude by Kevin O'Malley, illustrated by Carol Heyer and Scott Goto
When a class is asked to write a fairy tale, a boy and girl partnership have to make it work even though both of them have wildly different ideas about how it should go. It's fun to watch the two alternating stories (with very different artwork) come together into one clever tale.
Chester's Way by Kevin Henkes
Chester does things his own way. And his best friend Wilson is just like him. But when Lilly moves into the neighborhood, she wants to do things HER way. Is there any way for the three of them to be friends?
Little Pea by Amy Krouse Rosenthal
Most children love a book with a touch of the ridiculous and this one, about a little pea who hates to eat candy but must suffer through it if he's to get his vegetables, has tickled the funny bone of every child I've ever read it to.
Swirl by Swirl: Spirals in Nature by Joyce Sidman, illustrated by Beth Krommes
This beautiful non-fiction book explores swirls all throughout nature from snails to flowers to a human ear! After this book, you'll be spotting spirals everywhere. Ella, especially, LOVED this book as a preschooler and kindergartener.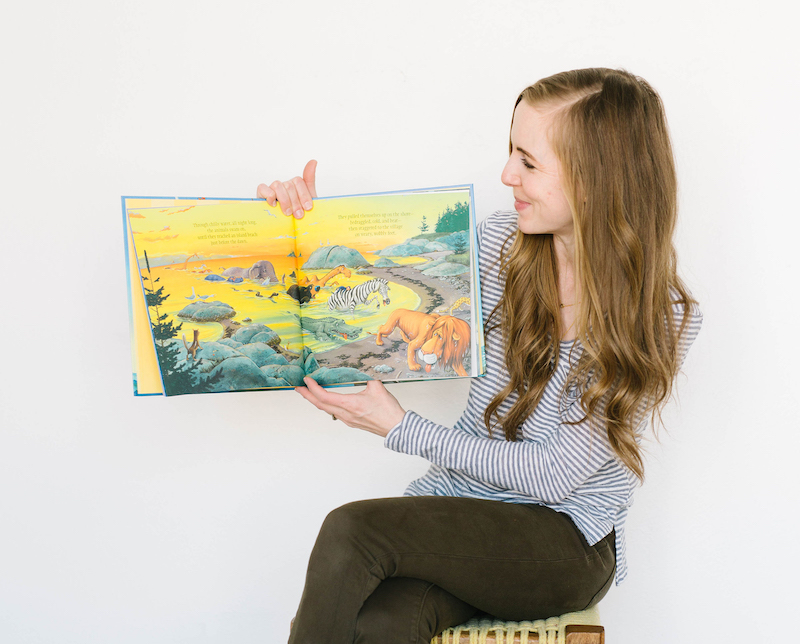 And if you'd like a printable copy of this list that you can take to your library or screenshot on your phone for easy access, just pop in your email address below and it'll come right to your inbox!
What other picture books have been a hit in the classroom? Let me know in the comments – I'd love to make this post even more helpful!
If you liked this post about kindergarten read alouds, you might also find these posts helpful:
Photos by Heather Mildenstein
Reader Interactions