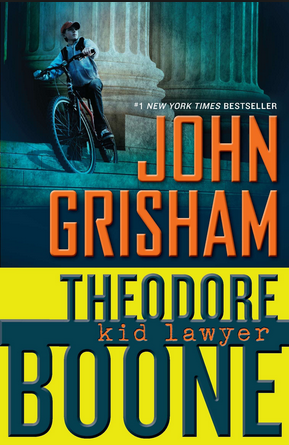 7 of 10: Look, Theodore Boone: Kid Lawyer isn't bad – it's an easy read and it kept me interested, but, oh, why couldn't it have just been a stand alone book? And why couldn't Theo been just a little less annoying?
I read my first John Grisham book the week after Shepard died. I remember so clearly sitting in the living room, getting lost in the world of The Client and being so glad to be completely sucked into a different world for a while. Our silent reading in my English class had to be by American authors and I read probably half a dozen Grisham books between November and June. All of which is to say, I'm a John Grisham fan.
So, I went in to Theodore Boone Kid Lawyer expecting to like it.
And I did. I promise! I kept picking it up and discovering I'd just knocked out another 50 pages, but it never quite went anywhere.
theodore boone kid lawyer
Theodore Boone is thirteen and obsessed with the law. Both his parents are lawyers (but the boring kind, in Theo's mind – his mom is a divorce lawyer and his dad is a real estate lawyer) and that's what Theo wants to be too. He loves the court room and knows all the judges, the lawyers, and the bailiffs. He reads about the law and offers legal advice to his peers.
So, clearly it's the highlight of Theo's life when a murder trial comes up in his town. It's pretty much the biggest trial in the town's history and Theo can't stop thinking about it. A woman has been murdered in her home and it's widely suspected that her husband was the murderer, since she had a $1 million life insurance policy and her husband's business was in some serious trouble.
But there are no witnesses and as the trial begins, it seems unlikely that there will be enough evidence to convict the husband. There is simply no evidence that he was the killer.
Except then a previously unknown witness approaches Theo and offers new insight into the case, but refuses to testify because of some other circumstances that I won't spoil here (because, really, there's so little left to the plot, I might as well leave you SOMETHING). Now Theo, who is sworn to silence by the witness, has to figure out what to do. Does he tell? Does he not? And if he does tell, who is he going to tell?
Remember when I said recently that a memoir is only as appealing as the narrator? Theodore Boone Kid Lawyer suffers a little because I just don't think Theo is that likable. He's a nice enough kid, for the most part, but he's so ludicrously precocious I kind of wanted to die. A thirteen year old dispensing legal advice to adults? Um, I can't really buy that. He just was so un-thirteen year old boy like.  I don't necessarily think kids will really latch on to him (but then, I loved Nancy Drew and the girl wore PUMPS for crying out loud, so, you know, who really can say?)
Another thing – I am the world's biggest wimp, but I do admit that I secretly love that John Grisham's books usually scare me to death. It's been about nine years since I read The Firm but I still remember clearly how delightfully freaked out I was by the surveillance and the stalking and the threats and the running from scary men. I could hardly sleep and I SHARED A ROOM with my sister. This book? Has one possibly-baddish guy giving Theo a silent stare at the end. I am not even joking. That's it.
There are also these random side stories that appear to have nothing to do with anything and that always annoys me. Do not waste my time with pointless detours.
And, really, is it absolutely impossible to write a stand-alone book these days? Is that asking so much? I had no idea Theodore Boone was the beginning of a series, so when I was suddenly five pages from the end and virtually nothing had happened, my love for this book dropped about fifty points.
It all sounds so horrendously negative and really, the book wasn't terrible. I might pick up the sequel when it comes out. But oh, Theodore Boone Kid Lawyer could have been so much better. And I expected so much better.
Copy received from Penguin
If you liked this review of theodore boone kid lawyer, you might also like these books: