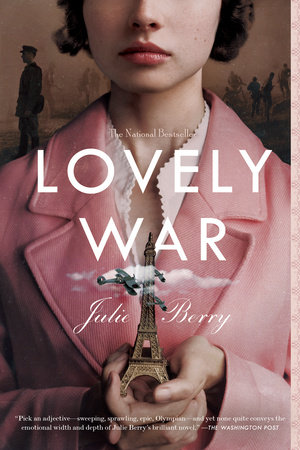 I've been staring at my laptop screen for the last five minutes, trying to figure out how to even begin with a review of Lovely War.
This book . . . it's one of the best things I've read in ages.
You can put money right now on the fact that, come late December, Lovely War will be on my list of best books I read in 2020.
Even before I finished it, I was texting friends telling them they needed to read it right now (I get a little bossy about books I love) and keeping Bart up way too late regaling him with every last details.
Now I'm going to get a little bossy with you and tell you that you should 100% go read this book immediately. It's THAT good.
Lovely War by Julie Berry
Lovely War begins in the middle of World War II where a stunningly gorgeous couple enters a Manhattan hotel but, shortly after they enter their room, a net drops over them, trapping them and revealing that the woman is Aphrodite, goddess of love and passion, and the man is Ares, god of war.
Their captor is Aphrodite's husband and Ares' brother, Hephaestus, the god of fire, who is furious to have caught his wife and brother together in a compromising situation.
He wants to put them on trial before all the gods for their misconduct, but Aphrodite suggests a more discreet alternative – a private trial where Aphrodite can attempt to defend her actions and Hephaestus will act as judge.
And so Aphrodite begins her defense, with the story of four humans during WWI, twenty five years earlier.
Ares protests, "Bring out the hot pincers, the smoking brands! Anything but a love story!"
But Hephaestus insists, "Leave nothing out of your story. Make your tale a long one."
And it is. In the best possible way.
The first of the four humans we meet is Hazel, a young British pianist who, while playing at a parish dance in London, meets James. Despite the fact that both of them are somewhat reserved, they dance together (Aphrodite might have had something to do with this) and are immediately smitten with each other, making plans to get together over the next few days before James leaves for the Front.
Then Aphrodite takes the story back even a bit further, a few years before the Great War begins, to Carnegie Hall where the Clef Club Orchestra, made up entirely of Black musicians, is performing to a sold-out crowd. For Aphrodite's story, the most important person in that orchestra is the young piano player, Aubrey Edwards.
And he's about to become a major part of the story because five years later, he and most of the Clef Club Orchestra have formed the Army Band of the Army National Guard and they are both performing music and training for war before they're sent overseas. If they aren't killed by angry Southerners in South Carolina who are furious at the sight of Black men in U.S. uniforms first.
And when he gets to the front, it turns out plenty of white American soldiers are equally unhappy at the prospect of fighting alongside Black American soldiers. It's going to be dangerous for Aubrey for more reasons than just German grenades.
And then we finally get our fourth player in this story – a Belgian girl named Colette who watches her life go up in flames when the Germans march on her town in 1914, killing nearly everyone in their path.
Alone, she volunteers for the YMCA and here is where her story intersects with the other three humans.
And so Aphrodite spins out her story, calling occasional witnesses, like Apollo, god of music, and Hades, god of the underworld, to share their sides of the story. Because with two pianists, the god of music is surely a key player in this drama and when it takes place during the Great War, it surely involves Hades.
I almost don't even have words to describe how much I LOVED this book.
Every part of it worked beautifully and I especially loved the way the gods framed the story.
Setting the book both in WWI and WWII is very clever – it brings the nearness of these two events and how they affected individuals and families into sharp relief and makes it all the more heart-rending.
Lovely War also had a great historical note at the end, with wonderful suggestions of other books to read and more details about some of the real historical events and people that appear in the book.
I also am generally turned off by a book where everyone talks about the amazing writing. That's usually code for "way overly flowery and descriptive" and I'm not here for that kind of book. I want a great STORY.
But the writing in this book is SO phenomenal. It's sharp and witty and although I generally don't read with a highlighter, I did this time because I was preparing to discuss this book for March's Everyday Reading Book Club and I marked up page after page because it was all so funny, so clever, and so heartbreaking.
This book feels to me like The Wednesday Wars – a book I would recommend to virtually everyone, that surprises and delights you, that breaks your heart and puts it back together again over and over again. It's the kind of book that, if I had any ambitions of writing a novel, I would want to have written.
I cannot wait to talk about this book in March – prepare yourself for gushing the likes of which you haven't seen from me in many moons.
If you liked Lovely War, you might also like these books: