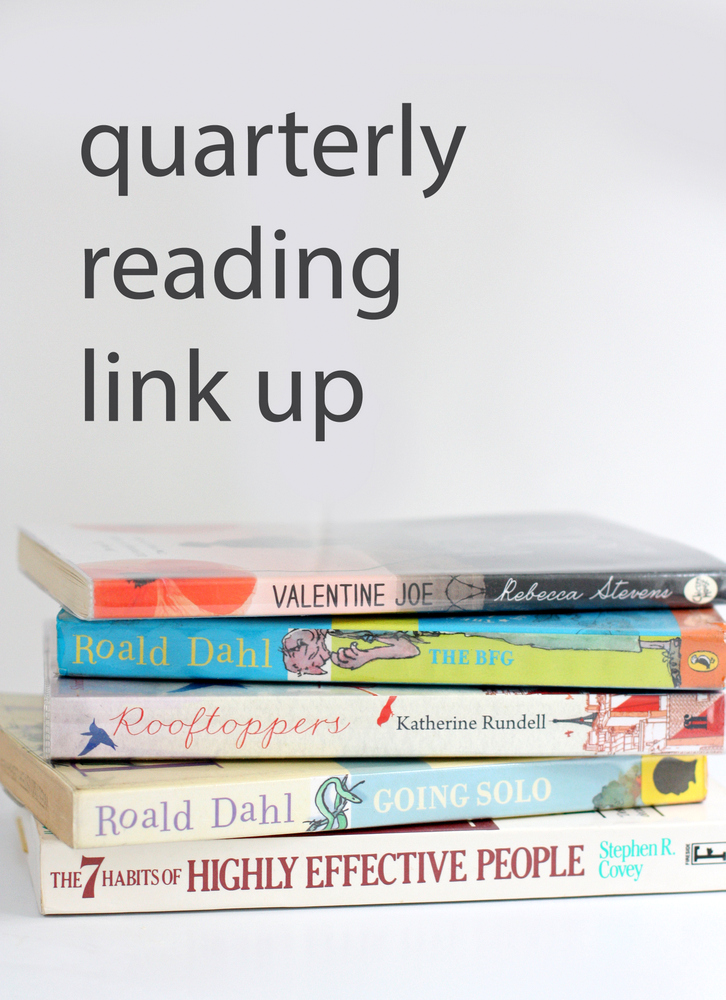 I've been sharing my quarterly reading lists for several years now, and it's one of my favorite things. It's so fun to have a record of what I've read (and sometimes to look at books I've recorded on Goodreads and think "That was only 9 weeks ago, and I'd already completely forgotten that I read it").
Dana from Something Good and I joined forces to share our reading lists this quarter, and if you'd like to write about what you've read in July, August, and September, share your post in the link-up below! You can also grab a button to include in your post at the bottom of this post too.
Whether you read one magazine or a hundred Great American Novels or even if you just want to share what you want to read, you're welcome to participate. We are low-key.
Anyway! On to the important things like YA romance novels. Also, I felt like I read a fair amount this quarter, but apparently I did not. Compared to the 34 books I read in each of the last two quarters, I only did 27 books this quarter.
Zac and Mia by A.J. Betts
Another book heralded as "John Green meets Rainbow Rowell." It felt more John Green-ish to me based solely on the fact that there were two teens with cancer. It wasn't bad, but it didn't quite grab it for me and by the end I was losing interest.
The Promise of Amazing by Robin Constantine 
I truly can remember nothing about this book except that in the first chapter the main girl gives a hot teenage guy the Heimlich at a wedding reception when he chokes on a mini hot dog and then I believe he throws up on her shoes. It was probably uphill from there, but  . .  . I can't remember.
You Should Have Known by Jean Hanff Korelitz
I waited for this book for a long time (a successful marriage therapist discovers that her personal life might not be as perfect as she's long thought). It was pretty interesting and pretty long.
Catch a Falling Star by Kim Culbertson
What do you know? Another teen romance that I can remember virtually nothing about. Except that there were a lot of blog posts about stargazing between each chapter.
Wildflower by Alecia Whitaker 
I didn't love her first book a couple of years ago, but this one was significantly better. Made me want to go listen to some Taylor Swift.
I super duper loved this book. Definitely one of the best things I read this quarter.
Dreams of Gods & Monsters by Laini Taylor
It took me checking out the audio three times to finally make it through this book. It's a solid end to the series, but it's also my least favorite of the three.
The One and Only by Emily Giffin
This did not really feel like an Emily Giffin novel to me. More like Friday Night Lights. But less Tim Riggins (if you have zero clue what I'm talking about, do yourself a favor and go watch the whole series).
Toy Dance Party by Emily Jenkins 
Ella totally loved these books and they were a fun series to read over the summer.
Not Becoming My Mother: And Other Things She Taught Me Along the Way by Ruth Reichl
This was fairly depressing. I much preferred Garlic and Sapphires.
Toys come Home by Emily Jenkins 
I'll admit, by the third book, I was glad it was the end of the series. It was fun, but it didn't need to drag out indefinitely.
Charlie and the Chocolate Factory by Roald Dahl 
This was probably my favorite book we've read together so far. And I totally got choked up in multiple parts.
The Things You Kiss Goodbye by Leslie Connor
I can't remember now how I heard about this book, but it was surprisingly good. Definitely a quality YA book. I risked car sickness to read it during our long drive to Switzerland.
This was just so quirky, which is not my usual thing, but it totally engaged me.
On the Fence by Kasie West
I liked her other YA romance book, The Distance Between Us, better, but this was a fun airplane read.
The Unlikely Pilgrimage of Harold Fry by Rachel Joyce
I liked it and read it in about two days, but I feel like it was kind of overhyped for me and it dragged on a bit toward the end.
Facing the Music by Andrea Laurence
Fun premise, too much sex.
How We Deal with Gravity by Ginger Scott
I felt like the main girl was a little too martyr-ish for my tastes.
The Chance You Won't Return by Annie Cardi
Well, now my greatest fear is that I'll lose my mind and become convinced I'm Amelia Earhart and use an old toaster and some cooking utensils to build a cockpit in my bathtub.
The Sweet Life in Paris: Delicious Adventures in the World's Most Glorious – and Perplexing – City by David Lebovitz
I read this right after we left Paris, and it made me laugh quite a bit. Also, it made me hungry.
Save the Date by Mary Kay Andrews 
Years ago, my family started watching The Money Pit and we finally turned it off part-way through, partially because my dad finds it incredibly painful to watch one thing after another go hideously, horribly wrong. This book was kind of like that.
Better than Before: Mastering the Habits of Our Everyday Lives by Gretchen Rubin
It's really nice to end the quarter on a mega-high note. Seriously, I love Gretchen Rubin so much. You should just go ahead and pre-order yourself a copy.
Go ahead and link up your posts below with your quarterly reading! I promise to come check them out! And the button is below the link-up if you're inclined to add it to your post!