More than a decade ago, my in-laws took a trip to Vermont.
You know what Vermont is famous for, don't you?
If you said "maple syrup," you win.
On Christmas morning of that year, we opened up two large jugs of real maple syrup, plus a little cookbook of recipes that used maple syrup.
I was delighted by this gift and extra delighted when we arrived home in Texas and found the jugs still each in one piece, even after being checked and flown home by the not-so-gentle Southwest baggage folks.
Ralphie had taken us to the airport for that Christmas trip, so making her a little treat seemed like a good idea, and that little maple syrup cookbook was begging to be cracked open.
Also, she had my house key.
In the little cookbook, I found a delicious looking recipe for "Apple Granola Loaf."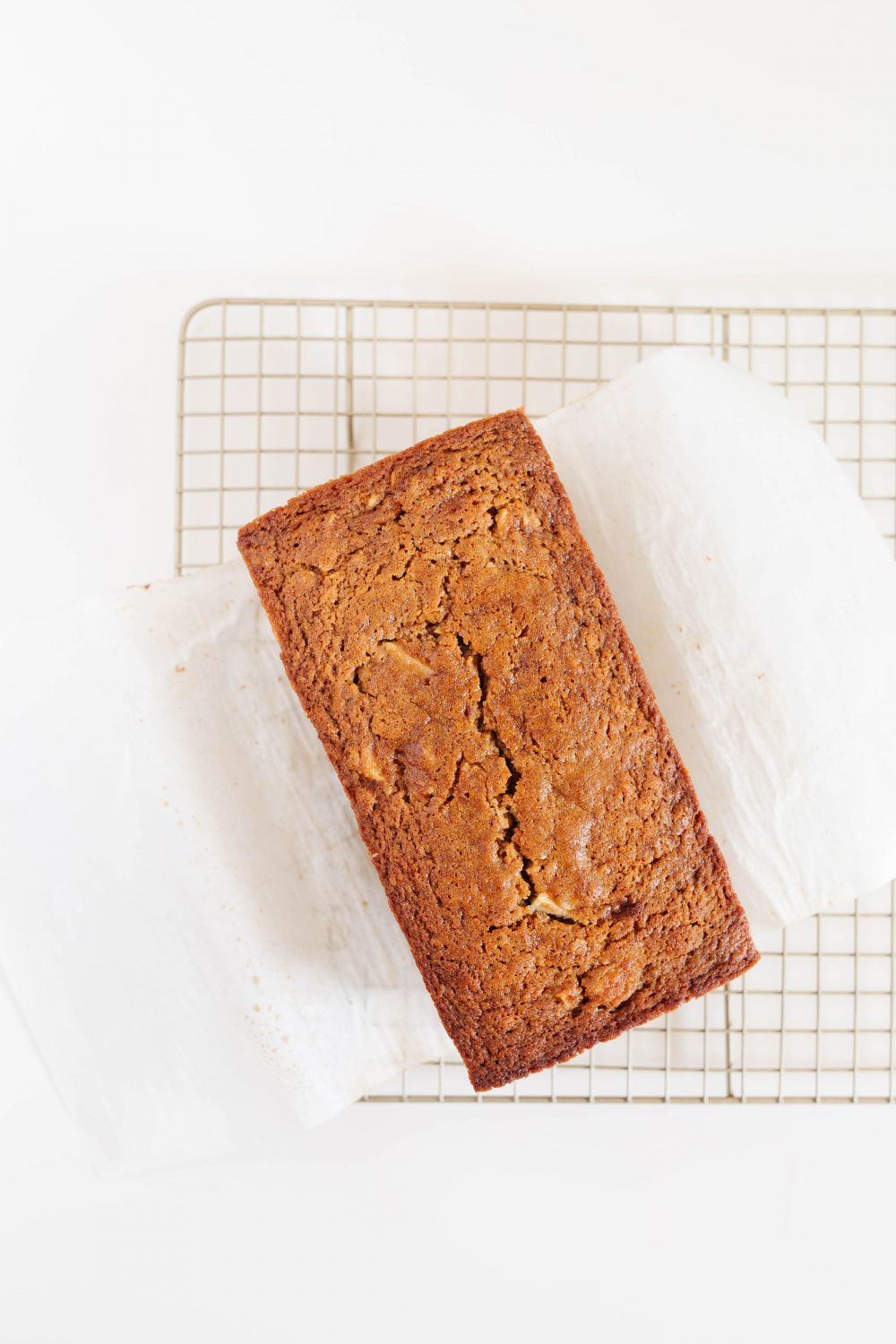 This apple bread needed granola (as you may have guessed from the title) and, lo and behold, I had several cups of homemade granola that I'd whipped up before we left for Christmas.
Then I noticed that it needed applesauce.
Well, I had some oldish apples in the fridge. I could make my own applesauce.
Can you tell this was back in the days before I had children?
The chances of me now whipping up a batch of applesauce so I could make a loaf of bread? Zero chances.
Anyway, after making the applesauce and putting together the bread (and using nearly every dang dish in my cupboards), I shut the bread in the oven to bake and soon it started smelling terrific.
I have to admit that good smells sometimes make me nervous.
Too often the smell of something baking has lulled me into thinking the recipe is a success, only to discover that the smell was the best part of the food.
But this apple bread was even BETTER than the smell.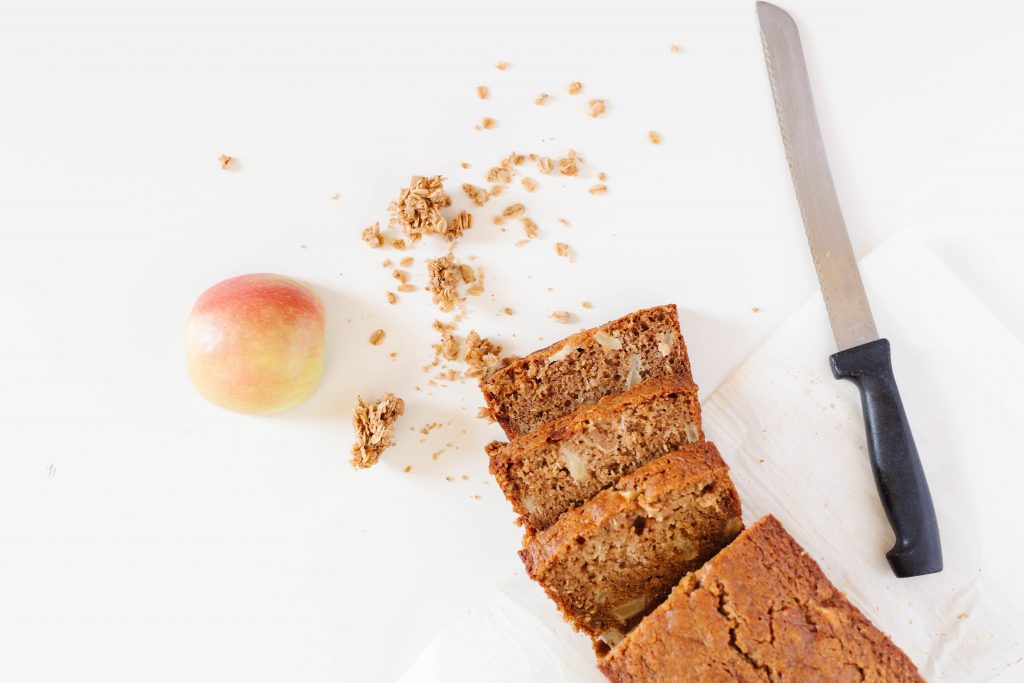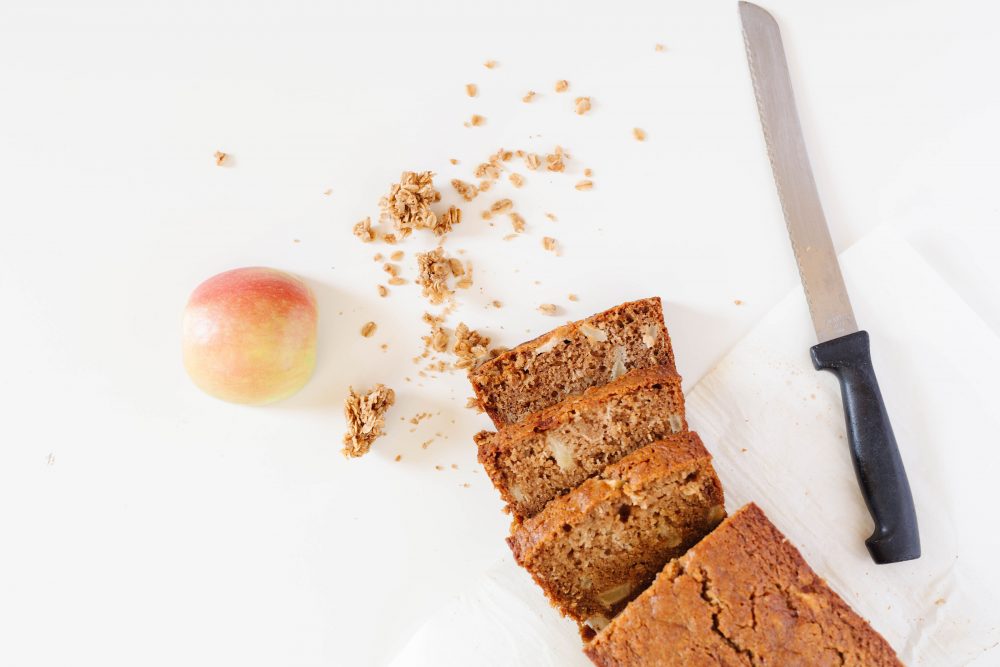 Bart ate nearly half a loaf immediately (with some help from me, if you must know) and I might have helped significantly with the other half of the loaf.
You might want to make yourself some apple bread and then have a piece or twelve.
And bonus, you can tell yourself that it's a health food since, technically, you don't put any sugar in the recipe.
Ralphie told me the next day that this is exactly what she told herself.
And now it's what I tell myself when I make this apple bread recipe for my girls and they each eat half a loaf.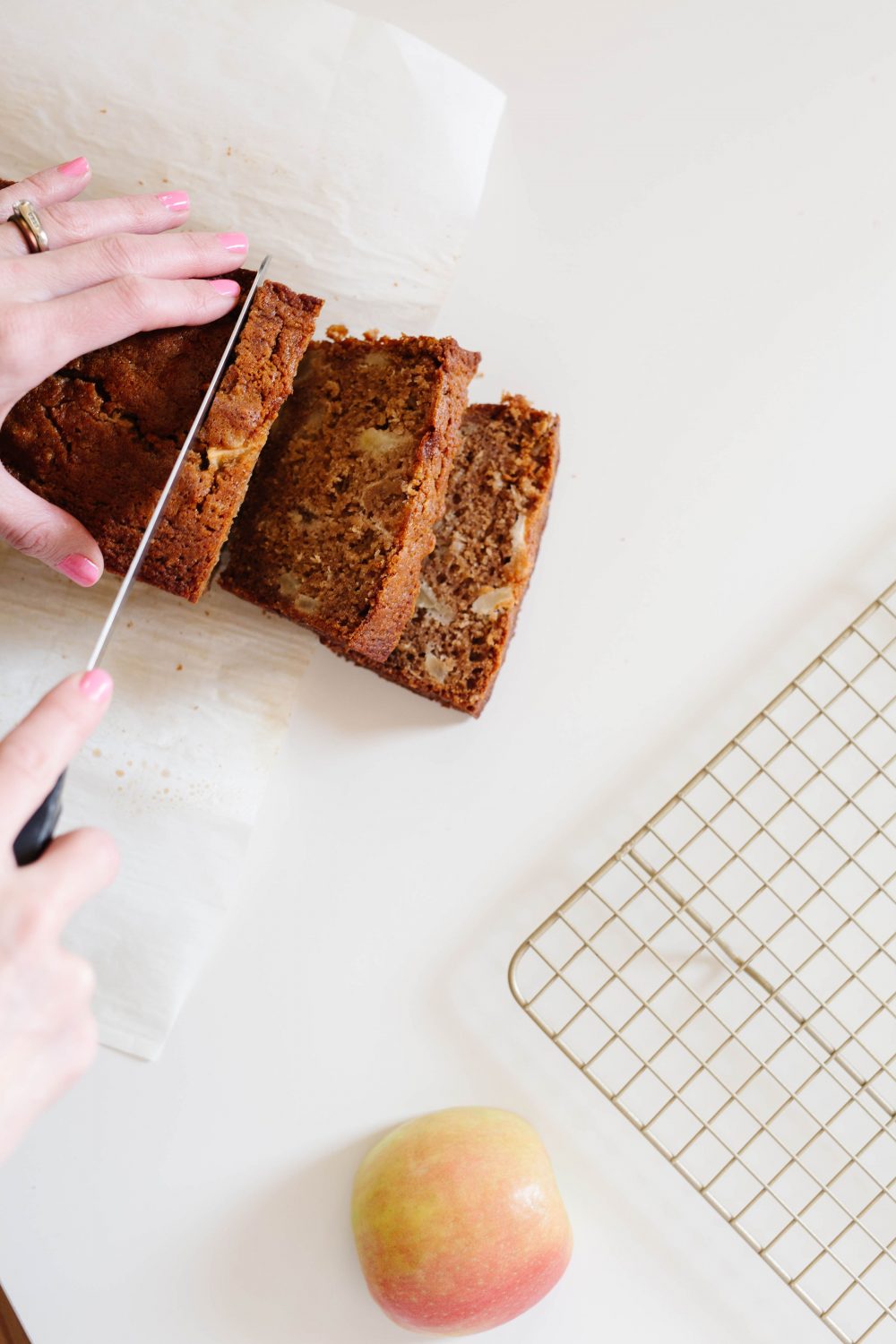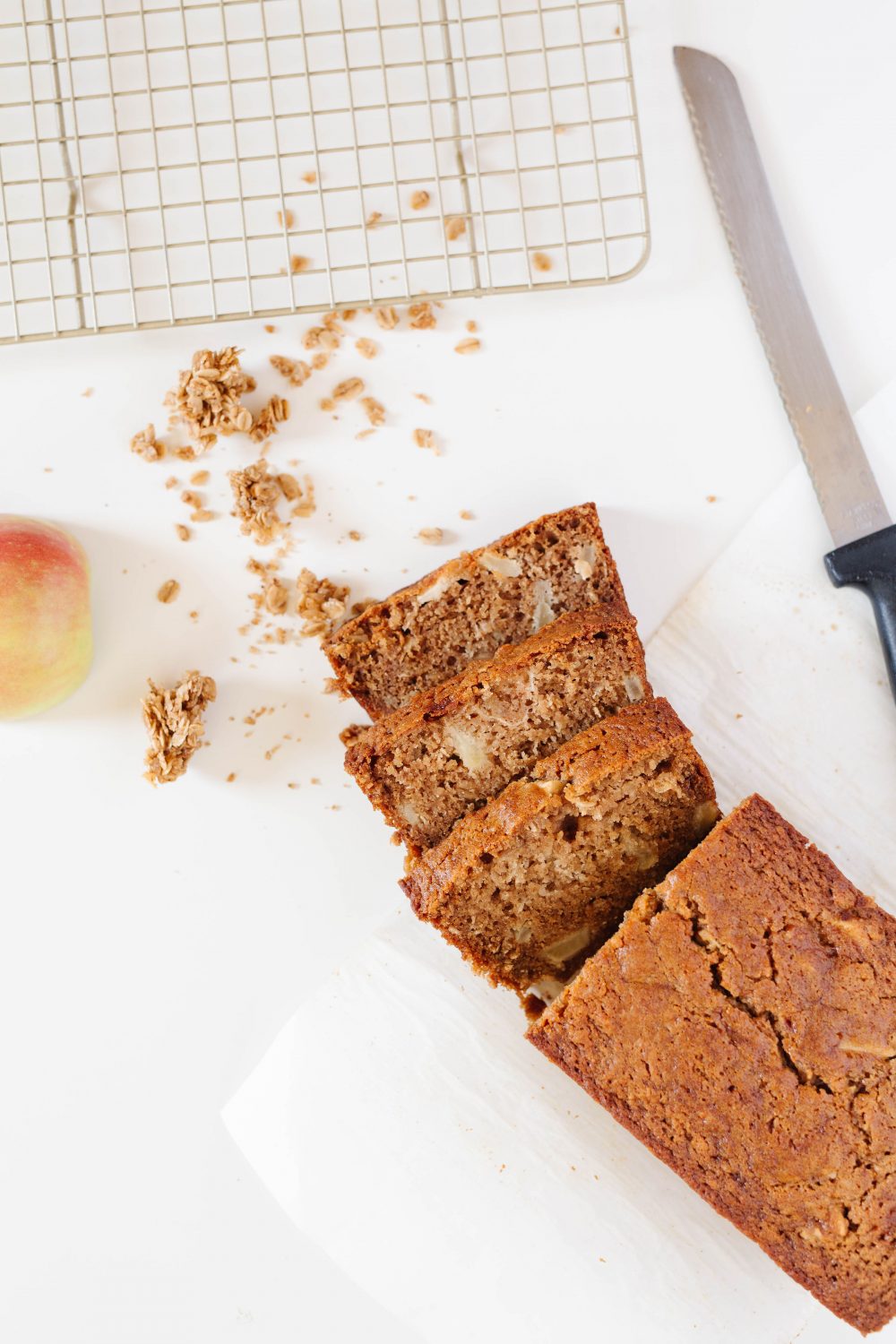 Apple Bread with Maple Syrup and Granola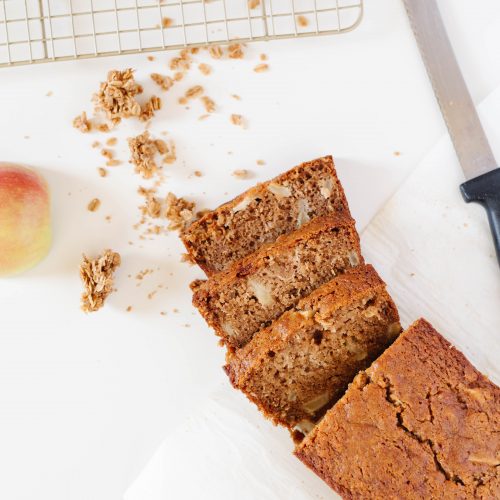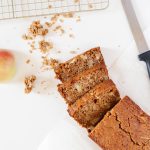 Apple Bread with Maple Syrup and Granola
This apple bread recipe is packed with flavor and texture, thanks to applesauce, apple chunks, maple syrup and granola. It's a winner for sure!
Total Time
1
hour
15
minutes
Ingredients
In a bowl, mix:
1 1/4

cup

flour

1

tsp

baking soda

1

tsp

cinnamon

1/2

tsp

salt

1

cup

granola

1

cup

diced apples

(peel them first)
In a separate bowl, mix:
2/3

cup

maple syrup

1

egg

1

cup

applesauce

1/4

cup

melted butter

1/4

cup

oil
Instructions
Preheat the oven to 350 degrees. Grease a standard size loaf pan and set aside.

In a mixing bowl, whisk together the wet ingredients. Pour the dry ingredients on top and whisk just until combined.

Pour into the prepared pan and bake for 55-65 minutes, until the top springs back when gently pressed.
If you liked this Apple Bread with Maple Syrup and Granola recipe, you might also like these recipes: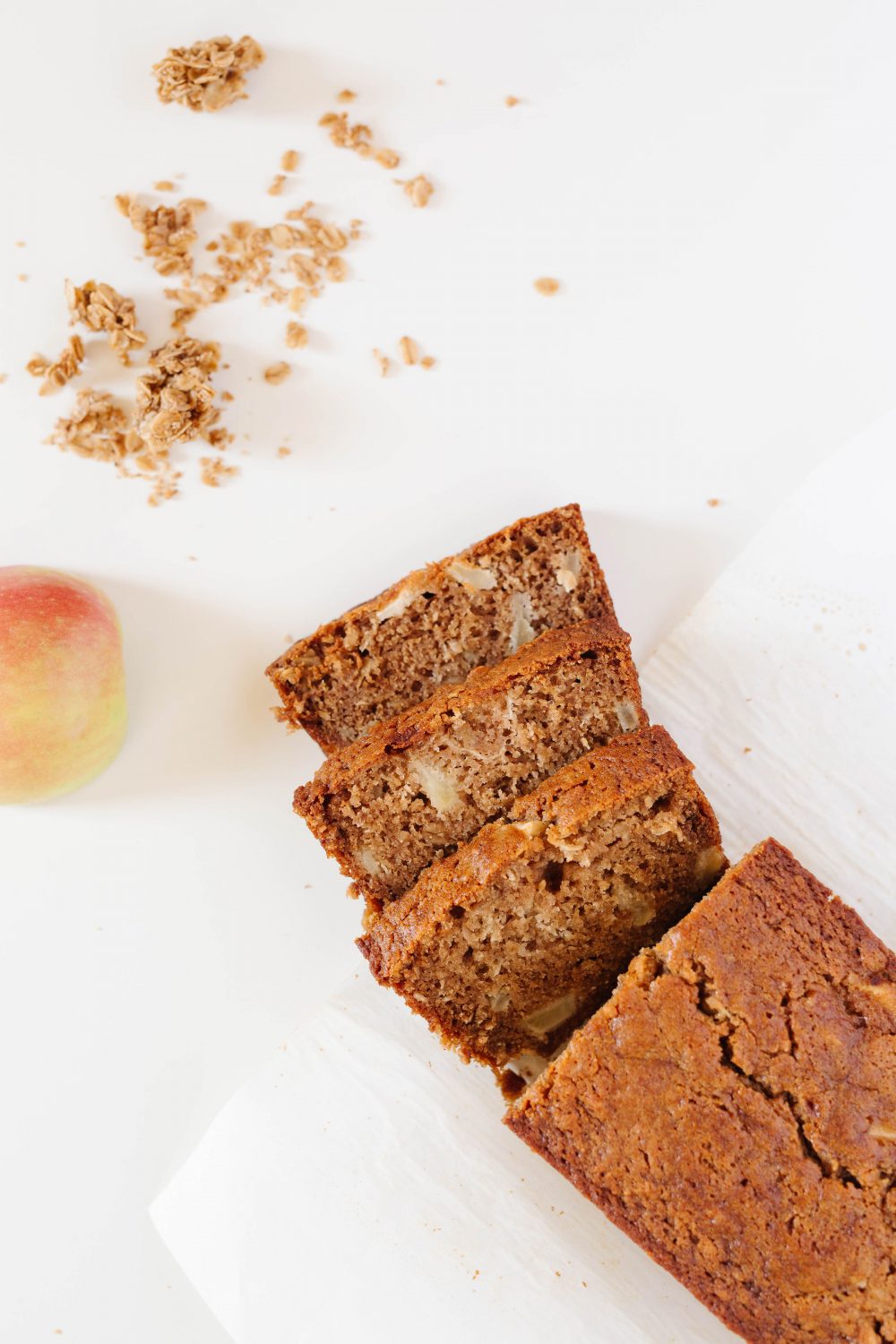 Photos by Heather Mildenstein