When we were staying with my parents this summer, my mom asked me several times when she was planning meals, "Will your girls eat this?"
After a while, I realized that I never actually think about them when I make dinner. I pick things that look good to me and that's what we have (it's good to be the boss).
On a really good day, I make a dinner that everyone in the family likes.
But I'll settle for 75%, which is what happened with this meal.
(If you guessed that the missing 25% was Ella, you were absolutely right. She still ate it, but she wasn't very happy about it. Ani, on the other hand, had three servings).
Anyway, since no one went to bed hungry, and three of us are very excited about leftovers tomorrow, I'm counting it as a big win.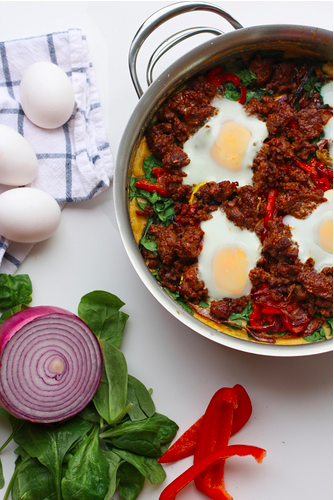 chicken chorizo and roasted vegetables over polenta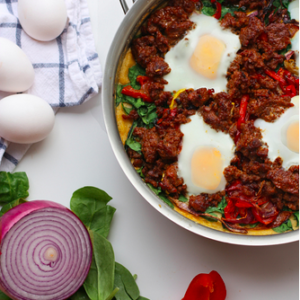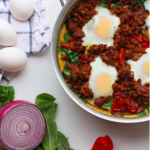 Roasted Vegetables and Chorizo over Polenta
This chicken chorizo and roasted vegetables over polenta recipe is a dynamite dinner! So much flavor and incredibly delicious!!
Ingredients
Roasted Vegetables:
1 to

mato

halved and then sliced

1

red pepper

thinly sliced

1/2

red onion

halved and thinly sliced

1

yellow squash

halved and thinly sliced

2

Tablespoons

olive oil

salt and pepper

8

oz

ground chorizo

or sausage will work too
Polenta:
1

cup

milk

2

cups

chicken broth

3/4

cup

cornmeal

1/2

cup

shredded cheddar or colby cheese

salt and pepper to taste

2

cups

baby spinach

roughly chopped

4

eggs
Instructions
Preheat the oven to 400 degrees.

On a baking sheet lined with foil, arrange the vegetables in a single layer, toss with olive oil and generously salt and pepper. Roast until soft and slightly browned, about 30-40 minutes. Set aside and leave the oven on.

In an oven-proof skillet, cook the chorizo. Remove from the pan and drain. Set aside.

In the same skillet, warm the milk and broth. Add the cornmeal and whisk to combine, then let it come to a gentle boil, stirring frequently. Add the cheese, stir to combine, then salt and pepper to taste.

Sprinkle the spinach over the top of the polenta, then layer on the vegetables and finally the chorizo. With a spoon, make four wells and crack the eggs into them. Put the skillet in the oven and cook for about 10-15 minutes, until the egg whites are opaque.

Serve immediately.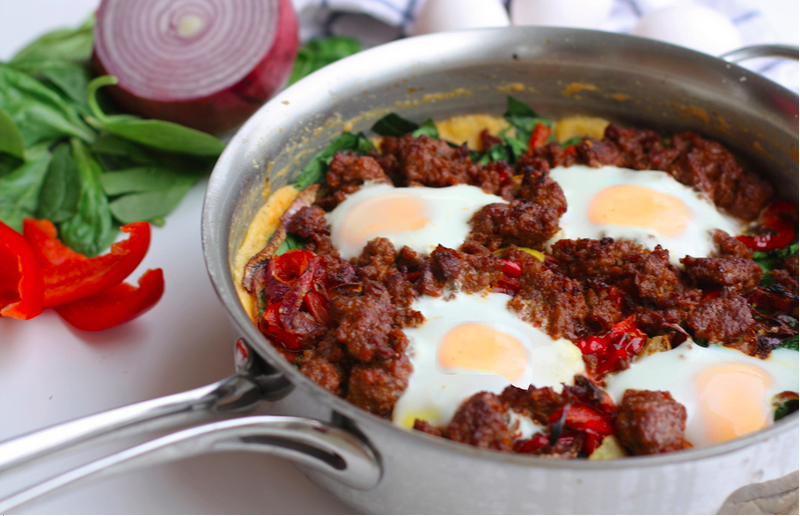 if you liked this chicken chorizo and roasted vegetables recipe, you might also like these other recipes: