This German pancake recipe couldn't be easier – mix the ingredients in the blender and pour right in the pan. The pineapple syrup is the finishing touch!
You know how recipes at home are like trends? They're huge for a while – you make them daily or weekly – and then suddenly you never make them again for a couple of years?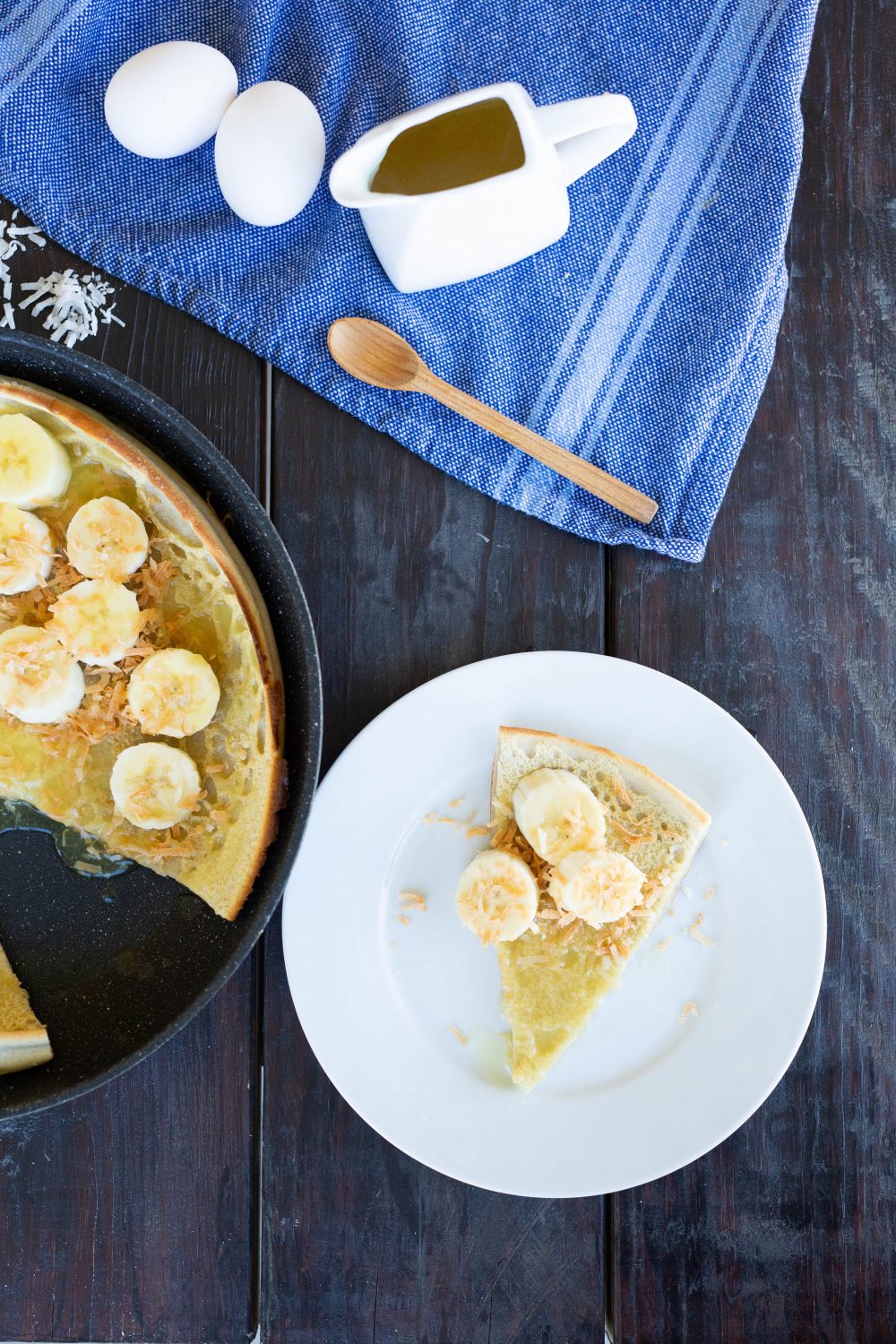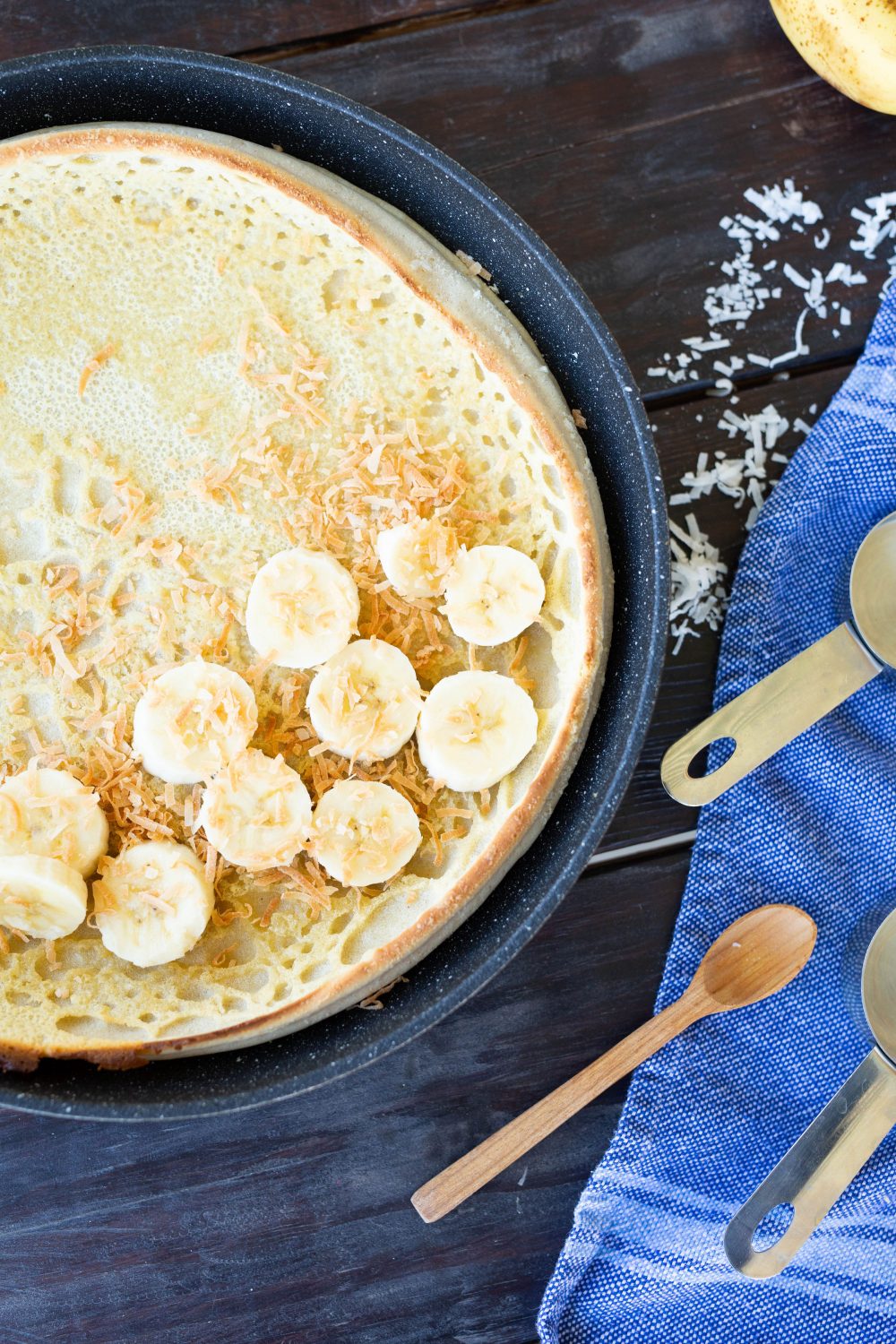 Our lunch salads were like that a couple of years ago. Bart and I ate them every single day for months when he worked from home in Arizona and now I haven't had one in almost two years.
This German pancake recipe was another one where I made it a few years ago and then hadn't made it in ages.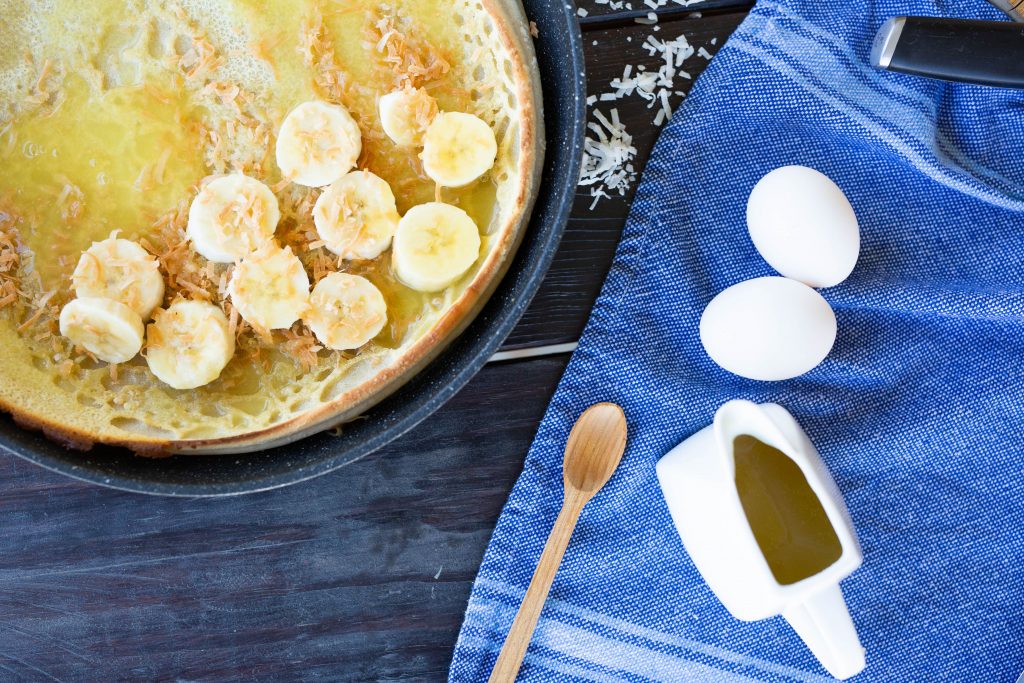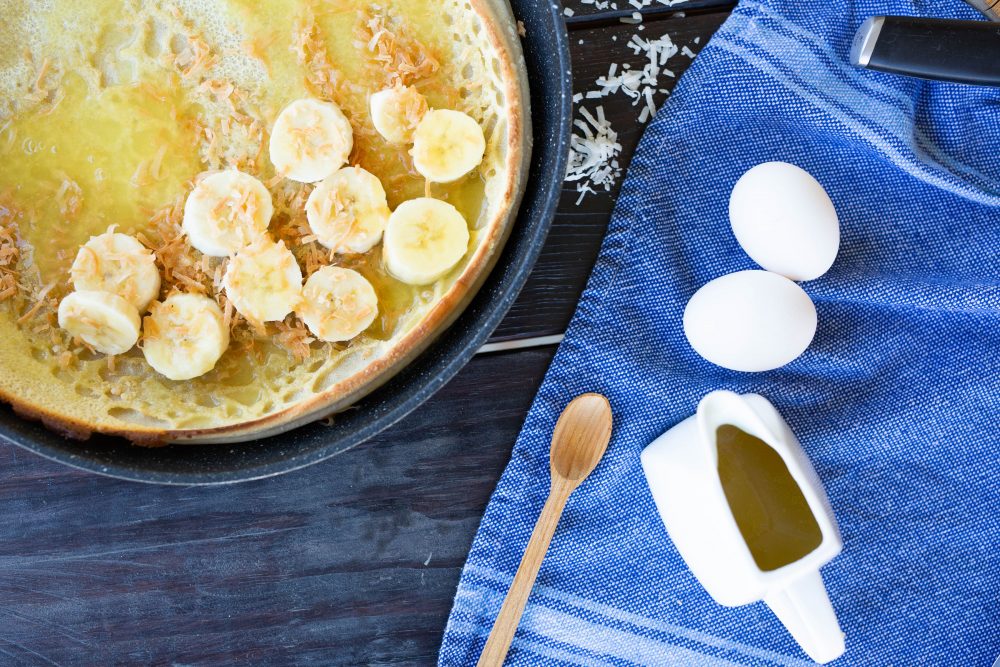 Then about six weeks ago, on a Sunday morning, it suddenly seemed like a fun idea (I had it on my list of 2019 recipes to make) and I whipped one up.
My girls, who didn't really remember it all, went bananas (pun intended, obviously) and I've made one every week since. Sometimes twice a week.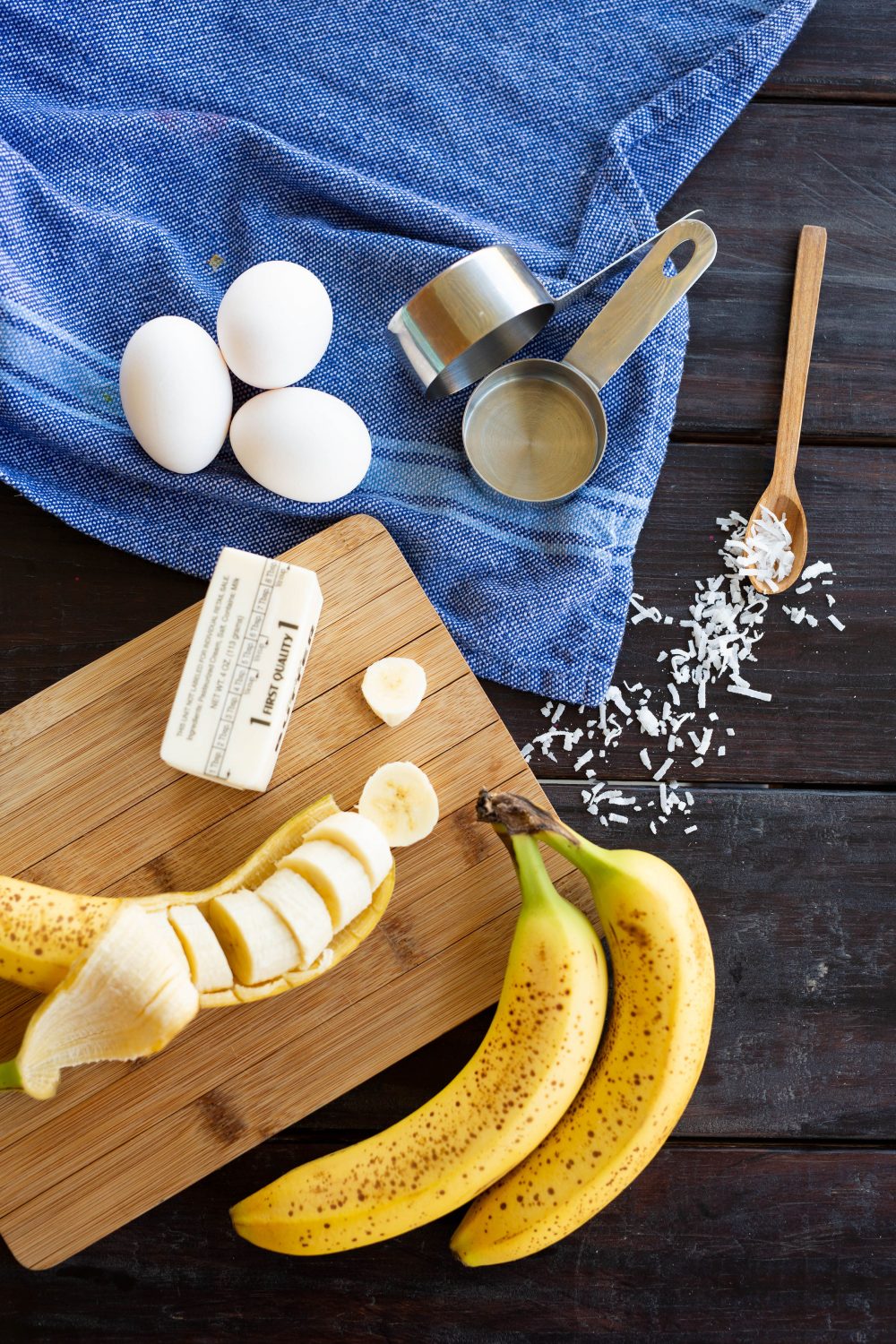 If you're looking for a fun breakfast, it's hard to beat this German pancake recipe – it's so simple!
Sometimes I use fresh bananas (like I did in the photos here) and sometimes I caramelize them if I'm feeling extra fancy – there are instructions for how to do that in the recipe below and they really add something special to German pancakes.
Or, let's be honest, to anything.
The main trick with German pancakes is to make sure that when you take them out of the oven you remember that the handle of the pan is approximately one million degrees and you don't absent-mindedly grab it with your bare hand. Ask me how I know. . .
I usually slip an oven mitt over the handle to protect me from myself.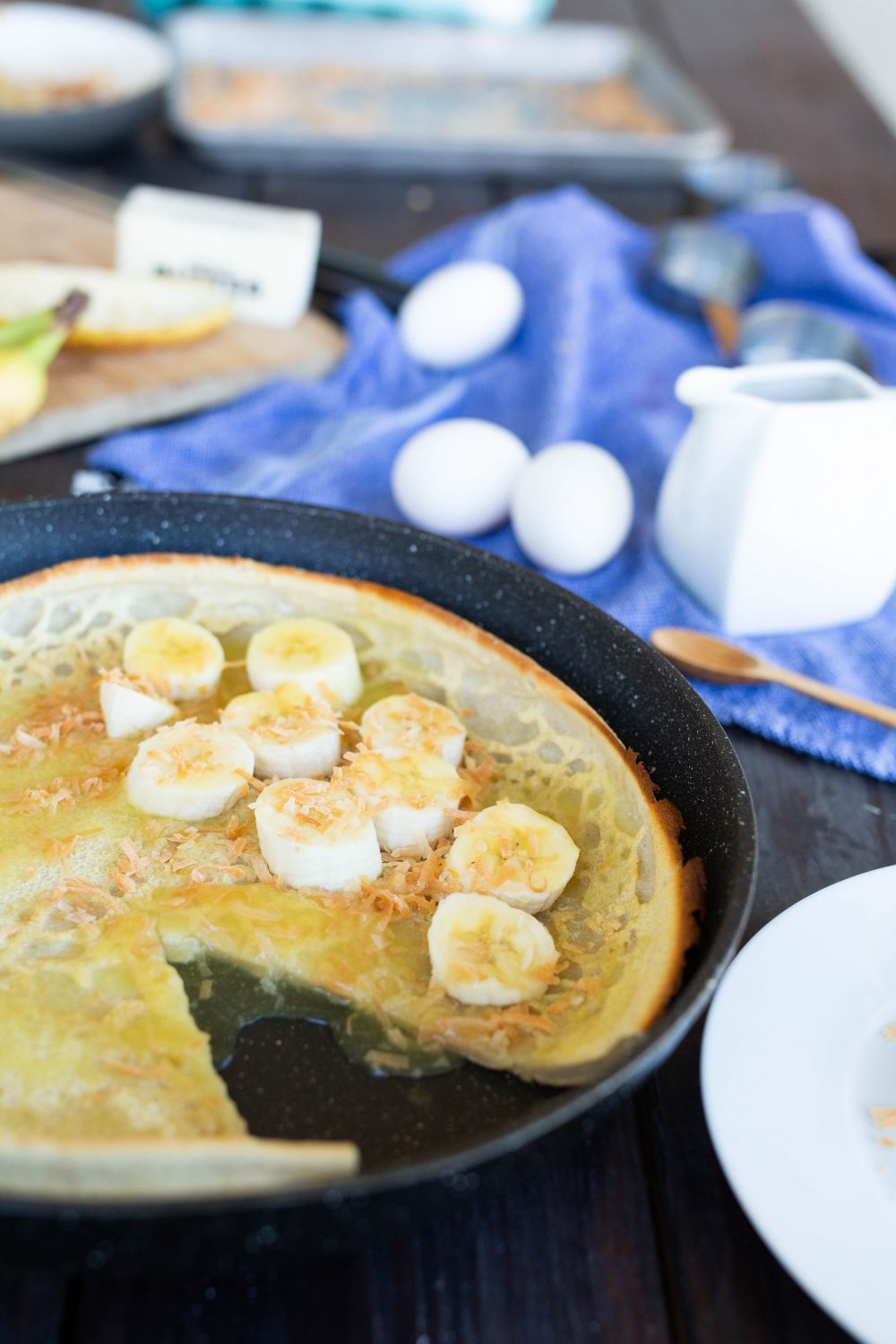 Cinnamon German Pancake Recipe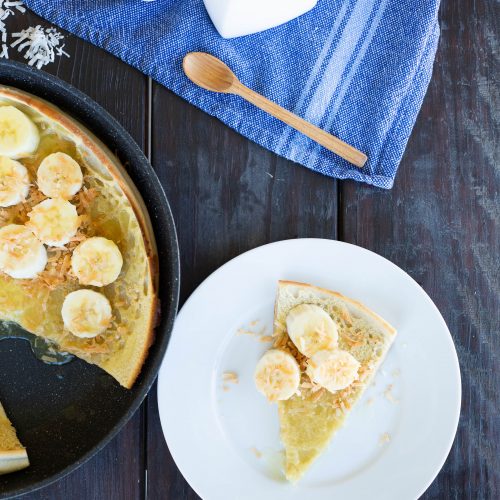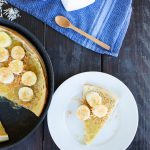 Cinnamon German Pancake Recipe with Caramelized Bananas and Pineapple Syrup
This German pancake recipe couldn't be easier - mix all the ingredients in the blender and pour right into the pan. The pineapple syrup and caramelized bananas really take it over the top!
Ingredients
Cinnamon German Pancake
4

Tbsp

butter

3

eggs

1/3

cup

granulated sugar

2/3

cup

milk

2/3

cup

flour

1/4

tsp

cinnamon

1/8

tsp

salt

(if your butter is salted, leave this out)
Pineapple Syrup
1

cup

pineapple juice

(I buy a can of it in the juice aisle)

1 1/2

Tbsp

cornstarch
Caramelized bananas
2

bananas

sliced

1/2

Tbsp

butter

2

tsp

brown sugar
Instructions
Toasted Coconut
Turn the oven on to 400 degrees. Spread the coconut on a baking sheet and let it toast for about 5-8 minutes while the oven heats up (watch it carefully so it doesn't burn). Remove from oven and let cool.
German Pancake
While the oven is preheating and the coconut is toasting, put the butter in an oven-safe skillet and place it in the oven to heat the pan and melt the butter.

In a blender, blend the eggs and sugar together for about 30 seconds. Add the milk and blend again for a few seconds.

Add the flour, cinnamon and salt, if you're using it. Blend until it is all combined.

Remove the skillet from the oven, swirl the butter around to cover the whole pan and pour the batter right in. Place it immediately back in the oven and cook for 17-20 minutes, until the pancake is golden brow around the edges.

Remove from oven and serve immediately, topped with bananas, toasted coconut and pineapple sauce.
Pineapple Syrup
In a small saucepan, heat the pineapple juice over medium heat. Whisk the cornstarch with 1 Tablespoon of water or extra pineapple juice then pour into the warm pineapple juice and let come to a boil, stirring frequently, until thickened.
Caramelized Bananas
In a small skillet, combine the sliced bananas with the butter and brown sugar. Cook over medium heat until the butter and sugar are melted together and the bananas are soft and golden-brown.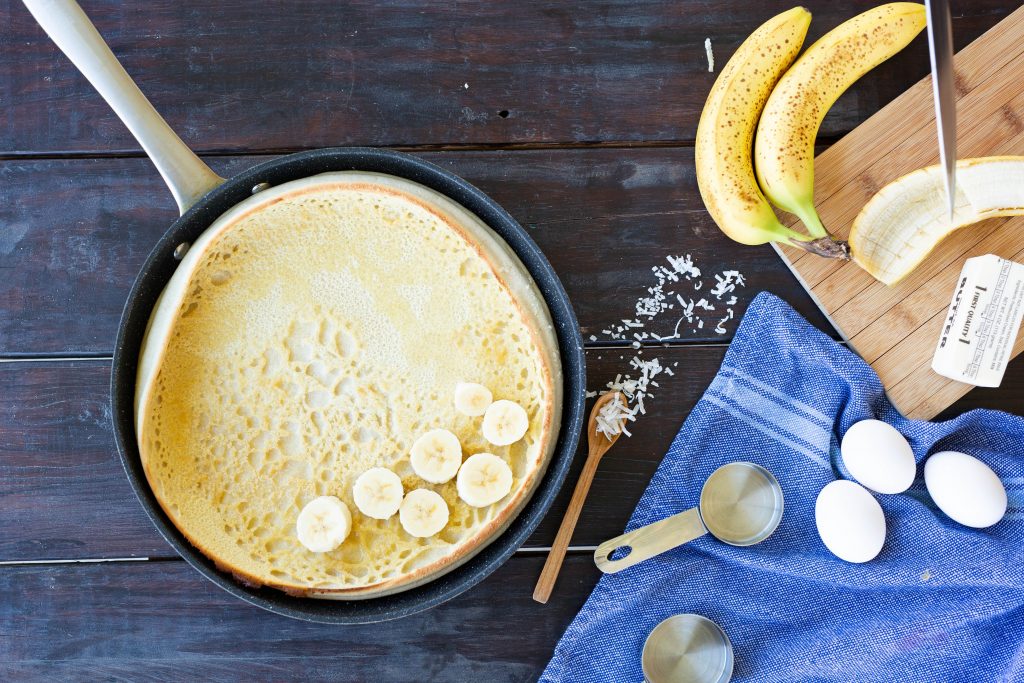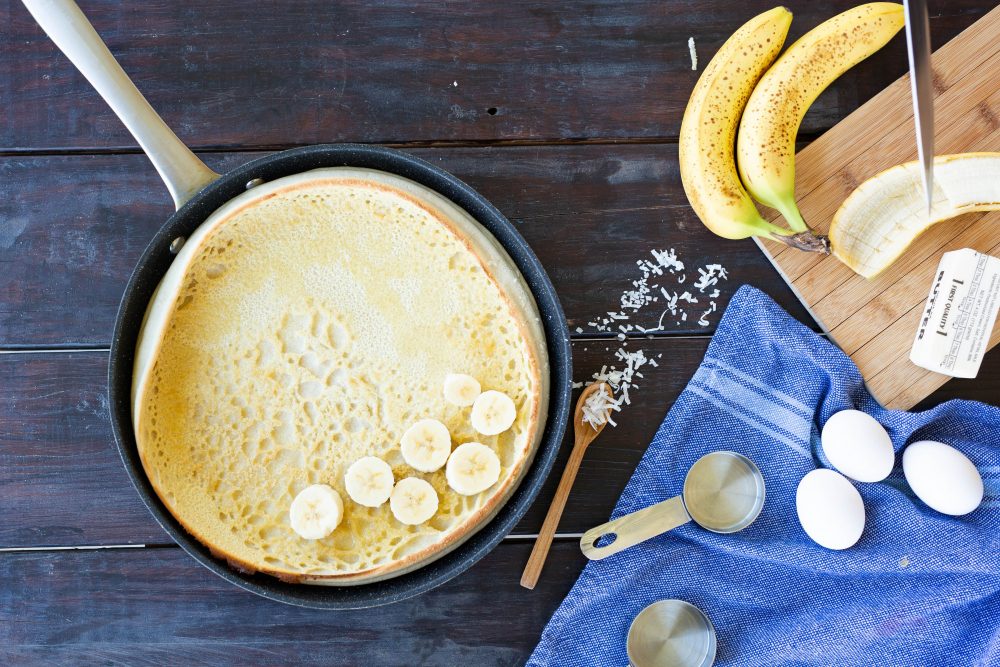 If you liked this German pancake recipe, you might also like these recipes: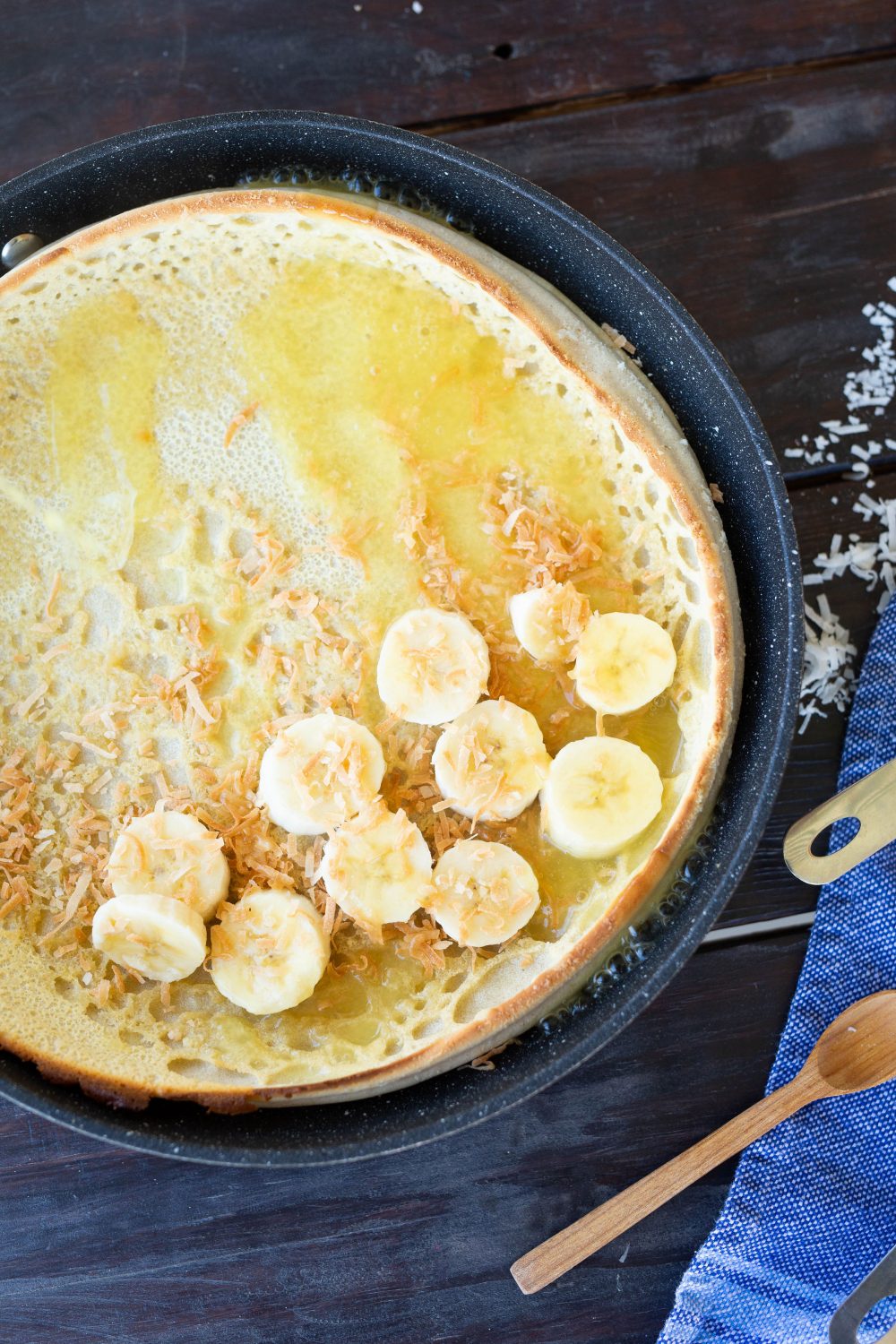 Photos by Heather Mildenstein