These curry noodles are super easy to whip up, packed with vegetables and full of flavor. Plus, this Thai curry noodles dish isn't too spicy for kids, so the whole family can enjoy it!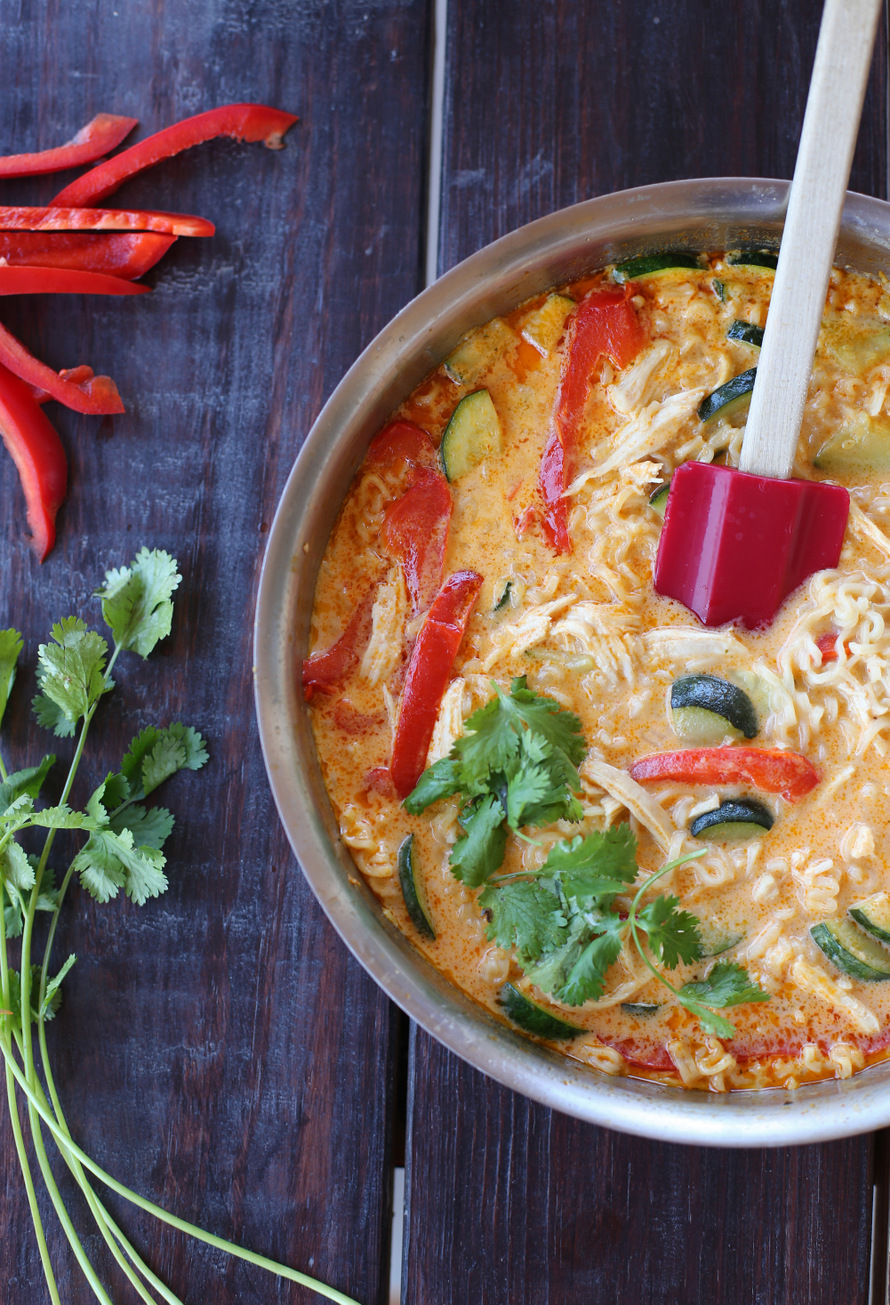 A couple of years ago, Bart introduced the girls to the wonder of ramen noodles.
I'm not talking those fancy ramen bowls you get at hipster restaurants.
I'm talking those 17 cent packets of ramen you buy at the grocery store.
I'd like to pretend that I'm too good for that kind of ramen, but . . . let's be honest. I still think it's pretty delicious.
It's now the standard dinner fare for the girls when they have a babysitter and Bart and I go out.
One day, the morning after a date night, Bart and I asked the girls how things had gone with the babysitter the night before.
"We had a good time," they reported. "But the ramen noodles tasted really bad."
Ten minutes later, as we were getting breakfast together, we discovered why the ramen had tasted so bad – she hadn't added the seasoning packet.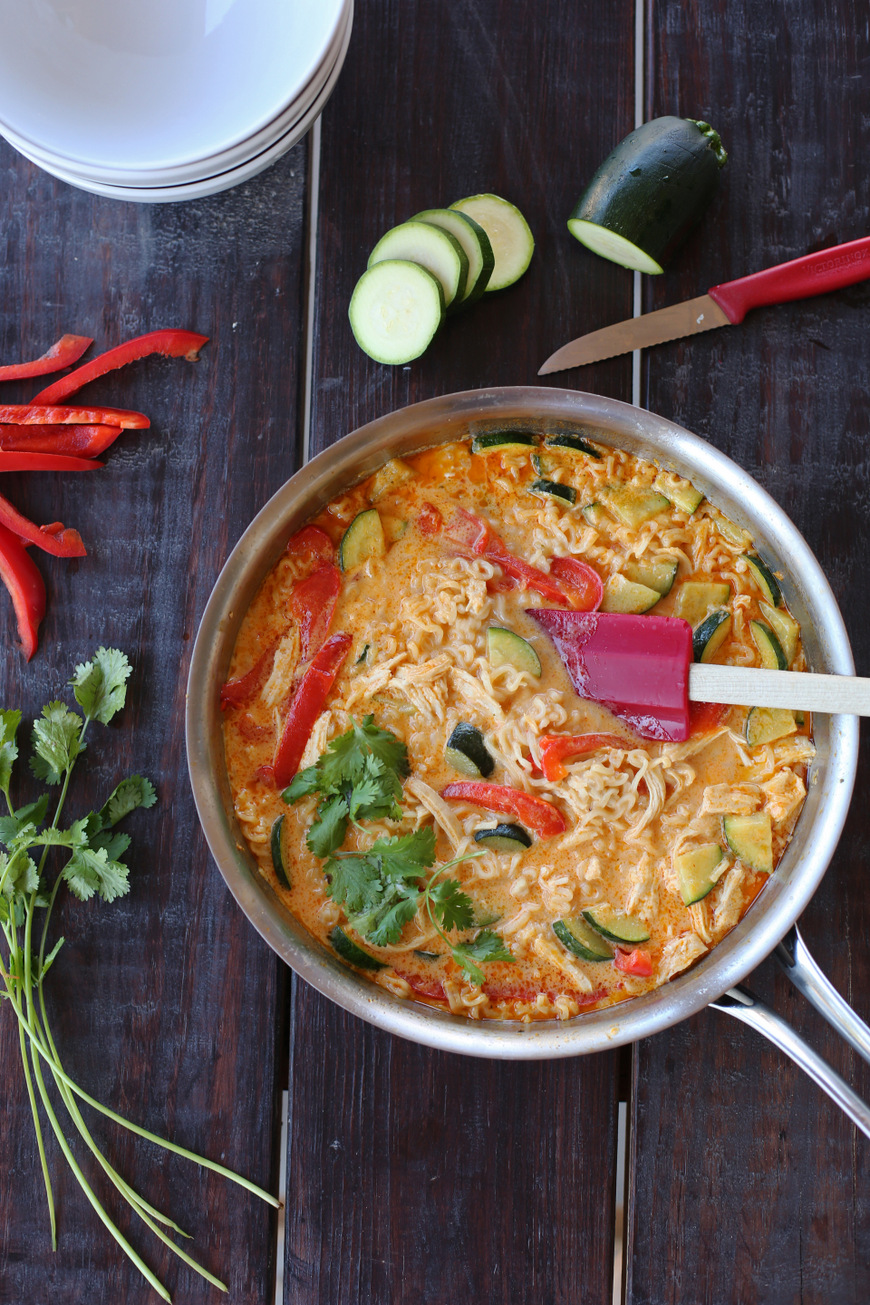 CURRY NOODLES
Bart and I were dying laughing over the mental image of the girls all choking down their plain noodles in water instead of broth.
Now every time we make ramen, they anxiously ask "You're going to add the flavoring, right?"
So when I made these curry noodles from One Lovely Life and discarded the seasoning packet from the ramen, my girls were extremely nervous.
Fortunately, these Thai curry noodles have a ton of flavor (although it's not spicy), so no one missed the ramen seasoning a bit.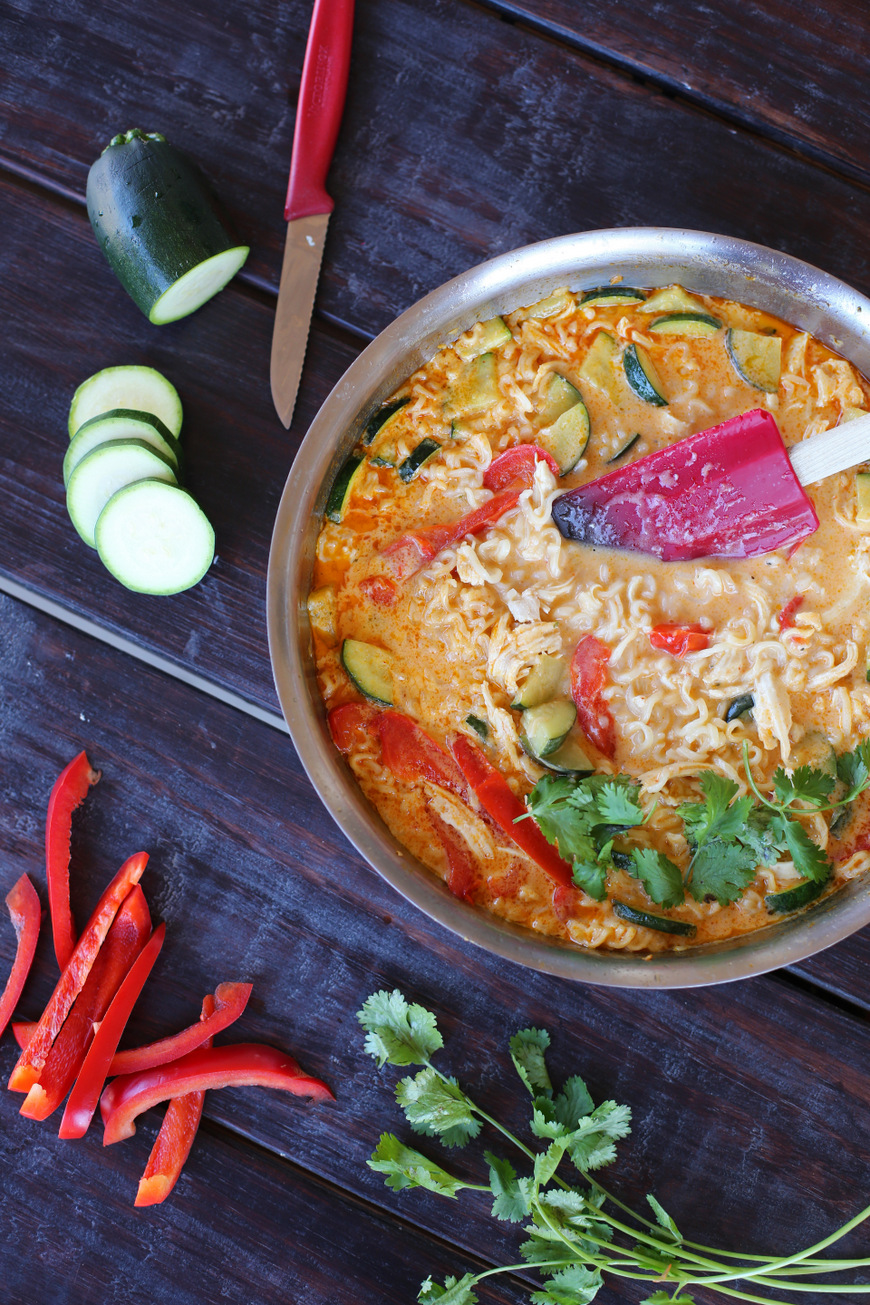 If you like these curry noodles, you might also like these recipes: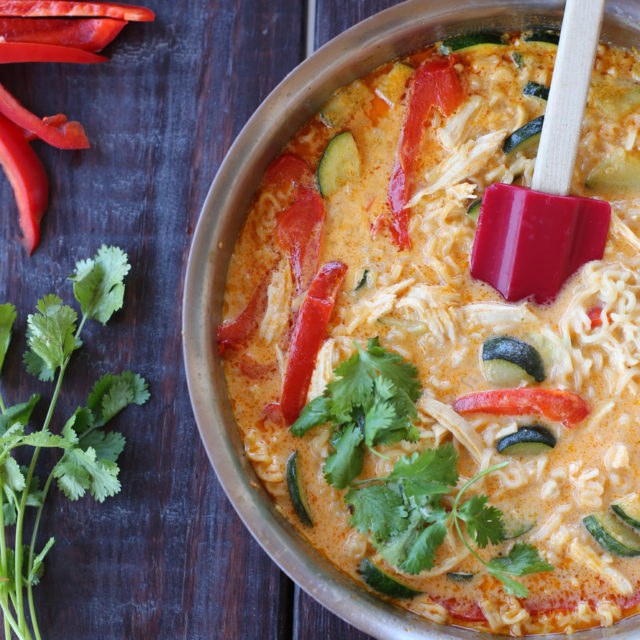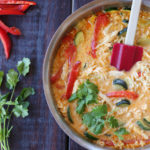 One Pot Chicken and Coconut Curry Noodles
This Thai noodle dish is bursting with flavor and can be made all in one pot!
Ingredients
1

Tablespoon

olive or vegetable oil

1

bell pepper

sliced into thin strips

1

zucchini

diced

1/4

teaspoon

salt

1

Tablespoon

red curry paste

1

clove

garlic

minced

1

teaspoon

fresh ginger

grated

3

cups

chicken broth

2

packages (3 oz)

raman noodles

(discard seasoning packet)

2

chicken breasts

diced into 1/2 inch cubes

1

can (14 oz)

coconut milk

1

Tablespoon

lime juice

cilantro

(optional)
Instructions
In a large saucepan or dutch oven, heat the oil over medium heat. Add the bell peppers and cook until softened, about 5-10 minutes.

Add the zucchini and stir to coat with oil. Sprinkle with the salt and let cook until the zucchini is slightly golden-brown, 2-3 minutes.

Add the red curry paste and stir to coat the vegetables. Add the garlic and ginger and cook until fragrant, about 30 seconds, stirring so it doesn't burn.

Pour in the chicken broth and add the ramen noodles (I usually break mine up so they are easier for my children to eat) and chicken. Bring to a simmer and cook until the noodles are soft and the chicken is mostly cooked through, about 5 minutes.

Stir in the coconut milk and bring to a simmer, then remove from heat, stir in lime juice and salt to taste. Garnish with cilantro if desired, and serve immediately.