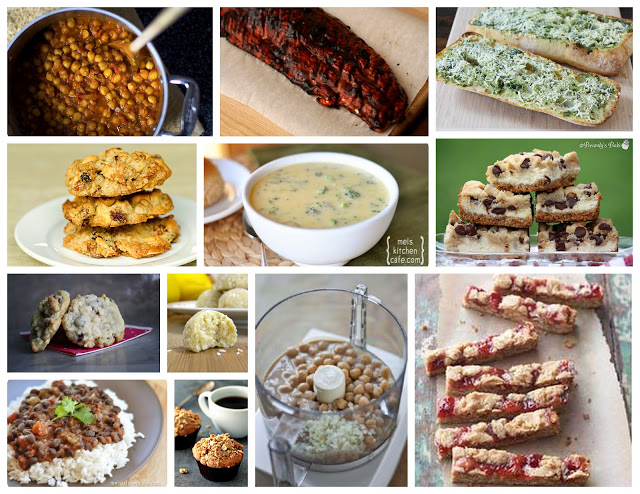 via links below
Chana Masala
– This recipe has one bazillion ingredients, but it takes almost no
time to make. This was great for serving a group because when we
suddenly had six people for dinner instead of four, it was easy to just
throw in a bunch of extra chickpeas.
Blueberry BBQ Salmon – I know it sounds weird, but it was not. I will be hard pressed to go with a different salmon recipe from here on out.
Basil Butter Garlic Bread  – A fantastic way to use up a bazillion cups of basil leaves (which is the story of my summer). I used this bread.
Granola Cookies – I used the granola recipe from Perry's Plate
(and left out the nuts in the granola – best granola I've ever made, if
you're wondering), then used all wheat flour. Some of my favorite
cookies of all time.
Broccoli Cheese Soup – I do not care for broccoli, but when it shows up in the CSA box, this is a recipe that makes me eat it straight from the pot.
Chocolate Chip Cookie Dough Cheesecake Bars – I tend to go for the more unusual desserts, but this dessert convinced me that maybe I should stop doing that and just make ridiculous over-the-top desserts because it was so gratifying to go home with a completely empty plate and a bunch of compliments about how amazing these were. 
Almond Joy Cookies
– I used sliced almonds instead of slivered and cut down the amounts of
almonds, coconut, and chocolate chips (about 2/3rds as much as she
suggests). I also added 1 tsp of vanilla and used all wheat flour. They
bake up better, too, if you refrigerate the dough for at least fifteen
to thirty minutes (or they spread quite a bit). The cookie itself was
amazing, not just the add-ins, which really impressed me.
Coconut Lemon Meltaways – My friend Meghan made these and I couldn't believe how good they were (and how they weren't loaded with sugar and butter).
Barefoot Contessa's Hummus – I am embarrassed to tell you how many batches of this I ate by myself in the last few months.
Chewy Cherry Almond Bars – I bought a really high-quality cherry jam and these were fabulous. Also, mega easy.
Black Beans and Rice – I pinned this recipe nearly a year ago and kept skipping it. One day when I was desperate for something easy for dinner, I threw it in the crockpot and voila! We loved it.
Apple Pie Muffins – Mine never look as pretty as the picture and it makes about 12 for me, rather than nine, but. . . .they are delicious.